In this episode, Emily interview ZW Taylor (Zach), a PhD student in Educational Leadership and Policy at the University of Texas at Austin. As a child, Zach identified as a "poor kid" and never thought higher education was for him. His upbringing and winding path through community college and his bachelor's and master's degrees taught him lessons about money that he has carried into his life as a PhD student – for better and for worse. In this second half of the conversation, Zach gives detailed and unique financial advice to prospective and rising graduate students on evaluating stipend offer letters and selecting housing. He was determined to not go into debt during his PhD, so he thoroughly investigated his stipend offer letter and the socioeconomic layout of his new city before accepting the offer. Finally, Zach shares his vision for the future of his finances once he's done with his PhD and earning a significantly higher paycheck.
Links Mentioned in This Episode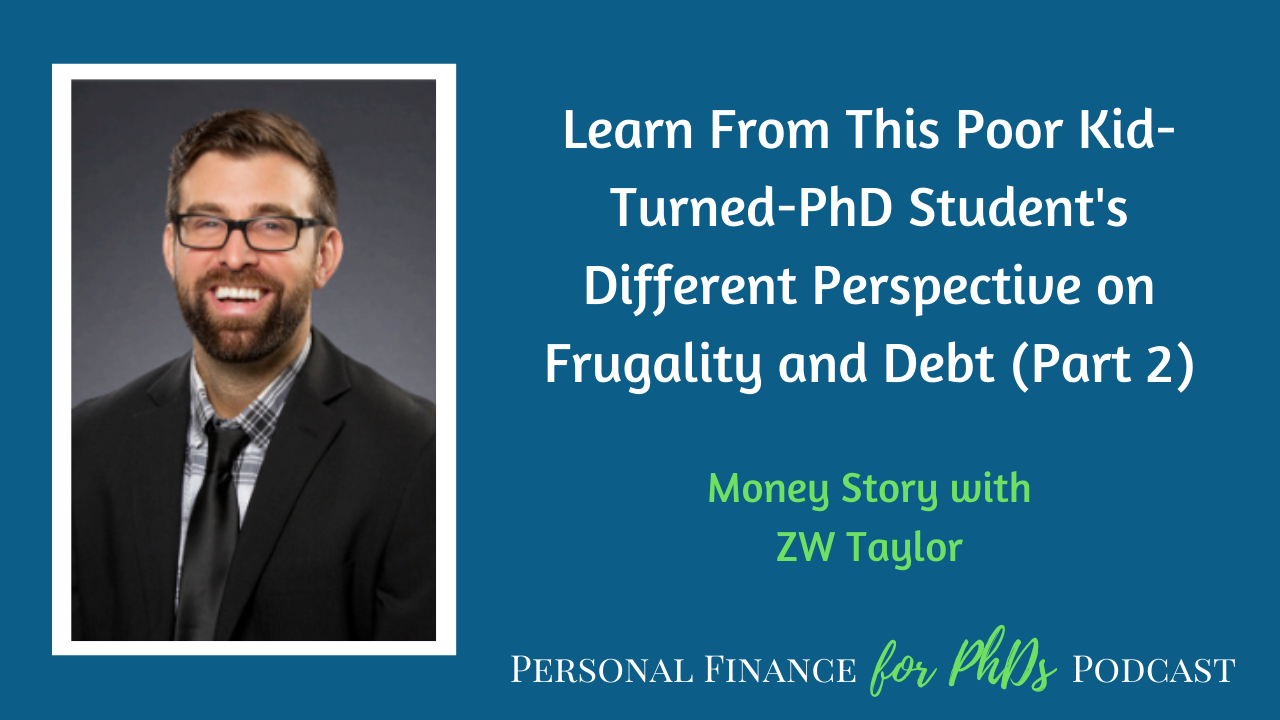 Teaser
00:00 Zach: If they want you and they offer funding, then in a different side of the same coin, they should be able to tell you specifically what you're getting, because how can you budget, how can you plan without knowing what your income is? I mean, it's incredibly important. So to your point, encouraging PhD students to be their own best friends and their own advocates and be very clear about what you're getting before you go.
Introductions
00:29 Emily: Welcome to the Personal Finance for PhDs podcast, higher education in personal finance. I'm your host, Dr. Emily Roberts. This is season five episode eleven and today my guest is Zach Taylor, a PhD student in educational leadership and policy at the University of Texas at Austin. Zach has such a unique perspective and so much wonderful advice that I've split our interview into two episodes, last week's and this one. In this episode, Zach gives detailed and unique financial advice to prospective and rising graduate students on evaluating stipend, offer letters and selecting housing. He was determined to not go into debt during his PhD, so he thoroughly investigated his stipend offer letter and the socioeconomic layout of his new city before accepting the offer. At the end of the episode, Zach shares his vision for the future of his finances once he's done with his PhD and earning a significantly higher paycheck. Without further ado, here's the second part of my interview with Zach Taylor.
Financial Advice for Early Career PhDs
01:30 Zach: You know, in terms of advice for other early career PhDs, in terms of saving money and thinking about going to grad school, especially with the kind of frugal mindset is I was not going to go to grad school one, if I had any debt. That was just something that I had always thought to myself that if I'm going, again another childhood lesson, if I'm going to pay for it, I'm going to pay for it in cash and I'm not going to take out a loan. My best advice for early career folks who are thinking about the PhD is if you can work before you go to grad school and pay down any undergrad debt you might have. I know it's not possible for some folks, but try your best to get some work experience and pay down that debt.
Further reading:
02:18 Zach: And then when you're thinking about doing the PhD, do some of the same leg work that I did. Investigate the city — where is public transportation? Where are groceries? How can you get around? Talk with other folks who have been there for a couple of years. You know, one reason I came to UT Austin is that everyone was eager to give me their perspective. I mean, when I asked people how do you like living? How much do you spend? Where do you live? How do you get to school? No one held information back from me. Everyone was so willing to share because I think you want to help other folks out. So ask questions and be inquisitive and see where you can make it work financially. But then when you make that choice, I made the choice that I was going to go to a funded PhD program. I was going to work through. I wasn't expecting just to not have to have an assistantship. I've worked all the way through, but I'm also not gonna have to take out any loans. And I think if you have the right combination of work experience and academic experience in certain fields, you can find those programs that are very, very low cost or no cost and be able to work through.
03:27 Emily: I just want to add a couple of comments on those pieces of advice, starting with your most recent one. So in the STEM fields and engineering, where I'm coming from, there's this advice I guess, that people sometimes say to a prospective graduate students, which is that an acceptance without funding is a tacit rejection. Like if you are not offered funding along with your offer of admission, they don't really want you there. And that's typical in those kinds of fields. And at a certain, I'll say tier of university. Not every graduate students — I mean some people do either take, you know, fully pay for their PhDs on their own, like there's no funding package offered or they go into a situation where they know, okay, sometimes there's going to be funding, sometimes there's not going to be, or okay I'm going to have funding to a degree but I'm also going to have to do X, Y, Z to make up the deficit.
Emily: It's really hard for me to ever say something as blanket as don't go to a PhD program if you have to take out debt, because I just, I want to allow for individual situations. But I mean it sounds like from your perspective, even being in a totally different field than I'm coming from, you were still determined, I'm not going to go to graduate school if I have to take out debt. It's just not going to happen under those circumstances. So you were very selective about where you applied slash the programs that you were actually considering going to, to make sure that you could make it happen in that way, even though it did in your case involve outside work as well.
What to Research When Choosing a Program
04:59 Zach: Absolutely. And one thing that I really insisted upon before I came and I don't, know of too many other young PhD prospective PhD students who do this, but you really have to push the graduate coordinator or someone in financial aid. Know exactly what you're getting. It's really easy to say you'll have an assistantship and it'll provide a stipend. After taxes and benefits, how many specific dollars am I getting? When in the month am I being paid? Am I being paid biweekly or monthly? Am I paid over the summer? What are the opportunities for employment over the summer? As someone who is going to embark on a five or six year journey, they owe that to you. They have the information, they can provide that to you.
Zach: Before I came I was very, very explicit in saying, if I'm going to leave this job that I know that I like and I'm going to forego wages for five years and give up a salary and not be able to save any money, what am I specifically getting? What are the specific opportunities? And then matching them up with the area and saying, okay, I can make this sacrifice for four or five years. Yes, I'm going to forego wages and a savings, but I'm also not going to be in so over my head or I'm going to feel pressured to make choices that I wouldn't normally make. And you know, Emily, to your point, it's absolutely been the case in my experiences and other classmates that there have been times where they're unclear about their funding package because it wasn't made specifically clear when they were admitted. Kind of that tacitly, if you're not fully funded, we don't fully want you. If they want you and they offer funding, then in a different side of the same coin, they should be able to tell you specifically what you're getting, because how can you budget, how can you plan without knowing what your income is? I mean, it's incredibly important. So to your point, encouraging PhD students to be their own best friends and their own advocates and be very clear about what you're getting before you go.
07:10 Emily: Oh my gosh, I'm so glad that you made this point even more explicit because it's one that I talk about frequently during admission season. Check the show notes, if you are a prospective graduate student because there will be links there to further articles and workshops and resources that I have on that exact topic of figuring out exactly what your offer letter is saying to you and asking questions when there's a lapse in information in the offer letter. And I mean, to your point, pay frequency. I mean that's not even something that you would necessarily think about, but it's really important once you're actually on the ground and doing that budgeting. I'm super glad you brought that up.
Further reading/listening/watching:

Emily: But to go back to one earlier point would you mentioned which was paying off debt and working potentially before starting graduate school. I totally have to concur on this because, now student loans I'll put in one basket, okay, because student loans can be deferred while you're in graduate school, but other kinds of debt — credit card debt, car debt, any other kind of debt that you have to be making payments on during graduate school — do everything within your power I would say to clear that before getting into graduate school because the stipend is already so meager, you don't want to have ongoing payments that you don't have to, once you're in that situation. And then of course the student loans in another basket, if it's at all possible to pay down part or all of them are maybe the ones that the highest interest rate or just to make some kind of progress on that student loan debt, if you're carrying a lot of it, before you start graduate school. It's an amazing step to take. It's a gift to yourself. Me personally, I had some student loans coming out of undergrad. I was sure to pay off all of the unsubsidized student loans before I started graduate school. The subsidized student loans, they're not going to garner interest during that time. At that point, wasn't caring about that so much, but I got the unsubsidized ones wiped off before I started graduate school. Just wanted to emphasize that point as well. Please go on with your other other advice for early career PhDs.
08:59 Zach: Yes. So this is more about where you're planning to study and how you can kind of network beforehand. You brought up a great point that I want to hit on again about where you're living and how much you're paying and understanding kind of the socioeconomic context of not the university, but the city. Austin, like you said, is really rapidly growing and I applied across the country. I applied to Indiana, Vanderbilt, Stanford, Michigan, Princeton, Cornell, all over the place. But I was really specific about researching Austin when I got in because I knew how rapidly Austin was growing. And to give you an idea of the cost of living increase and how much graduate students are actually paid, I moved into this current one bedroom apartment back in the spring of 2017 for $960 a month and I am a one hour commute from campus. So I'm one hour away for $960, with utilities it's about $1200 a month. That was a sacrifice I made. However, these apartments now go for $1310. So they have increased almost $400 in two years. And I'm still one hour from campus. If I was arriving to Austin today and having to sign a lease today, I would pay almost $400 more than I would have paid just two years ago. Now you had talked a 10% increase — 30% increase, 40% increase. And these are not….we don't have a garage. We don't have a private yard. We don't have too many amenities. It's a pretty standard one bedroom apartment with air conditioning, but it's also an hour away from campus.
10:53 Zach: I always host PhD students in the spring who are prospective students. And I always, when I show them apartments, I ask not only for the current rent because a lot of major cities have market rent, which means it changes, with the ebbs and flows of moving season throughout the year. Don't only ask for the rent now and move in, but ask for it three years prior because they have records of all the leasing contracts and all of the, um, leasing and rental agreements. So you can see how rent has changed and gone up or gone down in a certain area. And actually I just helped a friend from Michigan move in just the other week and he and his partner made a very specific decision to go to a certain complex and neighborhood because the rent had been somewhat stable over the past three years and had only gone up about $180 over three years. Whereas my neighborhood is in a different kind of more developing area of Austin and it is growing like crazy.
Zach: Especially when you're moving into a new city, getting an idea of historical trends and then do the exact same thing for the stipend. How much was the living stipend, how much was the assistantship five years ago? What does it now and do you anticipate a cost of living increase and is that going to be compensated by the university? Something that UT Austin recently did was dedicate new money to try to keep up with cost of living and try to develop some new graduate student housing, which we haven't really talked about, but always inquire about graduate student and subsidized housing because some universities still do have it. Even though in a very landlocked, city locked university like UT Austin, there's not a lot of room for expansion anymore, but always ask about the cost of living increases in historical rent in the city, how that relates to the stipend from the university and then what the university is going to do to keep up with that cost of living. I couldn't agree more.
12:56 Emily: Yeah. I'm so glad you made that point.
Commercial
13:02 Emily: Emily here for a brief interlude. Tax season is upon us and while no one loves this time of year, it's particularly difficult for post-bac fellows, funded grad students, and postdoc fellows. Even professional tax preparers are often thrown for a loop by our unique tax situation. And don't get me started on tax software. I provide tons of support at this time of year for PhD trainees preparing their tax returns. From free articles and videos, to paid at-your-own-pace workshops, to live seminars and webinars for universities and research institutes. The best place to go to check out all of this material is pfforphds.com/tax that's P F F O R P H D dot com slash T A X. Don't struggle through tax season on your own. Visit my website for the exact information you need in the most efficient form available. Now back to the interview.
Understanding The Role of Cost of Living Increases
14:05 Emily: Really, a new idea for me is actually asking about those historical rents and seeing the increases. This might be a silly question, but does Austin have any rent protection in place? Like increases can only be a certain amount over time, like in terms of laws in place?
14:21 Zach: Not that I am aware of and it doesn't seem to have translated to people who have actually been into leases and stayed multiple years. Our rent has only gone up $60 in two years, but for the same apartment, for new leases, it's that new elevated price. However, and this to me was just absolutely ridiculous, I was actually outraged by this, that we have a valet trash fee that is mandated. That we have to pay $14 a month to have somebody pick up our trashcan outside the door and take it to the dumpster. Now the dumpster is a half a block away and I don't want to pay for valet trash, but I have to because it's part of the lease and it's an industry that Austin supports. So there are some fees — you know I've heard a lot about the fee creep and higher education where you might have a tuition freeze, but you can keep charging student fees and those add up. The same thing happens with amenities and fees in Austin. The trash fee has gone up, water has gone up, electricity has gone up. It used to be that we would come in a close to $100 over the summertime for air conditioning. Now it's closer to $140 or $150, and it's a dramatic increase. So not only understanding the rent, but really understanding what fees you have to pay, what are mandatory, what are optional, and then how those feeds are going to be adjusted over time, because in some big cities they're just mandated and you just have to bite the bullet and pay for them even if you don't want to. But those really add up just in fees. We pay an extra $95 or $100 a month just in fees.
16:09 Emily: Yeah. What I'm getting from this part of our discussion is just the importance of interrogating every single component of your offer, of what your living expenses are going to be. And all the time that you put into researching these different components before you actually move to the city that your graduate school is in, or after graduate school, same story, it's really going to be worth it. It's going to pay off when you do this research, because the less you have to learn on the ground once you're there and make changes, the easier it's going to be. If you can find a place you want to live for several years right from the beginning, it's a lot easier for you. I did want to go back to make one other point from what you said earlier about asking about the historical stipends. I definitely think you should and can ask a graduate program that, but I wanted to plug my own website, which is PhDstipends.com and also I have another one for postdocs, postdocsalaries.com. PhD Stipends has been around for five years now, I think. And people enter which academic year, the stipend their listing is for. So if your university has enough data in there, you definitely can look back, even potentially at your own department and see what they were paying five years back to compare it to what's in your offer letter.
17:24 Zach: Yeah, absolutely. And to your point about having that access to data and actually seeking that out, now that you mentioned that, I don't know anyone else who did that when they came. A lot of folks were really excited just to be able to come to Austin and to be in a PhD program. It's a very highly ranked program. It's very prestigious around the country, so a lot of folks were just happy to be there. But then down the road they really kind of regretted not understanding where they were going to live, how much they were going to make. Also the time crunch in making a decision. I had to make my decision in a series of three or four weeks. I mean really in graduate student visits when I was admitted to PhD programs, I the beginning of February really until about mid-March to visit places, do my research. So also understanding how that's going to affect whatever job you have at the time.
Zach: When you're exploring PhD programs, it is a serious time commitment. I mean just finding a PhD program in a city that fits you and your budget and that you can continue to maintain your expectation of living whatever that is, is like a full time job. It's like being on the job market and people should take it with the same seriousness and explore all of those resources that they can because like you said, I have been very, very fortunate. It was some good planning, but I've been very, very fortunate not to have to move every year, not to have to sublet. That means my computer workstation has stayed the same. I have a routine. I've been able to write. I've been able to travel because I haven't had to worry about where I'm going to live, how much money I'm going to make. It's all very budgeted, all very meticulous and I think that has really made the PhD program a much more fulfilling experience, because like you said, I have gone through those hoops initially to make sure that I was in a place that I could afford and I would feel comfortable in.
Final Words of Advice
19:24 Emily: Yeah, absolutely. I'm so glad that you brought up that point as well. Any final advice for other early career PhDs?
19:31 Zach: Yes, so I guess lastly, and it's kind of more of a philosophical point, is I did make the choice not to go to a PhD program that wasn't going to financially support me. And I think, most people who pursue a PhD, it's right in the prime of their earning potential, right? So you're talking early twenties to anywhere in the late thirties like that 10 to 15 year period, you can make a lot of money during that time of your life and pay down a lot of debt. You have to understand that going and getting a PhD, you're going to forego wages and you might take on debt. It's such a double edged sword because you're losing money on one hand, and you're kind of having to borrow more money. So really, really committing and making that sacrifice, because understanding how many hundreds and thousands of dollars you may be foregoing in the future, and having to pay back debt, and having lost wages.
Zach: The sacrifices I made were having a very compromised social life and a very kind of frugal living down here because I knew it's going to be four or five years of just extreme sacrifice. I am not going to go out. I am not going to go out to eat very often, I have only gone out for drinks three times in three and a half years and all three times were for professional networking, and to work on projects. I just don't do it. A margarita is $12 and that's my food budget for almost an entire week. I have made that kind of level of commitment to stay out of debt and to do it frugally. Not everyone can do that, but if you can commit to doing that, you can get out without debt or with very low debt and 10 or 15 years down the road, you'll really thank yourself, and you'll look back and you'll realize, you know what? I think that sacrifice was worth it.
21:27 Emily: Yeah, I think so. I mean your point about opportunity cost is a very, very important one and not something that people, I think think about enough going into PhD program. For me, it's another reason to work before you go into a PhD program because you have a better idea of what you are giving up on the one hand in terms of salary potential during that time. And you also have more context for your PhD work. What is this going to do for me on the career side?
Financial Plans After Grad School
21:51 Emily: I'm gonna surprise you with one last question, Zach. This is not what I prepared you with, but what do you think you're going to be doing with your finances once you're done with the PhD? And hopefully, you have a job you enjoy that pays you much better than whar you're being paid right now. Do you see yourself shedding some of these mindsets and habits that you've carried with you to this point? And if so, how? How can you even step away from this since it's been going on for so long in your life now?
22:22 Zach: Yes. It is such a lifestyle. I cannot emphasize that enough. I have thought about what I want to do with my money when I graduate and get a job and now I don't have debt and the money is mine to spend. I don't want a larger than two bedroom house because I've never lived in a place larger than that. I wouldn't feel comfortable in a four bedroom house in the suburbs. That's just not me. I would not feel at home there or comfortable. I could never buy a new car. I could never do that. I would not feel comfortable driving in a 2019 anything. I've always bought used cars. I wouldn't even feel comfortable doing that. If you remember actually from HEFWA, though, what is really, really important to me is donating. I wanted to stay out of debt and get a PhD and have the earning potential to donate to certain programs that I was a part of as a kid and that really helped me out. I think when people are asked about "why do you save money?" I saved so I can give more. Since I've been a PhD student, I have been able to donate about $700 to my alma mater and a mentoring program that they have going that I was a part of when I was there. For me, that is such a better use of the money instead of going downtown a couple of weekends and having drinks. I feel so much better about it.
Zach: I think having an understanding of the kind of money I will make when I'm done and then how I've grown up, it's going to allow me to do a lot more good and amplify a lot of the philanthropy that I've started doing, and that is really how I'm going to be spending a lot of my expendable income as you could say. I'm going to start a savings account. I'm going to start a 403B or a 401k or some employer sponsored a savings account. If there's a state pension program, I'll participate in that. But it's really going to free me up to spend money where I think it needs to be spent, which is education and low income kids. And like I said, I'm going to look back on my time at UT and Austin and say, maybe I was able to send some kid to community college because I didn't go out. I was able to help some kid get their associate's degree because I made those sacrifices and I will trade that any day of the week.
24:56 Emily: I'm so glad to have that incredible perspective from you on the podcast today. It sounds like a really bright future and happy for you that you'll be finished quite soon, and you'll get there before too long. Zach, it's been an absolute delight to have you on the podcast today. Thank you so much for joining me.
25:16 Zach: Absolutely. Thanks Emily.
Outtro
25:18 Emily: Listeners, thank you for joining me for this episode. PFforPphDs.com/podcast is the hub for the Personal Finance for PhDs podcast. There, you can find links to all the episode show notes and a form to volunteer to be interviewed. I'd love for you to check it out and get more involved. If you've been enjoying the podcast, here are four ways you can help it grow. One, subscribe to the podcast and rate and review it on Apple podcast, Stitcher, or whatever platform you use. Two, share an episode you found particularly valuable on social media or with your PhD peers. Three, recommend me as a speaker to your university or association. My seminars covered the personal finance topics PhDs are most interested in, like investing, debt repayment, and taxes. Four, subscribe to my mailing list at PFforPhDs.com/subscribe. Through that list, you'll keep up with all the new content and special opportunities for Personal Finance for PhDs. See you in the next episode, and remember, you don't have to have a PhD to succeed with personal finance, but it helps. The music is Stages of Awakening by Podington Bear from the Free Music Archive and is shared under CC by NC. Podcast editing and show notes creation by Lourdes Bobbio.
Join Our Phinancially Distinct Community
Receive 1-2 emails per week to help you take the next step with your finances.