Virtually every PhD will experience this at one point (if not multiple points): You're looking at an offer letter, whether for grad school, a postdoc, or a Real Job and you're not sure what to think about the stipend or salary. Because you'll have to move to a new city to accept the position, you don't have any context for understanding if it is reasonable or generous or stingy. Your personal finances as well as the local cost of living play heavily into the determination you have to make. Will you be able to survive (or thrive – or neither) on this salary? How far will your new stipend or salary go toward paying your living expenses and getting ahead financially?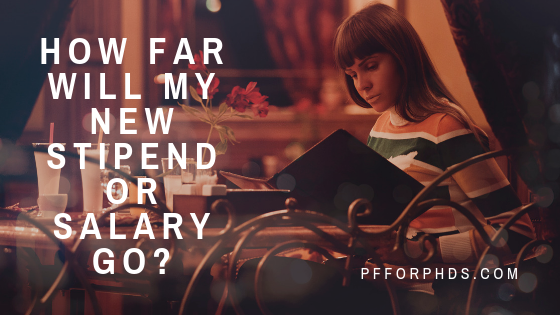 This isn't at all a trivial question, especially for:
Graduate students and postdocs who unfortunately can't assume they will be paid enough to live comfortably.
PhDs who are responsible for the well-being of others, e.g., spouse and/or children.
International scholars who are prohibited by their visas from working to earn extra money.
You can attempt to answer this question with little or much research, depending on how invested you are in the outcome and what your initial inquiries turn up.
Further reading:
Find Answers on the Internet
You can find a first-pass, non-personalized answer to "How far will my new stipend or salary go?" at any time over the internet.
Stipend and Salary Databases for PhDs-in-Training
If your offer is for a graduate program, go to PhDStipends.com and search for stipend entries for your university and other universities in your city, if any. Not only will this data tell you what other graduate students are being paid so you can compare your stipend offer, some of the entries contain subjective comments on how possible it is to live on that stipend. The stipends will also be normalized to the local living wage for the county the university is in (the LW Ratio) – more on that in a moment.
Similarly, if your offer is for a postdoc, use postdocsalaries.com.
The Living Wage
For graduate students and possibly postdocs, a well-researched, insightful database is the Living Wage Calculator. For each county in the US, this resource shows you the minimum your necessities will cost (on average) based on your family size. It calculates the "living wage" needed to support one adult, two adults, adults with children, etc. and breaks it down into its constituent categories: food, child care, medical, housing, transportation, other expenses, and taxes.
As graduate students are likely to be paid close to a living wage (perhaps above or below by up to 50%), this database will give you a starting point on what you can expect to spend in your various necessary budget categories. Postdocs who are paid close to the living wage can also utilize this resource. Higher earners and homeowners will not find the calculations as relevant.
Cost of Living Calculators
If you know what you spend on your expenses in your current city, you can use a cost of living comparison calculator to translate that amount of money into an amount of money in your new city based on the differences in the cost of living.
Some of the prominent cost of living comparison calculators are provided by:
These cost of living comparisons also break down into sub-categories of spending such as housing, utilities, food, transportation, etc. However, be warned that the housing data come from a mix of renters and owners, so you may find you own housing costs differ dramatically from the expected increase or decrease.
Find Answers from Your Peers
I think the best way to get an accurate answer to "How far will my new stipend or salary go?" is to survey people currently living on it in your new city, i.e., your future peers and co-workers.
This is trickier for PhDs starting Real Jobs because of the (damaging but firm) culture in most workplaces of not disclosing your salary. However, graduate students and postdocs are usually paid on a set schedule, so you can assume that someone already in the position you have accepted (e.g., within your same department or funded by the same source) does have the same or a similar salary to yours.
Simply ask an open-ended question such as "Are you able to make ends meet on the stipend?" or "Do you live more or less comfortably on the salary?" and see what it elicits. Be sure to ask several different people because you one person's perspective may not be representative.
Find Individualized Answers through Research
If you are willing to dig into some financial weeds, the ultimate way to obtain an individualized answer to "How far will my new stipend or salary go?" is to draft a budget.
After all, your finances are unique, and looking to average data or asking a few peers will not directly speak to your specific obligations, lifestyle, and preferences.
If you already track your spending and keep a budget, you can use that as a starting point, or you can download a fresh template. There are plenty of templates available online, and I've also created one specifically for this purpose, which is available below.
Some line items on your budget will need major overhauls due to your career and geographic transition:
Tax: If you're changing salary and/or state (or making changes to your household), your income tax bill will need to adjust. Some early-career PhDs might also start or stop paying FICA tax or be excused from paying state income tax depending on the exact type of paycheck they will receive in the new position. My favorite calculator for estimating income and FICA taxes is from Smart Asset.
Employee/student benefits: With a change in university and/or employer comes different benefits that you may or may not have to pay for out of pocket. If the amount of money you are responsible for paying is not clearly delineated in your offer letter, it is worth inquiring about as you draft your budget. Examples of these types of payments are premiums (and copays/coinsurance) for your health, vision, and dental insurance; life and/or disability insurance premiums; and tuition and/or fees.
Student loans: If you are entering graduate school and have decided to defer your student loans, you'll need to update your minimum required student loan payments to $0. Conversely, if you are exiting deferment for a postdoc or Real Job, you'll need to know how much your payments will be. Your loan servicer should be able to tell you your minimum payments. If you have federal loans and are considering an income-driven repayment program, you can use the Repayment Estimator from studentloans.gov to compare your payments under different plans.
Living expenses: Obviously, if you are changing cities, many of your living expenses will shift. But the 'major overhaul' here is if you need to add or subtract whole budget categories, such car ownership, daycare, and travel to visit family, a partner, and/or friends.
As for your living expenses, you can use one or more of the methods detailed in the first two sections of this article to start putting numbers into each budget category. Some living expenses may stay more or less constant even when you change cities (e.g., cell phone bill, cost of electronics) while others will be subject to the cost of living (e.g., housing, utilities, food).
The most important budget categories to get right from a distance are your large, fixed expenses, e.g., housing, transportation (if you own a car), and childcare. The Living Wage calculator and the cost of living comparisons can help here, but it's going to be even better for you to do your own research and determine your individualized expenses.
The two best ways to research your housing and childcare costs from a distance (and jump-start your housing search) are to ask your peers what they pay and monitor prices online for at least several weeks before you commit to your expense. (Knowing when to sign a lease/pay a deposit is part of familiarizing yourself with a market!)
Drafting a budget will help you decide how much you can afford to spend on these large fixed expenses, so it will be most beneficial to start drafting this budget before you commit to any expenses. Your ability to reach financial goals in your first year in your new position will likely hinge on getting these large, fixed expenses set at an appropriate level, so it's worth quite a bit of time and research. Variable expenses can be changed more or less on a dime and small expenses aren't so impactful, so it (literally) pays to focus your effort on the large fixed expenses.
If you would like some additional help with drafting your new budget at a distance, please purchase my previously recorded webinar ($24.99) below. The 30-minute "Draft Your Budget from a Distance" webinar also includes the budget template spreadsheet described above.
The objective of the webinar is to help you draft a complete budget for your new position (in a new city) so that you can set your large, fixed expenses at a reasonable level for your income and determine in advance what financial goals you might set for the next phase in your career.
Sign Up for "Draft Your Budget at a Distance"

The final answer to "How far will my new stipend or salary go?" will only come once you're living in your new city. But you can start getting approximations on that answer immediately from online sources and your future peers. These initial answers may prompt you to create a more detailed draft budget before you move if it looks like you will experience a financial challenge or reaching financial goals is important to you. This budget will help you determine how much you can afford to spend on the expenses that are generally fixed prior to or upon your move. It will also help you decide how much money you can put toward your financial goals during your next position.
Join Our Phinancially Distinct Community
Receive 1-2 emails per week to help you take the next step with your finances.