In this episode, Emily interviews Sam McDonald, a fifth-year PhD student in informatics at the University of California at Irvine. Sam received the NSF GRFP, completed a lucrative internship at a tech company, has won multiple smaller grants and fellowships, and taught classes for additional income. Upon observing this, some of her peers questioned why she was still applying for awards. Even more light was shone on this issue when her department compiled a list of all the grad students' income as part of the Cost of Living Adjustment protests in the University of California system; Sam was the highest-paid grad student. In response, Sam became discouraged and even stopped submitting funding applications until her advisor counseled her about knowing her worth. Sam has now come out the other side of this financial shaming experience and has great advice for anyone else questioning their worth and what they should be paid in academia.
Links Mentioned in this Episode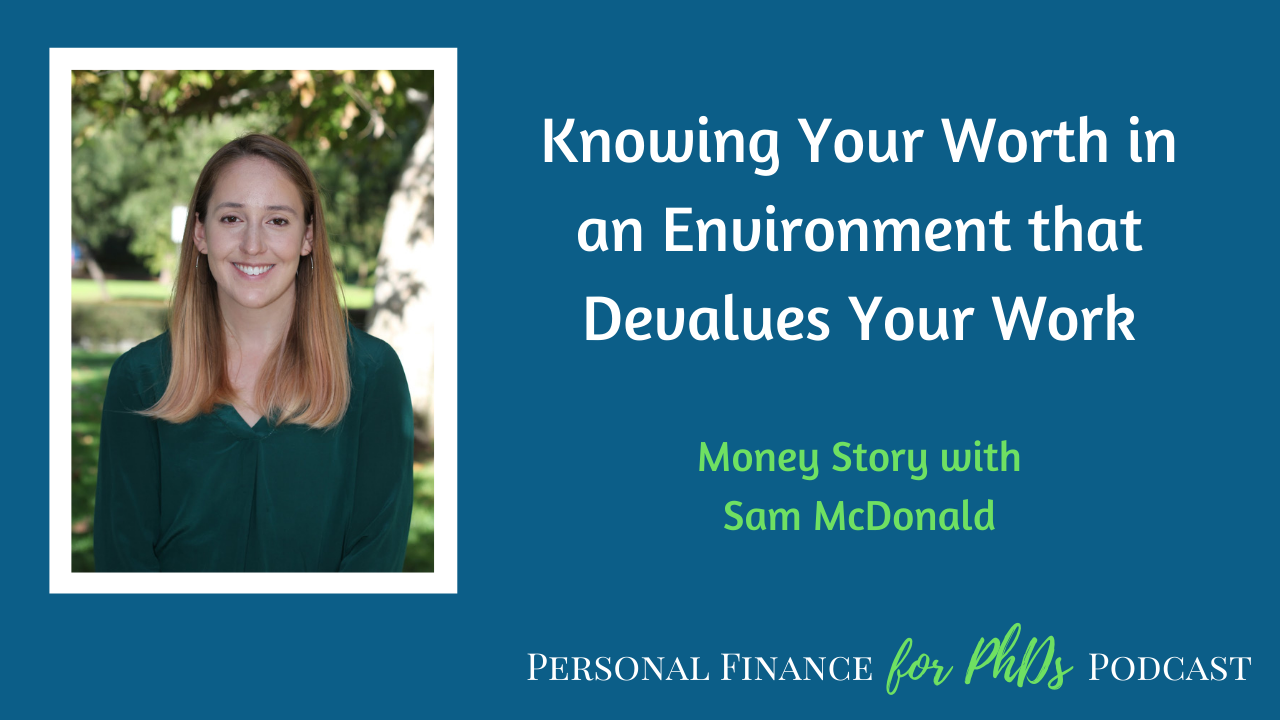 Teaser
00:00 Sam: Sometimes our expertise and our ability to do stuff is so undervalued. And it's hard to measure how much you're personally valued because you have all these different discrepancies in how different grad students are getting paid. And you really, I think just have to sit yourself down and look at comparatively, well, if I were to go into industry right now, how much would I be making? So I'd recommend the students to really go out there and see how much is my value in other places versus in grad school, where I think we have this skewed sense because of this limited budgeting construct of how much you're actually worth.
Introduction
00:33 Emily: Welcome to the Personal Finance for PhDs podcast, a higher education in personal finance. I'm your host, Dr. Emily Roberts. This is season eight, episode three and my guest today is Sam McDonald, a fifth year PhD student in informatics at the University of California at Irvine. Sam received the NSF GRFP, completed a lucrative internship at a tech company, has won multiple smaller grants and fellowships, and taught classes for additional income. Upon observing this, some of her peers questioned why she was still applying for awards. Even more light was shone on this issue when her department compiled a list of all the grad students income, as part of the cost of living adjustment protests in the University of California system. Sam was the highest paid grad student. In response, Sam became discouraged and even stopped submitting funding applications until her advisor counseled her about knowing her worth. Sam has now come out the other side of this financial shaming experience and has great advice for anyone else questioning their worth and what they should be paid in academia.
01:42 Emily: It wasn't until Sam brought up this topic to me, that I realized that I had my own story of financial shaming and academia. Additionally, several of my relatively well-paid grad student, friends, acquaintances, and podcast guests have told me their stipends or that they had won a fellowship, but asked me not to repeat that information. I believe this was in fear of the financial shaming they might experience from their peers. I am a big advocate of transparency around stipends and benefits, which is why I started the websites, PhDstipends.com and PostdocSalaries.com. But transparency is hindered by shame. Asking for what you're worth is hindered by shame. Shaming someone else for their financial success doesn't put any money in your pocket, it just discourages them and ultimately harms our whole community. I'm so pleased that Sam volunteered to give this interview. I hope her message encourages you to swing for the fences financially and to speak respectfully when discussing sensitive topics like finances. Those are great lessons for me too.
Book Giveaway
02:35 Emily: Let's turn our focus to the book giveaway contest in January, 2021. I'm giving away one copy of the House Hacking Strategy by Craig Curelop, which is the Personal Finance for PhDs Community book club selection for March, 2021. Everyone who enters the contest during January will have a chance to win a copy of this book. I'm delighted to bring attention to house hacking, which is when you buy a home live in it and rent out part of it, thereby radically reducing or even eliminating your housing expense. It's a new name for an old tactic that grad students and PhDs have been using for a very long time, but this book puts a highly strategic spin on it. If you'd like to enter the giveaway contest, please rate and review this podcast on Apple podcasts, take a screenshot of your review and email it to me emily@pfforphds.com. I'll choose a winner at the end of January, from all the entries you can find full instructions pfforphds.com/podcast. Without further ado, here's my interview with Sam MacDonald.
Will You Please Introduce Yourself Further?
03:54 Emily: I have joining me on the podcast, Sam MacDonald, who is a graduate student at the University of California at Irvine and she's here to talk with us today about kind of a touchy subject. It's financial shaming, and she's experienced this and I'm really just excited that she's decided to come forward because I know that her experience is not unique. After she approached me about this topic, I started thinking and I realized I've experienced this. I've realized I know other peers who have experienced this, so she's definitely not alone. And we're going to treat the subject very carefully today. So Sam, thank you so much for your willingness to talk about this. I know it's not an easy subject matter at all. Would you please tell the audience a little bit more about yourself?
04:37 Sam: Yeah, absolutely. Thank you so much for having me Emily. Like Emily said, my name is Sam McDonald. I am a fifth year PhD candidate at the University of California, Irvine studying informatics. I actually study the United States Congress and their use of constituent communication. So I've been back and forth in DC and in California to figure out how members of Congress use technology to communicate with their constituents and how to make it better. I have an undergrad degree from the University of Maryland Baltimore County, where I did a lot of research before going straight from undergrad to my PhD and I got a master's along the way that I got from UC Irvine.
Funding During Graduate School
05:11 Emily: Thank you so much that overview. Super interesting subject matter, not what we're getting into today, but thank you so much for the context. So what's been the funding situation for you during grad school?
05:21 Sam: My funding has been different for different years. My first year I got the GAANN fellowship, which is from the US Department of Education that my department supplied to me, which was really helpful not to TA at first. Then I TAed for two years, and while I was doing that, I applied for the NSF GRFP and luckily I got it to fund my last three years of my PhD. I've also spent two quarters teaching as additional funding and have gotten grants from congressional research funding and travel grants. And then also I've worked for Facebook for an internship, so I have internship money as well.
05:54 Emily: Can you give us like an idea of much money you were being paid — and I know it might be different year to year — versus, if you're aware of it, the baseline stipend in your department?
06:05 Sam: Yeah, absolutely. The TA baseline stipend is around $2,200 for teaching us a little bit more. And my GRFP is about $2,800 per month, just to give you a baseline ballpark for how much that is.
06:21 Emily: Okay. And it sounded like in your second year you were being funded only from TA-ships. Is that right?
06:27 Sam: Yes.
06:27 Emily: Okay. So on that year, you lived on that baseline stipend and is it every other year you've been above that for one reason or another?
06:34 Sam: Yeah, it's really fluctuated for different months, depending on if I'm getting travel grants, going to DC during the summer is quite expensive, so getting additional grants for that to be moving around, but still keep my apartment in California. I think my money has fluctuated every single month, being different because of all these different activities that I'm doing in addition to this baseline salary.
06:57 Emily: That is such an interesting budgetary conundrum. One that I would love to explore, but not our subject for today. And this is maybe not super on this subject, but I'm just curious how much the internship at Facebook paid.
07:09 Sam: Let me remember. I think it was around. I could be wrong, I think it was around seven per month,
07:16 Emily: $7,000 per month?
07:18 Sam: Yeah. I think it might be a little bit higher than that. I'd have to go back and double check, but it's definitely around that ballpark.
How Sam's Peers Reacted to These Extra Sources of Income
07:24 Emily: Yeah. Sounds great. Well, I am of course, wanting to congratulate you on winning the NSF, gaining these other travel grants, but I understand that's not necessarily how some of your peers reacted to you having this wonderful CV full of accolades.
07:40 Sam: Yeah, absolutely. The NSF GRFP — I want to particularly point out, I've had three advisors, not through my own fault, one retired, one moved, and then one picked me up like a lost puppy and she's been great, but none of them have had funding for me, so I've always had to go out and get my own funding as well, which is why I was so motivated to get a lot of these grants. But I always haven't had the best reactions to it. After I got the NSF, which is amazing and it's given me so much more flexibility, I still had to pursue other grants for travel to DC, and then I just kept applying to more grants because it looks good on your CV. A lot of students were really supportive, but one or two would always sort of give me side comments of like, "Oh, you're applying for this grant, I thought you already had the GRFP. Why do you need this? Why did you win this grant even though you already have these things?" So I've had to deal with a little bit of tension and figuring out my own worth in that process.
08:30 Emily: Yeah. How did you feel when you got those snide comments?
08:35 Sam: I felt a little bit guilty. I will say with a caveat that like I am a more privileged person. I'm white. I came from an upper middle class family. I am working in technology, so I get tech internships. I have a really supportive advisor. I live on subsidized housing and I also live cheaply because I love hiking and I bike more than I drive places. Just for context here at the University of California, Irvine it's so expensive to live in Orange County that even the professors have their own subsidized housing on campus and there's an entire professor community. I've done a lot to really sort of push myself towards getting these grants, and it kind of made me feel bad that I was getting them because I am in such a privileged position. So for a while I was feeling bad about applying to grants and had to talk to my advisor and other peers about it to figure out if I'm in the wrong here of applying for more money, even though I already have a more stable income.
09:28 Emily: So it seems like even though a lot of your peers were supportive of this and they were helping you edit your applications and so forth, a few, a minority, were making these comments. What do you think their kind of motivation was behind that?
09:43 Sam: I think a lot of students — we've had protests in California about this — are struggling financially in some ways, or maybe they don't get the grants that they want, and then they're feeling like I'm getting a lot of grants and my research is very attractive for the current context with everything going on in Congress and wanting to improve that. I naturally do have an attractive topic and I think some people feel like maybe their topics aren't reaching that same attractiveness when it comes to advertising your own research. Also it's hard being a grad student and I've worked really, really hard to have really good grants. When I did the GRFP, I went to the writing center on campus at least 12 times and had dozens of friends review it and professors review it, so I really, really take my time with grants where I know some people also can do them last minute because they're so overwhelmed with everything else. I think it depends on the person, but it's just the struggle a lot to get grants in the first place, I think.
10:38 Emily: Yeah, definitely. I understand that at some point, this sort of crystallized and it was not only people by happenstance noticing that you won this grant or that grant, even though you already had the GRFP, but at some point it came down in black and white. Can you tell us about that?
10:54 Sam: Earlier this year, our department got together and decided to make a spreadsheet of everyone's income from the department, because this was part of our consolidarity with the COLA protests. And for those who don't know, COLA stands for cost of living adjustment. Here in California there's been a lot of protest from grad students around, the cost of living adjustment, especially at UC Santa Cruz, where a lot of grad students are spending 50 to 70% of their income on just their housing alone, because it's so expensive to live and they are demanding to have an adjustment to their rent because they are so rent burdened. So UC Irvine and my department in particular, especially one or two students who are really involved in the unions on campus, wanted to make a spreadsheet to show how much did we all make because we needed the data in order to demonstrate how most of us are rent burdened. Even though we have subsidized housing, even though we are a tech department, we found out that 99% of us are still rent burdened just going through this. But did find out in that instance that I do make more money than everyone else in the department. And that was in black and white and that's on a spreadsheet that's available to all students in my department to see.
12:03 Emily: I think this is a great process to go through actually and I am very in favor of more transparency around what people make, especially in grad school, not necessarily with your name tied to it, but just what people are making and the range. I'm kind of curious about why you ended up, I guess it was because it was asked of everyone, but what the motivation was for including people who were on fellowship, especially external fellowships like yours, along with people making the baseline stipend from the department. The argument is going to be about increasing the baseline stipend, right? So is it, we want the bottom sector here, that's just making the baseline to be brought up closer to where you are, closer to where other people who receive outside fellowships are? I'm kind of wondering what the angle is on that.
12:47 Sam: That's a great question. When this was sent out to students, it was completely optional. You had the option of doing it anonymously. I think most of us just decided to do it publicly and to be able to share how much, and we did put specific notes for each person of like where your funding was coming from — is this the baseline, or is this with an addition to external income? Is this pre-tax, this is post tax?. So we had all those details as well and it is a good question because I think with our department particular, there is an assumption, especially in the summertime that you're going to go out and get other sorts of funding. And they know that there are a lot of students in our department who have Google and Facebook and Amazon and other sorts of internships because we are a more attractive group for those big tech companies that overcompensate sometimes for this wealth gap and this discrepancy for teaching.
13:34 Sam: I think that was also sort of demonstrating, even if there was a baseline, how much students were maybe feeling like they have to go for these internships in order to supplement their income. And just seeing these different discrepancies of if you were lucky and privileged enough to even get an internship. There's actually someone in our department who studies this and how to get a tech internship, and she's really helpful, but also shows the different discrepancies that can happen for who gets it and who doesn't. So all those details, I think, were just really interesting to sort of demonstrate how broad the ranges and incomes in our department, just for students.
14:06 Emily: Yeah. It's a super interesting project. I've actually recently heard of another, not related to the California specific protest, but another department where students took this on and used it as a negotiation tactic, as in a sense collective bargaining, although they were not in a union. So it can be a really powerful exercise. And what happened with either your peers or with your own feelings about this after the spreadsheet is out there?
14:28 Sam: The spreadsheet was out there during the pandemic, so I haven't seen much of my peers in person, so there's less discussion that I can have with them. Definitely for me personally, it did really two main things for me. First, it really sort of solidified this idea that I do make more money than everyone else in the department, and sort of feeling a little bit shameful and a little bit uncomfortable with that, but also at the same time, recognizing that I have a privilege to have these sort of grants and I've worked for it, but I've also been very lucky with some of these grants. And because of that, I do feel like I have a responsibility to share that and make that transparent and advocate for the people in my department who don't. So on the one hand, it does make me uncomfortable to come out and say like, "Oh, I make a lot of grant money and I do a lot of other things to supplement that money in different ways, but also I am privileged enough to share this with you to show these discrepancies and make sure that we're all coming up to a baseline." And even before I had my tech internships, despite getting all these grants, I was still technically considered rent burdened. It's kind of funny to show that you make more, but we're all still in this sort of struggling standpoint, so it doesn't really help to have as many tensions, in-fighting, I guess, as much as it is to collectively work together.
Continuing to Apply for Additional Grants
15:38 Emily: How did you feel regarding going after more funding?
15:45 Sam: That was a little bit hard for me. I had to talk to my advisor once about this and really figure out what's the best path, because I did have to tell her once that I felt uncomfortable applying for more because I've gotten some of these comments. I was like, "I have enough, I'd be okay." And she really sat me down and made sure I remembered what my worth is and that grants are really important for CVs if you're wanting to go into academia, and that you should not stop applying for things just because you have some money.
16:13 Sam: I have a great example of this where actually one of my funders, the democracy fund in DC helped me fund an entire summer in DC and they asked me, "Okay, how much do you need to do your research? And I was like, "okay, well I need this much for housing and this much for food and this much for a plane ride and some Metro and like, that's it." And they came back to me and said, "This is great, but you forgot to mention your actual value in terms of the work that you're doing for this grant, so we're going to double what you're asking for." That just blew my mind because it was the first time that someone came to me and told me you're worth way more than you're asking for and you need to make sure that you're asking for these things at a higher level. I think even now I am getting these grant fundings, it doesn't necessarily mean that that is my baseline worth just because I get something. And that took me a while from my advisor really encouraged me to keep applying for grants coming to me and telling me that I'm worth more than what I'm asking for.
Commercial
17:06 Emily: Emily here for a brief interlude taxes are weirdly, unexpectedly difficult for funded grad students and fellowship recipients at any level of PhD training. Your university might send you strange tax forms or no tax forms at all. They might not withhold your income tax from your paychecks, even though you owe it. It's a mess. I've created a ton of free resources to assist you with understanding and preparing your 2020 tax return, which are available pfforphds.com/tax. I hope you'll check them out to ease much of the stress of tax season. If you want to go deeper with the, or have a question for me. Please join one of my tax workshops, which you can find links to from pfforphds.com/tax. It would be my pleasure to help you save time and potentially money this tax season. So don't hesitate to reach out. Now back to our interview.
Understanding the Value of Your Work
18:12 Emily: I'm really glad that you can share that with our listeners, because some other people in the audience might be feeling the same way — sort of limiting themselves and saying, "well, I shouldn't go after more. I shouldn't do this. I shouldn't do that." You had these great mentors in a sense in your life to help you push back against that, but maybe someone in the audience doesn't have that and they're hearing this line of thought for the first time, which is really wonderful, so I'm really glad you're sharing that with us now. Is there anything else that you want to say about like understanding your worth? I mean, that is not just in the context of fellowship and grant applications, but just for graduate students more broadly, this is a very tricky topic to value yourself.
18:53 Sam: Yeah, absolutely. I think sometimes our expertise and our ability to do stuff is so undervalued and it's hard to measure how much you're personally valued, right? Because you have all these different discrepancies and how different grad students are getting paid. How much you're worth versus another grad student. You really, I think just have to sit yourself down and look at comparatively, if I were to go into industry right now, how much would I be making? How much is my value in terms of giving to different nonprofits or companies, which was what I was doing. I was technically partially consulting, but mostly had a grant to do my own research. Having those opportunities and making myself step out there and ask other people, "how much am I worth to you?" I think that makes a big difference, so I'd recommend to students to really go out there and see like how much is my value in other places versus in grad school, where I think we have this skewed sense because of this limited budgeting construct, of how much you're actually worth.
19:46 Emily: I think that's a really excellent point and I want to underline it that who is paying you, that context, matters a lot in how much you can command for your value. Your value can be the same in the academic context, in the private sector, or in the nonprofit sector. But what you can get paid is vastly different from those different contexts and if you stay stuck in just the academic context, you're not really going to realize all those different price points, in a sense, for your work.
20:16 Sam: Yeah, absolutely. I've come across different discrepancies, even internally, because in addition to having the GRFP and doing my research, I was extremely lucky and my department gave me a chance to teach twice, the first time being right at the onset of the pandemic. And me never teaching before and then teaching 140 students online wasn't the funnest, but it really showed me how much they were also paying. And actually apparently we get paid more as grad student lectures than adjunct faculty do, which is kind of crazy think about because we have a better union. Recognizing the transparency that "wait I'm a grad student, but I make more than an adjunct faculty." That's just telling me that the value system inside the university is skewed and I really shouldn't use that as a metric for my worth and that I really need to go outside the university bubble to understand that metric at least for grad school.
Financial Transparency in Academia
21:10 Emily: I understand we've been in COVID times, you haven't seen much of your peers so I don't know if you've actually, now that you have this new mindset around going after things and valuing yourself, maybe you haven't had a chance really to speak with your peers and receive a comment and be able to respond or push back against it. Certainly tell us, have you had that opportunity at all?
21:33 Sam: No, I really haven't just because everything's remote and most of the stuff is just friendly, get togethers and things like that. There was a little bit of work with COLA still going on, but that's a little bit hard with everything being remote and kind of put off to the wayside, I think, in a lot of people's minds.
21:48 Emily: Definitely. I guess maybe in preparation for you once again seeing your peers in some months, maybe — we're recording this in January, 2021 — is there anything that you think that you'll say to your peers at that time, or maybe something you wished you could go back and tell them, earlier on in this process when these comments started?
22:09 Sam: Yeah, absolutely. I mean, the biggest takeaway that I've really found, especially contributing to this data when it comes to COLA is that we're really all in this together. And it's really important to be open to this process, to share it with other grad students and to not really react negatively when other people are potentially making more than you are applying for more grants than you are, because everyone's so different. Especially even in my department — my first advisor was an anthropologist, my second was a computer scientist, and my third had a business degree a PhD. Even in that, the professors in our department have different scales of finances just because they come from different backgrounds, so it's all a little bit hodgepodge anyways.
22:46 Sam: But most importantly, I think it's important to be transparent. I had an occasion where we had new grad students come into the department, like accepted grad students, and they had a panel of current grad students answering questions about what it's like living in Irvine. What is the rent like? What is it like being a student and what type of classes do you take? And one of the accepted students asked "what is your stipend like, and how much is it to live on campus?" And none of the other students on the panel were directly answering the question. They're like, "Oh, it's enough. It's reasonable." And I was like, why aren't you giving people a number and I just straight up said, make this much money. This is how much I pay for rent. And this is for this type of housing. And they're like, "Oh, thank you. That's really helpful." And I think there's a stigma still even just to share for accepted students, this is how much you're actually going to make, because there's some uncomfortableness with this transparency that I think really needs to be broken because it really does help us collectively to have those discussion.
23:46 Emily: Yeah, thank you for that. And of course, I also contribute to and promote this process through my website, PhDstipends.com and PostdocSalaries.com. That's an anonymous way that you can share what you're making, what the funding sources and so forth, because that is also super, as you were just saying, important in this context. Are you making a baseline stipend? Do you have supplemental money coming in from XYZ, other sources? Are you taking out student loans to supplement the income because the rent is so high? Whatever the situation is I'm definitely in favor of being more transparent about it. But I certainly understand the discomfort because this is not, of course, something that exists only inside academia, only in our context, but in our entire society. Employers, even if they can't actually disallow it, certainly discourage employees from sharing their salaries with one another. It's really an entire society wide situation, so it's really commendable for you and also for your peers that you are doing more to throw back the curtain and say this is what it is and we want more and using it as like a bargaining tool. It's really awesome.
24:49 Sam: Yeah, absolutely. And especially, I think now that we're having more conversations about minority students and getting a leg up for a lot of people who are underprivileged, it helps to know where the line is and what they should be meeting equally. I work a lot with Congress and there are so many debates about congressional staffers, because staffers are woefully underpaid, but there's no transparency as much. There is some in documentation about knowing people's worth in that context. So I've just been around these discussions and I feel like the more that we can pull back the curtain, the more we can level up people, especially people who are underprivileged in the beginning and even that playing field.
Advice for Other Early Career PhDs
25:22 Emily: Yeah. Thank you so much and thank you for your willingness to come on the podcast and talk about this because it's a bit of an uncomfortable process. As we wrap up the interview, the question that I like to ask all of my guests is what is your best financial advice for another early career PhD? And that could be something that we've touched on in this interview, or it could be something completely different.
35:43 Sam: Yeah, absolutely. Going along with the theme here, apply to everything, even if you think you have enough, because you're often worth way more than you think that you are, things cost more than you think they're going to be in the beginning. That's always something that happens too. So I think that's really, really important and always being smart with your money. I'm personally a big fan of the FIRE method. I barely eat out. My activates that I love are cheap, so I'm just naturally in that mindset of being more financially savvy than I think a lot of people want to be, but that's okay, and that's my position. Not everyone needs that. But I think the more that people understand to apply and to really say "I could have more and I can really utilize this to my own advantage." Take advantage of it. There's so many grants out there that barely anyone applies to and those micro grants really can add up. Just applying for anything that you possibly can, I think is really important. And I know sometimes you get tired, especially towards the end of your PhD, like I am now, but it definitely makes a huge effect in the long run, especially you want to talk about compound interest and investments and things like that. Absolutely doing those as much as possible in the beginning.
26:49 Emily: Yeah. Thank you so much for that advice. And I totally agree with that. I want to emphasize two components of that. One is, like you were just mentioning, kind of the only way you can get a raise as a graduate student is to win outside funding. And whether that is outside funding that replaces your stipend at a higher level or supplements a stipend that you're receiving, maybe like you mentioned earlier, taking on extra teaching work could be another way to do that. But the fellowship and grant applications are really the way to do it without actually adding more work to your life, so it's kind of the equivalent of getting raised rather than just taking on more hours of work. A lot of paths to higher income are barred for graduate students, but this is one that is available.
27:30 Emily: The second thing that I wanted to emphasize is, you mentioned earlier that your advisors don't have funding for you, so this was completely your responsibility. I think that's part of this mindset of you know that you have to provide for yourself, but I just want to emphasize for people who do have funding to fall back on as a research assistant or teaching assistant, whatever it is for their advisors or their departments, the word guarantee might be in there, but what does it actually mean? And the word guarantee you might not be in there and what does that mean? I had a friend for example who had the NSF GRFP and that finished and she still needed another year or something. And because of a situation going on with her advisor not providing funding as he had in the past, she was left unfunded for a year. That was not something she ever anticipated. That was not supposed to happen in the way the funding typically went in this department, but it did happen. She had to negotiate and say, "you know what, I brought in the GRFP, you can give me another year. I brought in three years of funding." But that wasn't necessarily guaranteed to work.
28:37 Emily: In a sense, in academia you're a little bit like an entrepreneur. You have to hustle for your own money. Yes, you're supposed to be paid by someone, but how secure is that really? It feels to me a little bit more secure to be applying for lots of different things, have a lot of irons in the fire. And if those don't work out, at least you can say to your department or to your advisor, "I have applied for four grants in the last year. Hey, they didn't work out, can you give me some bridge funding?" There's a way to argue about that too. I think there's a lot of merits and a lot of different directions for applying for as much as you possibly can. I'm really glad you came back around to that position after having these conversations with your advisor and so forth.
29:19 Sam: Yeah, absolutely. And I love what you said about thinking about it as a raise. Especially as you're getting more and more in your PhD, you are more valuable, but your finances stay exactly the same. I love the idea of thinking about applying as a way to show that your worth increases over time. Thanks for sharing that too. Yeah.
29:35 Emily: Well, thank you so much for joining me today for this interview, Sam, this was really enlightening.
29:39 Sam: Yeah, absolutely. Thank you so much!
Listener Q&A: Investing
Question
29:42 Emily: Now onto another one of our new segments, the listener question and answer. Today's question actually comes from a survey I sent out in advance of one of my university webinars this past fall, so it is anonymous. Please note that nothing I say in the segment or anywhere else on the podcast is investing advice.
Answer
30:00 Emily: Here's the question: How do I invest? I don't have time to monitor the stock market constantly, but I would like to have at least a small amount of money invested.
30:10 Emily: What a wonderful question and I am so on board with the sentiment here. I also do not have time to monitor the stock market constantly. Who does? Honestly, I feel like people who do have the time and inclination to constantly monitor the stock market should just make that their full-time job, like go become a fund manager and get paid millions of dollars to do so instead of just doing it for your own paltry assets.
30:33 Emily: The good news is that spending that kind of time on investing is absolutely not necessary. In fact, in 99+% the cases it's actually counter-productive to do. Let me introduce a term to you: passive investing, also known as index investing. Passive investing is the most effective least expensive and most time efficient manner of investing.
31:00 Emily: The real quick gist of passive investing is that you buy one or a small number of index funds and you hold those funds in your portfolio long-term in a percent-wise allocation that you have determined in advance. Index funds themselves are collections of, we'll stick with the stock market, collections of stocks that reflect a broad market sector. So in these funds, the fund manager is not trying to pick the winners and dump the losers. They're just trying to buy either everything or a representative selection of everything available in that market sector. My go-to example is always the S&P 500 index. When you listen to the stock market news of the day, you're going to hear how the S&P 500 and the NASDAQ and the Dow Jones did. So those are three indices that represent how the market overall is doing. The S&P 500 has a really clear definition. It's simply the 500 largest companies that are traded on the US stock exchanges. So if you were to purchase an S&P 500 index fund, you would be a part owner, a very small part owner,of all 500 of those companies. So that represents the market sector of large cap companies, the largest companies. So basically the learning and the research that you need to do is to understand what passive investing is, what index funds are and which index funds you want to purchase and in what allocation. This might take you a few hours of upfront investment of your time, but it's not something that you need to put time into on a continual basis. Once you've decided on your strategy, you basically just let it ride. Another really easy set it and forget it way of accomplishing this is to use what's called a target date retirement fund, which is in itself a collection of index funds in a percent-wise allocation like I described earlier.
32:53 Emily: So where to go next for resources. I actually have a set of webinars inside the Personal Finance for PhDs Community explaining what passive investing is, what index funds and exchange traded funds are, how to choose them, which brokerage firm to use for your investments, whether you use an Roth or a traditional IRA, all these kinds of questions. So if you would like to view that webinars series, simply join the Personal Finance for PhDs community at pfforphds.community. And that webinars series will be immediately visible to you. I also have inside the community, a challenge that I ran a few months back on opening your first IRA. So you might be interested in following the steps of that challenge, which point to certain webinars to watch in a certain sequence and other steps to take. That might be relevant for you. Or you could do something like read a book such as the Simple Path to Wealth by JL Collins.
33:46 Emily: Now, another element to this question is that you mentioned you want to have a small amount of money invested. You might be tempted to use. What's called a micro investing platform. Those are brokerages that specialize in helping people with zero capital upfront get started with investing. Some names you may have heard are Acorns, Robinhood, M1, these kinds of platforms. I want you to be really careful when you're choosing the platform to go with. Ideally, you would only pay the fee associated with the ETF itself that you end up buying. You wouldn't be paying fees on top of that. For example, some of these platforms charge like $1 per month to be invested with them. I want you to avoid a platform that charges, that kind of fee. Because when you are investing only a small amount of money, a fee of $1 per month actually takes a big, big bite out of that money. So if you go with a micro investing platform, make sure it's one that doesn't charge any fees on top of the underlying ETF fees.
34:46 Emily: You also should check whether the platform offers IRAs, individual retirement arrangements. It might not seem important when you're just starting out with investing, but retirement investing should probably be your top investing goal when you're starting out, because it is such a large need, even though it's a long time away. For example, Robinhood fit some of the criteria I mentioned earlier — they don't charge you fees on trades, you can buy ETFs through that platform, but they don't offer IRAs, at least as of the time of this recording. It's very worthwhile to check out what are called the online discount brokerage firms, like Vanguard, Fidelity, and Charles Schwab. Those are kind of my go tos for being able to avoid higher fees that might be charged by other companies. However, the issue is that sometimes they have minimum amounts that you need to invest to get started, like maybe a thousand dollars, which of course is not at all a that you would have that much money. So in my mind, those are the places to get to, eventually maybe when you're starting out or maybe later on. But if you need to start out in a micro investing platform or a robo-advisor at the beginning, that's perfectly fine.
35:51 Emily: I think once you really understand the concept of passive investing and how simple it is, how easy in a sense it is to build up wealth over the decades, you're going to want to have more than a small amount of money invested. You're going to be really motivated to increase that savings rate and a discount brokerage firm is a great place to be when you're saving a hundred dollars a month or more, or have a thousand dollars in your account already. Personally, when I first opened my IRA and started investing, I went with Fidelity because at that time they allowed me to open an account with no money up front, as long as I set up a recurring savings rate of at least $50 per month. So I did that for a little bit over a year until I had $3,000 in my IRA. And then I transferred my account over to Vanguard. They had a $3,000 minimum at that time, and I've been with Vanguard ever since. So I hope that is a start to answer your question and that you have a place to go for our further resources, either with me or other people who talk about this. And I really want to encourage you at the start of this investing journey, so I do hope you'll take that next step. If you would like to submit a question to be answered in a future episode, please go to pfforphds.com/podcast and follow the instructions you find there. I love answering questions, so please submit yours listeners.
Outtro
37:10 Emily: Listeners, thank you for joining me for this episode. PFforPhDs.com/podcast is the hub for the Personal Finance for PhDs podcast. On that page are links to all the episodes show notes, which include full transcripts and videos of the interviews. There is also a form to volunteer to be interviewed on the podcast and instructions for entering the book giveaway contest, and submitting a question for the Q&A segment. I'd love for you to check it out and get more involved. If you've been enjoying the podcast, here are four ways you can help it grow. One, subscribe to the podcast and rate and review it on Apple podcasts, Stitcher, or whatever platform you use. If you leave a review, be sure to send it to me. Two, share an episode you found particularly valuable on social media, with an email list serve, or as a link from your website. Three, recommend me as a speaker to your university or association. My seminars cover the personal finance topics PhDs are most interested in, like investing, debt, repayment and taxes. Four, subscribe to my mailing list at pfforphds.com/subscribe through that list. You'll keep up with all the new content and special opportunities for Personal Finance for PhDs. See you in the next episode! And remember, you don't have to have a PhD to succeed with personal finance, but it helps. Music is Stages of Awakening by Poddington Bear from the Free Music Archive and is shared under CC by NC podcast, editing and show notes creation by Lourdes Bobbio.
Join Our Phinancially Distinct Community
Receive 1-2 emails per week to help you take the next step with your finances.