After a long, arduous journey through graduate school, you've successfully defended your PhD and are about to take the next step in your research career: a postdoc. One of the best perks of transitioning from being a graduate student to a postdoc is the pay increase. While postdocs aren't exactly rolling in dough, they are usually paid significantly better than graduate students, and after 5+ years of zero to tiny raises, it's gratifying to finally receive a higher salary.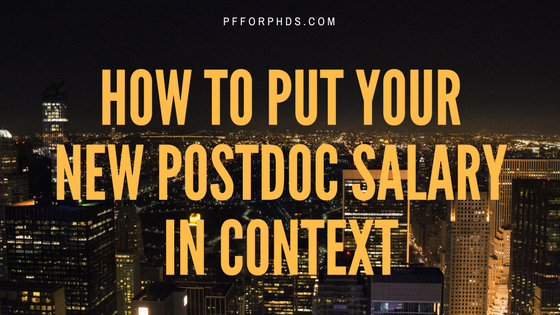 However, before you buy that new car or put an offer on a house, take some time to put your new postdoc salary offer in context. There are a few subtle changes common to the grad student-postdoc transition that will decrease your take-home pay and/or discretionary income.
(This post is specific to the US.)
Employee or Fellow?
The very first question to clarify is what exactly your employment status will be with respect to your university/institute. Just like in graduate school, there are two broad ways you can be paid: compensatory or non-compensatory. In academic-speak: Are you an employee or a fellow?
If you see "fellow" in your title or offer letter, have heard "fellowship" from your advisor when discussing funding, or have won an outside individual fellowship, you are a fellow and not an employee of your university. As a fellow, you may receive no benefits from your university or only a few; you are almost certainly not going to receive all the benefits a full employee would. You should contact your university's postdoc office or your departmental administrative assistant for a full explanation of your benefits.
If you aren't labeled a "fellow" you are most likely an employee, but there may be multiple classes of employees at your university so it's important to determine which one. (Postdocs may not be offered the same benefits as faculty, for example.) Once you know exactly your class of employee, you can read through material provided by Human Resources to determine your benefits, and direct any questions you have to Human Resources or the postdoc office.
When in doubt, ask if you will receive W-2 pay or not. W-2s are used for employee pay, while non-compensatory pay is not reported to the IRS or reported on a 1099-MISC.
Further viewing: Types of Grad Student Pay and Their Implications
Some of the common, though not universal, differences in benefits offered to employees though not fellows are: income tax withholding, 403(b) access, 403(b) match, subsidized health insurance premiums, health insurance premiums paid as a payroll deduction, Health Savings Account/Flexible Spending Account, group disability and/or life insurance access, and official paid time off.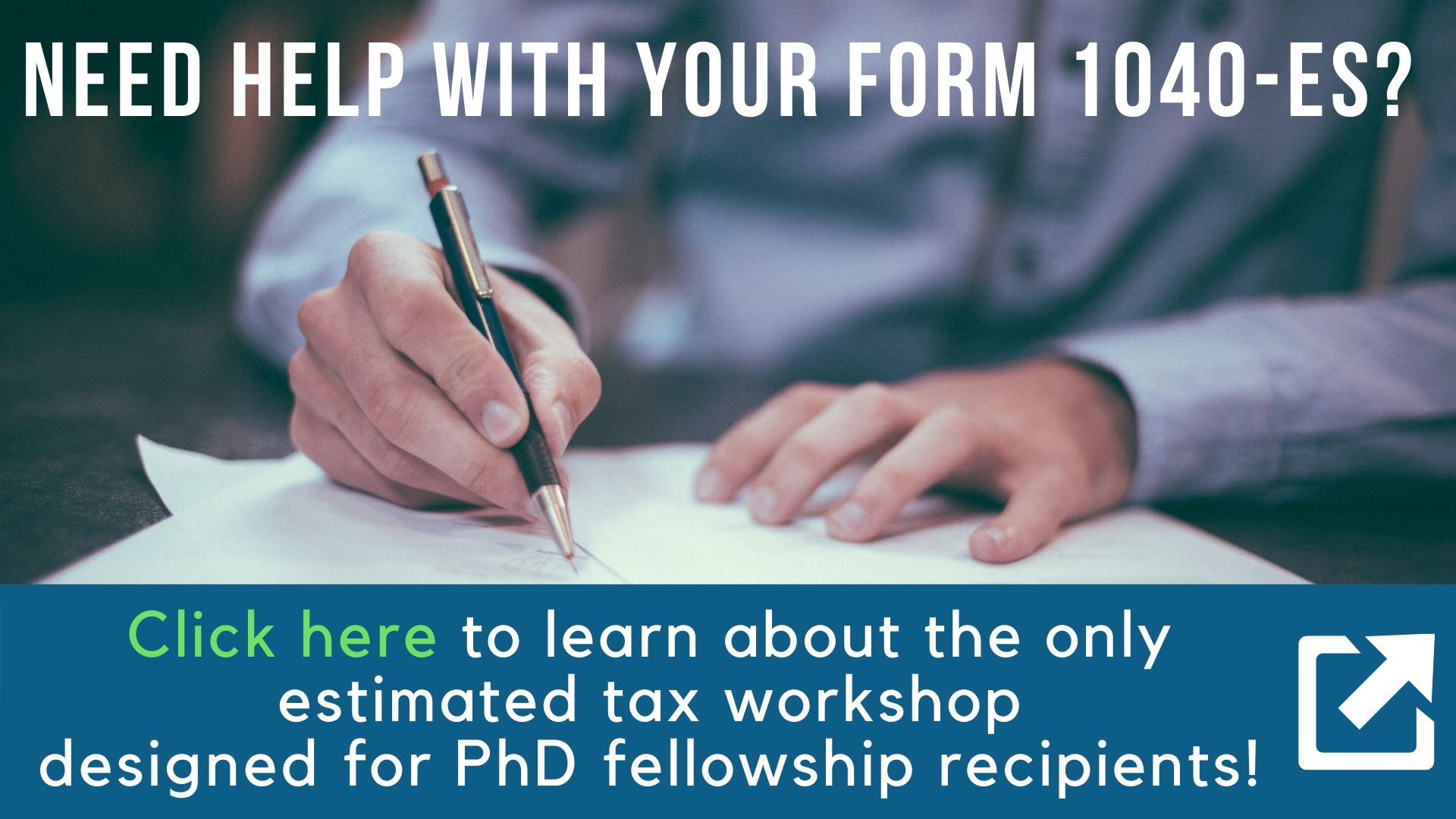 Income and FICA Taxes
If you're earning more as a postdoc, you're also going to pay more in federal income tax (given no other changes in your personal life). Your effective tax rate will increase and possibly your marginal tax rate as well. So if your gross pay increases by $1,000 per month, for example, federal income tax may take a $120 or $220 (or somewhere in between) bite out of that increase.
The same broad story would be true for state taxes if you are not moving states, but many postdocs relocate states as well with their new positions. If you don't want any surprises in your first paycheck, look up how your new state's tax brackets and rates compare to your old state's.
One of the biggest tax changes that occurs when going from a grad student to a postdoc is FICA tax (Social Security and Medicaid). As a graduate student, you did not pay FICA tax. Postdoc fellows will also not pay FICA tax (or self-employment tax) on their income as they do not technically receive "wages." However, postdoc employees will begin to pay FICA tax. On the employee side, the Social Security tax is 6.2% and the Medicare tax is 1.45% on all of your income up to $128,400 (in 2018). If your new postdoc salary is $45,000 per year, for example, you will pay $3,442.50 in FICA tax. That can be a big shock for someone who wasn't paying any tax in that category previously.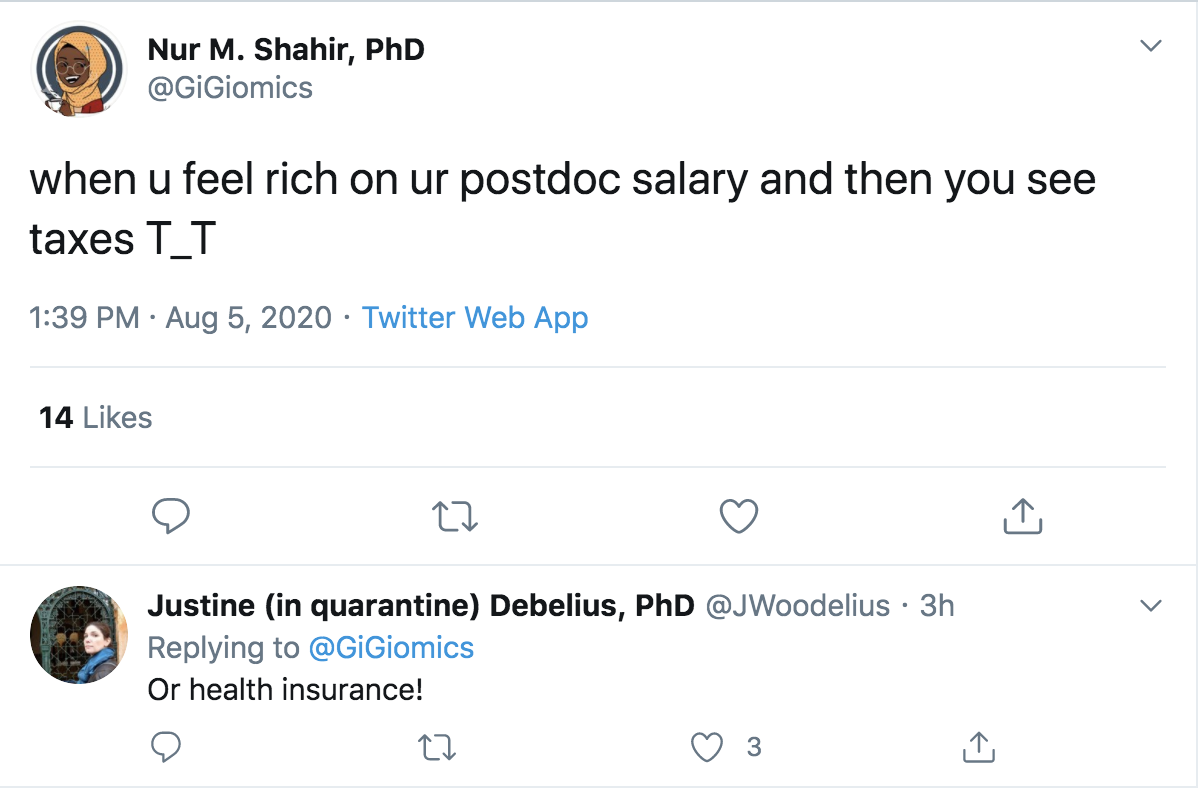 The best way to calculate your new take-home pay after all of these changes is to use a paycheck calculator, of which there are many.
Further reading: Why Is My Take-Home Pay as a Postdoc Nearly the Same as When I Was a Grad Student?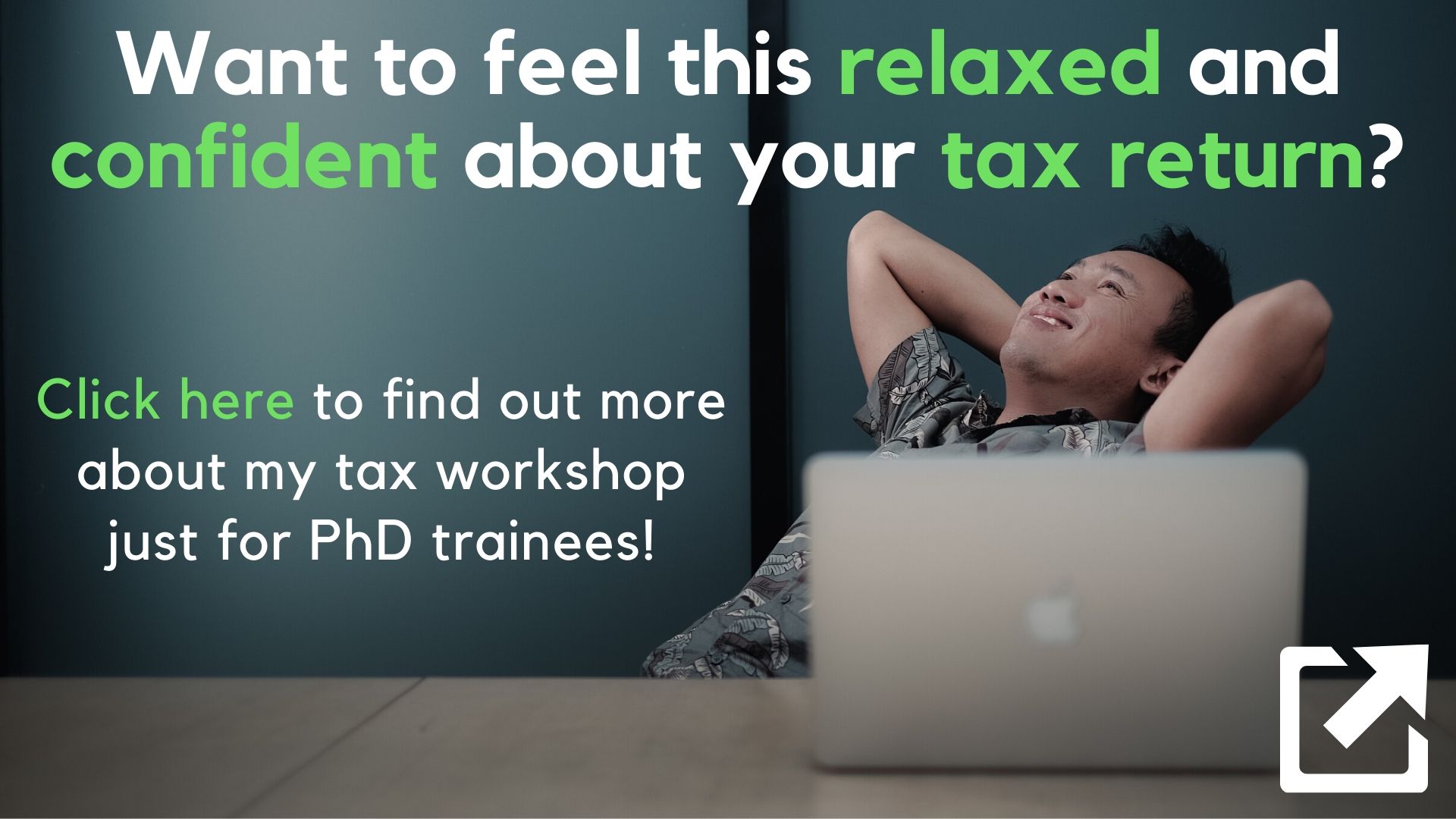 Health Insurance
While your grad school and postdoc universities almost certainly offer you the option of buying group health insurance, who pays the premium and how might change.
As a graduate student, it is typical to have your health insurance premium paid partially or completely from funds that are not part of your stipend pay, so many graduate students don't have to factor that cost into their take-home pay.
A postdoc employee will likely pay part or all of his insurance premium through a tax-free payroll deduction. A postdoc fellow's insurance premium may be paid on her behalf, similar to a graduate student, or come completely from her salary.
This is an important benefit to check into prior to starting your postdoc position as you don't want any lapse in coverage or to be surprised by the additional expense. The premium for a postdoc's insurance may be much higher than a graduate student's, depending on the risk pool each position is put in.
Student Loans
Another big change when you transition out of being a student is that your student loans, if you have any, are no longer eligible for in-school deferment. Beginning to pay off student loans can be a large monthly expense on a postdoc salary, depending on the total amount owed.
Contact your lender(s) to find the minimum payment due and the period over which you will repay your loans. Federal student loans have a standard repayment period of 10 years, but private student loans may take a shorter or longer period of time. Factor this minimum payment due into your planning for how to allocate your salary.
If you want to pay off your debt faster than the standard repayment period, which is an excellent idea for debt at a moderate or high interest rate, plan on paying more than the minimum amount due each month.
If you don't think your postdoc salary can handle even the minimum payment on your student loans, you have two options to immediately consider.
1) With respect to your federal student loans, you may be eligible for one of the many repayment programs that lower your minimum payment due (even, potentially, to $0) by extending the repayment period and overall amount of money you will repay (income-based repayment, pay as you earn, etc.). Your eligibility for these programs depends on your household income. Carefully consider whether it is in your best interest to use one of these programs, even if you are eligible.
2) There are many lenders currently offering student loan refinancing at competitive interest rates. When you refinance, you are paying off your old loans and taking out new private loans, so make sure you would not be losing any benefits unique to student loans, such as the repayment programs for federal student loans. Be forewarned that these lenders only work with borrowers with excellent credit and low debt-to-income ratios. If you can significantly lower your interest rate, refinancing may be a positive step for your personal finances, both lowering your minimum payment due and reducing the total amount of money you will repay.
Cost of Living
With a change in university naturally comes a change in the local cost of living. As you well know, living expenses vary greatly from city to city. At the lower salary levels of a graduate student or postdoc, this can be a major concern.
There are two quick methods to estimate how the cost of living will change between your grad school city and your postdoc city.
CNN offers a cost of living comparison calculator. Plug in the two cities in question (or as close as you can get to them) and put in either your grad student salary or your postdoc salary. Your greater familiarity with the cost of living in your grad school city combined with this calculator will help you estimate how far your new salary will go in your new city.
MIT's living wage database also provides insight. Look up the living wage for your grad school university's county and your postdoc university's county. The living wage will be closer to your grad student salary than your postdoc salary, but the difference between the two will also help you determine how much of an increase or decrease in cost of living you will experience.
A more involved but also more effective step if you have not yet moved to your new city is to sketch a budget. Using your best estimate of your take-home pay based on the above factors, research how much you are likely to spend on housing, food, transportation, etc. if you kept your perceived lifestyle the same from grad school into your postdoc. Ideally, this exercise will help you decide in which areas of your budget you are able and would like to upgrade your lifestyle, such as living without a roommate.
Personal Experience with the Transition to a Postdoc Position
My husband stayed in his PhD advisor's lab for an extra year as a postdoc to finish up a few papers before applying for a "real" multi-year postdoc at another institution. My husband received one postdoc offer that he seriously considered before ultimately choosing a position in industry. We performed the calculations above regarding increased taxes and insurance costs to compare the take-home pay of his new postdoc offer directly to the take-home pay from his short-term postdoc and graduate student positions. The take-home pay from the postdoc offer was slightly less than that of his short-term postdoc position and much higher than his pay as a graduate student.
However, when we compared the cost of living in our grad school city, Durham, NC, to the cost of living in Boston, MA, where the new offer was from, we were shocked by the results. In terms of the effective purchasing power from my husband's take-home pay, the pay for the postdoc position in Boston was "less" than even his grad student pay in Durham. We would not have expected to experience an effective pay decrease moving from a grad student position to a postdoc position, but that is how the numbers worked out. I'm very glad that we took the time to do those estimates before he made a final decision about the offer.
Further reading: An Agonizing Decision
While the gross pay from your new postdoc position may seem great in comparison with your grad student pay, don't be fooled! You must account for several important changes in taxes, benefits, and cost of living to compare apples to apples.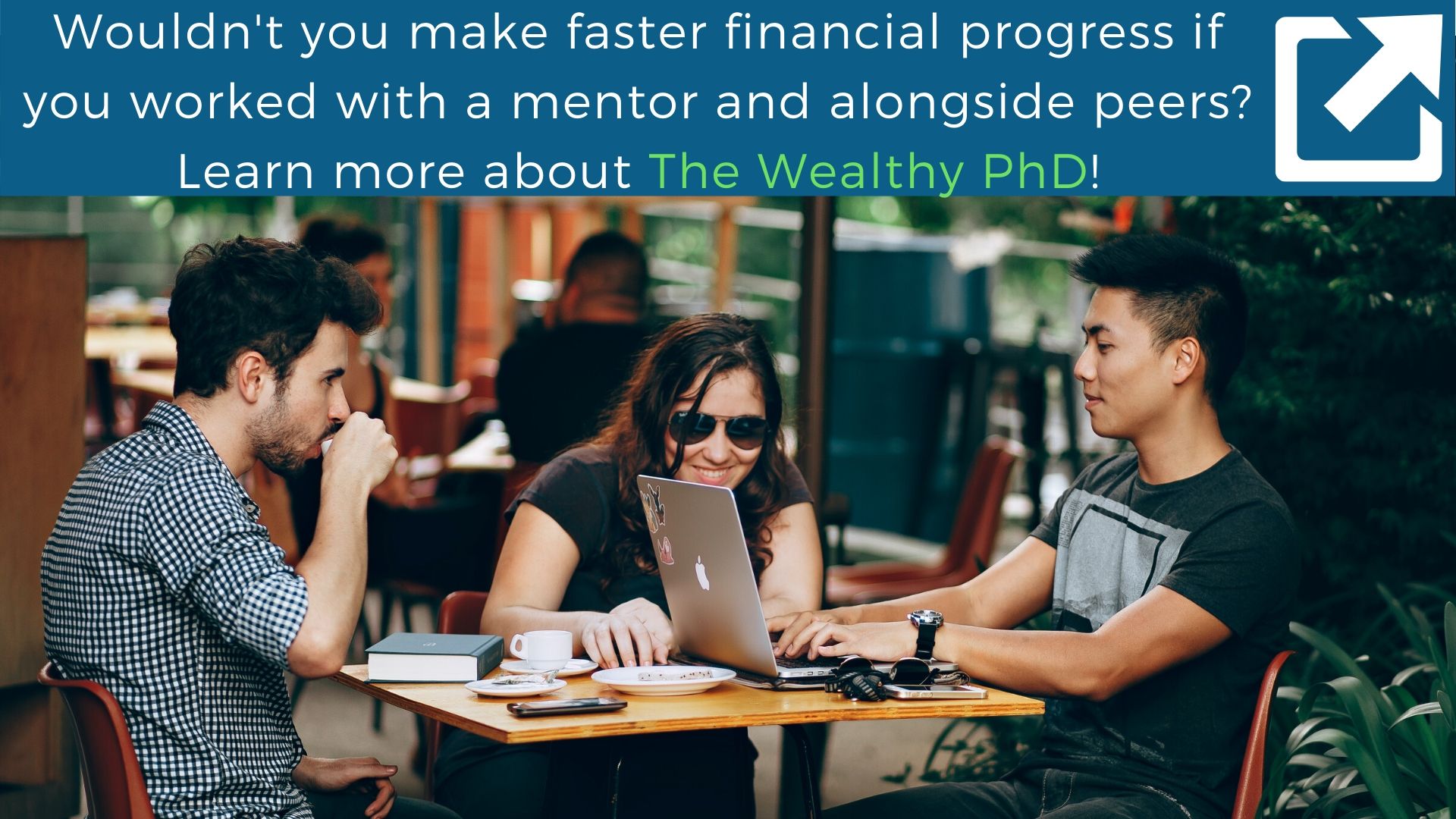 Join Our Phinancially Distinct Community
Receive 1-2 emails per week to help you take the next step with your finances.