In this episode, Emily interviews Sam Hogan, a mortgage loan officer with Movement Mortgage who specializes in graduate students and PhDs. Sam lists numerous housing markets where graduate students and postdocs are able to buy a home on a single income or two incomes and explains why the rising mortgage interest rates should not be a deterrent to buying. Sam also illustrates why qualifying for a mortgage with fellowship income has historically been difficult for graduate students and postdocs, but how he and his team have found a way to reliably get them approved. They wrap up the interview with explaining how Sam's recent shift to working for Movement Mortgage is going to smooth the path to approval even further.
Links Mentioned in this Episode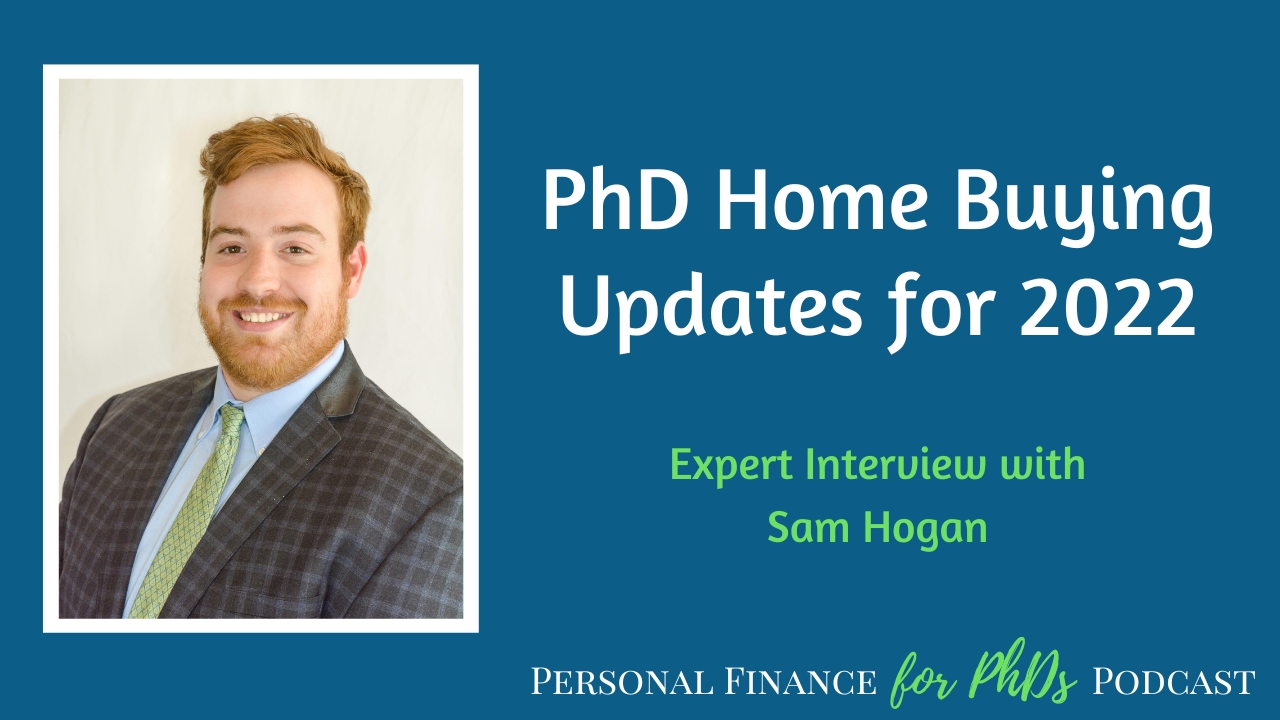 Teaser
00:00 Sam: This is advantageous to the PhD community because there are other things that are so stressful about the home purchase. You know, putting a $20,000 deposit down can add a little, you know, you might lose half an hour of sleep every night. I don't want anybody losing sleep because they're well qualified over income like letters. It's totally ridiculous.
Introduction
00:28 Emily: Welcome to the Personal Finance for PhDs Podcast: A Higher Education in Personal Finance. I'm your host, Dr. Emily Roberts, a financial educator specializing in early-career PhDs and founder of Personal Finance for PhDs. This podcast is for PhDs and PhDs-to-be who want to explore the hidden curriculum of finances to learn the best practices for money management, career advancement, and advocacy for yourself and others. This is Season 13, Episode 1, and today my guest is Sam Hogan, a mortgage loan officer with Movement Mortgage who specializes in graduate students and PhDs. Sam lists numerous housing markets where graduate students and postdocs are able to buy a home on a single income or two incomes and explains why the rising mortgage interest rates should not be a deterrent to buying. Sam also illustrates why qualifying for a mortgage with fellowship income has historically been difficult for graduate students and postdocs, but how he and his team have found a way to reliably get them approved. We wrap up the interview with explaining how Sam's recent shift to working for Movement Mortgage is going to smooth the path to approval even further.
01:46 Emily: Since we jump right into the discussion of mortgages in the interview, I want to take a moment here to prepare you for what's to come! Sam has been on the podcast several times before if you'd like to catch up on our previous conversations. If you plan to listen to them all, please do so from oldest to newest. You can hear him on Season 2 Episode 5, Season 5 Episode 17, and Season 8 Episode 4. We have also held several live Q&A calls in the past in which Sam takes questions from grad student and PhD first-time homebuyers, and I've published a few clips from those calls on the Personal Finance for PhDs YouTube channel. We don't have our next live Q&A scheduled yet, so if you'd like to be kept in the loop on that, please join my mailing list through PFforPhDs.com/subscribe/. Links to everything I just mentioned will be in the show notes. You're going to hear me being pretty pro-homebuying during this interview because I get so enthused about it when I talk with Sam and reflect on my own rental and home ownership history. But I want to acknowledge up front that of course homebuying is not financially feasible for most graduate students and even if feasible is not necessarily the best financial or lifestyle decision. In my book, renting is a perfectly valid choice. Don't feel pressured to buy by this interview. It's more about encouraging graduate students and PhDs who are interested in buying that it may very well be possible for them and showing them how to do it. You can find the show notes for this episode at PFforPhDs.com/s13e1/. Without further ado, here's my interview with Sam Hogan.
Will You Please Introduce Yourself Further?
03:35 Emily: We have an extra special episode of the Personal Finance for PhDs Podcast today because my guest is my brother, Sam Hogan, who is a mortgage loan officer with Movement Mortgage. And for the past several years, he has been specializing in writing mortgages for graduate students and postdocs and PhDs. And I'm just so delighted to have Sam on! By the way, he is an advertiser with Personal Finance for PhDs, and he's going to give us some updates on what's going on in 2022 and recent developments in the mortgage industry that's relevant for our audience. So, Sam, thank you so much for joining me! And will you please introduce yourself a little further?
04:12 Sam: Thank you for having me. It's Sam Hogan, I'm newly with an old employer, Movement Mortgage. And my NMLS number is 1 4 9 1 7 8 6.
04:23 Emily: And let's get your contact information upfront in case anyone knows already that they want to get a quote from you.
04:29 Sam: Yes. So, my best phone number is (540) 478-5803. And the new email address for me is Sam dot Hogan at movement.com.
Homebuying Markets for Grad Students
04:41 Emily: As probably everyone listening knows, in 2022 we've seen a lot of rate hikes from the fed, which has trickled down into the mortgage industry. And so, I know that graduate students and PhDs are really concerned right now about still being able to afford to buy with these recent rate increases. So, can you tell us some examples of places or markets where you're still seeing PhDs and graduate students able to purchase homes?
05:07 Sam: Yeah, absolutely. Some of our steady markets, I would say nationwide, are just pockets of the country where you can still find single-family homes or townhomes under $400,000. Whether it's a PhD or postdoc buying on their own or with a partner. We see a lot of activity in North Carolina, and that's within the Research Triangle and also outside of that area. I've had a couple of deals done in Winston-Salem for Wake Forest students. But outside of Chicago, Northwestern, those areas are good as well, including, you know, Philly, Providence, Rhode Island, for people who are going to school just across the bridge at Harvard or MIT. And also Austin, Texas, and outside of those city limits has been steady, no matter what the rate is. And I say that because with these lower-priced homes that are a little more affordable for PhDs, the interest rate, even when it goes up, it doesn't make a huge, huge difference in your monthly payment.
06:14 Sam: Now, if someone was getting a high balance loan at seven, $800,000, when the rate goes up just a little bit, it makes over a hundred dollars difference monthly. Our first barrier and hurdle with the PhDs is, and will always be the monthly income. <Laugh> Not just including it, but finding a property that fits within that budget. You know, people who are debt-free and have a little bit of money to put down, still, it's the monthly income that we say, Hey, 10% down is going to have to get the job done because the income is very tight.
06:49 Emily: Yes. Can you give us some examples there? Because I mean, you just threw out $400,000, which like is sort of breathtaking for me. And I assume that's with two incomes, maybe people could afford that. Let's talk about one income. Let's talk about a PhD stipend. Maybe it's $30,000 per year or something similar to that. If you had a person, a single person buying on their own with that kind of income of good credit score, no outstanding debt, I mean, we're talking ideal candidate here. How much would they be able to qualify for with current interest rates? We're recording this in August, 2022.
07:27 Sam: Most recent live data is a loan closing tomorrow and she purchased at $185,000 outside of Chicago with 10% down.
07:39 Emily: And what was her income?
07:42 Sam: She was a second-year student, I believe it was around $34,000 a year.
Keep an Open Mind to Possibilities
07:48 Emily: Okay. Okay. So, ballpark numbers. That's great to hear. Obviously, like you said earlier, it's going to be a stretch for a graduate student, especially a single one as I was just mentioning, to buy a home on a stipend. But there are some markets around the U.S. where this is still possible, and even more so if you do have a partner to buy with, or if your income is, you know, better than the average graduate student stipend. Basically, my message always when I bring you on is like, audience members do not completely dismiss out of hand the possibility of you owning a home during graduate school or your postdoc. At least look into it a little bit. Yeah. There are a lot of places where it's not going to be possible, but you may be surprised that it is possible in some places.
08:27 Sam: Yeah. I mean, I have a client who is buying in LA right now, which people would immediately write off as way too expensive. She does have a second job that she has history of working. So, she's able to afford a little bit more than just her stipend. I believe she's going to UCLA right now. So, she's still buying in the upper threes. You know, she does have 20% down, right? Which helps bring down that loan amount, but I'm only qualifying her off of the stipend and a small seasonal job. So, yes, she is looking at a studio with one bathroom, but that is what she knows she's going to be comfortable with monthly. And I think just the biggest thing about owning in grad school is completely flipping your net worth, right? You could have a hundred thousand dollars of student loans going into grad school, but turn that into $200,000 net worth and then also rental property when you move out of the area.
09:31 Sam: So, even if it's a studio, it's still a wonderful stepping stone. You know, you get that first purchase out of the way and you realize, okay, you know, closing costs are basically the only thing I spent my money on that doesn't go into equity on my home, right? And you know, learning these small steps of home ownership, like filing an insurance claim if you have to, or like, why do I have plumbing issues every month, right? Whatever, maybe my washer broke, what do washing machines cost, right? All these things are just, you're going to learn them eventually, and the benefits of a five or six-year plan of you owning while, you know, progressing yourself personally is just unmatched, I would say.
House Hacking
10:16 Emily: Sam, you put that so eloquently, and long-time listeners are going to know I've said many times that one of my big financial regrets from graduate school when I went to Duke in the Triangle was not buying my first home when I had the financial means to, because I had a lot of limiting beliefs going on at that time about what home ownership was for graduate students. So, I won't belabor that point right now, but if you want to go back and listen to some previous episodes we've had on home ownership, you can check out season eight, episode 18, where I talk a lot about my own limiting beliefs around home ownership during graduate school. And we've done multiple episodes with Sam as a guest in the past, but I would especially point you to season eight, episode four, which is when we talked about, the title episode is Turn Your Largest Liability into Your Largest Asset with House Hacking.
11:03 Emily: So, we talk a lot about what house hacking is, which is basically just when you buy a home that's larger than what you need and you rent out one or more of the bedrooms to tenants slash roommates. And it can be a really powerful strategy for graduate students who are able to pull it off. So, especially go listen to that one because we, again, talk about all these like options for exiting a home ownership situation, if you are leaving the city, when you finish your graduate program or when you finish your postdoc. You could sell, but if it's not the right time to sell, you could hold onto it, and it could become a rental, like Sam was just saying. Or there are other options as well. So, anyway, great episodes to listen to. Sam, is there anything that you want to add about like where graduate students in PhDs are buying and able to buy right now?
11:42 Sam: I can say reflecting on my last year's worth of production, there were 17 states which I originated for PhDs last year, or I guess in a calendar year. I definitely see a lot of business in the Northeast. So, people who are going to any New Jersey, Massachusetts, Rhode Island, Connecticut area type of university. I actually had a very successful purchase for a student who goes to Yukon. His name was Joshua DuPont, and he implemented a wonderful house hacking purchase. Couple quick data points on it. He purchased at about $130,000. It was a two-unit, separate levels. The rental comp on the second unit was about $800 a month, which exceeded his mortgage by about 50 bucks. So, he was covering his entire mortgage by having that rental unit above his. I'm not sure which one he lived in, but it was a perfect example of someone who was making the commitment for five years, and then, I mean, his opportunity now financially is completely different than it would be if he was the person renting that unit from someone else, right?
13:05 Emily: I love to hear that. I'm so happy for him!
13:07 Sam: Yeah. And that's actually the third PhD that bought a multi-unit.
Rates are a Moving Target
13:11 Emily: Wow! That's so exciting! Okay. So far what we've heard is don't discount home ownership. It's possible in a lot of different markets. Secondly, rates are going up, but it won't affect these on the lower end of home prices purchases as much as it will affect larger-scale home prices. So, still go ahead, get a quote from Sam, get a quote from somebody else, see what you can qualify for just based on your income.
13:38 Sam: I wanted to touch on rates one more time. You don't want to be 100% focused on what rate you're receiving. Because everyone at that time of the year is going to be in a similar boat as you. Rates have gone up, people will qualify for less at a higher rate, right? But the main goal is to find the right house within your budget. So, whether that is off of a 5% rate or a 6% rate, it still has to be a comfortable payment for you. Okay. So, while you're looking for your home, rate is basically a moving target, right? What a lot of lenders implement is a float-down policy. So, my client in Chicago that's closing tomorrow, when I locked her rate, she was up at 5.625. You know, condos have a little bit higher rates than single-family homes, but we're able to lock at day one when we decided it's a good time to lock.
14:41 Sam: And then also look at a second day in the future that's before closing to see if the rate is better that day. In her scenario, the rates had improved for a few weeks. And so, we ended up floating down her 5.625 down to 5.1 at no cost to her. So really, when you're locking your rate in, you're just preventing the rate from getting worse, right? You're locking in it at, let's just say 5%, for example. Your rate's never going to be over 5%. Should the market improve significantly before you close, ask your lender about a float-down option. They usually have one. I would say if they're a competitive lender that does a lot of business, they have a float down policy. Okay. So, mainly, the point I'm trying to get across is, no matter what the rate is, even if it's at 10%, don't be discouraged from buying, because you still have the equity you're going to gain in the home, the amount you're going to pay your loan down, your tax write-offs, and the ability to either keep or rent out that home after you don't want to live there anymore. So, all these things, compared to paying rent, rent is a hundred percent interest. The only good thing about paying rent is you get to call your landlord and say, Hey, I have a problem. Instead of dealing it with yourself.
15:55 Emily: That is a good benefit of renting, and one that I miss.
15:57 Sam: It's the best benefit. Yeah.
15:59 Emily: I appreciate your points about still buying even at higher interest rates, if you qualify, right? The question is, if graduate students were at that tippy top max of their budgets anyway, and increasing rates have caused their monthly payment to go up to such a point where they could no longer even afford a house anywhere in that market, if they were on the bubble like that, then it's an issue. But if you could still qualify at the higher rates, like you said, I still think it's a reasonable idea to go forward with buying. Especially because, you know, let's say next year or the year after that rates are lower, again, that person can refinance. As we saw so many people do with low rates over the past 10 years. And so, it's not necessarily that that rate is going to be your rate forever. As long as you can still get into the property. So anyway, it's worth investigating.
Buying Down Your Rate
16:44 Sam: Okay. So, I'll add these details from what I experienced originating at higher rates right now. Like you just said a moment ago, you're already on a tight budget. That's not changing. And rates going up, you're going to qualify for a little bit less. It's not going to take you out of the market because now the rates have gone up, and home prices are actually starting to come down in some areas, right? You're not going to go, you know, over contract price plus 10 grand to get into the home. Okay. So prices will adjust for a smaller buy approval that doesn't qualify for certain amounts, right? And then secondly, usually PhDs are putting down savings or they're receiving a gift from a family member or a friend. Some even are selling a previous home and buying another one, right? So, the $5,000 you needed from a family member to close, you know, planned on, might be $10,000 now.
17:44 Sam: You might just have to put a little more down to qualify for that house you want, right? Then again, I still have people buying single-family homes in North Carolina for under $150K. So, if you don't need more than three bedrooms, you're going to be able to find something. And then the last thing I wanted to point out is the realtor that you decide to work with is important because they're going to work hard to find something that fits your budget. What we know already to start is that it's going to be a tight budget monthly. So, I want to get my eyes on every property that you're going to put an offer in to make sure it fits for your scenario. So, the room for error is very small here.
18:29 Sam: What's very unlikely is that you're looking for a home and I've preapproved you at five and a half percent. And during that period, rates go up to six and a half, and now you don't qualify. That won't happen. Because the cost to buy down the rate, if it were to go up, would be minimal. So, the rate that you don't pay for has gone up, but if you are willing to put 1% or even 2% of your loan amount to buy down your rate, we can do that. Sometimes it's cheaper to buy down for a lower rate versus getting another five or $10,000 to put down towards your loan. So even with the tight income monthly for one, you know, grad student on a stipend, it's still achievable.
19:21 Emily: That's really good to hear.
Commercial
19:25 Emily: Emily here for a brief interlude! These action items are for you if you recently switched or will soon switch onto non-W-2 fellowship income as a grad student, postdoc, or postbac and are not having income tax withheld from your stipend or salary. Action item #1: Fill out the Estimated Tax Worksheet on page 8 of IRS Form 1040-ES. This worksheet will estimate how much income tax you will owe in 2022 and tell you whether you are required to make manual tax payments on a quarterly basis. The next quarterly estimated tax due date is September 15, 2022.
20:07 Emily: Action item #2: Whether you are required to make estimated tax payments or pay a lump sum at tax time, open a separate, named savings account for your future tax payments. Calculate the fraction of each paycheck that will ultimately go toward tax and set up an automated recurring transfer from your checking account to your tax savings account to prepare for that bill. This is what I call a system of self-withholding, and I suggest putting it in place starting with your very first fellowship paycheck so that you don't get into a financial bind when the payment deadline arrives. If you need some help with the Estimated Tax Worksheet or want to ask me a question, please consider joining my workshop, Quarterly Estimated Tax for Fellowship Recipients. It explains every line of the worksheet and answers the common questions that PhD trainees have about estimated tax. The workshop includes 1.75 hours of video content, a spreadsheet, and invitations to at least one live Q&A call each quarter this tax year. If you want to purchase this workshop as an individual, go to PF for PhDs dot com slash Q E tax. Now back to our interview.
Getting Ready to Purchase
21:29 Emily: Both of us have mentioned a couple times so far, like, okay, you know, ideal buyer candidate, like zero debt, and like, okay, how much money do you have to put down? Is it 5K? 10K? More? Let's lay out for the listers right now, let's say for someone who is really thinking they're going to buy, maybe it's within the next few months or next year, what can that person do within their finances and their life overall kind of to get ready to be in a good position to make that purchase a little ways down the line?
21:58 Sam: Well, you want to have a full understanding of where you stand credit-wise. [Annualcreditreport.com], we'll have to check that for the show notes, but once a year, every consumer can get a copy of their credit report.
22:19 Emily: I just looked it up. It is annualcreditreport.com.
22:22 Sam: You really want to make sure that you have some money saved, you're at a good credit standing, and you're, I guess, mentally prepared to lose out on a couple deals before you find the right house. <Laugh> I would also say, if you do believe you're going to be receiving a gift, to have that conversation a little earlier on in the process. We really don't like to transfer money until we know things are done deal, but you know, prepping a family member or a spouse like, Hey, are we prepared to move around 10 or $20,000 to get this deal done, right? And then aside from credit and assets, your other main player is your income. We talk a lot about stipend income. I might know it better than some universities, but be aware of if your funding is changing. Usually, we have these annual increases.
23:25 Sam: But when that goes into effect, sometimes I receive funding letters that haven't been officially signed. I'm like, we need to make sure you have a signed funding letter. And we do want to see some continuance, but we are not like every lender. We can still approve income even on a short-term contract. We look at the full picture, and Movement Mortgage uses common sense underwriting. So, if I can just show that you've always been in good standing as a student, and now you're transitioning to this PhD in, you know, X science field or arts and sciences that we support you. We understand you're a good borrower. We just, you know, there are obviously no guarantees because we want to make sure people fall into the right credit buckets, have the right assets, and the trio of how you qualify someone, right?
Advocacy for Grad Students with < 3 Years Continuance
24:24 Emily: Let's talk a little bit more about that, because in one of our earlier episodes, it was quite a while ago now, season five, episode 17, we talked about this term continuance that you just mentioned. And at the time, again, it was a few years ago, the way things were understood regarding fellowship income–by fellowship, I mean, non-employee income, non W-2 income, awarded income is what I call it for my tax purposes. What we understood at that time was that fellowship income was sort of viewed differently than employee income, W-2 income, with respect to qualifying for a mortgage. And I was getting a lot of messages from graduate students and postdocs who were saying, oh my gosh, I was denied. I couldn't get a mortgage. I couldn't buy the home that I expected to because of the type of income I have. Not the amount of income, but the type of income.
25:13 Emily: And so, you looked into this, this is sort of how, you know, we started kind of collaborating together several years ago, you looked into this and one of the first things you found was, oh, well, if you have three years of continuance stated explicitly in your offer letter, which means this funding is guaranteed for three years, think like National Science Foundation Graduate Research Fellowship Program, it's going to continue for three years. If that's in the offer letter, oh, no problem. You're golden. We're going to be able to write that mortgage easily. Now that's what we said in that earlier episode, but there has been some development since then, as you've been working more and more in this industry, you've actually gotten a lot of other types of people on fellowship approved. So, can you tell us more about the updates on that and the success stories that you have that don't involve W-2 income and don't involve three years of continuance?
25:54 Sam: Yes. So I have to kind of break this down into layers. So, what all lenders–that's banks, mortgage companies, anybody who's given a mortgage out for, I'll say conventional loan–they have to go by the oversight committee, right? Fannie Mae, Freddie Mac, right? Fannie Mae and Freddie Mac have guidelines. And they are just mortgage laws everybody has to work with. Now, as you get down to the company that you're working with, that company will also have a set of mortgage laws that are on top of what Fannie and Freddie consider, what they will ensure and take, right? Now, under that layer is your underwriters. The underwriter is similar to a loan officer. They're a licensed employee of the company, and their license number is attached to every single loan that's approved and closed. Okay. The underwriter basically can go either way with the income, right?
26:56 Sam: And a lot of times, a couple years ago, for me, I would always have to escalate my underwriter's decision to their manager. Because the way the guidelines are written, they can be interpreted different ways, right? So let's say this, actually, this is a real scenario that I got three weeks ago. Her name was Jane. She was buying in New York and she has exactly three years of continuance. Now the lender denied her because one month after the close date is when your mortgage starts and you paid in arrears. So you basically skip a month after closing. Well, when the payments start, she was under her three years continuance. So they said, I'm sorry, you don't have enough time in your contract, right? So she got denied, found us online. I got her back on track. Her income's been approved with Movement Mortgage, and she's going to close on time without issue up in New York. As you get down to these layers, if you're not working with the right people, you're running into more and more issues. So what I've been able to develop is a way to present PhD income to an underwriter demonstrating historically where this student's been, and where they're gonna be going in the future. Technically speaking, the guidelines say the income must be likely to continue for three years. Okay? Now, if the underwriter can see that it's not going for three years, they can say, I'm not budging. I can't use this income. My license is attached to this. No. Right? Go get a co-borrower.
Interpreting the Word "Likely"
28:39 Emily: Because they're interpreting the word likely in the way we would say guaranteed. They want to see a guarantee to think that it's likely. But what you're saying is, well, no, the word is not guaranteed. The word is likely. So how can we work with that word?
28:53 Sam: Right. I did a lot of due diligence before moving over to my previous employer Movement Mortgage, and I was able to get a guarantee from the whole entire company's underwriting manager that I can take a PhD or postdoc with less than three years of continuance. Some less than one year. I can take them to a Freddie Mac product or a Fannie Mae product. This is advantageous to the PhD community, because there are other things that are so stressful about the home purchase. You know, putting a $20,000 deposit down can add a little, you might lose a half an hour sleep every night. I don't want anybody losing sleep because they're well qualified over income, like letters. It's totally ridiculous.
29:42 Emily: This goes to that term that you mentioned earlier, common sense underwriting. Because I think the people listening to this podcast can clearly see from their own lived experience that graduate student income, whether it's employee income or non-employee income, is pretty likely to continue. It's certainly not more or less likely than some random job you might have, right? So like, we know as a community that this is very similar to another job. In fact, in some cases can even be more secure than a regular job. But the mortgage industry historically has not taken the same view until you, you know, went hard at work on this problem and started understanding the underwriter's point of view, started understanding how you can present these packages, the language that they use. And like you said, with this most recent move, even prepping the underwriters at the company that you've recently moved to, Movement Mortgage, prepping them by saying, this is the type of, you know, letters and income verification that's going to come your way. I need to know that you're on board with this interpretation of the word likely and all the other factors that go into it.
30:42 Sam: Yeah. And one other thing about stipend income that was one of the main reasons I switched is universities will either pay their students on a 12-month pay cycle, or they will get paid semesters, right? So, where I was able to include someone's fall and spring stipend, the summer stipend, because the pay changes, it's a different pay rate. A previous underwriter at my old company was like, oh, we can't use that income. It's future income and it's not guaranteed. And I debated with them. I said, the letter states that summer employment is often available for PhDs, but it's not required. Meaning if you want to go to Europe, you're allowed to go. But if you want to teach, here's $6,000. That client of mine, he was able to get a co-borrower to solidify the $500 that they didn't want to include monthly.
31:40 Sam: I took that same scenario and provided it to the underwriters at Movement. And they said, we see that he's historically worked summers. And we see that he has this option to work as a teacher. And I was conservative. I did not include the higher income that I could have. He made, you know, $30,000 working for a different company the previous summer. I was like, I just went off the $6,000 that was within the letter. I would be able to close that here at Movement without the co-signer. And that just helps me get my PhDs closed with less friction. Because I see it as this is available income for next summer. So you get these layers, like what Fannie and Freddie will require, the lenders are a little more strict, and then the underwriter, you know, they're on the edge of the fence. It could go one way or another. I couldn't be happier working with PhDs. They're responsive, understanding, usually very qualified, and they're very, there's no heavy lifting with doing these PhDs anymore. The back end, my team behind me, they're the best community to work with. And it just doubles down of why they're great people to approve for mortgages.
Reach Out to Sam at Movement Mortgage
32:54 Emily: Listeners, Sam does not just say these very complimentary things about you on the podcast. He says these things to me regularly about how happy he is to be working with you all. That you are such easy clients to work with, that you're so responsive, that you're so ready, that you're so organized, you're so responsive to email. Like you're a great community for him to be working with. He's really happy about this. Obviously, we have this personal connection that helps start it, but he's off on his own now. Like he is clearly the industry leader in this area. So anyway, if it hasn't already been clear through this conversation, Sam is working hard for you. Especially if you're going to be buying a house in the near future, on your graduate student or postdoc income, his recent move to Movement Mortgage, he obviously did a lot of work on that. Making sure that things like inconsistent income throughout the 12 months will be included in your consideration for a mortgage.
33:44 Emily: So, all that to say, Sam, let's wrap up here. I, of course, strongly encourage anybody listening or reading this transcript who is considering qualifying for a mortgage in the near future to at least get a quote from you. Doesn't mean you can't get quotes from other people, but at least get a quote from Sam. See what he can do for you. And he has probably the most experience working with this particular population of anyone in the U.S. I don't know. Maybe there's some random person in one random college town somewhere who also does this, but Sam works nationally. So, please go get a quote from him if this is on your radar at all to see what you could qualify for on your income and with the current interest rate. So, Sam let's conclude one more time with your contact information.
34:23 Sam: Yes. My cell phone is the best way to reach me. It's 5 4 0 4 7 8 5 8 0 3. And my new email address is Sam dot Hogan at Movement.com.
34:35 Emily: Well, Sam, it's been a pleasure to have you back on the podcast. Thank you so much for the work that you do for this community and how much you care for them!
34:42 Sam: Thank you for having me!
Outtro
34:49 Emily: Listeners, thank you for joining me for this episode! I have a gift for you! You know that final question I ask of all my guests regarding their best financial advice? My team has collected short summaries of all the answers ever given on the podcast into a document that is updated with each new episode release. You can gain access to it by registering for my mailing list at PFforPhDs.com/advice/. Would you like to access transcripts or videos of each episode? I link the show notes for each episode from PFforPhDs.com/podcast/. See you in the next episode, and remember: You don't have to have a PhD to succeed with personal finance… but it helps! The music is "Stages of Awakening" by Podington Bear from the Free Music Archive and is shared under CC by NC. Podcast editing by Lourdes Bobbio and show notes creation by Meryem Ok.