In this episode, Emily tells the story of her 2015 cross-country move from Durham, NC to Seattle, WA for her husband Kyle's first post-PhD Real Job. Emily breaks down their decision-making around how to move and secure their housing in Seattle. Ultimately, they chose a pod-based moving company and a cross-country road trip/vacation, and Emily shares the exact amount of money they spent on each component of the move and how the logistics worked. Emily concludes with what she wishes she would have done differently. For more discussions on how to financially navigate a move and starting a new position, see pfforphds.com/next.
Further reading:
Links Mentioned in the Episode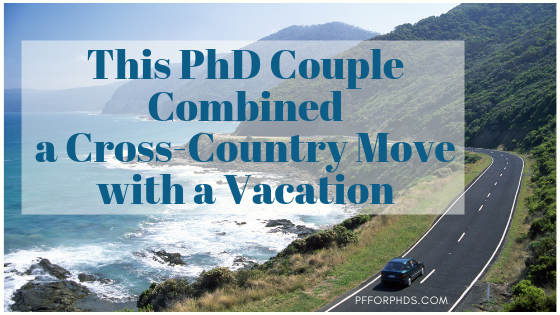 Background
In the summer of 2015, Emily and her husband Kyle were one year out from their PhD defenses. Kyle had been postdocing in his PhD advisor's lab, and Emily had been doing various jobs (Personal Finance for PhDs, freelance editing, and a science policy fellowship).
In May 2015, Kyle applied for several positions, and ultimately was offered a postdoc and an industry job. He accepted the industry position in Seattle, Washington, at the end of May, and set his start date for the beginning of August.
Finding Housing in Seattle
Emily and Kyle's first step was to research the rental market in Seattle. They were accustomed to the durham housing market, in which you arranged housing several weeks or a couple months in advance of your desired move-in date. However, in Seattle, rentals are typically "available immediately" or only a few days out. Therefore, searching for housing in June for an end-of-July move-in was not the proper timing. However, they used this research to familiarize themselves with the market.
They decided to limit their housing search to 1.5 miles from Kyle's new work. This was not in downtown Seattle, so the rents were not as exorbitant as it is in other parts of the city. At that time, the rental market in Seattle was very hot, so there was a lot of competition for rentals.
They knew in June that they couldn't conduct their final housing search right then, but rather got an idea of the range of prices they could expect to pay. Their official housing search would have to wait until after they had moved to Seattle and were ready to take possession of a rental a few days in advance of Kyle's job's start date.
Planning the Cross-Country Move
Emily and Kyle's second step was to start planning their cross-country move: how to get themselves, their car, and their stuff from Durham to Seattle.
There were two main constraints on moving process:
As they didn't yet have housing secured, they had no address to which to deliver their stuff. They had to consider how fast their stuff would move cross-country.
They had a relocation budget of $5,000 from Kyle's new job, which Kyle had 'accidentally' negotiated for.
Further reading: The Reluctant Negotiator
Emily and Kyle decided to keep the direct moving expenses within that $5,000 budget so they wouldn't have to dip into their own money.
Upon starting to research their cross-country move, they found three broad categories of moving styles:
Full-service moving: Professional movers load your boxed stuff into a truck, drive the truck to your new home, and unload the stuff. You can additionally pay for packing/unpacking services.
DIY moving: You do the entire move yourself. You box and load your things into a rented truck, drive it to your destination, unload it all, and return the truck.
Pod-based moving: A pod (portable storage unit) is delivered to your old residence. You pack it up, the company moves it to your destination, and you unpack it. Additional storage time at the destination is easily available. This is at an intermediate price point between full-service and DIY moving.
Emily and Kyle ruled out full-service moving because it cost more than their entire budget and they didn't have an address to which the boxes would be delivered. DIY moving is the least expensive way to move a lot of stuff but it wasn't attractive to Emily and Kyle for this particular move. They didn't want to drive an unfamiliar rented truck and be responsible for their stuff during their entire cross-country drive and throughout their housing search. It seemed a bit too stressful.
Pod-based moving seemed to be a happy medium for Emily and Kyle. The option to store their stuff in Seattle until they concluded their housing search was very attractive. They paired the pod-based moving with driving their own car cross-country. Instead of taking only a few days to drive cross-country, they decided to make the trip into a vacation as well. This slower pace worked well with pod-based moving.
Further reading: Moving Cross-Country with a Pod
Emily and Kyle secured seven quotes for various companies that did pod-based moving. PODS, the most well-known brand, was the most expensive. The lowest quote was from Door-to-Door, and the second-lowest quote was from UPack. They looked most carefully at Door-to-Door and UPack.
The size of the pod became important. The PODS pods were about the size of a parking space, whereas the Door-to-Door and UPack pods were about the size of half a parking space. For Emily and Kyle's two-bedroom townhouse, PODS recommended using one pod, whereas Door-to-Door and UPack recommended using one pod. Using smaller pods was attractive because Emily and Kyle suspected they might be able to squeeze all their stuff into one pod only. As UPack allowed them to pack their own pod (Door-to-Door did not), they ultimately chose to move with UPack. UPack's quote for moving two pods cross-country was $3,708.
Emily and Kyle sold and gave away some of their stuff. They sourced moving boxes mostly for free, but had to buy some packing materials as well. Emily's parents came to town to help them pack, which they did in about a day and loaded their boxes into the two pods. But after getting everything out of the house, they decided to repack everything into one pod, with the remainder going into their car. Dropping down to using only one pod reduced the price to $2,472.
Some other direct moving costs were $155 for one month of storage of the pod in Seattle, $232 for a street permit for the pod to be delivered to the public street.
The total direct moving-related expenses that they asked to be reimbursed from Kyle's employer was $3,052.39.
Cross-Country Vacation
Emily and Kyle decided to turn their cross-country road trip into a vacation, which was a strategy they had used many times for obligation travel during grad school. It was a much-needed break for rest and relaxation as they had not taken a vacation with just the two of them since their honeymoon five years earlier. They were also hopeful that they would have a baby in the near future, so this trip felt like a last chance at a vacation without other people for a long time.
They decided to arrive in Seattle about a week before Kyle's job's start date to give them time to conduct the housing search.
While Emily and Kyle typically planned their travel thoroughly, in this case they prioritized planning their move over planning their cross-country trip, so they basically winged it across the country. All they knew when they left Durham was where they were staying that night, some other friends to visit along the way, that the whole trip should take about 1.5 weeks, and some national parks they would like to see.
The general pattern for the trip was that each morning they would arrange for lodging for that night in the city they expected to drive to that day. They tried to alternate long days of driving with days of staying in one place and doing an activity. This fly-by-the-seat-of-your-pants trip was rather uncomfortable for Emily and Kyle!
One unexpected challenge to the trip was that Kyle's phone died on the first day. They relied only on Emily's phone for the entire trip. Emily's phone was and is with Republic Wireless. Once they got a little ways west of the Mississippi River, they didn't have much phone service outside of major cities. They didn't even have a paper map with them! So every morning when they booked their lodging, they also wrote out their driving directions for the day because they couldn't rely on having cell service. Emily does not recommend any of this, but they got through it and it was still fun!
Emily and Kyle's cross-country road trip included:
Visiting and staying 1 night with extended family
Visiting and staying 1 night with friends from grad school
Dinner with a friend
A day at Six Flags with Fast Passes
An outdoor festival and fish fry
Badlands National Park
Mount Rushmore
Yellowstone National Park (two full days parts of two days)
Grand Teton National Park
Further reading:
Another snafu that caused some overspending had to do with the last-minute travel booking and lack of cell service. They booked a night at the Bear Lodge Motel through Priceline and wrote out their directions to that address. While searching for the address, they saw a sign for Bear Lodge and went there. They didn't have the booking, so they had to rebook. They realized upon getting into the cabin, they realized they were at the wrong location. They were at the Bear Lodge Mountain Resort, which was about one mile away from the Bear Lodge Motel on the same road. They ended up paying for both hotels that night, which was about $100 wasted. Make sure you go to the right address!
The total cost of the cross-country trip was $2,317.97. Emily and Kyle asked for $1,339.71 to be reimbursed by Kyle's employer because it was direct moving expenses. The remaining vacation-related expenses were $978.26.
Finding Housing in Seattle
Emily and Kyle arranged to stay with two sets of friends in Seattle to give them about a week to conduct their housing search.
They were ideally searching for a 2BR 1BA apartment in an older building with no amenities as it is fairly expensive to live in Seattle and they were determined to keep their housing cost down.
Further reading: Apartment Search in Seattle
They only viewed three places before they found what they were looking for. The apartment they chose was only 0.2 miles from Kyle's work. Within just a few minutes of entering this apartment they decided to apply for it, and they had to race another couple to submit their applications and $500 to skip to the front of the application line (which would ultimately go toward the security deposit).
Another challenge to obtaining housing in Seattle was that Emily and Kyle needed to provide their up-front rent and security deposit as a cashier's check or money order. Because they bank with Ally, they had to find places to provide the needed money orders, which took a couple days.
Emily and Kyle's total costs to get into their apartment were:
$302.48 in one-time fees for applications, processing, and money orders
$48 for July 31 rent and water/sewer/garbage
$1,495 for August rent and water/sewer/garbage
$1,375 for security deposit
total: $3,220.48
In addition, Emily and Kyle had already paid a full month's rent in Durham, and they had not yet received their expected reimbursement for their unused rent.
Another unexpected cost to moving is eating out due to your limited time and lack of access to a full kitchen. Additionally, you can expect to spend more on groceries in your first month following your move as you stock your fridge and pantry.
What Would Emily Do Differently?
Emily hopes you learned from this story and its implicit advice.
If she had a do-over, Emily would have done a few things differently:
Spend more time planning the cross-country trip itself to keep costs lower.
Get rid of more stuff! They didn't even unpack some boxes for a year and didn't even notice that we were missing their contents.
Consider their longer-term needs for our housing in Seattle. Their apartment does not have a dishwasher or washing machine and dryer! This was fine before they had kids, but is now a strain with two children.
Emily is focusing a lot of her material on moving and starting a new job this summer, which you can find at pfforphds.com/next. She is offering webinars and coaching on this topic. A move and job transition is the perfect time to set yourself up for financial success!
Join Our Phinancially Distinct Community
Receive 1-2 emails per week to help you take the next step with your finances.