Would you like to set yourself up for financial success in your next PhD career stage, whether a postbac, grad school, a postdoc, or a Real Job?
The best time to do so is before you move for your new position (assuming you have already accepted the offer).
When you move to start a new position, you have the opportunity to hit 'reset' on your finances. There are two important steps to take in this reset:
Lock in your large, fixed expenses (e.g., housing, transportation) at levels that are reasonable for your new stipend/salary – or at least as close as possible given the local cost of living
Plan for and minimize your moving and transition costs (e.g., transportation, shipping, deposits) so that your first paycheck in your new position goes toward funding your next month's budget, not paying off debt and bills already incurred.
If you take these two simple but important steps, you will have already done the majority of the work to set yourself up for financial success.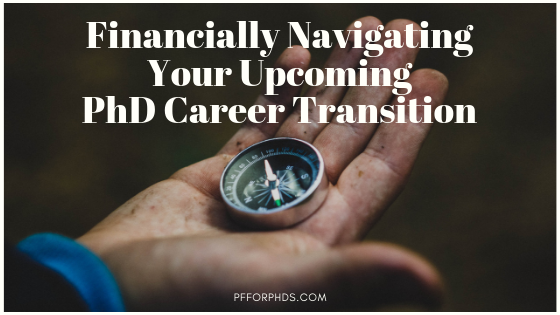 I have created resources to help you in this process. I've talked and worked with enough PhDs(-in-training) to conclude that career transitions are the ideal points to enact financial strategies that will have a huge positive impact on your finances.
Draft a Budget from a Distance
Your first order of business after you accept an offer in a new city should be to answer the question, "How far will my stipend go?"
From your gross income, you have to subtract tax, payroll deductions or required fees (e.g., health insurance premium), and minimum debt payments to figure out how much money you'll actually have available to pay for your living expenses and meet your financial goals. Within those living expenses, you should expect to pay for both necessary and discretionary expenses.
Getting a handle on those numbers will then help you determine how much you can reasonably afford to spend on housing and transportation, the two fixed expenses that are typically set in advance of or immediately following your move. These two large, fixed expenses can make or break your budget and therefore your chance of financial success in your next career stage.
To assist you, I created a webinar, How to Draft a Budget from a Distance ($24.99). The centerpiece of the webinar is how to use my template spreadsheet, Draft Your Budget from a Distance. This spreadsheet is included with the webinar, but can also be purchased separately ($4.99). The spreadsheet guides you in calculating the amount of money you have available for living expenses and suggests several methods for estimating the cost of living expenses, which are tricky to figure out from a distance.
Using this template spreadsheet in conjunction with my webinar, you will be able to answer "How far will my stipend go" as well as "Can I afford [X]?" even prior to your move.
Free Articles
I've also written numerous articles and produced several podcast episodes that inform the financial aspects of navigating career transitions.
Join Our Phinancially Distinct Community
Receive 1-2 emails per week to help you take the next step with your finances.