In this episode, Emily interviews Dr. Anne Rocheleau, who holds a PhD in biomedical engineering and currently works in industry. Anne won several fellowships during grad school (and applied for many more), including ones that paid her stipend and tuition and fees and ones that paid for conference travel expenses. Anne shares her process of finding and applying for fellowships and the extracurricular activities she pursued to make her a competitive candidate. Anne's established budget helped her manage her income as her pay frequency changed while going on and off the fellowships, but she did have an unpleasant surprise one April since her fellowship did not withhold income tax. Overall, Anne's fellowships greatly contributed to her development as a researcher and science communicator as well as her personal finances.
Links Mentioned in the Episode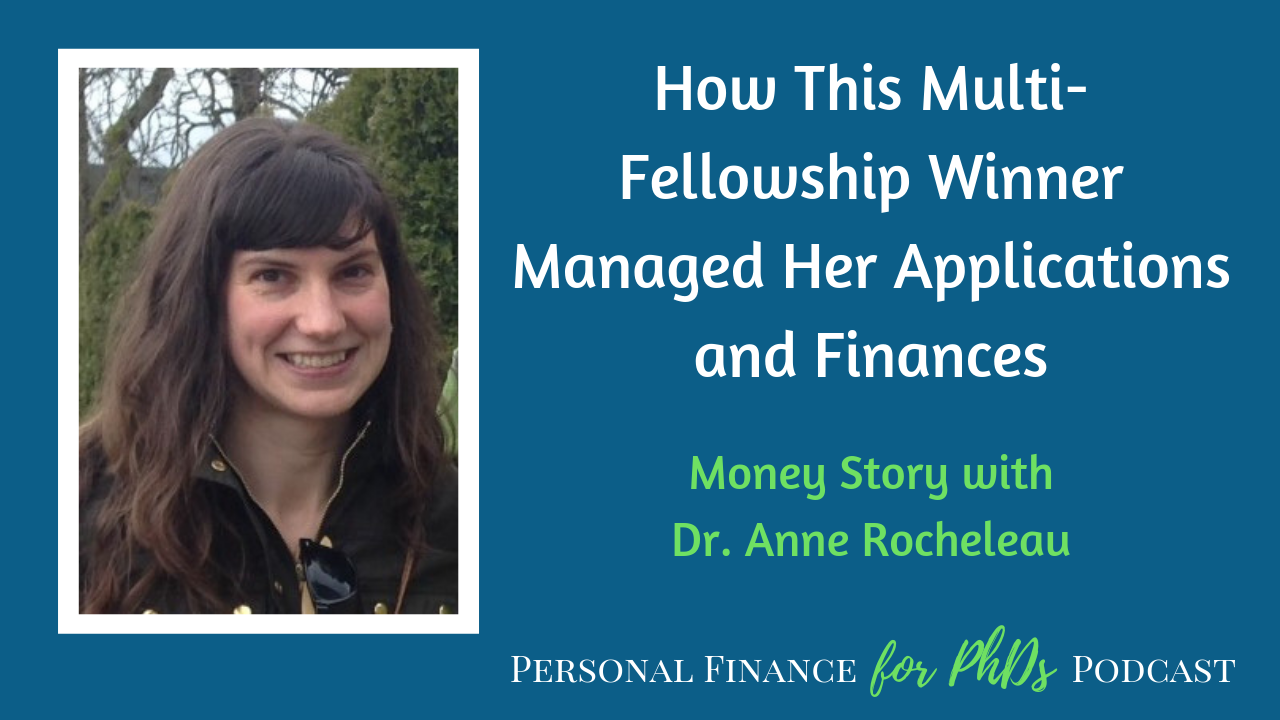 Teaser
00:00 Anne: Fellowships can be a really wonderful way to broaden your experience in grad school and I know a number of students that studied in a different country, for instance, which is a great experience that they wouldn't have gotten necessarily if they had stayed on a research assistantship or a teaching assistantship.
Introduction
00:23 Emily: Welcome to the Personal Finance for PhDs podcast, a higher education in personal finance. I'm your host, Dr. Emily Roberts. This is season four, episode four and today my guest is Dr. Anne Rocheleau, a PhD in biomedical engineering who won several fellowships and travel awards during grad school and her postdoc. Anne gives advice for other fellowship seekers based on her experience of finding and applying for several fellowships each year and shares the enriching experiences she sought out that made her a competitive candidate. The fellowships had a positive effect on Anne's personal finances and scholarly development and we discuss how to avoid the financial pitfalls that come with some types of fellowship income. Without further ado, here's my interview with Dr. Anne Rocheleau.
Will You Please Introduce Yourself Further?
01:13 Emily: I'm joined today by Dr. Anne Rocheleau. Thank you so much for coming on the podcast and we are going to be discussing fellowships, how to win them and what happens to your finances once you do win one. Anne has plenty of experience with this, so thank you so much for joining us today and will you tell us a little bit more about yourself, please?
01:33 Anne: Sure. Thank you so much for inviting me to be part of this podcast. I'm really excited to be here. I got my undergraduate degree in chemical engineering from Worcester Polytechnic Institute in Massachusetts. I did my Masters of Science degree at Cornell University in chemical engineering, as well, and I did my PhD in biomedical engineering, also at Cornell. Then I worked for a year as a quality engineer in Massachusetts, before moving out to the west coast to Portland. I was a postdoc for a year and a half at Oregon Health and Science University and now I work as a research scientist at a startup medical device company here in Portland.
02:17 Emily: Well, we're going to get on a little diversion here already because I'm curious about you having a real job for a year and then going back to having a postdoc. I didn't know that was a thing. Was there any difficulty in landing that postdoc, having been out of academia for a little bit of time? And also, what was the reasoning behind that? Was it just, "I want to live in Portland and this is the kind of job I can get", or what?
02:41 Anne: Yes, it was largely a geographic. I wanted to move out to Portland to be with my now fiance, but also, it was really fun to work in industry for a year. It was very different and it got my mind working in a totally different way, being a quality engineer, and then when I wanted to move to Portland, I had a connection from my PhD advisor, who knew my advisor that became my postdoc advisor here in Portland, so that was a really natural fit and I really liked OHSU, Oregon Health and Science University. To work in the med school environment was really great, so that was a really cool transition. It was interesting going back into academia. I felt like I had a little bit of a different take on things and it really solidified my desire to stay in research. I love research.
03:37 Emily: Glad to hear that it added to your career. It sounds like you networked your way into it, so that's very natural.
Finding and Applying to Fellowships
03:45 Emily: Let's hearken back to your grad student and postdoc days when you were applying for and winning fellowships. Which fellowships did you end up winning?
03:56 Anne: I did my master's degree on the National Science Foundation Science Master's program fellowship. That one I actually got lucky, I didn't have to directly apply for it. I was offered that program by my department, so that was the first one. Then, during my PhD, I received the National Science Foundation GK-12 fellowship. That was a full tuition and PhD stipend fellowship and also included a teaching element. I was part of the Society of Women Engineers as a grad student and so I received a scholarship through them, that was $3,000. I applied for and received two travel grants for the Biomedical Engineering Society's annual meeting, so those travel grants covered the meeting registration as well as $400 for travel. When I was a postdoc, I received a travel grant for a conference and I wasn't presenting there, but I did attend some workshops and I think that was about $2,000.
05:03 Emily: I'm glad to hear that list because I just want students and postdocs to get an idea of the diversity of fellowships that are out there, it's not only from the NSF, it's not only the GRF, there's a lot of other ones as well. There's all these travel grants from the conferences and everything. Conference travel is a big pain point for grad students and postdocs and so it's just good to hear that there is money available. You have to ask, get a little bit lucky, or put together the right kind of application and the money's there for some people, so that can help a lot.
05:39 Emily: Can you tell me a little bit about your process of applying to fellowships and finding out about these fellowships. You said there was one you were automatically nominated or awarded, but other ones you had to seek out. What was that process like? How did you find these fellowships?
05:57 Anne: I have a couple of recommendations for that. First of all, I found internal university resources to be excellent for finding fellowships and talking to other folks that were in my department that had received these fellowships in the years before me, that was really useful. There were some databases at my university, where they aggregated fellowship opportunities. Professional societies are a great way to find fellowships, both for conferences and I also received one that was a scholarship. My other recommendation for this is ProFellow.com. This is an awesome website. I'm still on the email list. It's post-bac, post-graduate fellowships, graduate fellowships, both long term, short term, all fields, all over the world. It's a fantastic resource for fellowships.
06:52 Emily: It's so funny that you mentioned that because we're recording this on a Tuesday and I'm interviewing Vicki, who's the person behind ProFellow, on Thursday for the podcast. I don't know which order they'll come out in, if yours will come before hers or vice versa. I'm not sure, but listeners, these two podcasts episodes are coming together, they're a pair. Thank you so much for mentioning those resources. I have a post, I'll link to it in the show notes, on how to find fellowships, which includes a couple of the databases you mentioned that I saw. Some universities have really extensive ones, but I'm going to add some of the things that you just mentioned to it. So listeners if you want to see some links to this, go to the show notes and find that post. Thank you so much for adding that. I really liked the tip about the professional societies. I hadn't thought about that at all, but it totally makes sense.
07:42 Emily: So you found some fellowships you applied for. You told us which ones you were successfully awarded, but did you have some others that you applied to that you didn't win? Were you applying for a lot or maybe only one or two a year or what was it?
07:55 Anne: Oh, yes, I definitely applied to a number that I wasn't successful in. This is definitely a numbers game and sometimes you get lucky and sometimes you don't. So yes, there were certainly several from all levels — from scholarships, fellowships, travel grants — that I did not get.
08:14 Emily: Well, it's good to hear that you were just trying a lot. Since you were submitting a number of these applications per year, how did you think about that in terms of the usage of your time? Did you feel like it was, not a waste of time, but not really within your core mission of what you were doing in graduate school? Like something you had to do that was kind of extra, or did you really see it as just grant writing and building a skill set? How did you view it?
08:43 Anne: I do enjoy writing, so that's part of it, and I was happy to develop those skills. In the case of the NSF GK-12 fellowship, it was a great way to enhance what I was doing with another skill set. In that case it was teaching and mentoring. I was paired with a teacher that I mentored for a project in the summer. I think fellowships can be a really wonderful way to broaden your experience in grad school and I know a number of students that studied in a different country, for instance, which is a great experience that they wouldn't have gotten necessarily if they had stayed on a research assistantship or a teaching assistantship.
09:40 Emily: Yeah, that's a really good point because, what I tend to forget about is fellowships pay you or pay your expenses, but really their purpose is to further your development as a researcher. That could be through doing whatever you'd be doing as an RA at your university, or it could be having these much more independent experiences, as you just mentioned, that are really enriching in a variety of ways. That's what a fellowship is for, right? It's good to be reminded of the core mission of a fellowship, which is to develop an individual, not necessarily to further some larger grant or whatever that you're working on.
10:24 Anne: I have one more thing that I can add there too. I felt like it really deepened my connection to the professional societies that I was part of as well. I'm actually now involved in my local chapter of the Society of Women Engineers as a scholarship chair, so it really inspired me to turn around and give back after graduate school. It really meant a lot to me and it was inspiring to me that those organizations believed in me and I felt like that also came out as well in these.
Fellowship Application Tips and Tricks
11:00 Emily: Wonderful. What about the process of actually writing these applications? Did you have any tips for another grad student or postdoc going through that? What was that process for you?
11:12 Anne: I generally kept these materials together and it was my folder of preparation for what I needed to write some of these applications. First of all, you almost always need a copy of your transcripts, so I just had that handy so I didn't have to go searching for it when I needed it. You almost always need a CV, so again, I just had that handy, a two page CV. I also had my set of go-to recommenders because many of these a fellowships also require recommendations. Then I had some talking points that I used as a basis for the essays for these different fellowships. They all require something a little bit different, but they almost always have a research component — what you've previously done, what you would like to do, some quantifiable results if you have those. Many of them have an outreach component, so I had this running list of what I was involved in with volunteer efforts and professional society involvement. Many of them have leadership component too, so again, I just kept that list of bullet points of some of the things that I've done and this just really helped me make the process smoother and faster, and when I went to go actually write one of these, I had something already there to go off of.
12:39 Emily: It kind of seems to me that the more of them you write, the easier it gets, right? Because you can reuse the themes and reuse some of the wording and so forth from your previous submissions.
Building Up Your CV
12:51 Emily: We talked a little about the process of writing applications, but what about the other things that you just mentioned, which was building up your CV, building up your leadership experiences, building up your outreach experiences. What did you find were relevant experiences that you had that you think helped you win these when these awards?
13:16 Anne: I got involved in some of the organizations through my department and through my university. We had some outreach events through my departments that were really fun. I had a good time participating in those. I also started getting involved in the leadership executive board of the professional society chapter at my university. I did that throughout my years in grad school, so I felt like that was really valuable. And again, I kept a list of the deliverables for my research, so I always had that ready to go. I think that was helpful too.
14:02 Emily: Define deliverables, because I'm thinking papers, but maybe there's some other things in there too.
14:09 Anne: Yeah, papers, presentations. This wasn't applicable for me, but if there was any media coverage of your research or anything special like that, if your university highlighted your work or a local news station highlighted your work, something like that. Those would be the main deliverables that I'm thinking of.
14:30 Emily: Did you have publications early on that were easy to point to when you have these further applications, like from your masters, for example?
14:40 Anne: Yup.
14:42 Emily: Yeah. I think that just goes into being the kind of candidate who wins these fellowships, having those deliverables come out early. So push for that, I think, is the advice for a current grad students. Don't try to publish all your papers right at the end. It's nice to get maybe one out the door early on.
15:00 Anne: Yeah, absolutely.
Writing the Fellowship Application
15:02 Emily: Anything else around advice for writing and winning fellowships?
15:08 Anne: I would say, first of all, if you have any questions about the content of the materials of the application definitely reach out to the organizational contact. It's an obvious thing, but make sure you're completing the full application packet. Sometimes they can be pretty long, a little bit complicated, and also don't give more than they ask for. That might be held against you, potentially. If there's an essay limit, stick to the essay length limit, things like that. When you're organizing your essay, make sure you have an introduction. Make sure you have a section that's organized around your research, the content of what you've done before, what your proposal is. Make sure you group any other outreach and leadership experience together. And then also explain how the fellowship could benefit you and your career path. I think the people that are reading, and having been now on the other side, I think it really is nice to know that it really would make an impact to the person if they received the fellowship. They're not just applying willy-nilly to these. It really would be meaningful and helpful to them, financially too.
16:30 Emily: Can you give an example of that? What's beyond the obvious of how a fellowship would further your career? Maybe something that you included in one of your essays?
16:41 Anne: Yeah. For instance, the NSF GK-12 fellowship had the teaching component and I think learning about science communication, that was really something that was really important to me, and being able to translate my work to others, that was what I included in that essay. And even though I'm not actively teaching in a professor capacity right now, that really was valuable to me and that really was something that meant a lot to me to gain out of that fellowship.
Commercial
17:18 Emily: Emily here for a brief interlude. Through my business, I provide seminars and webinars on personal finance for graduate students, postdocs and other early career PhDs, for universities, institutes and conferences, associations, etc. I offer seminars that cover a wide range of personal finance topics and others that take a deep dive into financial topics that matter most to PhDs, like taxes, investing, career transitions and frugality. If you are interested in having me speak to your group or recommending me to a potential host, you can find more information and ways to contact me at pfforphds.com/speaking, that's p f f o r p h d s.com/speaking. Now back to the interview.
Financial Impact of Winning a Fellowship
18:08 Emily: Let's shift gears and talk about the financial effect that winning a fellowship has on you, the awardee. So in your case, what happened? You won some fellowships, what happened with your personal finances?
18:25 Anne: One of the really great things about the fellowships I received was they were actually higher than the RA or TA stipend that I would have otherwise received, so that was really great and definitely a motivation for others to apply for fellowships. They're often higher than what you would receive from your university. One thing to note is that different fellowships pay out slightly differently, so I had different payment arrangements depending on the years. One fellowship paid at the beginning of the semester, so just twice, and the other paid biweekly, every other week. It made a difference in my monthly budgeting. I didn't change really how I budgeted because of that necessarily, but depending on how you operate with your budget, it might. The other thing is that the year that I received the the $3,000 Society of Women Engineers Fellowship Scholarship, that was actually on top of the GK-12 fellowships, so I stacked those, which was really cool. That's sometimes possible as well. I'm trying to think of what else.
19:44 Emily: Well, there's already a lot there. Let me ask a couple follow-on questions. Okay. So the first one — it sounds like, in total for your years in graduate school, were there two years when you received a fellowship that paid above the baseline stipend or was it more than two years?
20:01 Anne: It was two years.
20:02 Emily:  Okay, so two years out of how many?
20:04 Anne: Five.
20:06 Emily: Did you do anything different in those years compared to the other three? For instance, did you live in a different place that was maybe more expensive or were you a little bit freer with your discretionary spending? Or did you end up saving more? What happened to the increase in pay since it wasn't the entire time since it was only a couple of the years.
20:30 Anne: No, I didn't change my budget really at all. I probably should have saved a little bit more when I was making the slightly higher salary that one year, but no, I didn't change it really very much.
20:46 Emily: Okay. I just kind of always think about people who win a multi-year fellowship at the beginning of grad school and then they set their spending level in line with that fellowship. Then at some point they go down to the base stipend and I worry about those people. I'm a little concerned for them. Okay, so you didn't really change anything but you could have saved more during that time. I think it's really just about being intentional. Whatever you decided to do with it, just decide and don't kind of float along with it. Okay, so slight increase in pay, that was one thing. Another thing you mentioned was a change in pay frequency and pay timing. Out of curiosity, when you were an RA or otherwise not on these fellowships, what was the pay frequency for that kind of position?
21:36 Anne: It was every other week.
21:38 Emily: Every other week, so also biweekly.
21:41 Anne: Yes.
21:41 Emily: So the same with one of your fellowships, and then the other one was once per semester?
21:46 Anne: Yes.
21:47 Emily: I can definitely see that the ones per semester might be a challenge, but it sounds like since you were already budgeting, already in that mode, maybe you could handle it a little bit better. How did it work for you? Just explain to me how you managed it.
22:06 Anne: It didn't change too much. I tracked every dollar in graduate school, I still do, so I was very aware of what my base spending was. It didn't vary a ton over my years in grad school, so that was the basis of how I budgeted.
22:25 Emily: It sounds like you got this influx of cash into your checking account and you just left it there and kind of drew it down according to your normal spending pattern as the semester went on and then you got another in flow for the next semester. Yeah, I just think that that can be a really challenging situation for someone who doesn't already have a handle on their finances. Maybe someone who it's their first semester in a new city — you don't really know what the expenses are going to be, and you have to make sure that money lasts you until you get that next check coming in. I was thinking actually, how did you handle irregular expenses with your budgeting in grad school? Maybe it's traveling, or health, dental, vision, those kind of expenses, anything that's kind of big and occurs one time a year, a couple of times a year. How did you handle that, let's say with your biweekly pay?
23:22 Anne: Yeah, that's a good question. I didn't have a giant emergency fund, but I did keep a small emergency fund throughout grad school. That was where I would draw out of, and again, I kind of honed it in over the course of five years when those expenses would come, so I knew to expect them. I did track it throughout my five years so I could make sure that I wasn't getting a lifestyle creep or anything and made sure I kept that cushion my emergency fund at all times.
23:57 Emily: Okay, so if that was your method, then having the once per term fellowship wouldn't change it that much, it's just you have more money on hand and it goes towards paying these normal, same expenses as always. Because you already had that stuff in place, sounds like it was pretty easy for you and not much difference. I also wanted to ask, you mentioned taxes, right? In one case you didn't have automatic income tax being withheld, so did you end up paying quarterly estimated tax during that year?
24:30 Anne: No. I remember it took me by surprise when I was filling out my taxes, and again, thankfully I had the emergency fund, but I was just not in that mindset at that time, so I didn't. I was lucky I had that emergency fund to smooth it over when tax time came and I owed taxes.
24:54 Emily: So it sounds like you weren't even aware that it wasn't being withheld.
24:59 Anne: Maybe vaguely, but not properly.
25:00 Emily: But not enough to prepare for it. Fair warning, to any listeners. It sounds like in one case you did have automatic tax withholding, in one case you didn't, so hey, figure it out. Maybe you'll be pleasantly surprised that you are having tax withheld from your fellowship. That could be the case, but you certainly need to know if you're not, either for that large tax bill in April or for paying quarterly estimated tax, if required to.
25:30 Emily: Yeah. Any other effect on your personal finances from winning those fellowships?
25:36 Anne: No, I think that's about it.
Professional Impact of Winning a Fellowship
25:38 Emily: And how about effects on you as a researcher, as a PhD? Did the fellowships do what they were supposed to do and further your development?
25:48 Anne: They strengthened my credentials, which was wonderful. They gave me the opportunity to attend conferences and present my work. I learned a lot of those conferences and they were inspiring to me. I definitely improved my writing skills through the application process and that continues to help me today. I also feel like the application process, in general, helped me hone my elevator pitch about what I was doing in graduate school, which I thought was really great. Like I said before, I do think it helped me to explore some other interests that I had, while a graduate student, and it also gave me encouragement and support while I was a graduate student, and that meant a lot.
26:42 Emily: I have an article on my site and again, we'll link it from the show notes. It's called something like why you should apply for fellowships, even if you're fully funded as a grad student or postdoc. It was for me, to some degree, tempting to kind of just rest on, "well, I'm going to be funded, I know that's going to happen, I don't need to go this extra mile or many extra miles submitting all these applications". But it really sounds, based on your experience and others, that it's worthwhile, even just applying, even if you don't end up winning anything, which like you said, if you end up applying a lot, it's a numbers game, so hopefully here and there you'll win something. But even the process of applying without even winning is valuable. Plus, if you do win then further and further, it really develops you as a scholar. I'm really glad to hear your examples of that.
Advice for PhDs and Postdocs Applying to Fellowships
27:37 Emily: Any final concluding words of advice from you on how a person who wins a fellowship can get the most benefit possible out of it, whether it's financial, whether it's benefiting them professionally? Any words on that?
27:56 Anne: I would really encourage people to take a look at some of those lesser known fellowships. Especially in my field, I remember there were some really big ones that everybody knew about that were more competitive, but there's a lot of fellowships out there for all kinds of things. And get creative, try something new. Don't get discouraged if you don't get one, because yeah, it's a numbers game. And have fun.
28:28 Emily: Well, thank you so much for sharing your experience with us and I'm really glad to hear such a positive process and outcome from you.
28:39 Anne: Well, thank you very much, Emily. I had a good time. Thanks.
Outtro
28:42 Emily: Listeners, thank you so much for joining me for this episode. PFforPhDs.com/podcast is the hub for the Personal Finance for PhDs podcast. There you can find links to all the episode show notes, a form to volunteer to be interviewed, and a way to join the mailing list. I'd love for you to check it out and get more involved. If you want to support the show and my business, please go to PFforPhDs.com/helpout. There are plenty of ways do so without laying out any of your own money. See you in the next episode. And remember, you don't have to have a PhD to succeed with personal finance, but it doesn't hurt. The music is Stages of Awakening by Poddington Bear from the free music archive, and it's shared under CC by NC.
Join Our Phinancially Distinct Community
Receive 1-2 emails per week to help you take the next step with your finances.