In this episode, Emily interviews Maya Gosztyla, a postbac fellow at the National Institutes of Health in Rockville, MD who saves approximately 30% of her income from her stipend and freelance science writing income. Her goals for funding her PhD program applications and upcoming move to grad school and wedding motivate her to keep her expenses low and sustain her side hustle. Maya gives great financial advice for PhDs in transition into and out of grad school.
Links mentioned in episode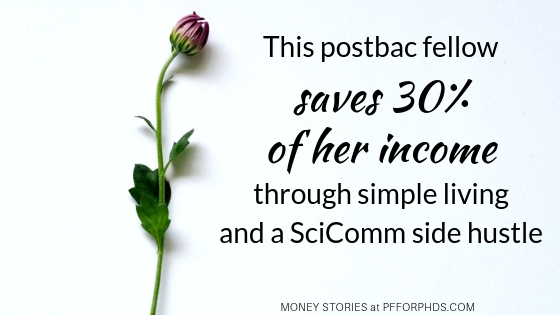 0:00 Introduction
1:15 Please Introduce Yourself
Maya Gosztyla graduated in May 2018 from Ohio State. She majored in Neuroscience and Molecular Genetics. She started as a postbac at National Institutes of Health (NIH) right after graduation. She is mainly focused on drug discovery research. Her interests are in neurodegenerative diseases in particular. She is applying to PhD programs, with intent to begin her PhD program in Fall 2019. Maya is relieved that she does not have to balance undergraduate coursework with time spent on graduate applications. She also has more time for the interview weekends, which Emily says can be a fun experience.
2:33 What is your income? Where do you work and live?
Maya's postbac annual salary is $30,000. She works at NIH location in Rockville, Maryland. The cost of living in this location is fairly high, because she is in the Washington DC metro area.
3:26 What was your financial situation coming into your postbac position?
Maya didn't have any student loans. She says she treated filling out scholarship applications like a full time job, so she was able to fund her entire junior and senior years of undergraduate education. She didn't spend all of her scholarship stipend during senior year. She has emergency savings fund of about $7,000 since she graduated from college.
4:25 Do you apply the same mindset from your undergraduate scholarships to your graduate school fellowship applications?
Maya says she has been applying to many graduate school fellowships. She applied to the National Science Foundation Graduate Research Fellowship Program (NSF GRFP), the National Defense Science and Engineering Graduate Fellowship (NDSEG), and one example of a school specific fellowship is the Knight-Hennessy Scholars at Stanford University. In addition to her graduate school applications, she has been sending in many applications to go after award money in full force. Emily assures that this strategy is a great idea, because you are certain that you will get paid for your graduate work.
5:58 Where did you move from? How did you manage your finances during your move?
Maya's rent during college was $350 per month. In Rockville Maryland, her rent is $850 per month. Maya says what helped her most during her move was making a really detailed budget. She used several cost of living calculator websites. Additionally, she doesn't have tax withdrawn from her postbac stipend, so she had to estimate quarterly tax.
She was in shock when she moved from the inexpensive Ohio city to the much more expensive DC area. She thought she needed to spend as little as humanly possible. For instance, she first moved into a bedroom in a three bedroom apartment. Her portion of the rent was $700 per month, which is the cheapest she could find in the area. She had an hour long commute, and she had to leave the apartment because of a cockroach infestation. Maya advises that people not to choose the cheapest apartment, but to take into account other factors. She says it can be worth more rent money to be closer to work for a shorter commute, and to live in a quality apartment.
Maya used cost of living calculators to get a sense of the maximum expenses she would have in the DC area. She says she spends less than suggested by the calculators. She talked to people who are in the NIH postbac program, because these are people in her age group and income level. At this early career stage, people are willing to share information about income and rent.
10:04 What is your savings rate? How are you saving this amount each month?
Maya is averaging around 30% of her gross income, pre-tax, going into savings. She emphasizes the importance of setting targets and timelines for what she is saving for. One of her specific goals was to pay for PhD program applications, which was well over $1000. She wanted to start an Individual Retirement Account (IRA), since she's not sure she can have an IRA while she's in graduate school. Another financial goal is to get married next summer! With her partner, she wants to take a couple of weeks vacation in Europe. She wants to do all of this without tapping into her emergency fund, because she wants to use this fund for her move to graduate school.
Maya has several frugal strategies. She doesn't have a car, which is unnecessary in DC and major cities. She takes a bus to work, which she says is reliable. NIH will pay for public transit, so she gets reimbursed for her bus expenses. Maya says eating out is really expensive. She cooks almost all of her meals, and she meal preps. She goes out to eat with friends, as a social experience, it's important to eat food to bond with people. This happens two to three times a month, and they don't go out for drinks that much either. She views her eating out expenses as paying for access to space and people, and eating food isn't the purpose. She set a rule for herself that she won't eat out alone.
She goes to work, gets groceries, finds free stuff to do, and she doesn't spend on entertainment. Also, she has a side source of income. Maya does science writing as a freelancer. It's not easy work, but it's not incredibly technical. She can pick and choose when and what kind of assignments she wants to accept.
15:27 How did you get connected to opportunities for freelance science writing?
Maya started a blog about Alzheimer's Disease while she was in college. She wasn't making money from the blog, but she started getting cold emails from people who liked her writing who would commission her for articles. She uses Upward, the freelancing website to find clients. Upward has a fee of 30% from every writing, so she charges more to make sure she doesn't undercharge for her work.
Emily recommends the academic blogging network on Facebook (now called Gradblogger Connect) as a great resource for people interested in blogging and podcasts.
She doesn't see science writing as her career. The variable income makes her feel anxious. She'd like to keep writing on the side, because she believes it is important for scientists to write about research for the public. Emily says that a side hustle during the PhD training is useful to figure out if this is what you want to do for your career.
20:37 Do you consider yourself having a financially quiet life?
Maya says that she applies a KonMari method to her purchases. She asks herself questions like, "will getting take out actually make me happier?" She does spend money on flights, because her fiancé lives in Ohio and she travels to see him. Maya observes that people spend money because they feel like they have to. She says it's not a sacrifice for her to not go out every weekend, because she doesn't really like alcohol. Emily says that it's very interesting to apply Marie Kondo's method to finances, and ask "does this spark joy?" Maya has gone through the introspection to consider what is bringing her high value. When you have low income, you can't just default to the kind of consumerism you see around you.
23:30 Have you started thinking about how you'll financially manage the transition to graduate school?
Maya is applying to high cost of living areas, so she feels more prepared for that move. Since she's lived in the DC area, she will have a better idea of expense in places like Boston and San Francisco. She's trying not to touch her emergency fund, because she needs it for her moving expenses. She is also trying to make sure that fiancé and her are comfortable in their current low income lifestyle, she wants to avoid the lifestyle creep. Graduate school will be a transition, but Maya will also experience the life transition of combining her lives with her partner.
25:02 Do you have any advice for someone looking at a transition out of college or into graduate school?
Maya says the first thing you have to do is look at what you have and where do you want to be in a month, or year. There is no way to set a savings rate if you don't have something you're aiming for. She gives the example that she wanted to save $4,000 for their honeymoon, then she could create a budget with that goal in mind.
She also says don't forget about taxes. She had lab mates who didn't know this. They weren't setting aside money for tax season, and ended up owing. She says you can set up a separate savings account to set aside taxes. Emily says that this blindsides a lot of people. She has created resources on her website to help people estimate their quarterly tax.
Maya says you need to buy things that actually make you happy. She offers the caveat that if something is actually important, like you don't need to get the cheapest apartment, get one you want. You can keep stock of what you actually care about. Maya wonders if people really know the taste of expensive wine, for example, or if it's more about expectations. Emily says we may need to shuck the expectations. You have to figure out if something is right for you, if it "sparks joy" for you, and it's not an expectation that others put on you. Maya says that others don't pay attention.
Finally, Maya says to keep a really detailed spreadsheet. She used to use Mint, but now she uses a manual spreadsheet, and inputs once a week. She customizes it for her needs.
30:47 Conclusion