In this episode, Emily interviews Athena Pierquet, a rising second-year graduate student at New York University in English. In her first year as a PhD student, Athena lived on her $28,000 per year fellowship and save all of her smaller income sources, but her finances are facing a new challenge as she transitions out of subsidized university housing. Despite living in Manhattan, Athena maintains a very frugal lifestyle, minimizing her spending on groceries, transportation, entertainment, and recreation.
Links mentioned in episode
Subscribe on Apple Podcasts, Google Play Music, Stitcher, or Spotify.
Give your feedback on Season 1 and influence the direction for Season 2 through this form.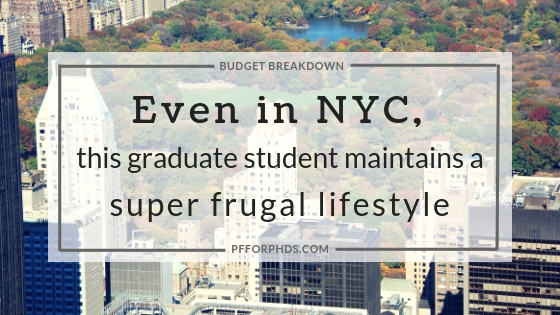 0:00 Introduction
1:15 Q1: Please Introduce Yourself
Athena is a rising second year PhD student in the Department of English at New York University. She lives in the Manhattan neighborhood Stuyvesant, or Stuy Town. Her overall income was $38,000 from several university sources. Most of her income comes from the MacCracken Fellowship, provided for all NYU PhD students, which was $27,526 this past year. She received a housing stipend of $5,500. Several scholarships and grants made up $4,000 of her income, and short term research contracts made up $1,000 to $2,000.
2:20 How is your income reported for taxes?
For taxes, Athena has to self report the MacCracken Fellowship and her other scholarships to the federal government. The university provides her a 1098-T form for taxes. Her short term research contracts are reported on W-2, but these are a minor part of her income.
4:08 Q2: What are your five largest expenses each month?
Athena's five largest expenses are rent, food, books and supplies, incidentals, and going out for fun.
4:28 #1 Expense: Rent
Athena pays $1,100 per month for rent. This cost includes all utilities, except for internet. She shares a two-bedroom apartment in Stuy Town with another first year NYU PhD student. The market rate for her apartment is $3,500 per month, but since the apartment is in a university housing complex, the cost is subsidized by the university. However, university housing is only available to first year PhD students, so Athena is searching for new housing in Manhattan.
For her new housing search, Athena's budget is $1,200 to $1,300 for a room in a three or four bedroom apartment. NYU will continue to provide a housing stipend of $5,500 during her second year, but in subsequent years the housing stipend will be replaced with income from teaching classes. In general, her income does not increase to cover the new housing costs.
Athena saved much of her income from her first year in anticipation of her move into the cut throat Manhattan housing market. To get an apartment in Manhattan, she needs $3,000 to $5,000 available. Securing an apartment requires payment deposits for first month's rent and last month's rent.
9:57 #2 Expense: Food
Athena's food budget is $100 per week. This category broadly covers anything she purchases to eat. She includes groceries, coffee shops, restaurants, and take-out in her weekly food budget. She plans out her meals and makes grocery shopping a priority. She makes almost all of her food at home and describes some of her meals, such as fully loaded oatmeal and hearty, entree salads. Athena eats at restaurants only two or three times each semester. She has several frugal tips for going to restaurants in Manhattan and getting free food from NYU events.
20:30 #3 Expense: Books and Course Supplies
Athena's spending on books and course supplies is about $300 per semester. Her expenses for books and course supplies are considered non-taxable income. As a literature student, she needs many books for her work. She estimates that if she bought every book she needed or wanted, she would be spending thousands of dollars. She frequently borrows from the library, gets used books, and finds resources online. Nonetheless, this was tricky to budget for because of different needs for different courses.
24:29 #4 Expense: Incidentals
Athena budgeted for unexpected expenses, which she describes as the impulsive book purchase, miscellaneous fees, and spontaneous entertainment. Since she set her budget week by week, she intentionally put $45 each week for incidentals. Typically, she only had one or two unexpected expenses each month. The miscellaneous category is a place to lose money if you're not careful, in Athena's opinion.
27:29 Problems budgeting for taxes while on a fellowship
Athena later learned that the $45 per week that she budgeted for incidentals was really what she needed for taxes. When Athena began first year of graduate school, she didn't know how much to set aside for taxes. NYU does not withhold taxes for U.S. citizens in their PhD programs, so it was Athena's responsibility to estimate how much she might owe in taxes and plan for tax season. This is a challenge faced by many PhD students receiving fellowship funding.
Further reading: The Complete Guide to Quarterly Estimated Tax for Fellowship Recipients
30:47 #5 Expense: Going Out for Fun
Athena budgeted $20 per week for going out, and spent $280 over one semester on happy hours and other social events. She went to bars with friends about once or twice a month for happy hour, where she would socialize for two or three hours. In her budget, Athena distinguishes drinks at a bar or restaurant from purchasing a bottle of wine or six pack from the store. She notes that at NYU, she has plenty of opportunities to enjoy free drinks and free food at events sponsored by the institution.
Join the Mailing List to Download Frugal Tips for PhDs-in-Training
The download includes 30+ frugal tips for PhDs-in-Training with links to video and additional written content.
You'll receive 1-2 emails per week to help you make the most of your money during your PhD training.
34:36 Q3: What are you currently doing to further your financial goals?
Athena tries her best to live within her means. She only lives off of the MacCracken fellowship, about $28,000, which is her only guaranteed income source for 5 years. She puts her other fluctuating funding sources into savings and does not create her budget from it. Athena has a healthy cash savings account, and every now and then she moves it into an investment account with Vanguard for retirement and index funds that could be used for major purchases in 20 to 40 years. She needs her cash savings for her new apartment, new furniture, and irregular expenses.
38:19 Q4: What don't you spend money on that might surprise people?
Athena doesn't spend money on transportation. If it's less than an hour walk, she will walk to the distance. The $2.75 to take the subway or bus is better spend on coffee, in her opinion. She won't take cabs or ride share unless she absolutely has to.
She makes use of public spaces with internet access and working spaces, like the New York Public Library. Some people pay memberships to writers' rooms and co-working spaces, or even a desk at home, but Athena has a list of go-to public spaces to work remotely.
Additionally, Athena doesn't have a gym membership, and she won't go to exercise classes. She avoids shopping and costly activities. Though she's surrounded by high income earners in Manhattan, she reminds herself that she has more important priorities than the high expense lifestyle.
43:56 Q5: What are you happy with in your spending and what would you like to change?
Athena would like to change how she tracks her cash spending. Since some places are cash only, and some only take cards, Athena finds it tricky to document all of her expenditures.
She's happy with how little she spends on exercise activities. Athena is a long distance runner, so she makes use of the long trails and paths throughout New York City. She has a deeply discounted New York Roadrunners membership, and recommends that others look into student discounts.
47:36 Q6: What is your best financial advice for a new PhD student at NYU who is budget-conscious?
First, Athena says that budgeting and spending conservatively is absolutely a must. Many daily necessities, like laundry and groceries, are more expensive than you might expect.
Second, she says do not buy in bulk! Buying only what you need will save money in the long term, as well as save space in small apartments.
51:17 Find out your summer funding situation
Athena recommends being aware of how you will be funded through the summer. In some cases, you will receive payments for only the nine months of the academic year. Some refer to the first summer after graduate school as the "summer of poverty," so think about this when you get your offer letter. You may need to save during the academic year to get through the summer, or find summer work. Make plans at the beginning of the academic year.
Further reading: How to Financially Navigate an Summer
52:49 Q7: Would you like to make any other comments on what it takes to get by where you live on what you earn?
Athena says you need to be honest about your financial situation. Seeing wealth around you in NYC does not mean you need to spend like that too, or emulate what you see people doing around you. Athena takes the initiative to suggest more frugal activities, like going to coffee or happy hour instead of more costly brunches and dinners.
Athena does an end of the semester assessment of her budget that she finds highly valuable. She evaluates how she spent her money and considers how she can do better the next semester. It can be difficult to anticipate how expensive things will be ahead of time, so she has gone through a process to try things out and reassess her expenses.
58:00 Conclusion
Join the Mailing List to Download Frugal Tips for PhDs-in-Training
The download includes 30+ frugal tips for PhDs-in-Training with links to video and additional written content.
You'll receive 1-2 emails per week to help you make the most of your money during your PhD training.