In this episode, Emily interviews Dr. Gov Worker, which is the moniker used by a PhD scientist and FIRE blogger. FIRE stands for Financial Independence and Early Retirement. As a PhD, Gov Worker's motivation for and path to FIRE are different than most and specific to his high degree of training, and he thinks other PhDs should consider FIRE as well. In this first half of the conversation, Gov Worker fleshes out the FIRE movement for us, including why the current stereotypes are inaccurate and harmful, discusses what pushed him to pursue FIRE, and details what his family is doing to achieve FIRE.
Further Listening: This PhD Government Scientist Is Pursuing Financial Independence: Part 2
Links mentioned in episode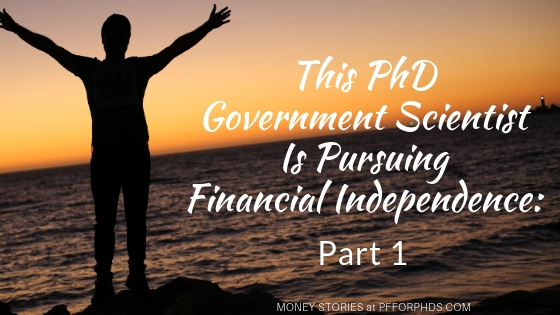 0:00 Introduction
1:25 Please Introduce Yourself
Dr. Gov Worker is the moniker for this PhD who is a government researcher. He is sharing his personal views, not the views of the government. He got his PhD in 2009. He lives in a "flyover state" and he's happily married with three daughters. He started blogging a few months ago because he realized that his perspective is unique in the FIRE movement online. Most people pursuing FIRE and blogging about it are not PhDs and don't have government jobs. He wanted to write content for people with these financial situations to help them optimize their decisions for pursuing FIRE.
4:22 What is FIRE?
FIRE stands for financial independence, retire early. Financial independence means you have passive income that exceeds your living expenses. Passive income is money that you don't have to work for. In the FIRE movement, the rule of thumb is if you have 25 times your living expenses saved, you can generate enough returns on your investment to live comfortably by drawing off of 4%. The goal is that you save enough money that you don't need to work to make money. Your work can be disassociated from an income. Early retirement is not necessarily the outcome of financial independence. Once you achieve financial independence, you have the option to leave your job.
Gov Worker emphasizes that the movement is more inclusive than it may seem. He says pursuing financial independence is for everyone and offers a lot of freedom.
10:10 What are some of the stereotypes associated with FIRE?
Gov Worker says the stereotype associated with FIRE is a single white male who learned to code and got a high paying job. He says the stereotypical person may be antisocial and not understand why people want to spend money on social activities. He says the stereotypical person is over-represented in the mainstream media and online in blogs.
Gov Worker wants to let listeners know that while early retirement sounds so extreme and it may turn off many people, the FIRE movement is more inclusive and has diversity in bloggers.
13:22 What led you to the FIRE movement?
Gov Worker shares that he saw a feature in Money Magazine about FIRE. He said he had always been interested in finance and read the Rich Dad, Poor Dad* books in high school. It never occurred to him that he could retire early until he saw the feature. Then he read Your Money or Your Life* and he says this book completely changed his life. Gov Worker says in academia, the mindset is to be the top of your field and it isn't an option to have personal goals. He says he achieved career success, but it wasn't fulfilling to him. Your Money or Your Life showed him that the job could be the source of income, not identity. He realized that being himself is worth more than his professional expertise.
[* This is an affiliate link. Thank you for supporting PF for PhDs!]
18:54 What are you doing on your path to financial independence?
Gov Worker says that he and his wife are very frugal. They always lived way below their means. They both ride their bikes to work, and they have a ten year mortgage they are prepaying. Every time they got a raise, they would save the raise or increase retirement accounts. He says that once they had children, a notable percentage of their salary goes to daycare.
21:35 How did you manage to keep your living expenses in check when you did see an increase in income?
Gov Worker explains that when he was in graduate school, his wife was working so they lived off of two incomes. They didn't move after he graduated, so they didn't have moving costs. They had a daughter two years before he graduated with his PhD, so this was the main financial concern. He says the increased income was like breathing room. Gov Worker says that he enjoyed his social group of graduate students who supported each other through tough times.
26:09 Conclusion