Are you facing any of the following challenges?
I would like to start saving, investing, and/or paying down debt, but I don't know which goal to pursue first.
I think I should be able to put money aside with my current stipend/salary, but months/years have gone by and I don't have anything to show for it.
I've tried budgeting, but large, one-time expenses such as travel, university fees, and electronics upgrades make it feel impossible.
I feel disorganized with my finances. I'm not sure where my money is going or what I should be doing with it.
I have a stipend/salary plus a side hustle, and I don't know how to structure my budget and bank accounts to handle both income sources.
I received a job offer (or offer of admission), and I'm unsure if the stipend/salary is sufficient or what I'll be able to afford in my new city.
I just started a new position and I want to set my finances up properly.
Through my live seminars, podcast interviews, and previous coaching clients, I've supported PhDs(-in-training) experiencing every one of these challenges – and gone through most of them myself! Answers to your questions and solutions for your challenges are available, and I can help you find them through one-on-one financial coaching.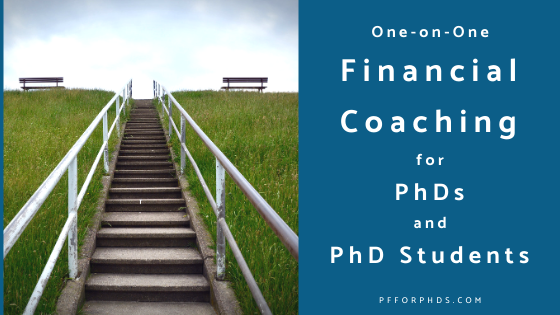 Your goals, preferences, and unique circumstances will be front and center in our coaching relationship.
If you're looking for guidance in where to go next with your finances, I will introduce you to the 8-step framework I developed, and you and I together will determine which step of the framework you are currently on, where to go next, and how to get there.
I can also help you work through other questions you are facing, like evaluating salary/stipend offers, setting up a budget (including one that accounts for large, irregular expenses), and determining your eligibility for certain tax benefits.
Some of the financial challenges you are experiencing are unique to the PhD population, and you need support that is tailored for you. I work exclusively with prospective or rising graduate students, graduate students, postdocs, and PhDs with Real Jobs (W-2, self-employed, etc.).
I charge $99.99 for an initial 55-minute appointment and $44.99 for subsequent 25-minute follow-up appointments.
Let's work together one-on-one! Book a free "Hello Call" below to explore whether you would benefit from working with me on the financial questions and challenges you are currently facing.
Join Our Phinancially Distinct Community
Receive 1-2 emails per week to help you take the next step with your finances.