In this episode, Emily interviews Adriana Sperlea, a PhD student in computational biology at the University of California at Los Angeles (UCLA). Living in Los Angeles is financially challenging to say the least, and Adriana has found ways to improve her cash flow over time, such as by doing a summer internship, moving into subsidized graduate housing, living car-free, and budgeting intensively. She has even recently started contributing to a Roth IRA! Adriana and Emily additionally discuss how Adriana discovered that she owed a large tax bill on her fellowship income and how she paid those back taxes and started paying quarterly estimated tax.
Links mentioned in episode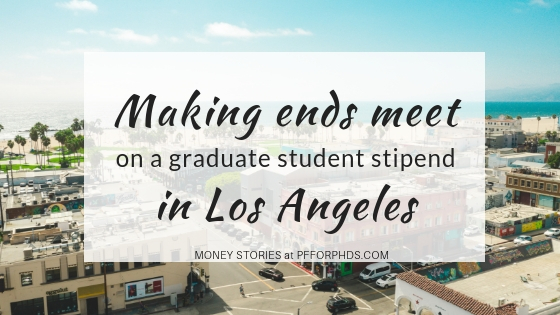 0:00 Introduction
0:54 Please Introduce Yourself
Adriana Sperlea is a PhD student at the University of California, Los Angeles. She is studying Bioinformatics through an interdepartmental program. She is an international student from Romania. Her stipend is about $32,500 and she says it goes up a little bit every year. Each month, she receives $2,400. She is in her fifth year of her program.
3:03 How do you live within your means in Los Angeles?
Adriana says that getting outside financial support wasn't an option for her. Her family doesn't have the means to provide her financial support. As an international student, she doesn't qualify for subsidized loans. After her third year of graduate school, she had a summer internship that provided an income on top of her graduate stipend. This is the only extra income she has been able to receive outside of her stipend. Due to regulations on visas, international students cannot work side hustles. It is illegal for international students to be employed outside of the university. Emily says that international students are in a tough financial position because they don't have access to options to loans or side income that U.S. citizen graduate students can access.
Adriana was on a training grant that required her to do an internship. It was the Biomedical Big Data training grant. She received pay for her internship and continued receiving her graduate student researcher funding. She lived in San Diego for her internship. San Diego is cheaper than Los Angeles, but she still had to pay her portion of rent for the apartment she shared with her partner in Los Angeles.
6:56 What is your approach to budgeting in Los Angeles?
Adriana says that before she created your budget, she had to figure out your housing costs. She lives in graduate student housing, which is subsidized and affordable, but there's not enough available for all graduate students at UCLA. In Los Angeles, you have to shop around a lot and hustle to make housing costs work with your stipend income. Many people use Craig's List. Finding housing that costs 30% of your income is not feasible in Los Angeles, but housing that costs 40% of your income could be feasible.
Adriana explains that the subsidized housing at UCLA is available through a lottery system. Those who get into the subsidized housing are allowed to stay for seven or eight years, basically as long as needed to complete the graduate program. The leases are month-to-month, so people move out at any time of the year. Adriana says there isn't enough available, so she pushes for more student housing. She lives in a junior one bedroom, which costs $1,300 per month. She pays $650 for rent because she shares the one bedroom. It helps lower housing costs to share a one bedroom, but for many people this is not an ideal situation.
Adriana says that housing and transportation are the two big items for the budget. She doesn't have a car, but she shares one with her fiancé. She says to find affordable housing, you need to spend time looking for uncommon offers, start early, and have patience. You may need to sacrifice certain amenities and quality, but look for places livable and clean. Ultimately, there is only so much you can do.
13:30 What is the system that you use for budgeting?
For her budgeting system, Adriana uses a manual spreadsheet. She inputs her income and monthly fixed payments first. Then she divides the remaining income by four, for four weeks of the month. This sets her variable spending income for each week. Whenever she buys something, she inputs it. She always has a sense of what she spends. She buys groceries on the weekends and cooks her meals, so she doesn't go out to eat during the week. She doesn't spend anything Monday through Friday. Often, she has about $100 leftover to use on the weekends for fun.
Emily recaps Adriana's budgeting system. Adriana subtracts her monthly bills from her monthly income. With the remainder, she divides by four for each week. She uses it for groceries first, then doesn't spend money during the week. She has wiggle room for miscellaneous and money leftover for the weekend. Adriana adds that if she sees something she wants to buy, she puts it on a list. At the end of the month, she looks at her list and ranks the things she wants. This reduces impulse purchases and formalizes the practice of delayed gratification.
17:30 What do you do about large expenses?
Adriana has a savings account with $2000 to $3000. She has this savings because her rent decreased since she moved into subsidized housing and she received extra income during her internship. She uses this savings account for big expenses that are necessary, and then she gradually fills it back up. She says that before her internship, it was really tough to make big purchases. For example, she didn't go home to Romania often because she didn't have enough for flights.
Emily recaps that Adriana got a boost from her summer internship. This helped her get ahead. She repays herself into savings instead of using a credit card. Adriana says she has credit cards for maximizing rewards but she does not spend unless she actually has that money. She has a healthy fear of credit cards.
20:16 Any other comments about your budget or how you make it work in Los Angeles?
Adriana has loosened the reigns on herself. She says she has gotten a sense of it after manually managing her budget for so long. Emily says Adriana has internalized her budget. Her budget is in her mind, so she is less dependent on the spreadsheets. Emily says that if you go to a new city, you get thrown. If there's a big shift in your life that's a good time to start carefully tracking again.
22:00 Can you talk about saving for retirement?
Adriana shares that about one year ago, she asked her fiancé's dad about investing. Her fiancé's dad talks a lot about investing, so she asked to learn more. He recommended the book A Random Walk Down Wall Street*. Adriana realized that investing is not rocket science and super simple. She thinks there is a weird culture around investing to make it sound more complicated than it is. She says that it's easy, there's a low risk way to do it, and during graduate school is the best time to invest. She thought that you have to worry about the market, but she jokes that the best strategy is to forget your password.
[* This is an affiliate link. Thank you for supporting PF for PhDs!]
Adriana uses a Roth IRA. This account pays taxes on her money now. She says this is better because during graduate school, this is the lowest tax bracket that she'll ever be in. It's the lowest tax bracket that exists, so this is a good time to invest. She puts $200 in every month. She can budget that now because her rent costs are low. Adriana likes to check in and see she's accumulated money. Emily writes about investing on her blog and agrees investing is easy.
25:54 Can you tell us the story of your big financial mistake from your second year?
When Adriana started graduate school, she was taxed as an international student. As an undergraduate, she went to college in the U.S. She always had taxes withheld and she never had to worry about taxes. But after Adriana started graduate school, Adriana's residency status changed from non-resident alien to "resident for tax purposes." This means the U.S. can tax her like she's a resident. This tax status changed in June of her first year of graduate school, but it was retroactive for the whole calendar year. She had never heard about this issue from anyone else. In June when her status changed, the IRS refunded her about $3,000 that was originally withheld from her. At the time she didn't fully understand why she received this money, and she spent it. But when April came and she had to do her taxes, she learned that she owed about $3,000 in taxes. It was pretty scary for her.
Emily says this tax mistake is pretty common. For the first full calendar year that you're in graduate school on a fellowship-style stipend, you're supposed to pay quarterly estimated tax. Most people don't know about this.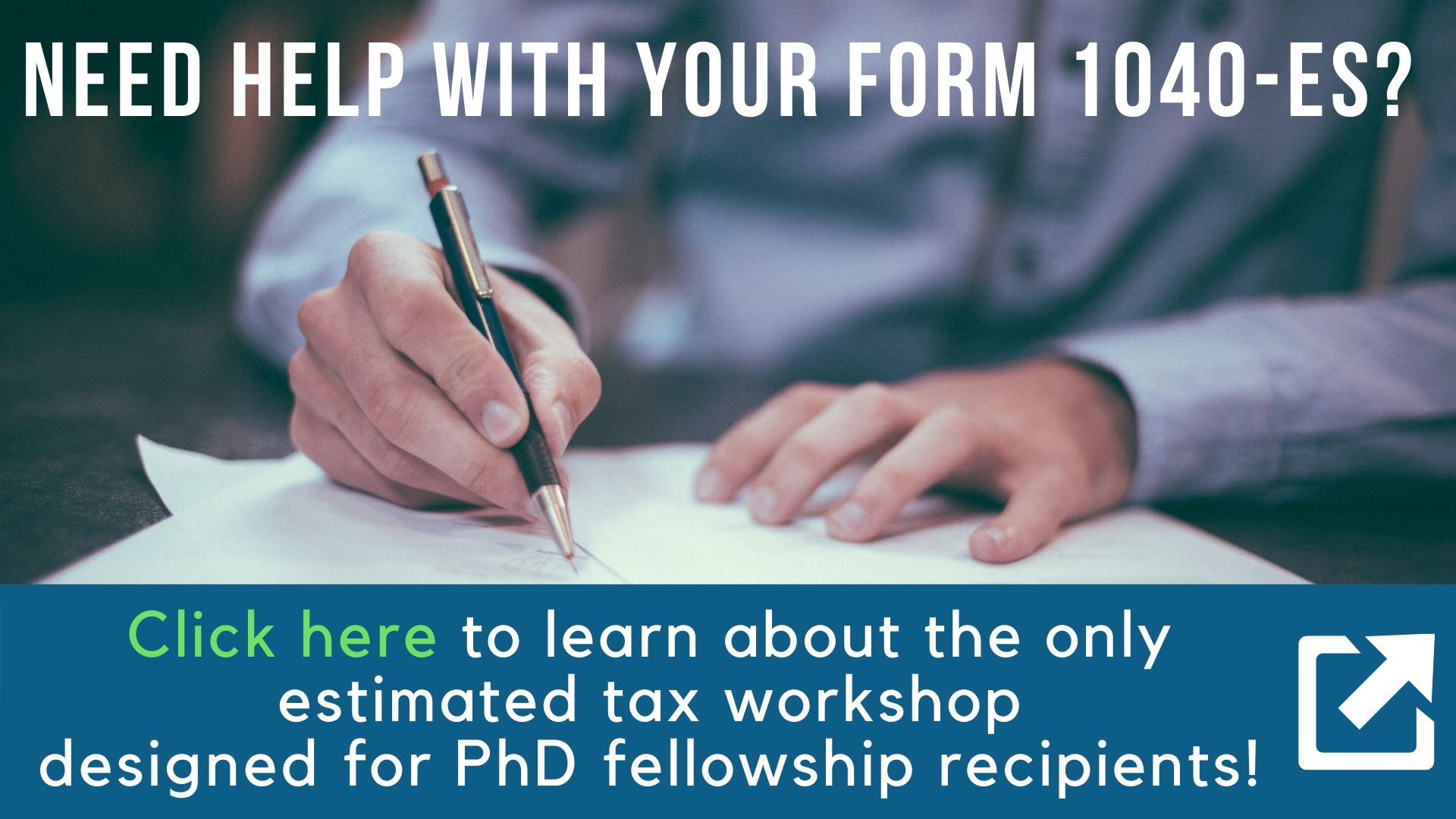 30:28 How did you pay the tax balance?
Adriana only had about $1,000 set aside. She feels a bit lucky that she was disputing with the IRS for money that she hadn't gotten back due to a treaty between Romania and the U.S. that provides for international workers to get their taxes back from first five years from working with non-resident alien status. This dispute got resolved at the same time as her large tax bill. She also applied for a payment plan with the IRS. Anyone can do a payment plan with the IRS if you haven't done one in past five years and your balance is less than $200,000.
Emily says that many people are intimidated by the IRS, but it sounds like Adriana had a good experience. Adriana says she spent a lot of time on hold. But if you're a graduate student and you realize you can't pay your tax bill, the IRS is a place to turn to and get a payment plan with no interest.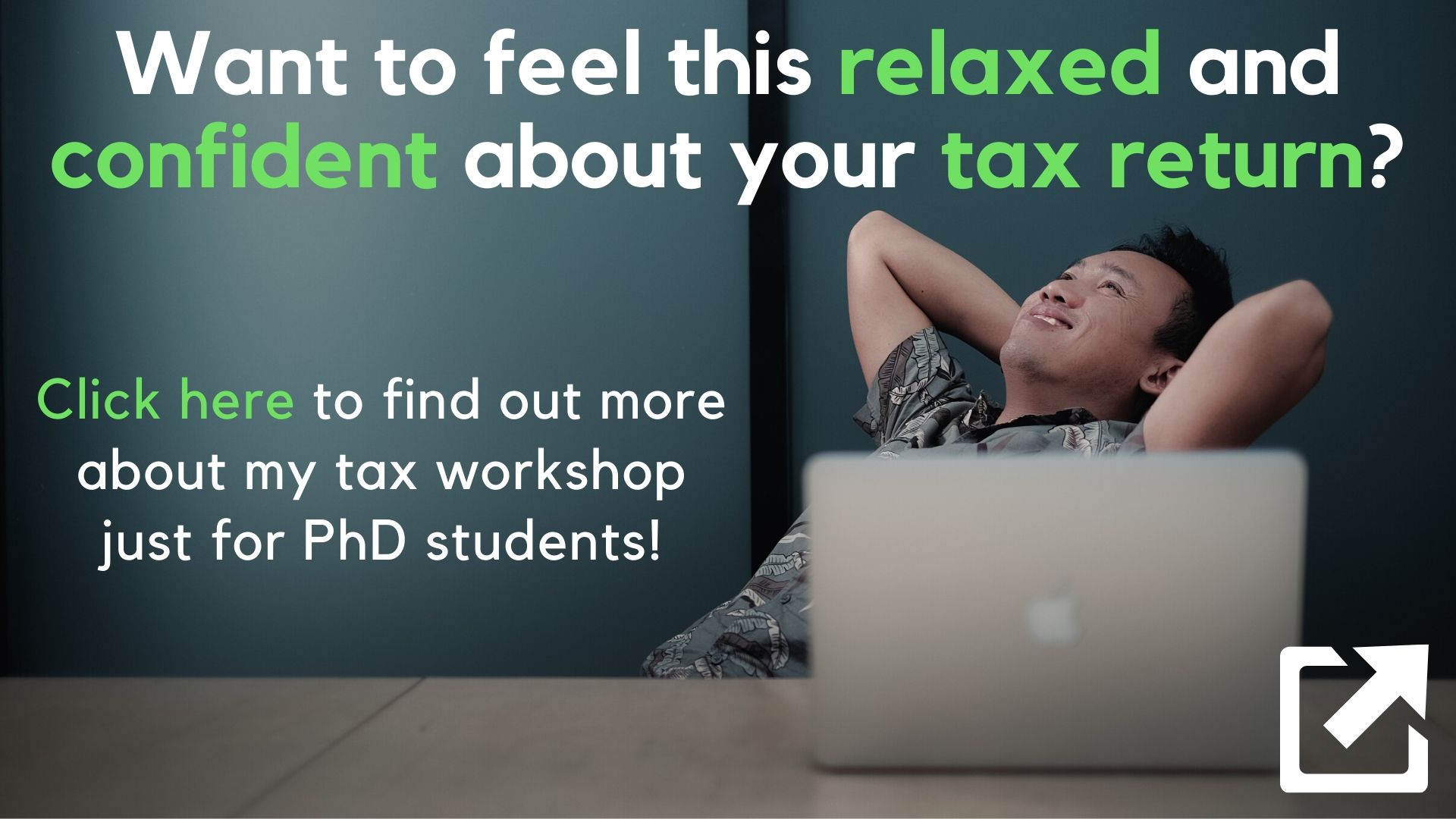 34:40 Final Comments
Adriana says budgeting can be tough and time consuming, and a little bit stressful. She says it's worth it because it's more stressful to not be able to pay rent. Emily says that it's better to fess up, face up to reality of the situation, and engage with it. Don't try to run and hide, because that compounds the problems.
35:18 Conclusion
Join Our Phinancially Distinct Community
Receive 1-2 emails per week to help you take the next step with your finances.