In this episode, Emily interviews Cheryl Lau, a PhD student and branding and content coach serving graduate students, academics, and researchers. Cheryl assists her clients with their service-based side hustles, and our interview today is on why and how to start a coaching business on the side of your PhD training or full-time job. Cheryl identifies two mindset shifts that new coaches might need to make before they dive into their businesses and the first three steps they should take. Cheryl shares her story of figuring out personal branding following a quarter-life crisis and the financial impact that her own coaching income has on her grad student finances.
Links Mentioned in the Episode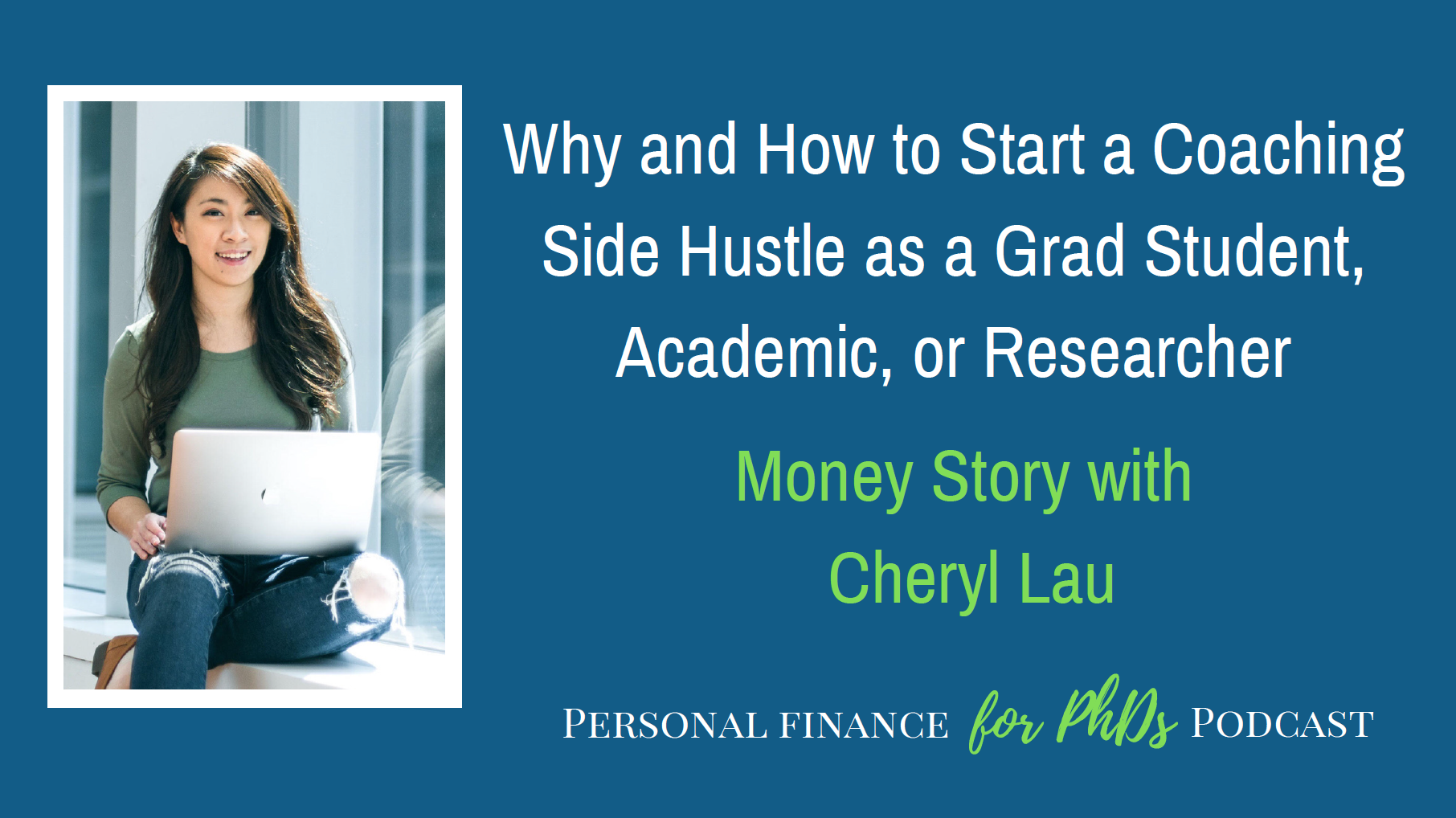 Teaser
00:00 Cheryl: And that's what I realized that, "Oh, wow. I actually have some answers and suggestions and tips. Maybe I can help people on that." So, what I did first was actually started working with people for free. And I saw that, well, one of my clients actually was able to get a paying client for her own business. And that's when I realized, you know what, I can charge for this.
Introduction
00:23 Emily: Welcome to the Personal Finance for PhDs podcast, a higher education in personal finance. I'm your host, Dr. Emily Roberts. This is season seven, episode five, and today my guest is Cheryl Lau, a PhD student and branding and content coach serving graduate students, academics, and researchers. Cheryl assists her clients with their service-based side hustles, and our interview today is on why and how to start a coaching business on the side of your PhD training or full-time job. Cheryl identifies two mindset shifts that new coaches might need to make before they dive into their businesses. And the first three steps they should take. Cheryl shares her story of figuring out personal branding, following a quarter-life crisis, and the financial impact that her own coaching income has on her grad student finances. You can find out more about Cheryl and her business at cheryltheory.com. Cheryl and I met through the self-tenure community run by Dr. Chris Cloney. And speaking of coaching, Chris is actually my online business coach. If you want to learn more about starting and running an online business as an academic or researcher, definitely check out Chris's resources at gradblogger.com and selftenure.com. What Cheryl and I cover in this interview dovetails very nicely with some resources I've released this fall inside the Personal Finance for PhDs Community. If you run a business as a side hustle, whether coaching or otherwise, you may be interested in my new course, Best Financial Practices for Your Self-Employment Side Hustle. I've covered two topics so far how to budget with a variable side income and how to choose a self-employment retirement account. If you are maxing out your IRA this year and don't have access to a 401(k) or 403(b), I highly recommend the latter module. To view all the benefits of being part of the community and sign up, visit pfforphds.community. Without further ado, here's my interview with Cheryl Lau.
Will You Please Introduce Yourself Further?
02:30 Emily: I'm really excited to introduce you all today to Cheryl Lau. She is a branding and content coach focusing on PhD, students, academics, and researchers. And specifically today, we're going to be talking about coaching businesses. Now, I just said, Cheryl herself is a coach, she helps other people who are also coaches, and I also serve as a coach. So, we have a lot of coach talk going on today. And just to frame this a little bit, Cheryl specifically works with people who doing coaching or other service based businesses as a side hustle. So, this is absolutely something that you can do on the side of your graduate work, your PhD training, your full-time job. That's perfectly okay. So, I want you to keep listening to this episode, even if you're initially thinking, "Wait, why would I become a coach? What could I possibly coach someone about?" No, that's what we're going to be talking about today. So, you'll probably have your mind expanded a little bit about the possibility of you starting a coaching business, and Cheryl's here with us too, to help us do that. So Cheryl, will you please tell the audience just a little bit more about yourself?
03:32 Cheryl: Sure. So hi everyone. My name is Cheryl and I am originally from Toronto, Canada, but right now I am based in Hong Kong. So, originally I studied psychology at the University of Toronto, and now I am starting my PhD in Social Welfare at the Chinese University of Hong Kong. And online, I am a brand and content coach or strategist, and I basically help academics, graduate students, and researchers to really show up online confidently and build a brand and a side hustle business that really makes an income and an impact.
What is a Coach, and What is a Coaching Business?
04:05 Emily: So perfect. Thank you. Okay. So, Cheryl, what is a coach, and what is a coaching business? Because I know a lot of people, my audience will never have hired a coach for anything, they aren't coaches themselves. So, what exactly are we talking about?
04:18 Cheryl: Sure. So the pure, pure, pure definition, if you search on Google, I'm sure the definitions will be something along the lines of empowering the client to make a decision for himself or to empower clients to really think on their own and think about how they want to achieve their own goals. So, that's like the pure, pure definition of coaching. But how I like to look at a coaching business is basically using your own preexisting skills, knowledge or experiences to help someone solve a problem. And that could be in the form of coaching, mentorship, or teaching. So, basically if you've been able to get a result for yourself or for others and you can help other people achieve that same result, you can start a coaching business on that.
04:59 Emily: Yeah. So, a coaching business could be drawn out of professional expertise, certainly, but it can also kind of be drawn from expertise that's developed through your personal journey and then expanding that beyond just yourself, working with other people, learning from other people. And I would say that latter describes, you know, my journey as a personal finance expert, right? Like I don't have any certifications when it comes to like the financial stuff, but I've spent enough time in this space, talked with enough people, listened to enough great resources that I consider myself an expert, and bill myself as an expert in that area. So really, you know, you don't have to be a professional in the area that you ultimately coach in. You just have to be, well, frankly, you just have to be more competent than your clients, really. I've heard it said that, to be a coach, you have to be just one or two steps ahead of the person you're trying to help. So, like in the financial realm, you don't have to be a certified financial planner. If you want to coach people on their budgeting, you have to be like pretty good at budgeting. You don't even have to know about investments or all the other stuff. So, you can sort of narrow the scope of what you're going to be coaching on based on the actual expertise that you do have. Don't feel like you have to be an expert across the board at everything, right?
06:11 Cheryl: Yeah. And I totally agree with that. I feel like there are maybe a few different ways that people can look inside or in the past and assess where they can draw, they can derive a coaching business from. So, maybe like you said, your personal experiences or maybe achievements you've accomplished. Let's say, for example, maybe you were a TEDx speaker. You can teach people how to become a TEDx speaker or get invited to speak at TEDx events. Or maybe if you're really just naturally gifted at something, maybe you're just a naturally good listener, so maybe you have a particular strength and you're really upbeat and motivating and uplifting to other people. You can support people by being a listener. Perhaps you can become a life coach eventually. So, there are many different ways you can look at your skills, your achievements, or your strengths. And I think by looking at those three areas, you can kind of start thinking about what are things I can help people solve a problem on?
Why Coaching is a Good Side Hustle
07:05 Emily: Absolutely. So, let's get back to like the idea of the coaching business. Why would someone want to pursue this while they have a full-time job or while they are in graduate school, for example? Like why is this a good side hustle?
07:20 Cheryl: So, as graduate students or academics, your time is very, very valuable. And by being able to start a coaching business on something that you already know by using your preexisting knowledge, skills, or experiences or achievements, you're not starting from scratch. You're not learning an entire new craft from stage zero, but rather you're already building on top of what you already know. So, the learning curve is a lot faster. And that said, you really do not need an original idea. So, contrary to maybe startups where you need something that's very new and fresh and original, here, your coaching business model or the problem that you're helping to solve for other people. It's usually kind of mundane. It's nothing that new. So, maybe for example, for me as a brand and content coach, there's many people helping others in marketing or starting an online business or side hustle.
08:17 Cheryl: So, the idea itself is not new, but in fact, where there is competition, that means there's more demand for that service. And so, because time is so valuable as a graduate student or a PhD or academic, by building a business that doesn't require you to learn that much skills upfront, you can save a lot of time. And also by working closely with your clients, whether that's one on one or in a group setting, you're really able to help pinpoint what are areas that people are getting stuck on and you can really answer their questions and help them resolve issues as they come up really quickly. And as a result, your clients are getting much faster results and much higher quality results than if you were to just create an ebook and give them all the information and they were to implement it on their own. Because challenges do come up, limiting beliefs and self-doubts do come up. But if you're able to coach them through those limiting beliefs, then they're able to get results much, much faster. So, those are a couple of reasons people might consider starting a coaching business.
Active vs. Passive Coaching Income
09:17 Emily: Yeah. You made a couple great points in there that I wanted to follow up on. One is regarding like the value of your time as a researcher. Service-based side hustles in general, they're the fastest way to make money on the side when you're literally trading your time for money. So, you know, you mentioned this in contrast to like for instance, writing ebook and publishing it and maybe generating passive income over time. That's another way to help people, but they're very different approaches and you can charge a lot more for one-on-one or small group services than you can for an ebook, for example. And you're literally just trading like your hours for money. And so it's very, very fast. You can build it very quickly, turn it around. Of course, you need people who want your service.
10:03 Emily: But it's a very quick way to make money and more reliable, I would say, then doing something like trying to generate passive income from an ebook. And I think another point that you made in there that I wanted to pull out is that the way that you're serving people is different than them just trying to learn something on their own. They probably have already attempted to learn and take action on whatever the subject area is that you are coaching in. Like in my sphere, in personal finance, maybe someone listens to my podcast, other podcasts, maybe they love to read about personal finance, maybe they read books. But there is still a disconnect between absorbing that information and actually implementing it in their life. And so if someone is at that stage of, "Well, I've taken in a lot of content, but you know what, I'm just not making changes in my life, and I want to." That might be a place where a coach could step in, like I could step in, and help that person get to that next step. So, they're both valuable, but it's very different approaches for helping people achieve their results.
11:03 Cheryl: Yeah, totally. And you know, there are so many different ways that a person can make money online using your own skills and experience and knowledge. But one thing that's very unique about coaching is that, or one benefit I should say, is that by serving your audience in such a high touch, high accountability, high personalization manner, even the quality of the results that your clients will get will be a lot better than if they were to do it on their own. And because of that, the testimonials that you'll get in return at the end of your work together will be much better. And your testimonials are very important, especially when you're building a coaching business because other people want to see that, "Hey, this person can actually help me solve a problem and get me really good results." And so testimonials are really important for the marketing aspect of your coaching business.
Flexible Working Hours
11:51 Emily: I think another thing that you haven't necessarily touched on yet, but is another point in favor of coaching as a side hustle, is that it's very scalable in terms of time. Like you can spend an hour a month coaching if you want to, or you can spend many hours per week and that could be your side hustle. And so, it's different than, you know, a side job, let's say where someone else is dictating your schedule and the amount of hours you should work. It's completely up to you as the business owner to dictate how many hours you're going to work per period of time.
12:20 Cheryl: Yeah. That's a really great point because the flexibility of the coach is just incredible because all you really need is wifi and Zoom basically. So, by being able to, basically honestly, you can work from anywhere. You can be a coach anywhere, as long as you have the internet, even the startup costs that you need to start a coaching business are quite low compared to other business models. You don't need that much tech. You don't need that much software. You just need Zoom and internet, basically. You can easily package later on if you choose. So, you can package what you've taught and coach people on into a digital course, a passive product. But after you gain more experience, after you really pinpoint what are areas that people really struggle with and what are questions that come up over and over again, and you take notes on those issues and challenges that come up, you can easily create a digital course or digital product based on your experiences as a coach. And you can sell that much better, as opposed to just creating a course upfront and not really knowing if it's going to be able to help people get results.
Mindset Shifts to Start a Coaching Business
13:22 Emily: Yeah, I totally agree. We're talking to like graduate students, a lot of people and other PhDs, and they might be thinking like, who, "Who am I to be starting to be starting a coaching business, what is this? So, what are some of the mindset shifts that someone in my audience who is sort of intrigued by this idea? What do they might need to work on in their mindset before they're able to really embark on a coaching business?
13:44 Cheryl: So, you just mentioned basically imposter syndrome: who am I to start a coaching business? And I think that is massive. And I think one other, I guess, belief that goes hand in hand with imposter syndrome is the idea, or basically the fear of judgment. So, what are people going to think if I start a coaching business? So, one perspective shift that I would really like to offer your audience today is to think about who are you trying to work with versus who are the people who might potentially be making judgments about your business? Because ultimately whatever you do in your life, there will be people who are making judgments about you, even if you're not doing anything. Even if you're not doing a coaching business, you'll still receive judgment. So, the question is how much time and concern are you giving to the people who you're trying to serve versus the people who really aren't going to become clients in the long run?
14:32 Cheryl: And so, I would really encourage the audience who might be thinking of starting a coaching business to really think about, "Okay, this is a target audience I want to serve and how can I actually get my message and/or work in front of them so that they can see the value of my work?" As opposed to just worrying about what people are going to think, especially those who are really just never going to become fans or supporters of my work, because there's definitely people who would never really see the value of coaching. So, that means that they're unlikely to become paying clients or part of your audience. So, if you are really worried about what are people going to think, I would urge you to just to just focus on the impact that you can make and the audience that you want to serve, as opposed to worrying about people whose opinions really have no bearing on you serving that particular audience.
Navigating Imposter Syndrome
15:17 Cheryl: And also, as we mentioned, imposter syndrome. One really easy way to navigate this imposter syndrome is to remember that imposter syndrome really roots from feeling like you're not credible enough to start this coaching business. But if you just remember that you're starting a coaching business based off of your preexisting skills and knowledge and experiences, these are things that you've already done before, and you're simply helping other people do the exact same thing. So, if it really is an issue that comes up, one thing that I encourage all of my own clients to do is to start working with people for free first. That way you can actually make sure that you can help people and get them results and not worry about, "Oh my gosh, can I really help people?" But by having actual evidence, concrete evidence that you can get results for other people, you are not only running your business in integrity, but you're also able to work through that imposter syndrome by seeing that, "You know what, I can do this."
16:13 Emily: Some people around you might be saying, "Wait, would anyone find value in the coaching that you're providing?" But like you said, if you actually start working with clients and on a free basis or low-cost basis to begin with, then you can prove to yourself and the people who might be questioning around you, "Oh yes, I do help people get results. Like this is what I've done. This is what I've helped them do in the past." You have the receipts basically. Once you start working with people and you can keep track of those testimonials and keep track of their results, that can both encourage you and help you answer to people who are wondering really what you're doing here.
16:48 Cheryl: Yeah. I love that point. And you know what, very recently, I think about two months ago, I was meeting with an old classmate. So, my classmate said, "Wait, people actually pay you for this?" And I'm not gonna lie, I was pretty taken aback when I heard her say that. Because for many, many months, I've been working on my business and I've been working with clients and helping them get results. And to suddenly hear someone I used to be friends with question the validity or the legitimacy of my business was really shocking. But then in order to snap back into the swing of things, I reminded myself that, "Hey, you know what, I do have the receipts, just go on my website and you'll see all these testimonials." And I remember once again that I have worked with people, I've helped them get results.
17:35 Cheryl: And as a result, I'm able to run my business in integrity. And I think that's really important for people to remember that you are focusing on people that you can actually help as opposed to faking your way into getting clients. Because, as opposed to just signing on every single client that is in sight, really focus on helping people that you can actually help so that imposter syndrome doesn't come up and you can actually see the clients achieve amazing transformations.
18:01 Emily: Hmm. I totally agree about being selective about the clients that you take on. I think just coaching overall is kind of an unknown industry, or at least maybe among like the academic audience, it might be a little unfamiliar. So, I think the question of like, "People pay you to do that?" I can understand why you'd be a little taken aback by that, but I don't think it was probably meant in offense, just like, "Oh my gosh, like there's an industry around people getting paid to do this thing?" But like we were saying earlier, you know, for people who really want that high touch interaction with a coach, then yes. They decide at some point some of them that it is worth it to them and they choose to pay for it. So, it's the decision of your clients, not the people around you.
Commercial
18:44 Emily: Emily here, for a brief interlude. If you are a fan of this podcast, I invite you to check out the Personal Finance for PhDs Community at pfforphds.community. The Community is for PhDs and people pursuing PhDs who want to take charge of their personal finances by opening and funding an IRA, starting to budget, aggressively paying off debt, financially navigating a life or career transition, maximizing the income from a side hustle, preparing an accurate tax return, and much more. Inside the Community, you'll have access to a library of financial education products, which I add to every month. There is also a discussion forum, monthly live calls with me, a book club, and progress journaling for financial goals. Basically, the Community exists to help you reach your financial goals, whatever they are. Go to pfforphds.community to find out more. I can't wait to help propel you to financial success. Now, back to the interview.
First Steps Toward Starting a Coaching Business
19:47 Emily: Let's say that we've talked someone into, "Okay, I'm going to consider starting a coaching business. I have my area of expertise, my area in mind that I want to coach in." What are some of the first steps that that person should take towards starting this coaching business?
20:02 Cheryl: So, I would say the first step is really getting clear on what do you want to coach on? And I think that if you want to gain more clarity on that, one of the steps that you can take is to really identify an achievement or a process that you've undergone and just map out that process step-by-step. What are the steps that you took or different areas or components that contributed to that final result? So, really just write down what are the different steps or parts of you being able to achieve a certain result or solve a specific problem for yourself.
20:35 Cheryl: And that will become kind of like your framework or methodology that you can walk people through to help them get results as well. Because ultimately, the goal is to be able to help someone through a process that is unique to you and something that you've done for yourself as opposed to teaching something that you haven't really done for yourself. So, I think the first step is to really identify what are the key steps or key areas that have led you to where you are today. And then the next step would be marketing and sales. So, perhaps you can be on social media to share your services, to talk about your program, and to talk about how you've been able to get results for yourself. And really just share how excited you are about the program and why this worked for you and why it will work for other people who are struggling with something similar as well.
21:22 Cheryl: And finally, just delivering a really awesome coaching experience for a client. And I think those are the very fundamental steps that people can take when they're just starting out. I mean, there are so many different things that you can do. You can start a webinar funnel, you can start an email list, you can create a podcast or YouTube channel. There are so many different things you can do to market and promote your coaching program. But I think at the core of it, having clarity on your offer, being able to share insight on your first few clients and also deliver really good results with people. I think that's the core. The first few steps that people should look into first.
Finding Your First Few Clients and Charging for Coaching
21:55 Emily: I also think that there might be some people in the audience who are a little bit nervous about, you know, you used the word marketing. Like a little bit nervous about kind of putting themselves out there as like this coach in this certain area. You know, you mentioned earlier taking on your first few clients for free. So, I sort of view that as like an exploratory process, both for the coach and the people being coached. The coach is sort of investigating, is this something, you know, like you said earlier, can I provide value? Can I help this person achieve results? Do I like it? What do I think my time is worth? They're kind of exploring through that process. And then of course you do need to start charging and I would say pretty soon. You know, don't do that for very long. Can you talk to me about those first few clients? Maybe how to find them and then also the transition between doing that for free and then starting to charge for it.
22:44 Cheryl: Yeah. The interesting thing that I've learned about working with people for free is that because they're not necessarily financially invested in your program, the chances of them staying committed throughout the entire process is not as committed as someone who has actually invested money into your coaching program. So, what I would suggest when you're finding beta clients is to really be selective about it. So, invite people as opposed to just shouting it from the rooftops and hoping that people will inquire about it. So for example, what I did was actually, I looked at my current audience and I would recall the conversations I had with people and identify two or three people who I think would be a good fit and really fun to work with. And I send them a personalized message and say that, "Hey, this is my goal. I really want to launch this paid program in a few months time. But first I want to make sure that this actually works. So, based on our conversation so far, here's what we talked about. And I think that this will be a really helpful program for you, and it will be complimentary, it'll be for free. And in return, I just would really love for feedback and a testimonial if I provided value." And so that's how I would go about inviting people to be clients, your first few beta clients, you could say.
Transitioning from Free to Fee-Based Coaching
23:58 Emily: And how about that transition to starting to ask for money? I think that's a really intimidating one for everyone, self-employed people–especially people who have been cultured by academia to believe that they should be giving away their work for free.
24:14 Cheryl: Yeah, that is a very, very interesting topic to talk about because you know, how I did it was I simply worked with people for free first and got the testimonials. And that just gave me the full-fledged confidence to tell people that, "You know what, here are the results I was able to help people achieve, both internally in terms of mindset and externally in terms of what they're able to achieve online or for their own personal goals. And here's why I am so confident in my work." I think for someone who is starting a coaching business, just being very confident in yourself is something that is very important when it comes to marketing or selling your program. As long as you truly believe that you're able to get results with people, as long as you truly believe in the impact of your work, I think that that energy can exude and can translate and people can tell. People can really tell when you're confident in your work. But for someone who might be a little bit nervous about it, what I recommend is, I think pricing is a tricky thing. But what I recommend is just to pick a price that you are comfortable saying and sharing with people and just stick with it. No need to compare your prices with other people. Just pick a price, a number, it's very arbitrary, to be honest. Just pick a number and then increase from there. As you gain confidence, continue increasing your prices and have it reflect the value of your work.
25:32 Cheryl: So, I think for people who might be nervous for charging, start low and increase as you go, that might be a way to go about it. Of course, please charge. Please charge for your time and the value and impact that you're going to make for people. But when you're just starting out, it might be a little trickier. But over time, you'll recognize the value and impact of your work. And as a result, your prices will go up naturally as well.
Free is Okay at First, But Start Charging Soon
25:57 Emily: Yeah, I definitely agree. Okay. So, what we're pointing out is, okay, free is okay at first, but put a limit on it. Start charging somewhere, and increase it. Whatever you feel, whatever you think you can say with a straight face, maybe after talking yourself up a little bit, start there and then increase it. I'll say two quick anecdotes about that. One was from when I started my speaking aspect of my business. I decided to offer a free seminar to three clients. It was based on what was convenient to me geographically. And then I said, "After that, that's it. I'm done doing things for free, and I'm going to be charging, and this is the price point." So, I did that. One school turned me down. So, I gave two free seminars, and then I started charging. And in those first few months of starting to pitch myself and telling people about the seminar content and stuff, I was laughed at, and I was told that my prices were not appropriate a couple of different times. But I sort of knew that they were appropriate based on what I've learned about the market pricing.
27:00 Emily: And I just kind of had to persevere through that and, you know, ultimately, just a few months later, was able to earn that amount that I had been asking for, and then have increased my prices every year, since then. So, talk with a lot of people, once you're ready to start charging. Cast a wide net for potential clients, and don't be discouraged if the first two people you talk to don't like the price point. That's okay. Just keep pitching it and keep putting it out there, making sure of course that it's reasonable for the market that you're in. So, that's one anecdote for my business.
27:32 Emily: Another that I'll relay is Dr. Jen Polk, whose brand is From PhD to Life. She is a career coach specializing in PhDs. And I remember her saying that when she started this, this was probably about 10 years ago, she started doing this. She asked people, her first paying clients, for $10 for an hour of work. And that was the price point. And she is a huge advocate of people increasing their prices and charging what you're worth and so forth because she did start out with like way, way, way, undervaluing herself right out the gate. And I think she did that for a little longer than she would like, which is why she's always telling people the advice that we just gave, which is just increase, increase, increase. As you were saying, as you grow in confidence, as your pile of receipts of great testimonials grows and grows.
Origin Story of Cheryl's Coaching Business
28:17 Emily: So, I totally think your action steps were were wonderful and right on the point. And now I want to get to a little bit more of your story. Out in the front of this interview, we wanted to talk about coaching more generally, but now I want to hear a little bit more about your story. And especially now that you're starting a PhD program, what your coaching business is going to look like on the side of your graduate work. So, can you tell us more about your story of starting your business?
28:40 Cheryl: All right. So, let's bring it back to a few years ago when it really started for me through a quarter-life crisis, essentially. So, what had happened was I was actually in law school. I finished my undergrad and I went straight into law school because I was in the mindset of, "Oh my gosh, what a prestigious career." That was the mentality I had back then. So, I immediately jumped into law school without really thinking about, "Is this a really good personality and career fit for me?" But, you know, lesson learned. But fast forward a year later into law school, I realized this really was just not the right fit for me. I mean, it was very interesting to learn about the law, but being a lawyer is a completely different story. And after my internships, I realized that I just cannot do this. And so I made the very difficult decision to drop out of law school, and this was late 2018.
29:29 Cheryl: And I realized at the time, "Wow, what am I going to do with my life? Essentially, I entered my quarter-life crisis at that point. And I was dabbling in the internet looking at career websites. And I found the term personal branding. And that was very interesting to me. I've never heard of the concept before, but I thought, "You know what, let me try to build an online presence. I don't know where it's going to go." So, what I actually ended up doing was creating a YouTube channel to share my experiences about navigating parents' expectations, making difficult life decisions. The channel does not exist anymore, but what happened was that I was actually building a slow and steady audience on Instagram and YouTube, and people were asking me questions. They were asking me questions about, "Wow, how did you have the confidence to show up online? Like, I really want to share this experience or that experience, but I'm just so scared. Or, "How are you able to grow an audience on social media?"
30:18 Cheryl: And that's when I realized that, "Oh, wow, I actually have some answers and suggestions and tips. Maybe I can help people on that." So, what I did first was I actually started working with people for free. And I saw that, "Wow, one of my clients actually was able to get a paying client for her own business." And that's when I realized, you know what, I can charge for this. And that's how my coaching business came about. I officially launched my paid program in March of 2019 and have been charging ever since. And fast forward to today as a PhD student, this is a side hustle for me. And my PhD is my first priority right now, but that said, my side hustle is a large source of income for me compared to my stipend. And just having that extra income, it's able to help me feel more financially secure. Especially with such uncertain times right now, just having that sense of security is very comforting for me.
31:15 Emily: Absolutely. I don't know how your stipend is at your university, but there are plenty of places here in the U.S. where graduate students are not paid a living wage, barely paid a living wage. And having a side hustle, especially like we talked about earlier, one where you can immediately start making money trading your time for money can really help you through. Through feeling more financial security, as you were just saying, through being able to, you know, enable some pleasures in your life that you want to pay for, to enable saving. Like there are all different kinds of goals that you might put in place for your side hustle income. So, I'm really glad that you mentioned the financial aspect of this too.
Learn More About Cheryl Theory
31:56 Emily: So, where can people find you online, Cheryl, if they want to learn more about your business and your work?
32:01 Cheryl: Alright. So, I can be found mostly hanging out on Instagram. So, you can find me @cheryltheory. And just for a fun fact, my last name is not theory, but it was simply because all of the variations in the full name was taken. So, I had to pick an Instagram handle name. So, I decided to call my business name Cheryl Theory because back in high school, I thought, "One day I'm going to have my own theory." So, that was just a running joke for myself. So, I created my business name, my username as Cheryl Theory. And you can also find me at my website, cheryltheory.com.
Best Financial Advice for an Early-Career PhD
32:37 Emily: Perfect. So final question, Cheryl, that I ask all of my guests is what is your best financial advice for another early-career PhD? And it could be related to something that we've talked about today, or it could be something entirely else.
32:51 Cheryl: Sure. So, I think if I were to tie in a piece of financial advice related to the topic we were talking about today, is starting a coaching business can really bring in an extra source of income that can create so many different opportunities and options for you. But that said, one mistake that I see time and time again when it comes to new coaches, is that they get stuck in consuming information and not actually taking action on it. So, this is more so a business advice as opposed to financial advice, but I think it ties in with your coaching side hustle. So, instead of just waiting for you to feel ready and waiting to listen to another podcast or watching another YouTube video or download another PDF guide, just take action on what you've learned in those pieces of content, and actually just move forward. And if you fail, fail fast. And if you have to make tweaks, tweak fast.
33:42 Cheryl: The point of the matter is to take action really quickly and refine as you go so that you can keep moving forward. Because the interesting thing is that rather than having a step-by-step checklist that you can follow, and if you check off all the boxes, you're going to get the coaching business success. That's really not how it works, but rather there's so many different ways that you can make money online. Just find what works for you and commit to it. So, continue taking action and not get stuck in information consumption or analysis paralysis.
34:08 Emily: Thank you so much for joining me Cheryl. This was a great conversation. I really hope that some people in the audience are going to start businesses based on, you know, hearing this. If you do, please let me and Cheryl know. And thank you. Yeah. Thank you again, Cheryl for joining me.
34:23 Cheryl: Thank you for having me.
Outtro
34:24 Emily: Listeners. Thank you for joining me for this episode. Pfforphds.com/podcast is the hub for the Personal Finance for PhDs podcast. There, you can find links to all the episode show notes and a form to volunteer to be interviewed. I'd love for you to check it out and get more involved. If you've been enjoying the podcast, please consider joining my mailing list for my behind-the-scenes commentary about each episode. Register at pfforphds.com/subscribe. See you in the next episode! And remember you don't have to have a PhD to succeed with personal finance, but it helps. The music is Stages of Awakening by Podington Bear from the free music archive and is shared under CC by NC. Podcast editing and show notes creation by Meryem Ok.
Join Our Phinancially Distinct Community
Receive 1-2 emails per week to help you take the next step with your finances.