In this episode, Emily interviews Alicia Jones, a PhD student at the University of Illinois at Urbana-Champaign and the creator of the YouTube channel Alicia Does Adulting. Alicia explains in detail her intricate budgeting system, which involves creating a zero-based budget every two weeks, allocating cold hard cash into envelopes, contributing to her debt avalanche, and funding her targeted savings accounts. She uses this budget to keep her intimately connected with her spending decisions and accountable to her financial goals. Alicia and her husband have paid off $70,000 of debt in the past year and a half and now have a positive net worth.
Links Mentioned in this Episode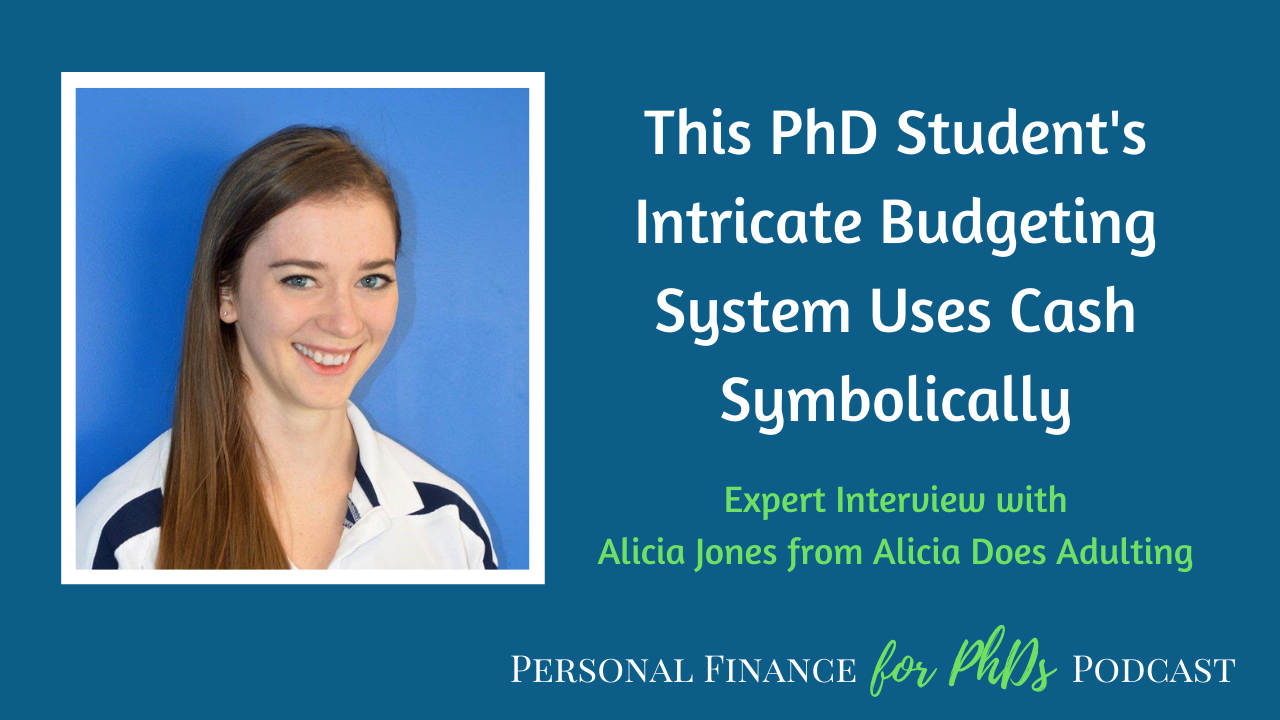 Teaser
00:00 Alicia: I try to turn whatever I can into a game. And finance has become a game for me. I do the little colored charts. I want to see exactly how much money I can put towards savings or debt each month and that continues to motivate me.
Introduction
00:18 Emily: Welcome to the Personal Finance for PhDs Podcast, a higher education In personal finance. I'm your host, Dr. Emily Roberts. This is season seven, episode six. And today my guest is Alicia Jones, a PhD student at the University of Illinois at Urbana-Champaign and the creator of the YouTube channel, Alicia Does Adulting. Alicia explains, in detail, her intricate budgeting system, which involves creating a zero based budget every two weeks, allocating cold, hard cash into envelopes, contributing to her debt, avalanche and funding her targeted savings accounts. She uses this budget to keep her intimately connected with her spending decisions and accountable to her financial goals. So far Alicia, and her husband has paid off $70,000 of debt in a year and a half and now have a positive net worth.
01:12 Emily: You'll hear an exciting new addition to the interview today, which is a couple of questions contributed live by members of the Personal Finance for PhDs community. Going forward, members of the community are invited to attend my podcast recording sessions and ask their own questions of my guests. If you would like to participate in the interviews as well, all you have to do is join the community at pfforphds.community. If you'd like to check out my schedule of upcoming podcast recording sessions, you can find that pfforphds.com/podcast. Joining the community is an excellent way to support the podcast. Plus, you'll receive myriad other benefits. Without further ado, here's my interview with Alicia Jones from Alicia Does Adulting.
Will You Please Introduce Yourself Further?
01:58 Emily: I have joining me on the podcast today Alicia Jones from Alicia Does Adulting, which is the name of her YouTube channel. And Alicia has really fantastic story to tell us, but really primarily, she's here to teach us her budgeting system, which is quite intricate. And I highly recommend that you go check out her YouTube channel. It's actually really fascinating. You'll be hearing more about it as we go forward. Ao Alicia, please introduce yourself a little bit further for our audience.
02:26 Alicia: Well, thank you so much for having me. This is super exciting. My name is Alicia. I'm a third year doctoral student and I go to the University of Illinois at Urbana-Champaige. I am studying kinesiology. I actually got my masters from U of I in kinesiology as well. And my research interests are kind of varied. I've not had the most traditional grad student experience. I am running on average three studies at once, just because of the way my program is. Overall, my research is how behavioral changes impact the overall wellbeing of people with and without disabilities. I also work in MS work. I work in breast cancer work. I kind of do a little bit of everything, but it's nice being in kinesiology because you get to wear leggings to class sometimes. If you're looking for a major or concentration, highly recommend exercise science for that.
03:20 Emily: All right. That's really fun. Well, thank you so much for sharing that. And along the way of your grad school journey, or maybe before, I don't know, you developed an interest in personal finance, and in particular, you started your YouTube channel, Alicia Does Adulting. The channel name is quite general, but I think that you mostly talk about personal finance stuff, is that right?
03:39 Alicia: Yeah. The way that I introduced the channel is that I'm attempting to get my life together and I'm focusing on finances first. Eventually I would like to fully adult with all the aspects of adulting, but I'm not there yet. I'm still working on the money part.
03:55 Emily: Yeah. Well, the money part is going to, it takes a lifetime to work all this stuff out.
Alicia's Budgeting System
The Basics
03:59 Emily: Really excited to get to the topic of our conversation today, which is on your budgeting system, which of course, when I saw your YouTube videos, I was absolutely fascinated by this. Please, I know it's going to take a little while to explain, but just kind of walk us through all the different elements that you use for your budgeting.
04:14 Alicia: Definitely. I will start off with, I'm not saying that this budgeting system is for everyone. Everyone has their own way of making this work for them. I actually originally started doing a monthly budget and it failed horribly and I started playing around with it from there. The way that I will describe my budgeting system is that it is a zero-based, paycheck-to-paycheck budget.
04:41 Alicia: What does that mean? Zero-based means that I take any remaining penny after my bills, expenses, free spending money, any of that, and it gets given a specific job. So before the pandemic, that was pretty much exclusively going towards debt. When the pandemic hit, I switched my goals and I wanted to save some money, so it all went there. So I have $0 left after my paychecks are all cleared. I do keep a little bit of money in my checking account just because math is not always my friend and sometimes I forget something. I leave about a hundred dollars cushion. So you don't have to worry about overdraft fees this way.
05:23 Alicia: Then I do paycheck to paycheck. Between my husband and I, we have anywhere between four and eight or nine jobs at once. The paycheck to paycheck system worked well for me because every other Friday we each had a steady income coming in on those days. All of the bills that come up during that pay period, I take care of all of that during that paycheck. Then if I'm saving up for something, I can kind of devote that. It comes down to a lot of planning and a little bit of strategy, I guess.
05:56 Emily: Yeah. Let me make sure understand exactly what's going on here, because this is definitely different from how I budget and probably how most people do it, which is one of the reasons why I wanted to have you on. When you say that you have the zero based budget, is what you mean that when you receive your pay or at least every second Friday, when you're settling up, you are at that point, allocating all of the money for the upcoming two weeks, is that right?
06:20 Alicia: I do it within the week. Anything that was due on that Friday, I account it starting there up until the next Thursday. Whenever the bill is hit, for the most part, I tend to pay my bills about two weeks in advance, just because I'd never want to miss it. That just tends to be my system, but if you look at a true paycheck to paycheck, it would be within that Friday to the following Thursday.
Dealing with Variable Expenses
06:46 Emily: Okay. And then I understand that the bills that have come in, that's a fixed amount, you know what it is. What about money that's sort of up to you, like your grocery spending or some discretionary money. Are you allocating a maximum that you're going to put towards that? Or how do you handle variable expenses?
07:05 Alicia: This is where my system probably gets more complicated to people, but it's what works for me. I use a cash envelope system on top of it. For groceries, for example, for our household, every paycheck, I set aside $300 for household, so groceries and whatever else might come about, but then I put everything on credit cards. If you watch my channel, you'll see I will do an expense tracker where I go through every single penny that I spent, then I actually will take the money out of the cash envelopes. The reason why I like this system is I am a chronic spender. I actually managed to get myself into $15,000 of debt in my early twenties and I never want to be in credit card debt like that again. This is kind of like a checks and balance system. If I didn't have that check for me personally, if I say I'm only spending $50 on clothing, and then I find a $75 outfit that I really want, in my brain, I still want credit card. I want to put it on a credit card. I want it now, that kind of thing.
Alicia: What I can do with my system is, "okay, I bought the $75 outfit, I have to make a sacrifice somewhere else because I don't have any flexibility." That $25 could come out of my household to make up the difference, but then I can't spend all of my money on household. It kind of becomes a checks and balance system. And for me, I'm flexible with it. Some people, with the envelope system, it's very much like when you hit the end of your envelope, you cannot spend any more. And I just give myself a little bit more leeway. Things come up, or sometimes you just need to de-stress a little bit and maybe you go out and have a drink with a friend or something. As long as I'm making sacrifices and none of it stays on my credit card, then I'm happy with it.
09:01 Emily: So the cash aspect is actually a stand in for just, this is the limit. The important part is not literally that you're using cash because ultimately when you make the purchases, you are not using cash, you are using credit cards. But the cash is just sort of a visual and physical reminder that, okay, that's the end of the envelope, you've reached the end, now you must reallocate if you need to go beyond that. I definitely like this aspect of it because I am not that strict with my budget anymore. I used to be quite strict in a similar way, like, okay, I overspent here, I'll have to transfer from somewhere else now. I sort of let it go, but I definitely find it attractive to, at the end of the day, make sure everything's added up to zero to account for the entire paycheck.
How Alicia Keeps Her System Flexible
09:43 Emily: Okay, we've talked about it being a paycheck to paycheck budget, a zero based budget. You're allocating every single dollar that's coming in. We talked about the cash envelopes. Are there any other elements to your budget that you'd like to share?
09:56 Alicia: I think the big thing for me, and it's one of the things that I think some people don't understand if you've watched the channel for a little bit. It's strict and slightly complicated, but it also allows for a lot of flexibility, and that was something that was really important to me. Everyone that's listening to this is either in grad school or wants to go to grad school or has experienced grad school and we know how stressful it is. And I try to add as little extra stressors to my life as I can, but I have a bunch of student loan debt that I really want to pay off. I have a bunch of financial goals, like I'm working towards technically retiring early. I want to have that kind of cushion in my bank account. So I want to start working towards those goals, but I also just don't want to stress myself any more. It is a little bit time consuming, which is why I'll say it's probably not for everyone, but it is something to potentially give it a try. It's been really fun on the YouTube channel in particular, because I get to hear people trying my system and it was never really meant for other people to try it, it's just what worked for me, so it's been really cool to hear success stories about how it works. If you're interested in it, definitely give it a shot.
11:11 Emily: There was one more thing that I wanted to ask you about, which is, I believe that you also use sinking funds or, I use the term targeted savings accounts for that. Is that the same as your envelopes or is that a separate sort of variation on that?
11:25 Alicia: It's very similar, but I leave my sinking funds online because they're usually bigger purchases and I just don't want to have that cash on me, personally. I put all of my sinking funds into one checking account and then I have an online tracker for everything. It's a similar kind of grace system of, I actually have three sinking funds that are negative right now, and it's because I've borrowed from other places. We do an annual trip to Canada, but we didn't this year because the borders were closed. So I have some money set aside in that account that I can borrow from. I do highly recommend sinking funds or targeted savings. They have been a massive game changer for me because that was one of the ways that when I originally started to budget without much guidance, those types of things like needing new tires, I logically knew that those that was going to happen, but I never planned for it. And then the month would come and it would be a disaster and it would go on a credit card and then I'd carry on. And that's how I got $15,000 of credit card debt.
12:31 Emily: Yeah. Can you actually, for the listener, explain a little bit further what a sinking fund or a targeted savings account is, and actually give a few maybe examples or your list of which ones you have named.
12:41 Alicia: Definitely. Sinking funds and targeted savings accounts are things that you're saving up for that you know will eventually happen. For me and my family, we celebrate Christmas. Christmas happens same time every single year, and I know approximately how much I want to spend. So instead of in December pulling $600 out of my budget, every single month, I put $50 into a Christmas sinking fund account. I have some for the Canada trip that I mentioned, which is usually about a $2,000 expense, so I save a couple hundred dollars every single month, so it doesn't feel super overwhelming to me.
13:19 Alicia: I actually did some research into sinking funds because they were such a game changer and I'm a grad student nerd, so I wanted to know what the literature said, and it's actually a concept of being able to allocate money with a name. I don't know if any listener or if you might have this experience, but I've actually always been a semi-decent saver. I always had money and usually several thousand dollars, at least in my savings account, but then my tires would blow up and I would need new ones and I'd put it on a credit card because to me in my brain that wasn't an emergency. I shouldn't take that out of my emergency savings. That money always has to be there. So by allocating this little bit of money that just sits to the side that has a name, it makes the rational jump of, "Oh, I need new tires. I have a car maintenance fund. It comes from the car maintenance." That is probably one thing I will keep the rest of my life, no matter what. It is a massive game changer for me.
14:19 Emily: Yeah. I absolutely love sinking funds and targeted savings accounts as well. I started using them in grad school as well, when, similar to you, I had some expenses come up and in our case we didn't go into credit card debt, but we just had to say no to a bunch of stuff that we didn't want to say no to. And it kind of helped us realize, okay, well we do need to do some advanced planning for these sort of large expenses that come up every so often. So I started using them in grad school as well. And I did have a year when I didn't use them, which was the year from when we left Durham, where we were living during graduate school and moved to Seattle. And so for that first year in Seattle, everything was an upheaval and we had no idea, it was a lot harder to predict your expenses once you moved to new place, et cetera, et cetera. But after that year, I was like, "Nope, I'm tired of living this way. I need to go back to having the targeted savings accounts in place." So they're back in place and still in play, which has been wonderful. Of course, 2020 has thrown things off quite a bit. Like you didn't end up using your Canada trip money and certainly we've had spending opportunities that we anticipated that didn't happen, so there's definitely been some reallocation, but you kind of have to roll with it.
Using a Combination of Cash and Credit
15:25 Emily: Actually we have a question that just came in from one of my Personal Finance for PhD community members. I invite my community members to listen in on my podcast recordings. So if you are listening to this podcast and you want to be in on these recording sessions and ask your own questions, I invite you to join the community. You can find it at pfforphds.community. The question that just came in is: why or how did you decide to use both cash and a credit card and not just cash? What do you do with the cash since you're not actually spending it? And this is exactly the question that I was gonna ask too, so please go ahead.
16:00 Alicia: Yeah. This is one of the biggest questions that I get. The big reason why I didn't want to use just cash is because I'm on campus very late at night. And so I didn't feel comfortable. I have a very relatively safe campus, but I just didn't want to have any extra money on me that I didn't need to have. I'm also not a purse or bag carrier, so I have just like a little wallet that has my keys. So having the credit cards was more convenient for me and some places on my campus actually don't take cash, they only take cards. So the few times I'd like go to pay for something. I would have had to put it on a card anyway. But there are a few benefits for me personally, at least I guess, not just me, but you do get a little bit of extra security. If something goes wrong, if it's a payment that you didn't actually make or something like that, there's security systems built into credit cards, which is beneficial. I have a little bit of extra leeway. If something massive happens, so for a real life example, last night, I had to take my cat to an emergency vet and that is $2,000 and that was not in the budget. That will go on a credit card, which now gives me 30 days to pay it off before any interest hits. That's a nice benefit. And you also get cash back. Eventually I do want to get into travel hacking, but right now I just use the cash back to help pay off random bills that come up that I wasn't expecting or kind of like treat yourself things. And on average, I make about a hundred dollars a month on my cash back credit cards, so I'll take that.
17:42 Emily: Yeah, that definitely helps with the budget as well, to give you a little bit more wiggle room. And then the other part of that question was, so you literally have cash in your home, and it just gets recycled paycheck to paycheck period? What exactly is happening with that cash?
17:56 Alicia: It kind of depends. Before COVID, I was very good at taking that money, putting it into the deposit envelope and taking it right back to the bank. Since I've been limiting my trips, it has been getting recycled. So the people at my bank know me very well and they know I have very specific denominations that I asked for. They were very used to me doing it, but it is just kind of like a cycle of cash. So I end my week on a Thursday and usually on Friday is when I will go through all of my expenses and pull out all the cash. If it's convenient for me to go to the bank, that money just goes back and then goes directly to credit cards. If not, since COVID that money kind of just sits there, and then the next time I need to take out cash, I just don't take it. So the cash that got left in the bank account that never came out, goes towards the credit cards.
Commercial
18:49 Emily: Emily here for a brief interlude. If you are a fan of this podcast, I invite you to check out the Personal Finance for PhDs Community at pfforphds.community. The community is for PhDs and people pursuing PhDs who want to take charge of their personal finances by opening and funding an IRA, starting to budget, aggressively paying off debt, financially navigating a life or career transition, maximizing the income from a side hustle, preparing an accurate tax return, and much more. Inside the community, you'll have access to a library of financial education products, which I add to every month. There is also a discussion forum, monthly live calls with me, book club and progress journaling for financial goals. Basically, the community exists to help you reach your financial goals, whatever they are go to pfforphds.community to find out more. I can't wait to help propel you to financial success. Now back to the interview.
Debt Repayment Under Alicia's Budgeting System
19:53 Emily: You mentioned earlier that you're working on student loan debt repayments, some other debt repayment — how does your debt repayment process figure into the budget?
20:02 Alicia: That's one of the reasons why I like the zero based budget. I do a debt avalanche. I target one debt at a time and I specifically targeted the highest interest debt to save the most amount of money that I could in interest. I have an allotted amount of all of the previous debt that I've paid off. Each month $1,600 actually goes towards debt pretty much no matter what. Maybe in a massive emergency I wouldn't, but I pretty much do that every month. Then whatever excess money I have goes towards debt. I pay all of my bills, I do all of my cash envelopes and sinking funds, and then every other penny gets thrown towards debt.
20:47 Emily: I see.
20:48 Alicia: It becomes a big part of my budget.
20:50 Emily: Just to clarify, I think when you said all the debt you've paid off in the past, what you're talking about is the minimum payments of each one of the debts that you've made in the past that have now been cleared. You're still quote unquote making that minimum payment. You're just making it to the next debt and you you're in your list, the top debt in your list. So it used to be that you had minimum payments of $1,600 and now some portion of that is you just throwing additional money at your current top loan, is that right?
21:18 Alicia: Yep. And so the way it ended up working with the debt avalanche method in particular, pretty much all of my big minimum payments were first. I did, after about five months of starting budgeting, get a $20,000 medical bill, so I put that onto a credit card and I had one year to pay that off and I made the decision to have that as part of my minimum payments and my debt snowball too. It got a lot bigger because of that.
21:44 Emily: Yeah. Wow. I'm so glad to have these examples of real life coming at you. Not that it's pleasant or happy, but just as instructive as it is for the listeners to learn how you're dealing with that, because I'm sure a lot of them have had similar experiences or are having similar experiences.
22:00 Emily: One comment about that debt repayment method — I think I made this name up, so I don't know if anyone else uses it, but I call what you just explained saving first and last. In the personal finance community, we talk a lot about pay yourself first. So as soon as you get paid, you do your debt snowball, you put money towards that, all of your financial goals, you put money there, then you spend whatever remains. But I also used your system of, okay, I have my financial goals, that's happening right after I get paid, and then whatever money I have left over because I came in under budget in X, Y, Z categories, that also gets saved or thrown into a debt snowball or debt avalanche process. I call that saving first and last because saving last is like not a good idea, but saving first and last to me that was like motivational to come in under budget in these various categories so I would have more money to throw towards the financial goals. Does that work same for you?
22:54 Alicia: Yeah. And I don't know if you've read any of like the gamify literature, but that's kind of what I do with everything is I try to turn whatever I can into a game. And finance has become a game for me. I do the little color charts. I want to see exactly how much money I can put towards savings or debt each month. And that continues to motivate me. I hadn't thought about that it was first and last, but it definitely is.
Why This Budgeting Method Works For Alicia
23:19 Emily: Yeah. So you mentioned earlier, your system is complex, it's intricate. That may not be for everyone, but why have you made it so complex to yourself? Why do you think that this is working well for you?
23:32 Alicia: I think a big part of it is that I am very numbers driven and I wanted to take this journey to learn as much as I could about myself and about my finances, particularly since I'm the spender of my family. I wanted to know every little piece of data and I don't really show it too much on the channel, but I do run the numbers for myself. I like to see exactly how much I've increased in household spending from this time, this year versus last time. It's complicated, but part of it just feels like I'm learning lessons every single week. And particularly with using cash and credit, I'm having to constantly remind myself that you can have certain things, but you have to make sacrifices. You don't just get the easy win all the time. You have to balance it out.
24:24 Emily: Yeah. When I talk with people about budgeting, sometimes I talk about the merits of using an app versus like maybe creating your own spreadsheet, or at least doing manual tracking in some manner, even if it is in an app or something. And what I say about that is that, doing these things manually keeps you very intimate with your numbers. It keeps you very closely connected to facing up to the decisions that you're making and reconciling them. It sounds like that's why you're doing that. In terms of recommending the system to anyone else, who do you think the system would work well for?
24:56 Alicia: It has to be someone that's pretty motivated, I think, because it does take more time than just tracking it within an app. But I think this is someone who, if you're very motivated by learning, I think that's probably the biggest thing. I'm constantly diving back into my own spending habits and I really like self help type things. I love working on self-improvement and that's, I think why I was really drawn to this method of constantly having to learn and adapt and that to me is exciting.
25:30 Emily: Yeah, that sounds wonderful. What motivates you to stick with this now intricate and somewhat time consuming system?
25:40 Alicia: Honestly, one of the biggest thing is accountability. One of the reasons why I first started this channel is I've found that the more that I talk about things that I experienced in my life, the more people I find to have experienced similar things, or can relate and give advice. I started talking about money with my friends and family. I started talking about it on my YouTube channel, and if you follow it, you see just about everything that I spend and do and whatnot. Unless I forget something, you see it. Knowing that that's always there, that my friends are now tracking my progress in some ways, on the times that I've just really wanted to go and do something, maybe not super crazy, but a little bit frivolous I don't because I know someone's holding me accountable to it. And unfortunately I'm not the type of person that can just hold myself accountable. Having other people has really, really helped me in this journey.
26:39 Emily: Yeah. I'll say another vote for that as well. My current website, my home on the web is pfforphds.com but during graduate school, I was actually blogging for under a different website, which was evolvingpf.com, Evolving Personal Finance. And I similarly, not as frequently as you, but I would do at least monthly reports of this was everything I spent and this was a very popular thing to do on the internet at that time. And I'm sure it's still maybe on YouTube as well. And it was really, really great accountability for us, helping us to stick to our goals. We use that during the time that we were in graduate school when we really had a tight budget and we had high, lofty goals for our money. It seems less necessary in my life now, post PhD, so I've kind of moved on from it, but it was a really, really useful tool for that time. And just actually to mention the community again, this is something that any listener can do through the PFforPhDs Community, if you choose to use it that way. It can be great for accountability, and you're welcome to report all your spending inside that community as well, if you want. It'll be private. It won't be open for everyone to see, but you will have the other community members there to at least in theory, hold you accountable.
How Alicia Uses Her Budgeting Method for Achieving Financial Goals
27:48 Emily: I was also thinking about your debt repayment journey, and now you said earlier that you've also started saving up more since the pandemic. Maybe your priorities are a little bit different. Can you talk about using this budgeting system and how you're motivated to use it towards your financial goals?
28:03 Alicia: Yeah. So I started this journey with $120,000 of debt and actually just this month, I'm under the $50,000 mark, so we're making some pretty good progress. But it comes back to the idea of kind of gamifying everything. I turn as much as I can of my life into a game to keep it fun and interesting. Each month being able to see my savings account get higher, and then you get additional interest, which is also a nice little boost because it feels like free money. And then seeing my interest amounts go down when I pay off debt or just seeing the numbers go down. Each and every month I track that I track both of those and then I also track my net worth. And so each of those has become a game to me, and again, I try to not have too much stress in my life, so if my net worth goes down, I don't beat myself up over it. I know it's part of the journey. When the pandemic hit, I was working really hard to pay off all of my debt by May of 2021 beause that's when I turned 30 and I wanted to be debt free by 30. That didn't happen and that's not going to happen because pandemic, but now I've been able to see my investments grow a little bit. I've been able to see my savings grow. Having constant check-ins, or at least regular check-ins really helps keep me motivated.
29:21 Emily: Yeah. Thank you for telling us about that. How do you think being a PhD student interacts with this journey? I know you're married, so presumably your husband is not a graduate student as well. Do you think that being a PhD student plays into your budgeting or your financial goals at all?
29:39 Alicia: I think in some ways. I think possibly the reason why it's so complicated is because I do like data as much as I do, and I like being able to see those numbers. Tracking absolutely every single thing, maybe a PhD thing, but I think also being a PhD student and looking at things from more of a logical point of view has also really helped me. Being able to sit down and like logically look at the debt versus how much money I could have in retirement has really helped me on the journey. It's helped me take some of the emotions out of finance when finance is a very emotional thing. It can be your entire life. I think that's kind of where the PhD-ness comes out
30:23 Emily: More of like the personality of a PhD student or PhD. Will you please recommend a video or two, if people want to check out your channel, Alicia Does Adulting. So you count cash on your channel, which I had never watched a video of before, but now that I've seen on your channel, wow it's actually pretty riveting. Would you recommend a video or two for people to kind of get an intro to you?
30:46 Alicia: It sounds really odd when you tell people the first time I'm a former bank teller, so the sound of cash is very soothing to me. That's how I actually found personal finance YouTube, was cash counting. Any of the "budget with me", you can see in detail how I do my budgets and then see the cash counting, which is very fun. I actually have a video coming out this next week, which is really exciting, so before October 1st and it's the science of cyclical savings. I've kind of evolved my channel a little bit into at least two educational videos per month-ish, when I can.I dug into financial literature and I started to find different savings strategies, investment strategies. Different things that my population for the most part is not PhD students they're not going to go to academic literature, so I kind of break it down into more lay terms for people, because I genuinely just want everyone to have a good financial standing and for it to not be stressful for them. That will be out next week and I'm really excited to talk about that, and how you can save 80% each month more than if you didn't have a plan.
31:59 Emily: Oh, wow. Yeah. I'll definitely watch that video and will, and get from the show notes as well beause it should be out by the time this episode comes out. That sounds fabulous.
Questions from the Personal Finance for PhDs Community
32:06 Emily: I want to take a pause here and invite any members of the Personal Finance for PhDs Community who have a question at this point. This is your opportunity to follow up with Alicia and maybe get some more specifics for your situation.
32:18 Emily: Okay, so we do have one question that came in from a community member. Would you say that using cash is symbolic for you more than anything?
32:27 Alicia: I think symbolic is a really good word for it. I just need one extra thing of accountability and I'm the type of person if I hand over $20 that actually wasn't as painful for me as having to budget it at the end, so using just cash envelopes, didn't really work for me in that sense, but physically going through and having to pull money out of my personal spending for an unexpected thing is very symbolic and just kind of helps visualize that process for me.
33:00 Emily: Yeah. I really liked that aspect of it as well. Thank you so much for sharing that with us. I actually didn't really catch on to that just from watching a few of your videos, that the cash was really being recycled, at this point, not before, but at this point.
Best Financial Advice for an Early Career PhD
33:10 Emily: We'll wrap up with our final question, Alicia, which is what is your best financial advice for another early career PhD?
33:17 Alicia: My biggest advice is it's never too early to start and it is never too late to start. Every little bit that I've done along the way has helped. Every step you take really does help you and if you have never really thought about looking at your finances, today's the day to start because you never know when one of these unexpected massive things are going to hit. Since I started my journey, I've had a lot of massive financial things happen and because I understood my money and I understood where I was at, I could face $20,000 of medical debt with relative calmness, which I can guarantee you, Alicia from five years ago would have been a sobbing mess over all of it and I was actually pretty calm. My biggest advice is just start. Even if it's small, even if it's $5, it really does add up.
34:13 Emily: Yeah, I totally totally agree. And actually just to give people some scope, you said you've paid off, I think it's over $70,000 worth of debt right now. Over what time period did you do that?
34:22 Alicia: It's been about a year and a half.
34:25 Emily: Oh wow!
34:26 Alicia: Yeah! Our first year was really good and then everything kind of hit the fan. This year has not been great, but we actually went from a negative $56,000 net worth and we're now in the positives. We're about to hit $10,000, which might not sound like a big net worth to a lot of people, but it was a big deal for me to be positive.
34:46 Emily: Yeah. You're now at a $10,000-aire, right? Every order of magnitude we can celebrate. Well, this has been such a wonderful conversation, Alicia, and thank you so much for joining me and sharing your experience and your wisdom with my listeners.
35:00 Alicia: Well, thank you so much for having me. This has been super fun!
Outtro
35:04 Emily: Listeners, thank you for joining me for this episode. PFforPhDs.com/podcast is the hub for the personal finance for PhDs podcast. There you can find links to all the episode show notes, and a form to volunteer to be interviewed. I'd love for you to check it out and get more involved. If you've been enjoying the podcast, please consider joining my mailing list for my behind the scenes commentary about each episode. Register at PFforPhDs.com/subscribe. See you in the next episode, and remember, you don't have to have a PhD to succeed with personal finance, but it helps. The music is stages of awakening by Poddington Bear from the Free Music Archive and is shared under CC by NC. Podcast editing and show notes creation by Lourdes Bobbio.
Join Our Phinancially Distinct Community
Receive 1-2 emails per week to help you take the next step with your finances.