Have you ever thought that only rich people can afford to be frugal? Many frugal strategies don't help you spend less today; in fact, some instruct you to spend more today so that you can spend less long-term. But how do you go from being completely strapped for cash to being able to frugally plan your spending over the course of a year or longer? The answer is to stack frugal strategies.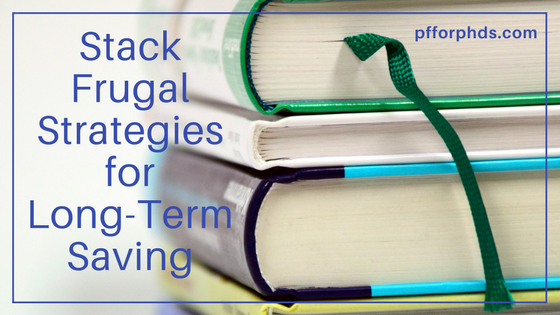 Stacking frugal strategies (a term that might be original to me!) means cutting your spending radically in the short term to free up money to put toward long-term frugal strategies. The short-term strategies may feel painful and sacrificial, but you won't have to maintain them once you put in place at least one long-term strategy (unless you want to). The short-term strategies are cuts to your variable expenses, which take willpower and effort to maintain, but the long-term strategies are cuts to your fixed expenses, which take no willpower or effort to maintain.
Further reading:
Frugal Strategies for Today
These frugal strategies form the base layer of your stack. Implementing them slows down or stops your spending in these areas immediately so you end the week/month with some money in your pocket. They aren't usually sustainable for the long term, at least not in their most extreme form, but if you keep them up for a month or two can leave you with a healthy amount of cash that you normally would have spent. If you try out a lot of them, you might even find a few you're willing to maintain as new habits.
Eat down your pantry. Eat everything you have in your fridge/pantry before doing much grocery shopping. That might mean a few meals in a row of canned tuna or buttered pasta! Only allow yourself minimal shopping to enable you to eat what you already have.
Don't drive your car unless absolutely necessary. Walk or bike everywhere you can. Set up a carpool (but contribute gas money – don't mooch!). If you have access to free public transit such as on your university's campus or through a university-subsidized pass, use that to the greatest extent possible.
Don't go out with friends (except for free). Pass on restaurant, bar, and entertainment invitations from friends just for a short period of time. Search out free activities that you can suggest for outings.
Substitute free coffee/alcohol. If buying coffee or alcohol is part of your routine, break it. Source free coffee and alcohol on campus, or make/drink it at home.
Fast from shopping. No new clothes, no new household purchases, no new electronics. Delay every possible purchase.
Overall, the idea is to halt or at least seriously reconsider any spending that requires you to pull out your wallet (or click 'Purchase'). Make do with what you have already to the greatest extent possible.
Frugal Strategies for Next Month
This set of frugal strategies forms the intermediate layer of your stack. Implementing them will pay off not immediately but in a month or two. However, they are more easily turned into habits for long-term maintenance.
Use less electricity/gas. Turn down the temperature regulation in your home (use less heat/air conditioning). Use less hot water, including showering on campus instead of at home if possible (e.g., at the gym). Keep your lights turned off as much as possible. Track down sources of vampire power and unplug those appliances. Spend less time at home if you don't mind.
Switch utility providers when possible. For example, switch your internet or cell service, if you're not under contract, to a less expensive provider, or downgrade the plan you have with your existing provider.
Cancel subscriptions. Re-evaluate every subscription service you currently use (e.g., streaming video, streaming music, Amazon Prime, periodicals). If you don't use it much, can get the same content elsewhere for less, or don't mind a fast, cancel.
Meal plan and shop strategically. Meal planning is the foundation of many frugal tips relating to food spending. Your meal plan enables you to buy in bulk, stock up on sale items, and batch cook, all of which save you time and money in the long run.
These frugal strategies usually take slightly more research and planning, but they are more sustainable than the shortest-term strategies.
Frugal Strategies for This Year
This set of frugal strategies forms the top layer of your stack. Implementing them requires an up-front investment of money, time, and/or research. Often, it takes months of concerted effort before you can implement the frugal strategy. However, once implemented, they have the biggest payoff potential for the least ongoing effort.
Pay off debt. In the short-term, you have to accelerate your debt repayment amounts, but then the payment disappears!
Reduce your spending on rent/mortgage. This is my #1 suggestion for a long-term way to reduce spending. It's challenging to execute a move or adjust to having a roommate, but it's worthwhile if you can reduce such a large expense by a significant fraction!
Go car-free/downgrade your car. Cars are a huge money suck, and expensive/new/financed cars are the biggest money sucks. If you can live without a car, do so. If you can share a car with your spouse/partner/roommate, do so. If you can sell your expensive car and buy a cheap one, do so. Think of all the money you won't have to spend on purchasing/paying for the car, insuring the car, fueling the car, maintaining/repairing the car, paying tax on the car, etc.
Shop around for insurance. Re-evaluate both your insurance provider and level of coverage to see if you can get a better deal on all of your existing policies.
Travel hack. When you plan your travel well in advance, you can research possible rewards systems that may defray some of the cost of the trip, such as credit cards that offer sign-up bonuses or rewards for ongoing spending. It may take several months or a year for a lower spender to accumulate the necessary points (if ever).
These are the frugal strategies worth keeping around for the long term – the ones that will help you reach your financial goals!
Always start your frugal stack with at least one long-term strategy in mind. You can go whole hog for one month with the short-term strategies; at the end you'll have made deep cuts that radically changed your lifestyle over the short term, and you'll have some extra money in your pocket. But you can't do that month after month. You need to use that extra money to ladder up to mid- and long-term frugal strategies that pay off every single month in perpetuity.
Join the Mailing List to Download Frugal Tips for PhDs-in-Training
The download includes 30+ frugal tips for PhDs-in-Training with links to video and additional written content.
You'll receive 1-2 emails per week to help you make the most of your money during your PhD training.
An Illustration of a Frugal Stack
Rachel's starting point is that she is essentially living paycheck-to-paycheck. In occasional months, she accumulates a bit more credit card debt, on which she pays a high interest rate. She lives alone in a 1BR place and is willing to live with a roommate in a 2BR place, but doesn't have the money for the expenses associated with the move or the security deposit (her current place didn't require one).
The ultimate goal of Rachel's frugal stack is to save up enough money to move once her lease is up. She estimates that she'll spend $250/month less on rent and utilities once she completes the move, but she needs $800 in cash for the moving expenses and fees.
Rachel goes scorched earth on her short-term spending over the course of one month. It's not sustainable, but for one month she virtually never pulls out her wallet. She eats down her pantry, drinks the free drip coffee available on campus, declines invitations from friends that would require spending (and plans a couple free activities to see them at other times), walks everywhere possible, and doesn't do any shopping that could reasonably be put off. It's a crazy ascetic month, but she ends the month with a few hundred more dollars in her bank account than she usually has. She keeps part of the money around for frugal investment and puts part of it toward her credit card debt, knocking down the balance significantly.
In that first month as well, Rachel implements some of the strategies that will take a month or more to pay off. She turns the temperature control in her home way down, unplugs everything at home that she's not actively using, and spends a lot more time on campus, even showering at the university gym instead of at home on the days she works out there. She goes through her fixed spending with a fine-toothed comb; she switches one of her utility services to a lower-cost option and finds a couple superfluous subscriptions to cancel.
In the second month, Rachel has to restock her depleted pantry, so her food spending jumps up, but since she's able to buy some items in bulk and is committed to cooking instead of eating out for convenience, she ends the month with about the same amount of grocery spending as was typical before and less money spent on the go. Her ongoing food spending settles out to about $50/month less than it had been before, even including a few meals/drinks out with friends each month. Rachel also eases off the gas pedal in some other areas like entertainment and using her car, but her spending never returns to where it had been.
Meanwhile, the changes Rachel made to her fixed expenses start paying off, and in total she is spending about $50 less per month on those services, as well as a slightly lower electricity bill.
Her first priority is to pay off her credit card debt completely, which she does in a few months, eliminating the interest she had been paying on it. After that, she saves up for her move, and within about six months she has enough money available to move without accumulating any credit card debt.
Rachel's new reduced rent pays for the moving expenses she incurred within about a month (as she'll get the security deposit back when she moves out), and with the $250/month reduction in rent and utilities she feels comfortable increasing her variable spending approximately back to where it had been, though she keeps her new grocery shopping and cooking habits. She pays off her credit cards completely every month and is now able to save money regularly. It took one month of intense sacrifice and a half-dozen or so more months of moderate sacrifice, and now Rachel is able to live a comfortable lifestyle while still saving money every single month.