In this episode, Emily interviews Dr. Gertrude 'Gee' Nonterah on why and how PhDs and even graduate students should develop a personal brand. Strategically using LinkedIn and Twitter can play a big role in attracting opportunities, including catching the eyes of job recruiters. Gee developed a personal brand that helped her transition from her postdoc position into freelance writing and teaching at a community college. Gee and Emily discuss time management when you are getting a side business off the ground and Gee's upcoming pivot in her business.
Links Mentioned in This Episode
Gee Nonterah's YouTube Channels: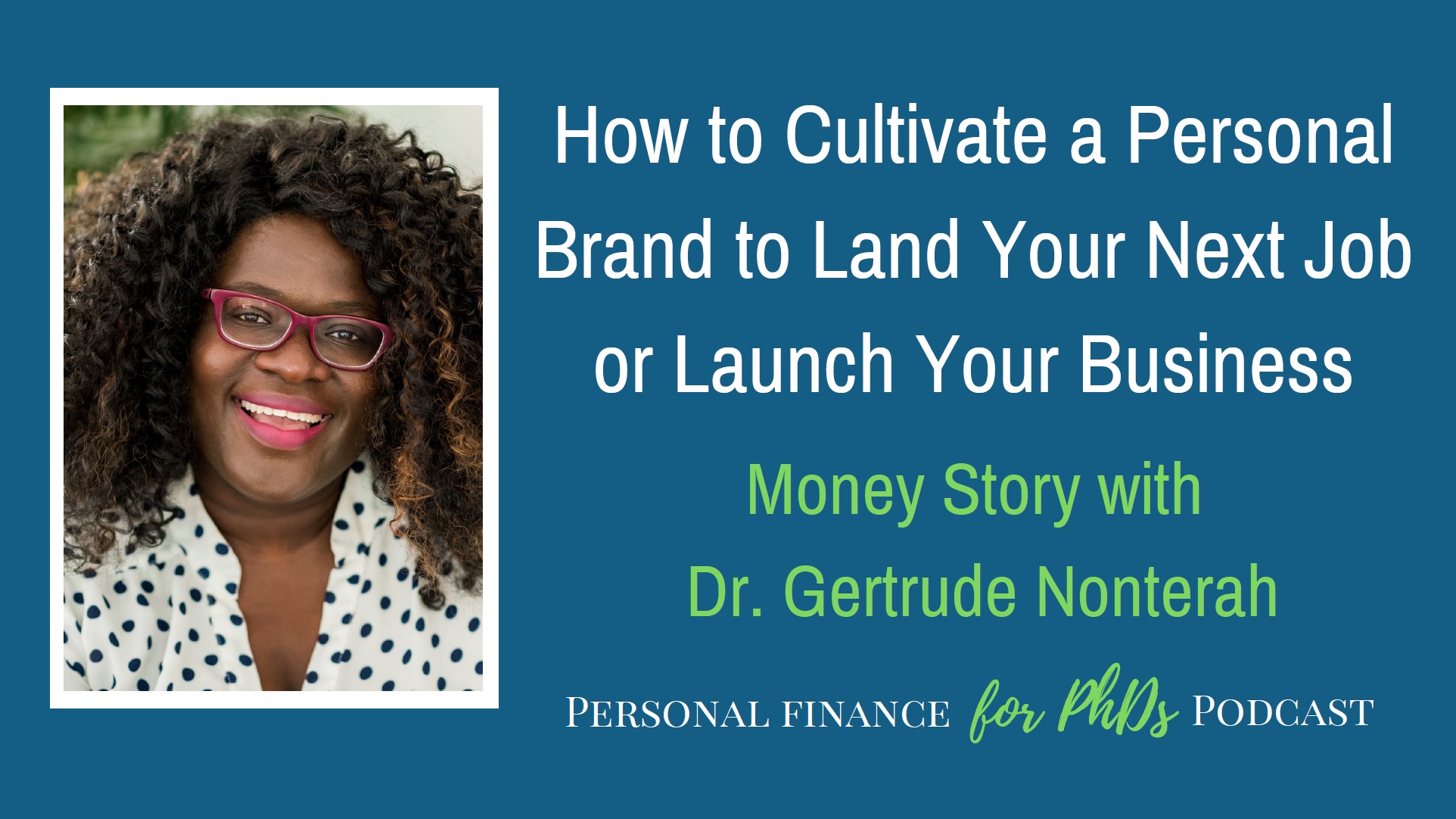 Teaser
00:00 Gee: You know, in marketing, going back to marketing, they are power words, right? And so, you know, throwing one power word into your value proposition is helpful because like you said, it creates some kind of intrigue and like, Oh, I want to, I want to know more about that. So for me, that power word was sizzling because when you get sizzling, it's kinda like, Ooh, something really like delicious, or I don't know, but you usually think about that. So definitely you know, coming up with a power word within that value proposition, within that tagline can be helpful as well.
Introduction
00:38 Emily: Welcome to the Personal Finance for PhDs Podcast: A Higher Education in Personal Finance. I'm your host, Dr. Emily Roberts. This is season eight, episode six, and my guest today is Dr. Gertrude "Gee" Nonterah on why and how PhDs, and even graduate students, should develop a personal brand. Gee explains how strategically using LinkedIn and Twitter can play a big role in attracting opportunities, including catching the eyes of job recruiters. Gee developed a personal brand that helped her transition from her post-doc position into freelance writing and teaching at a community college. We discuss time management when you're getting a side business off the ground and Gee's upcoming pivot in her business. I have an exciting personal update for you before we dive into this week's episode. My husband and I submitted our very first offer to buy a home. It felt like a really rushed decision because we were not at all logistically ready to make an offer.
01:39 Emily: We had no agent, no financing, nothing. We saw a unicorn home pop up in our safe search on Friday morning. By Friday night, we had a Redfin real estate agent and were pre-approved for a mortgage. On Saturday, we saw the house. It was booked up with appointments every half an hour all day. So other people definitely recognized its charms. On Sunday, we worked with our agent to submit an offer. Like many other PhDs and millennials, generally, we have put off homeownership for a long time. We are now 35 and have two kids. Basically, we are trying to make our first home our forever home. So there's a lot of pressure on the process. One of the reasons I've been talking so much lately on the podcast about buying a first home during grad school or in one of those earlier career phases is because I wish that I had gotten this first home purchase out of the way before now.
02:33 Emily: So I'd have more experience and insight by the time I reached this forever home purchase. Anyway, I'm recording this on Monday morning. So we don't yet know if our offer will be accepted or if we'll do this all over again the next time a unicorn goes on the market. At least we'll be better set up the next time to make an offer with more of the logistics in place and having been through it once. Thanks for indulging me in that update. I'll keep you posted periodically regarding this new adventure.
03:01 Emily: This coming Saturday, February 13th, is the next live Q&A call for the workshop, How to Complete Your Grad Student Tax Return (And Understand It, Too!). If you are a funded grad student in the U.S. and a U.S. citizen or resident for tax purposes, this workshop is for you. The IRS will begin processing tax returns on February 12th. So this is an ideal week to get that return ready to submit if you want to get your refund ASAP.
03:28 Emily: Go to pfforphds.com/taxworkshop to join the workshop and plan to attend the live Q&A call on Saturday to clear up any remaining questions that you have. Saturday, February 13th is also the deadline to join the winter 2021 session of The Wealthy PhD. This is a perfect time of year to work on a big financial goal, especially if you decided that 2021 was your year to get on top of your finances or are anticipating a career transition in the coming months. I hope you will consider joining the session if you want to gain financial inspiration, accountability, and actionable knowledge. You can find out more at pfforphds.com/wealthyPhD.
Book Giveaway Contest
04:14 Emily: Now it's time for the book giveaway contest. In February, 2021, I'm giving away one copy of The Simple Path to Wealth by JL Collins, which is the Personal Finance for PhDs Community book club selection for April, 2021. Everyone who enters the contest during February will have a chance to win a copy of this book. I'm super excited to read The Simple Path to Wealth in the book club because, confession time, I have not read it before. I've recommended the book on many occasions on the strength of the author's blog and its reputation, but this will be my first time through. I'm looking forward to learning alongside you. If you would like to enter the giveaway contest, please rate and review this podcast on Apple podcasts, take a screenshot of your review, and email it to me at emily@pfforphds.com. I'll choose a winner at the end of February from all the entries. You can find full instructions at pfforphds.com/podcast. Without further ado, here's my interview with Dr. Gertrude Nonterah.
Would You Please Introduce Yourself Further?
05:24 Emily: I am delighted to have joining me on the podcast today, Dr. Gertrude Nonterah, we'll call her Gee during the interview. And we are going to discuss something that I don't think I've covered before on the podcast, which is personal branding for academics, as well as Gee's side hustle as a writer. And so I'm really excited about both these topics, and Gee will you please introduce yourself a little bit further for the audience?
05:47 Gee: Yes. Thank you, Emily so much for having me on your show. I'm really excited to be here. So, as Emily said, my name is Dr. Gertrude Nonterah. I got my PhD in microbiology and immunology from Temple University School of Medicine back in 2015. And ever since then, I've been living in San Diego, California. I started out as a post-doc, worked as a post-doc for about two years and 11 months, and ever since have essentially been running my business. I also do teach at a community college, I have been doing that since the beginning of 2020. But yeah, I'm super excited to be here and to talk about personal branding and leveraging that as an academic.
Defining Personal Branding
06:32 Emily: Okay. So let's start with a little bit of a definition, because it's not a term that's necessarily familiar to everyone. What is personal branding?
06:39 Gee: Right. And I think, you know, there is no one strict definition for personal branding except to say your personal brand is how you want people to perceive you or how you want to be known. And that's the simplest way I can describe it because we could go into all the technical definitions of branding and all that. But the easiest example that comes to mind is every time you drive into a city and you see those two yellow golden arches that signify McDonald's, you know it's McDonald's. Nobody needs to tell you that a McDonald's exists there. You just know from seeing that big yellow M that there's a McDonald's close by, right? And that's because over the years McDonald's has done a great job of branding who they are, what their symbols are, and so on and so forth. And so bringing that to a more personal side, right, where you're saying, okay, here I am. Here are my qualifications, here are my degrees, here's my personality. And this is what I would like to be known for and to be hired for potentially if you plan on working in the corporate world. And even if you plan on building a business online or having a side hustle, it is important to build that personal brand, I believe, because it is a foundation that opens the door for many things. And as we go along in this discussion, hopefully I'll be able to share some stories myself that will be helpful.
Personal Branding in Academia and Beyond
08:07 Emily: Yes, please do. So I think it's pretty maybe obvious why someone who's starting their own business would want to cultivate a personal brand. But what about for someone who is a scientist or another kind of academic who wants to either stay in academia or get another kind of employee job, you know, doing what they were trained to do for their PhD? Why is personal branding relevant for that person?
08:27 Gee: Yes. And I realized that this is such a newer concept in the world of academia, right? But I think it's become important for a few reasons. The reason its become important is because there are a lot of people just like you, even though, you know, those of us that have PhDs only make up about 2% of the population worldwide, right. There is an increasing and growing number of people who are graduating with the same degrees as you. People who have the same qualifications, who have the same educational background, and so on. Right? So, it's all the same. So I see personal branding as a way for PhDs and academics to stand out from the crowd, right? Because these days when recruiters receive resumes, all they receive is a piece of paper that rattles off your qualifications, right? But then here's the thing. A lot of recruiters go on places like LinkedIn to check you out before they even give you a call.
09:26 Gee: Right? And imagine being that recruiter, put yourself in the shoes of the recruiter going on, you have 10 resumes, you go onto LinkedIn, and then you find that there's this one person that's super active in the topic that, you know, they're looking for employment in. They're sharing articles, they're making very intelligent comments, they're engaging in conversation. And then the other nine are nowhere to be found, even though they may have a LinkedIn profile, they're nowhere to be found, right? Just put yourself in the shoes of that recruiter. Which one of these people would you tend to go with? Especially if all their resumes, everything being equal, what makes one of these individuals, I don't know, of course there's the interviewing process, which helps, but to be honest, at the very beginning, people are skimming through resumes. People are skimming through your LinkedIn profile or any other online profile you have and personal branding can really help you set yourself apart. Even if you think you're working in a super boring topic and nobody would be interested in, I really do think that by building that personal brand and building that brand, that people begin to recognize in your field, you can set yourself apart and set yourself up for success as an academic slash PhD, whether you want to stay in academia or not.
Personal Branding Will Make You Memorable, Online or In-Person
10:50 Emily: What I'm taking from that description is that personal branding will at minimum help you be memorable to anyone who comes across your, well, hopefully resume as well, but definitely LinkedIn profile. Or even like in-person networking, maybe when that happens again, or Zoom networking, we're recording this in December, 2020. Even with in-person networking, I'm sure there's a way to express your personal brand, even, you know, verbally or with your business card, do people use still use business cards? I'm not sure, but in the way that you interact with someone at like in a networking like capacity, you know, people talk about having like an elevator pitch ready for, you know, what you do, like a one-sentence and you know, a one minute and so forth, that probably also all plays into personal branding. Right?
11:35 Gee: Absolutely. Absolutely, Emily. So like you said, you know, when, as we're recording this, we're in the middle of the COVID-19 pandemic and nobody is going anywhere, right? We're not going to do any networking meetings anywhere. And so we don't even have that opportunity right now. And so I think that this is actually the perfect time for you to start building that strong online brand, because now you don't have that opportunity. So, you know, in a way, building that run online is your way of networking until we can get back to in-person networking, but yeah, absolutely. A personal brand doesn't necessarily have to be online. You know, online tools are just easier to access these days in general. But yes, for sure, even as a person that you meet, you know, as somebody that goes in-person networking, you can absolutely establish that personal brand with in-person meetings. Yes.
How Do You Start Developing a Personal Brand?
12:32 Emily: So I really love the idea of using this, you know, COVID-19, the stay at home order period to cultivate specifically your online, personal brand. And then once other opportunities are available to you, you know, take what you've developed there and figure out how to express it, you know, in other ways, once in-person, you know, stuff is available again. So would you say that's the first and like kind of most accessible way to start developing a personal brand is, you know, your website, your LinkedIn profile, and so forth?
13:01 Gee: Well, I think, I think that there's a step before that. And the step before that is really figuring out what you want your personal brand to be. Now, I believe in building an authentic personal brand, but you know what I mean by what do you want to be known for? What do you, you know, determining what your personal brand is going to be is really thinking about the topics for instance, that you want to establish yourself in. So let's say that you're working on lung disease at a major, you know, medical research center, right? And you are on your way out about to get that PhD. What other, have you published papers on the topic? What did you find, you know, as long as your PIs is willing to share after you publish, after you publish, you absolutely share. Right? I know PIs are very protective of research ideas when it hasn't been published yet.
Think About Your Personality
13:52 Gee: Right? So but if you really want to stay in that lung research lane, then that's one thing that you can write down. I want to, I want people to associate me with lung research, for instance. Also another thing that I like to think about is your personality, right? Are you an extrovert? Are you an introvert? Are you somewhere in between? Right? It's good to let that shine through. I know that as academics were really trained to kind of hold back on the personal part of our lives and not share that, but if there are causes you care, you know, you want to, you want to show that. And then if there are causes you care about, you know, you want to share that as well. So, you know, before you even jump into a website, before you even jump onto LinkedIn, sit down and actually write down, what do I want my personal brand to represent?
14:44 Gee: Do you know, there are people that have built a whole brand, not necessarily in academia, a whole brand around very brash talkers, right? And then there are people that have a more softer approach. There are people in between. So which one are you, and is that actually true to who you are? So once you sit down and determine what you would like to be known for so that you can leverage that to getting that dream rule and to getting those interviews and getting, you know, building those relationships with key people in your industry. You really want to sit down and think, what do I want to represent online? Right? And then once you determine that, you can craft everything else around that.
Create a Tagline or Value Proposition for Yourself
15:31 Emily: So I'm thinking, as you're, as you're speaking about this, tell me if I am going in the right direction here, I'm thinking of a person almost identifying like a tagline for themselves. Maybe you can give a couple of examples of that, but like I'm Dr. Emily Roberts. I, so for me, I guess my personal brand with Personal Finance for PhDs is I help early-career PhDs make the most of their money. So something really short and simple, easy to remember. Is that kind of what you're thinking? Like, maybe give a couple examples of that, but then everything else can kind of support that tagline that you've identified for yourself.
16:07 Gee: Yes, yes, yes, absolutely. So it's, you know, you're calling it a tagline and I like to think of it in business terms as a value proposition. Like, what do you, what value do you bring to the world, right? And so, I like to say that I write sizzling content for million-dollar health brands. Like that's my little tagline that I have, because that's what I do. I write, I write content for million-dollar health brands. Right. And so you know, whatever it is, you could have a tagline that says, you know, award-winning lung research, or upcoming excited, enthusiastic lung researcher or something. So yes, absolutely. You can choose a tagline for yourself, but it shouldn't be a tagline that we have to like sit down and have to figure out it should, it should clearly communicate what value you bring to people, right?
17:01 Gee: So in my case, like in your case, you, you talk about Personal Finance for PhDs. It's absolutely clear what it is that Emily talks about. So if I wanted to find a podcast or resources that help me as an academic with my personal finances, and especially knowing that academics tend to be not paid very well, you know I would go find Emily's podcast, right? So you want to, you don't want to be what's the word you don't want to be fancy about it. You want to be clear, you can make it a little cute, but make it clear as to what people can expect from your brand and what problems that you potentially solve.
The Power of Power Words
17:41 Emily: Yeah. And I think also going along with that, and this is something, I guess I've learned a little bit from like marketing is to give like some kind of intrigue or like a little bit of an open loop or something within that initial one second, you know, face that you're presenting to the world. Right? Like you said, the word sizzling. Ooh, what does that mean? What does it mean to sizzle? I want to find out more about that, right? So does that like play into it as well? Like enticing people into engaging with you further.
18:09 Gee: You know, in marketing, going back to marketing, they are power words, right? And so, you know, throwing one power word into your value proposition is helpful because like you said, it creates some kind of intrigue and like, Oh, I want to, I want to know more about that. So for me, that power word was sizzling because when you get sizzling, it's kinda like, Ooh, something really like delicious, or I don't know, but you usually think about that. So definitely you know, coming up with a power word within that value proposition, within that tagline can be helpful as well. But not always necessary, though.
Don't Wait Until You Have Your PhD, Start Now!
18:45 Emily: Okay. I feel like you've given us a lot to chew on already with this, with this topic of personal branding. Was there anything else you wanted to add onto that?
18:54 Gee: Yes. I wanted to add onto that, that you know, don't wait. I see, because I teach at a community college. I get to interact with a lot of up and coming, brilliant students. And I recently actually did a presentation on essentially starting to build your personal brand as a student on LinkedIn. And I was amazed at how shocked they were that they could do that as students. And so this is something that a lot of students don't know, whether they are undergraduate students, PhD, students, even people who have finished their PhDs don't know about this. And I'm going to kind of plug in LinkedIn here. That LinkedIn is a really powerful place for you to start building your personal brand. It's, it's moved on past the days where LinkedIn was sort of like a place you went to dump your resume, and you hope that a recruiter would find you.
19:44 Gee: It is now a place where you can create content, for instance. You can share ideas. You can comment on other people's blog posts. Twitter is another great place. That's how me and Emily met. And you know, there's Academic Twitter and stuff like that. And so getting involved in these niche communities that are discussing topics that you're interested in and you're researching can really begin to get you noticed. So don't wait until, you know, you have your PhD. Start right now. There's a lot of conversation happening and you should jump into those conversations right now.
Opportunities Once You Develop a Personal Brand
20:21 Emily: And just to kind of add onto that. Once you kind of develop a personal brand and are starting to be known in some niche area, what kinds of opportunities might come your way? You know, maybe you can give an example of how that's worked for you when you developed your personal brand.
20:38 Gee: So, so good. So once I developed, I'm still developing my personal brand, but once people begin to know you and begin to know that you talk about, you love to talk about certain things. They essentially file you in their heads as that thing. Which is why, again, I talked about the McDonald's double arches, that the moment you see that, you know, it's a McDonald's. So people file that away in their minds. And so when, for instance, an opportunity comes for you to be interviewed on a podcast that is relevant in your niche. People begin to recommend you, right? If there's an opportunity to speak on a subject, and that opportunity is a paid speaking engagement, people are going to refer you and say, Oh, I know a great person that talks about personal finance, specifically for PhDs. I'd love to refer you to her, right?
Recruiters Pay Attention to Your Social Media
21:27 Gee: When you begin to build those networks and you begin to get known for a specific topic, people file you away in their minds. And when opportunities come, they will refer you without you even asking, without you even knowing that somebody referred you, you know, or somebody mentioned you. So those are some opportunities. Also, as far as jobs go, when you begin to build your personal brand and begin to establish yourself in the minds of people, recruiters do take notice of this. You know, don't believe the hype that nobody's watching your social media. People are constantly watching it. And especially on a place like LinkedIn where there may be recruiters looking for people like you to fill positions.
22:11 Gee: And so once you begin to speak on a specific subject or to be a thought leader. I don't like to use that word very much, but become part of the conversation, I would say, in a particular niche, the recruiters in that niche begin to take notice, because as you begin to build networks online networks with other people, those people can also refer you. All those recruiters can discover you as somebody that is super active, because when people go on LinkedIn to search and LinkedIn has a search algorithm, for instance, and it pulls up people that are maybe relevant to who they are looking for. The more active you are on a platform like LinkedIn, the more likely you'll show up in the first few search results. So if they're looking for somebody like you to fill a position, guess what? You get first dibs because you showed up earlier up in the search. So those are just a few of the opportunities that can come. I definitely got some speaking opportunities, opportunities to be on podcasts, even job opportunities have come to me because of the personal brand. So it's really powerful.
23:17 Emily: Yeah. And I would say, I, I have never done a lot with my like branding, but I think as you said, because the branding, the name of my business is so clear already as to what it is. There's no ambiguity there. And because I've been working in this space for several years, I have also seen all the same things that you just mentioned of, you know, networks, my network, working for me to, you know, bring more opportunities my way, which is incredible. And I'm really thankful for that. So I can see that this, you know, this advice is wonderful for a job seeker, but it's something that has to start much, much earlier than that. As you were saying, you know, while you're a student, not too early, go ahead and start cultivating this. Now, maybe you don't have to be like the most active on LinkedIn.
Pivoting to Something Adjacent
23:59 Emily: Like, you're just saying, if you, if your goal is not at the moment to show up at the top of searches, but once you're starting to think in that direction that you need to step it up, right? You need to, you know, become even more active in these ways to show up so that people can find your profile and so forth. But yeah, I can definitely see how this, start cultivating it immediately, basically. And I also have a sense that it's okay to pivot this a little bit, you know, if your goals change or if you need to, you know, adjust what you're looking for or what you want to be known for. I think that's okay, actually. Like people might still have you filed away in their mind as one thing, but going to something adjacent is not too big of a switch, I think.
24:37 Gee: At all, you know, and, and I've been, you know, I'm both, you know, in the corporate world, as well as I have a side business. I'm writing and, you know, even creating eBooks and online courses. And I've made micro pivots all along that path, right? So I wouldn't, I wouldn't even think it's such a big deal. I've even seen people switch completely, switch topics completely. And that's fine. As long as you don't switch up on us every six months, right? You know, stick with something for long enough for us to file you away in our minds. But yes, if your goals change, if let's say, you know, you were working in biotech industry and now you want to go work, you know, as a lawyer. And so you're pursuing a law degree, that's fine. You know, it's like you said, I love the word you use adjacent. Adjacent, but slightly different. It's fine. It's absolutely fine to change directions. And over time, people begin to fall in love, not just with your topic, but with you, too. And so they'll follow along for the journey as well, even if it's no longer relevant to them.
Commercial
25:45 Emily: Emily here, for a brief interlude. If you know that you want support in accomplishing a big financial goal this spring, I recommend my group coaching program, The Wealthy PhD. You and I will meet one-on-one to identify and plot a course toward your big financial goal. Past participants have opened IRAs, set up systems of targeted savings, started budgeting, systematically implemented frugal tactics, and more. Every week for eight weeks, you'll participate in a small accountability group that I facilitate. The group will help keep you on track to meet small weekly goals that add up to your big goal. Prospective grad students, this would be a perfect cycle to join as I and the other participants can give you a ton of support and financial insight as you interview and ultimately choose your PhD program. The deadline for registration for The Wealthy PhD is Saturday, February 13th, 2021. Visit pfforphds.com/wealthyPhD to learn more and register today. Now, back to our interview.
Gee's Side Hustle: Writing
26:56 Emily: I'd love to pivot to talking more about your writing business and you enticed us earlier. So of course, we want to learn more about it. You know, when did you start doing that as a side hustle? How did it become, you know, one of your main things that you do now?
27:09 Gee: Yeah, yeah, yeah. So I told you in 2015, I graduated from my PhD and we moved to San Diego, California from Philadelphia PA. And for those of you that don't know the geography of the United States, Philly and San Diego are on two completely different ends of the U.S. Okay. And they're also different in terms of the economics. And so when we moved here, we realized really quickly how everything was three or four times more expensive. So even the salary I was going to be getting as a post-doc, I was like, wow, I don't think this is going to be enough. So, and it wasn't, to be honest. And so I wanted to find a way to make some extra money. So, because I had been blogging for about a year at that point, I decided to, to somehow, you know, become a freelancer of some sort.
28:04 Gee: So the first thing I did was actually sell social media services. If you've listened to me talking on this interview so far, you can tell I'm quite the enthusiast when it comes to social media. I think it's a powerful tool to build brands. I think it's a powerful tool to sell your services and products, whatnots. You know, it's a powerful marketing tool. Anyway, so I began to sell social media marketing services, and I was helping local businesses who are not even in the sciences. They were just local mom and pop businesses that I was helping to build a social media presence. I did that for about two years and then pivoted to freelance writing in 2017. So in 2017, I pivoted to freelance writing and I began to write content for actually personal finance. I wrote content for healthcare companies. I wrote content for e-commerce stores. And so anything I could get my hands on to write, I would write and I would get paid for it. And that became a great side business that allowed us to take care of the financial deficits we were facing with how expensive San Diego was. And, you know, the meager pay I was getting, I was grateful for the pay, but it was meager compared to the living standards here in San Diego. So that's how I got started.
Wearing Many Hats as a Postdoc: Time Management
29:25 Emily: Yeah. I think that story will probably be familiar to a lot of people in my audience. It is, of course, something I cover quite a bit is in these transitions, how do you figure out is that pay going to be sufficient? Or what am I going to have to do to, you know, make ends meet in a city I've never lived in before? That's a really difficult, you know, kind of nut to crack. And so I think you mentioned, you know, when you introduced yourself that you are, you're teaching at a community college, you have this freelance writing business, did you wear any other hats, remind me?
29:55 Gee: Oh man, I'm a mom, I'm a wife, you're all these, and those are full-time jobs. So, so yeah, absolutely. I did wear other hats. And I think maybe this kind of segues into talking about time management.
30:09 Emily: Yeah, please.
30:10 Gee: As far as side hustles and your job are concerned. Yeah. So I don't think it's fair to be working on your employer's time. I think you should carve out time on your own time to do your side hustle. And by and large, I stuck with that. And so usually what would happen would be because I'm mom, because I'm post-doc, because I'm writer and wife, I would allow my, at that time, my son was younger, so he tended to go to bed early. And so by nine, he was in bed. And so between nine and about 11:00 PM or 12 midnight, I'd be working on on writing projects. I'd go to sleep, wake up around six or seven the following day, get ready to go to my postdoc job and then go do that, you know, shindig and then come back and then do the whole thing again.
31:00 Gee: So in those early years it was a lot of, it was, I didn't have any free time. I hardly had free time. I was using every bit of time I could to to build up some side income so that we could, you know, keep up with the bills. Now, I will say that over time. Yes, it gets tiring, but it's not going to be like that forever, you know, some motivational speech here, but it's certainly not always going to be like that where you have to work around the clock. But I do believe that there are seasons of life where you have to make some sacrifices. And for sure, that was a season of life where I made some sacrifices so that, you know, that the bills and everything could get paid at home. So that's how I manage my time, is I find, I usually worked at night on my side business whilst I worked my regular job during the day.
Time Management in the Present
31:54 Emily: Yeah, I think that is a function of the postdoc position is a full-time job, and it's not paying you that well. So, you know, for your particular goals of living in a high cost-of-living area, you know, you had to put in the hours. And of course, when you were just beginning with your, you know, the social media stuff and then the freelance writing, you know, I'm sure you've increased your rates since then. So your pay was, you know, the lowest for the side for the side income at that point, since you were just starting, and you had the not very well-paid post-doc position. I imagine things look a little bit more rosy now for your time management. Can you tell us a little bit about that?
32:27 Gee: Yes. So right now, because we are, you know, with stay at home orders and, you know, having to social distance because of the pandemic, I'm mostly working from home. So now that dynamic is definitely different. I still work really hard. And I think even a little harder because you have to homeschool as well, right? but I am finding that it's hard with time management, especially when you're starting, but nowadays it's not so hard. Because when I wake up in the morning, I know, like today I know I have this podcast. I know I have to upload certain documents because I have a book bundle sale coming up, you know? So, I do intentionally sit down and plan my days, because I realize if I don't have anything on a, if I don't put it on a calendar, it does not exist in my mind. It really doesn't. So, I use my Google calendar religiously. You know, I also have a bullet journal that I use very diligently and I write down like top three things I want to do in a day. Do I always get everything done? No, but at least having it written down reminds me that it needs to get done. And even if it has to be a day late, I'll get it done. But being organized in that sense, having Google calendar and then having my bullet journal has been life-changing to say the least. Yeah.
33:47 Emily: Yeah. I would also say for me, my time management skills have leveled up during the pandemic with the kids being at home. And yeah, I find the same thing that I need to assign myself tasks to do certain, you know, block scheduling, right. Like block out time for different things, because it does help keep me on track.
Future Plans for Gee's Writing Business
34:05 Emily: So, Gee, what are your future plans for your writing business?
34:12 Gee: Yeah, absolutely. So actually this is so interesting because recently I recorded an episode where I was talking, a podcast episode where I was talking about pivoting away from freelance writing in 2021. So I am pivoting away from it because, first things first, I did get a new position with a company writing content still. So I'm still going to be doing that, still be writing content, just not in a freelance capacity anymore. But, I still have the personal brand that I built online. I still have my YouTube channel. I still have my podcast. There are people that are very tuned into that and very avid listeners and watchers of my content. So I'm going to keep doing that, producing my content. But one of the things that, you know, producing podcasts and creating YouTube videos or any kind of content online does for you is when you build this audience, usually at the point they want to buy things from you. So I do have e-books and digital products currently, and also, I, you know, they do ask for coaching and they like, okay, Gee, you've been doing this and I want you to coach me too. So I'm moving more into just selling digital products and doing coaching in the time that I do have where I'm not writing for the company that I'm going to be working with. But I am pivoting away from freelance writing, but not away from writing itself. And I'm excited for those new opportunities. Yeah.
Where Can People Find You?
35:40 Emily: Yeah. Congratulations on the new position. I mean there are definitely advantages to freelancing, but the stability is nice as well to know where your paychecks are going to be coming from. Will you please let people know where they can find you if they've really, you know, loved this interview?
35:55 Gee: Absolutely. So if you want to find me, I actually, the first place you can find me is I have a free newsletter that I send out every week. You can go to GeeNonterah.com/newsletter and you can download a free checklist of how to, if you're interested in becoming a freelance writer, even if you're not, you can sign up still. But one of the freebies I give away is this checklist whereby you can get your first paying client. I'm also very active on LinkedIn. So if you just type in my name, Gertrude Nonterah PhD, you'll find me and also on Instagram. So @GeeNonterah you'll find me there.
Best Financial Advice for Another Early-Career PhD?
36:34 Emily: Perfect. And Gee, I conclude all of my interviews with asking my guests, what is your best personal finance advice for another early-career PhD?
36:45 Gee: Oh man. I wish. So this is such a great question. It's going to be slightly different from everything I just talked about, but I wish I knew more about investing when I was an early-career PhD. I wish I did. And so ask about your 401(k)'s ask about, you know, find out about IRAs, read about it, you know, listen to Emily's podcasts, but investing is such a great way to make money that I feel like it's the best hidden secret that is out in the open, you know? And so, don't sleep on that. Even as, you know, your paycheck from your job is great, but really looking, and then your 401(k) is also good, but look into even investing for yourself and learning the ropes of investing because those can pay huge rewards. So that's one thing I wish I knew and something I'm currently doing and something that I'm always telling people to, to look into, especially for those of us that are PhDs and you know, in our early careers as academics.
37:48 Emily: Yeah. Thank you so much for that. Obviously investing is one of my favorite topics to talk about. So I love that you brought it up. I'll actually tell people who are interested in the crossover between what we've talked about today. If you are a side hustler, if you are a business owner, if you are self-employed and you were interested in investing for retirement and your IRA is not sufficient, and maybe you don't have a, you know, 403(b) or 401(k) through your workplace, please check out my Community, Personal Finance for PhDs Community, because I have a course in there on retirement investing vehicles for self-employed people. So if you've maxed out your IRA because you have this fantastic side income going on, but you want to do more, I discuss the different options available to you as a business owner for retirement investing. So pfforphds.community, if you want to check that out.
38:35 Emily: Gee, this has been a fantastic interview. Thank you so much for giving it. I'm so glad we found each other on Twitter. Yes. Thank you so much for coming on.
38:43 Gee: Thank you so much, Emily.
Listener Q&A: Paying Off Debt vs. Investing
38:44 Emily: Now, onto the listener question and answer segment. Today's question actually comes from a survey I sent out in advance of one of my university webinars this past fall. So it is anonymous. Here is the question. What is the balance between paying off debt now and investing some money elsewhere? I love these questions that are like, what is the most optimal financial step for me to take? It's definitely a good sign that the questioner has some cashflow available to do one of these two things, investing or paying off debt. To answer these kinds of questions, I refer to the financial framework that I developed for early-career PhDs. So I'll tell you what the framework has to say about this question, but just so you know, when I do work one-on-one with individuals, the framework is only a guideline and we do often find a more individualized solution. So this question presupposes that the thing to do with the money right now is paying off debt or investing.
39:48 Emily: However, my framework has three types of steps: debt, repayment, investing, and saving up cash. So the first thing for this questioner to do is to assess all these different areas of finances. How much cash do you have on hand right now, and what is it for? What are the different types of debt you have, including the interest rate and the payoff balance? And do you already have some investments going for you, or is this something you're starting for the first time? The very first step in my financial framework is to put in place a starter emergency fund. That's the fund that's going to help you pay for life's minor emergencies that happen on, you know, maybe like a yearly basis. Basically, it's the fund that's going to keep you from racking up credit card debt. So that amount of savings should be somewhere between $1,000 and two months of expenses, depending on how large your financial footprint is and your risk tolerance.
40:42 Emily: Step two in the framework is to pay off all of your high-priority debt. In my book, high-priority debt is credit card debt, even if it's at a 0% promotional balance, IRS debt, and any debt that is above somewhere between six to 8% in interest rate. Where you fall in that six to 8% is up to you and your risk tolerance. Now, if your debt includes student loans that are currently in deferment, I would not put those in step two. I'd push them off to a later debt repayment step. So if the person asking this question has any kind of debt that is high priority, the answer to the question is pay off that high-priority debt completely. As soon as you can. Now, let's say that person doesn't have that type of debt or has already taken care of it. Step three, in the financial framework is to save up for near-term irregular expenses.
41:35 Emily: This would likely include setting up a system of targeted savings, which I talked about in season seven, episode 15. Once you have that cash savings in place, we're ready for step four. Step four is to start to invest for retirement or to resume investing for retirement if that was on pause during those first three steps. Now, in most of the steps in my financial framework, you have to do a discreet thing, save up X amount of money, pay off XYZ debts. Step four is different because in step four, you're going to get your savings rate up to a certain percentage, and then you can move on to step five, but you're going to keep saving that percentage into your retirement accounts going forward. So let's say that the questioner has paid off or never had any high-priority debt, and they're investing up to a minimum level in step four.
42:25 Emily: Once they've done those two things, it's time to move on to step five, which is another kind of debt repayment step. And as I said, there are eight steps overall in the framework. But most people I work with do tend to fall somewhere in those steps one to four range. So I hope this answer provided you with some insight into my process of deciding on which financial goal is optimal at any given time. You can find an ebook that I wrote all revolving around this financial framework called The Wealthy PhD inside the Personal Finance for PhDs Community. You can find the Community at pfforphds.community. So if you join there, you can read the ebook, The Wealthy PhD, and read all about this framework and how to use it. And if you want to go even further, we're enrolling for my group coaching program, The Wealthy PhD, and the deadline to enroll is February 13th.
43:17 Emily: I do use this framework when I help everyone in the program decide on what their big financial goal should be during the program. Although, as I said earlier, when it comes down to working with an individual, we often, you know, tweak this framework for their personal preferences. If you would like to submit a question to be answered in a future episode, please go to pfforphds.com/podcast and follow the instructions you find there. I love answering questions, so please submit yours.
Outtro
43:45 Emily: Listeners, thank you for joining me for this episode. Pfforphds.com/podcast is the hub for the Personal Finance for PhDs Podcast. On that page are links to all the episodes show notes, which include full transcripts and videos of the interviews. There is also a form to volunteer to be interviewed on the podcast and instructions for entering the book giveaway contest and submitting a question for the Q&A segment. I'd love for you to check it out and get more involved. If you've been enjoying the podcast, here are four ways you can help it grow. One, subscribe to the podcast and rate and review it on Apple podcasts, Stitcher, or whatever platform you use. If you leave a review, be sure to send it to me. Two, share an episode you found particularly valuable on social media, with an email listserv, or as a link from your website. Three, recommend me as a speaker to your university or association. My seminars cover the personal finance topics PhDs are most interested in like investing, debt repayment, and taxes. Four, subscribe to my mailing list at pfforphds.com/subscribe. Through that list, you'll keep up with all the new content and special opportunities for Personal Finance for PhDs. See you in the next episode! And remember, you don't have to have a PhD to succeed with personal finance, but it helps. The music is Stages of Awakening by Podington Bear from the free music archive and is shared under CC by NC. Podcast editing and show notes creation by Meryem Ok.
Join Our Phinancially Distinct Community
Receive 1-2 emails per week to help you take the next step with your finances.