Graduate students receiving stipends are often interested in supplementing their stipends with some kind of outside work, yet unsure if such work is permissible or advisable. The short answer is yes, of course, as an autonomous individual you can generate an income outside of your pay as a graduate student. The better question is 'What are the possible repercussions – both negative and positive – for developing a side income during graduate school?'
Further reading: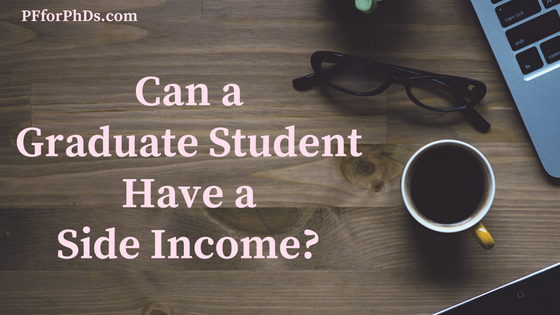 Is outside work/income explicitly disallowed in your contract or the terms of your funding?
Graduate student stipends come from one of two broad sources at any given time: an assistantship or a fellowship.
Some universities require students serving as research assistants or teaching assistants to sign an employment contract. If you signed such a contact, check it through carefully for prohibitions against outside work/incomes. If outside work is explicitly disallowed and you work anyway, you are putting your assistantship at risk.
When you accept fellowship funding, you likely agree to some kind of terms. Check through the terms for the funding carefully to see if outside work is disallowed either by the funding source or your university.
It may be worthwhile to figure out what exactly is considered outside work for the purposes of the contract/funding terms. It is unlikely, for example, that rental income would be considered a violation, and there may be other exceptions for passive or self-employment income as well.
Video Series: How to Increase Your Income as a Graduate Student
Subscribe to our mailing list to receive the 7-part video series on increasing your income as a graduate student, including side hustles and passive income.
Is outside work 'frowned upon?'
Sometimes outside work has not been explicitly disallowed in a contract or no contract has been signed. In this case, evaluate the culture of your department to decide if developing an outside income will somehow get you in trouble, and if so how much trouble. The adage that it's better to ask for forgiveness than permission may apply here. If any student caught with outside income is immediately dismissed from the program or put on some kind of probation, the benefits of a side income may not be worth the risk. However, if students seem to be allowed a reasonable work-life balance, the time commitment for a side income would probably go unnoticed.
(For international students) Is outside work explicitly disallowed by your visa?
F-1 visas issued to graduate students allow them to work up to 20 hours per week for their universities (e.g., as research assistants or teaching assistants), but not to have any other type of outside work (with the exception of work approved under the Curricular Practical Training or Optional Practical Training programs). This type of visa permits passive income, though what exactly constitutes passive income is not well defined. If you are an F-1 visa holder, developing a non-passive side income may jeopardize your visa.
What are the exceptions to the above rules?
While "No way!" may be the first-pass answer you receive when you ask if outside work is permitted by your program, there are often exceptions.
Career-advancing side jobs such as short-term fellowships and internships are encouraged in many fields, and these positions are sometimes far more lucrative than grad student stipends over the same period. Grad students sometimes consult within their academic areas of expertise with their advisors' blessings and sometimes alongside their advisors. One of my grad school classmates co-founded a company prior to applying for her PhD (she pursued the PhD to better serve as the company's CSO), and her ongoing involvement running the company was well known and respected among the faculty.
These are just a few examples of ways that outside work may be viewed by your department and advisor as aiding your progress through graduate school and career development rather than detracting from it. Even if your department doesn't allow outside 'jobs,' it may be receptive to certain types of employment opportunities that are sufficiently educational.
Can you generate a side income without appreciably taking away from your degree progress?
You are already undertaking an enormous opportunity cost by pursuing a graduate degree. Despite the benefits you will likely experience by having a side income, make sure that they are not outweighed by the side income's subtle costs. The main cost to watch out for is your progression through your program slowing. If your side work is taking time, energy, or creativity away from your primary job of being a grad student, you may want to forgo it in favor of focusing more completely on your work. In contrast, some grad students may consciously or subconsciously have a limit to the number of hours they are willing to work on their research, yet have additional time and energy available for other activities.
Increase Your Income
Join the mailing list to receive our 7-part video series, "How to Increase Your Income as a Graduate Student," including side hustles and passive income.
How would your advisor react to learning of your side income, and how likely is it that he/she will find out?
Your advisor's attitude toward outside work or income probably matters more than any other person's. If your advisor has high expectations of time spent working on your dissertation or RA and is generally a strict or unforgiving person, you likely won't want to risk getting on his or her bad side by developing a side income. Red flags for that situation are an expectation of significant amounts of face-time in the lab or office and other advisees not having outside pursuits like hobbies, an exercise regimen, a social life, or children. On the other hand, if your advisor does value work-life balance and has been satisfied with your progress, a judicious choice of side job will probably go unnoticed or not be objected to.
What are the benefits of having a side income?
For all the potential risks of developing a side income, they can be enormously beneficial to a graduate student's quality of life and career. The best type of side job, in my opinion, is one that both pays well and advances your career.
The additional income generated by a side job is the most obvious benefit. Grad students are paid so little per hour in their primary work that many types of side jobs come with a better hourly rate. For some grad students, a side income is the main reason they are able to stay out of student loan debt, build an emergency fund, start saving for the future, or take a well-deserved vacation.
A side job can help you learn or practice new skills, gain work experience, and network, all of which increase your post-graduate employability. Many graduate students with side jobs report that the work directly or indirectly helped them land their first post-PhD jobs in "alternative career" positions.
Finally, a side job done well or a side income that steadily brings in earnings generates a sense of accomplishment. It seems that every graduate student goes through one or more periods of projects falling apart or low motivation during her degree. Having something to do outside of your research that you feel competent in or that has a tangible positive outcome can be quite beneficial for your mental health.
Further reading:
Can you develop a passive income stream?
If you have concerns about your advisor or department's approval of a side job or want to work completely on your own schedule, a passive income stream may be the perfect solution. With passive income, you put in capital (usually time) up front, and then collect the income in perpetuity without any ongoing work. There isn't much to object to about that!
If you are/were a grad student with a side income, please share it in our Side Income Series!
Join Our Phinancially Distinct Community
Receive 1-2 emails per week to help you take the next step with your finances.