Sometimes when I meet someone in a social setting and they find out what I do, they ask me for my very best tip to help them improve their finances. I know I only have a few seconds to impart potentially life-changing information at a moment when they are open to it, so I have to keep it simple. I tell them, "The best first step to improve your finances is to start tracking where your money goes. You'll be amazed at what you find out, and the simple act of tracking will cause behavior change."
If you're inclined to take this suggestion right now, stop reading this post and do it! It doesn't matter how you accomplish this – paper and pencil, a spreadsheet, software like Mint or You Need a Budget – just get started. Even if you don't act on the information right away, when you're ready to you'll have the data ready.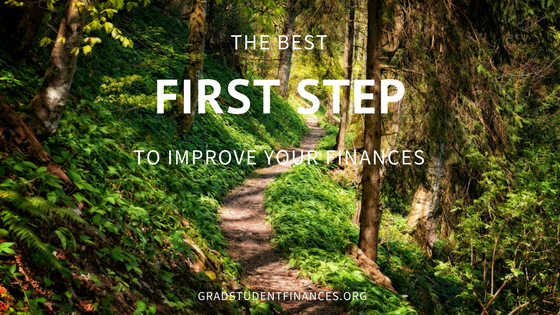 If you need some more convincing or details, read on.
Actually, it doesn't matter the setting or how long I have to talk to someone about money. I truly believe that tracking how you use your money, if you've never done it before, is the best first step to improve your finances that you can possibly take. It's even more fundamental and easier than budgeting.
Why to Start Tracking Your Money
There's an old saying, "Look at a man's checkbook and you'll see his values." I don't know who keeps a checkbook register any longer, but the principle is this: What you spend money on, you value. Without that transaction log, there is no way to check that what you think you value is actually represented in how you use your money.
1) You almost certainly don't know where it's going
Unless you have a superhuman memory, without tracking your spending you simply do not know where your money goes. This may be an acceptable state if you have a high income relative to your expenses, but I don't think many grad students have that problem. If you desire to use your money to maximize your life satisfaction, you need to know what it's being spent on now.
2) It will cause behavior change
The personal finance version of the observer effect is this: The act of tracking your spending necessarily changes your spending. Just knowing that your transactions are being recorded and scrutinized (by you!) will cause behavior change. You might forgo a small purchase you would have made unthinkingly before, like buying a drink or paying for parking. You might shop around a little more for a good deal on a purchase you want to make. You might decide to bring your dinner to work instead of visiting a campus dining establishment. While you can never get a clear picture of what your spending was before you started tracking, starting to track will put you on a path to optimizing your use of money.
3) You can analyze the data to use your money better
Once you have tracked your spending for a period of time, such as a month or even a week, you can start to identify patterns. You have your fixed expenses that will be the same every month, your variable expenses that you always have but in different amounts, and your irregular expenses that pop up only once or a few times per year. Ask yourself if you are happy using your money the way you are in light of what else you might do with it. One category might jump out at you as being particularly over- or under-funded or out of proportion in comparison with what you spend on another area.
4) You can catch mistakes
Retailers, banks, and lenders are not perfect; computer glitches and human error happen frequently. While they may or may not be actively malicious, some companies (e.g., cable and mobile phone) and banks (e.g., big banks) make a lot of 'mistakes' in their own favor. If you never looked at your tracked spending, you might not notice that you were double-charged for a purchase, a refund didn't go through, or a bill was higher than your contract stated. With your tracked data, you can keep from being taken advantage of and put money back in your pocket.
5) It's a great lifetime habit to start now
Eventually, a great tracking system will operate in the background of our life through automation or habit, bringing just enough awareness that we hold ourselves accountable for our spending but not becoming a burden. Even if you go through periods when you aren't doing much with the tracked information, your future self will thank you when you do want to use the data for budgeting or another purpose. The best time to implement such a system or habit is today! Given that tracking is so low-effort, once you start why would you ever stop?
How to Start Tracking Your Money
How you choose to track where your money goes is really a personal preference. You should use whatever method you're most likely to maintain and that makes the data available in a useful form.
When I first started tracking my money, I simply set up a spreadsheet with a handful of categories and manually recorded every one of my transactions. I categorized the transactions appropriately or as "miscellaneous" and made notes next to them as needed. It was a very simple system that worked well for me. At the time, I didn't make a whole lot of transactions and I only had one bank account and one credit card to monitor.
A few years later when my husband and I got married and joined our finances, our financial lives were much more complicated. We had many more checking, saving, and credit accounts open, and my husband was uninterested in manual tracking. So we started using Mint, a web-based tracking tool and app, which linked up with all of our accounts and downloaded and categorized our transactions for us.
The big advantage to manual tracking is that – if you stick to it – it forces you into a high level of awareness of your finances. You have to notice every single transaction, no matter how inconsequential. You can practice manual tracking with pencil and paper, a spreadsheet that you create (or download a template), software, or an app. A few examples of free manual tracking software and apps are EveryDollar (Dave Ramsey's software), GoodBudget, and Wally.
The big advantage to automatic tracking is that it's incredibly easy (maybe too easy!). You can link your accounts to the software/app and, if you want, forget about them. The tracking will go on unnoticed by you. That's great if you're a busy person with lots of transactions because nothing will slip through the cracks. If you check in on the tracked data at least once a month, that automatic tracking will probably work well for you. But if you never look at it or just take a glance it probably won't affect your behavior. However, it is useful to have the tracked data if in a few months or a year you decide to start engaging with it. A few examples of free automatic tracking software and apps are Mint, You Need a Budget (one year free with proof of student status), and mvelopes.
What to Do Once Tracking Is in Place
Once you've had your tracking system in place for about a month, you can start using the data.
If you want to only take a small step or two, just notice where your spending might be out of alignment with your values and goals. For example, if you can't seem to save money for a short-term goal like travel, maybe there are a few outsized areas of discretionary spending you can cut back in.
The next larger step that would be useful for any grad student willing to undertake it is to start budgeting. With tracking, you're looking at what your money did. With budgeting, you're creating a plan for what your money will do. While a stereotypical budget prompts you to limit your spending in one area or another (always something fun, right?), your budget may or may not serve that purpose. In fact, I found budgeting freeing in a way; after I planned for a certain level of discretionary spending (e.g., clothes shopping), I stopped second-guessing my purchases.
At its most basic, a budget is a spending plan, no more and no less. Tracking your spending is the accountability tool that helps you stick to your budget. While the best first step to improve your finances is tracking, budgeting is the best second step to take. With your budget, you plan how to use your money in the way that brings you the most satisfaction in life.
Join Our Phinancially Distinct Community
Receive 1-2 emails per week to help you take the next step with your finances.