In this episode, Emily interviews Crista Wathen, an American PhD student in archaeology at Stockholm University. As a PhD student in Sweden, Crista is considered more of an early-stage researcher than a student, which was one of the reasons she chose to study there. Crista's salary and frugal living habits permit her to pay down her US federal student loans from her master's degree. Finally, Emily and Crista discuss her blog, Richful Thinker, and why she is pursuing FIRE as a graduate student.
Links mentioned in episode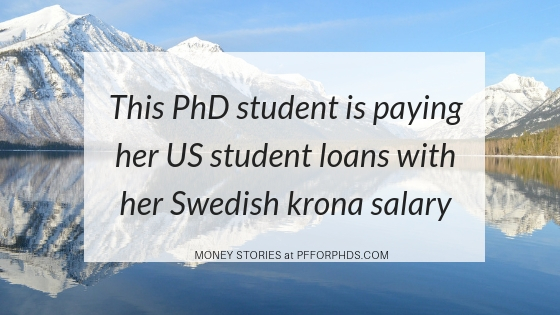 0:00 Introduction
0:58 Please introduce yourself
Crista Wathen is a US citizen doing her PhD in Sweden. She is in the field of archaeology. She's from Florida and went to the University of Florida for her undergraduate degree. She did her Masters in the UK.
1:51 What made you choose to go abroad for your Masters and PhD?
Crista says when she was an undergrad, she did an archaeology excavation trip in Ireland. She met another student who was applying to Masters in the UK, who explained that a Masters is cheaper in the UK.
Crista says that a Masters in Archaeology in the UK is only one year. This makes the degree half as expensive as a two year Masters degree in the US.
3:24 Was a Masters degree from the UK viewed differently than a degree from the US?
Crista says the degrees were viewed the same. For PhD programs in Sweden, they looked for people who could speak English or Swedish. She says most people speak English. Crista started learning Swedish, which helped her when she first arrived. However, she does not have a proper immersive language experience in Stockholm because most people speak to her in English.
5:24 What are the differences between doing your PhD in the US and doing your PhD in Sweden?
Crista says in Sweden, she is considered an early stage researcher as opposed to just being considered a student. When she applied, she had to propose a project and submit a research plan. She has two years of classes and two years of only research, though she does research all four years.
Crista says that many Masters degrees in Europe are research based. PhD programs in Sweden require applicants to have a Masters degree. Crista says she already has experience creating a project, and she built upon what she did for her Masters for her PhD application. She explains her PhD classes emphasize reading theory, and do not focus on lab or skills training.
8:33 How is your pay for your PhD research?
Crista shares that she has a salary for her PhD and she doesn't have to worry about applying for grants. She receives monthly pay. The university pays into an annual pension fund on her behalf. In Sweden, she receives socialized healthcare. She pays up to about $100 US dollars out of pocket. She receives dental and vision care, and she has access to several other benefits such as parental leave.
Crista says she thinks she can take her pension with her if she leaves Sweden, or she can leave the pension in Sweden until she retires. When she moved to Sweden, she was given a person number and is always in the tax system.
Emily says that PhD stipends in the US are not generous, and in many cases they are barely enough to live off of. Crista says that she lives frugally. She lives in subsidized student housing, which she is able to stay in for the duration of her degree. She estimates she is paid about the median income for Stockholm, about $2,000 to $3,000 per month. She explains that the pay for PhD work increases each year. She gets 28 days of holiday leave.
14:26 Tell me about your student loans
Crista had a full ride for her undergraduate degree, the the state of Florida Bright Futures. Her loans are for her Masters program. When she exited her Masters, Crista's loan balance was $60,000 and now it is $45,000.
Crista has federal student loans, even though her Masters was at a UK institution. When she was accepted into the PhD program in Sweden, she called the loan offices to learn about income based repayment. The loan offices told her that her pay in US dollars is effectively zero, so her loan payment is zero.
Because of compounded interest, Crista wanted to make loan payments even though she wasn't required too. Crista is considering whether to keep her savings and make payments or to take her savings to pay off all her loans. The interest rates on the loans are nearly 7%.
Crista says the loan payment process has been smooth except for the fees to send money to the US and the exchange rate. Recently, the Swedish krona has been worth a little more than the US dollar.
22:02 Do you have any advice for a US citizen who is doing graduate work abroad and has student loan debt?
Crista says she was looking for a university that would take her project. It's a new culture and experience, which is worth a lot. She advises to save up because it's expensive to move. She says take logistics into account.
23:21 Where can people go to learn more about your story?
Crista has a blog called Richful Thinker. After her Masters, she worked in banking. She learned about the benefit of having a banker and all the things a banker can do for you. She thinks more people should know about this. She also talks about what it's like to be an American doing her PhD abroad.
24:30 What is the FIRE movement and why are you part of it?
Crista explains that FIRE is financial independence, retire early. She is most interested in financial independence. She says most people who retire early are in their 30s or 40s. But since retiring is typically 65, even retiring at 50 is retiring early. Crista says she wants to be comfortable without worrying where her money is coming from.
Emily adds that for many young adults learning about personal finance, financial independence refers to being independent of parents. In the FIRE community, financial independence is being independent of a job. This could be through passive income, like making money from rentals or investments.
Crista says she knows it can be difficult to find a job after your PhD, so financial independence is a way to assure she finds a job that she will like. She doesn't want to take the first job that's open. Emily shares that financial independence can make having a job more fulfilling.
28:49 Conclusion