In this episode, Emily interviews Allie Judge, a second-year PhD student at Baylor College of Medicine. Allie outlines her top five expenses in Houston, TX as well as her financial goals. Allie receives a good stipend, but her pet sitting side hustle enables her to supercharge her financial progress. She uses her stipend for her living expenses and Roth IRA contributions and her side hustle income to pay down her student loans and medical debt and fund her travel to see her long-distance partner. She concludes with excellent budgeting advice for other graduate students.
Links Mentioned in the Episode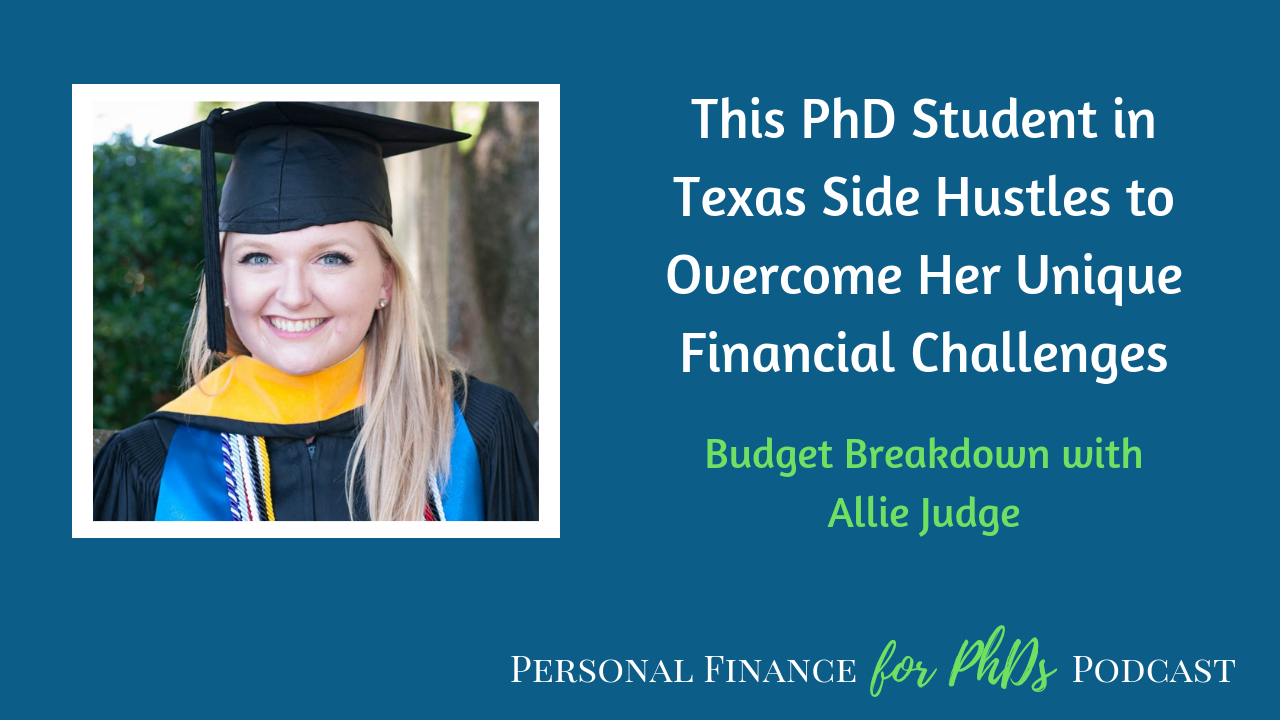 Teaser
00:00 Allie: Now during a slow month, I usually net about $300-400 a month. Right now during the literal hot months, also when people are taking a lot of vacation and wanting to get out of the Houston heat, I'll usually net $700-800. so it's going well.
Introduction
00:24 Emily: Welcome to the Personal Finance for PhDs podcast, a higher education in personal finance. I'm your host Dr. Emily Roberts. This is season four, episode two and today my budget breakdown guest is Allie Judge, a PhD student at Baylor College of Medicine in Houston, Texas. Allie details her income from her stipend and lucrative side hustle and her top five monthly expenses. Two of Allie's unique financial challenges are high medical bills and her long distance relationship and her ongoing financial goals are to max out her Roth IRA and repay her non-deferred student loans. You won't want to miss the budgeting advice she shares at the end of the interview. Without further ado, here's my interview with Allie Judge.
Will You Please Introduce Yourself Further?
01:16 Emily: I have joining me on the podcast today Allie Judge, who is going to share with us her budget breakdown — her top expenses and financial goals for her recent months. Allie, it's a real pleasure to have you here and I'm looking forward to all the interesting subjects we'll be covering in this episode. Will you please tell the audience a little bit more about yourself?
01:26 Allie: Thanks. I am a second year PhD student at Baylor College of Medicine in the Biochem department living in Houston, Texas right now.
01:46 Emily: Excellent. Is it just you in your household?
01:51 Allie: I have a roommate and a cat, but other than that, just me.
01:56 Emily: Great. How much money do you make?
01:59 Allie: Our stipend actually recently went up. It was $32,000/year coming in and went up to $33,500 starting this month, I think.
Pet-sitting Side Hustle
02:10 Emily: Very nice. Decent raise year over year. I understand you have a side hustle as well.
02:16 Allie: I do. I am a dog sitter on Rover. I started when I was a research tech and was paid even less than I am now, and have continued through grad school.
02:27 Emily: I'm sure a lot of people will be interested in that side hustle, so can you tell us about what it entails a bit, how much money you're making, maybe hourly, if you know that, and that kind of stuff?
02:39 Allie: Getting started was pretty easy. You just have to do a background check that costs $10, which was nice. Of course, I had to earn reviews on the site and that took a little while. I didn't make a whole lot of money at first, but now during a slow month, I usually net about $300-400 a month. Right now, during the literal hot months, also when people are taking a lot of vacation and wanting to get out of the Houston heat, I'll usually net $700-800, so it's going well.
03:13 Emily: That is very nice. What kind of time commitment is that?
03:18 Allie: I primarily do house-sitting, just because the other services tend to be requests that come in the middle of the day and I don't like to take time in the middle of the day from lab. When I house-sit, I usually just stay at their house overnight and it'll be maybe an hour or two a day of taking a walk with a dog or feeding, and cumulative attention time that I can usually multitask a little bit during.
03:47 Emily: That's really interesting. I didn't know anything about this service. Although I've heard of it before, I did not realize that hous-sitting was a component. That definitely seems like a pretty lucrative way to do this. I'm really glad you found a way to be able to stay at work all day and not be walking dogs in the high heat of the day. And presumably you love animals. Is this a fun thing for you to do?
04:11 Allie: Yeah, definitely. I've always grown up with dogs and cats and I had pet-sat for neighbors and such, so it was pretty easy to get testimonials on my little profile, but you can have friends and family do it too to get you started.
04:25 Emily: Thank you so much for telling us about that side hustle because if anyone is interested, loves animals, and wants a side hustle, that seems like a really, really good one to be doing. Why did you choose to go through Rover instead of striking out on your own?
04:45 Allie: As opposed to just independently pet-sitting? They do take 20% of your profit, so that's a huge chunk, but the exposure that you get is so much better. I've lived in major metropolitan areas, and I just would not be able to network. Even with the 20%, I feel like it's for sure worth the advertising.
05:12 Emily: Do you end up getting any repeat clients?
05:18 Allie: Absolutely. I think right now, this summer, it's almost been entirely repeat clients just because now they're going on longer vacations and want someone they've had before. A few of them will kind of go off platform, or some of them will try to suggest that at first I say, "No, we should stay on the platform because I don't know you and you don't know me.".
05:44 Emily: Thanks again for that detail. You're making what sounds like pretty decent stipend income, especially for Houston, I would imagine, plus you have this very significant side hustle.
#1 Expense
Emily: I'm really curious now to dive into your top five budget line items for each month. You said you're going to be doing your most recent months in this summery, right?
06:07 Allie: Yeah.
06:08 Emily: Let's dive into it. What is that top expense?
06:10 Allie: My top five would be my rent, some recent medical bills, student loans and groceries, in addition to travel, which I try to contribute to monthly, but doesn't always happen.
06:25 Emily: Yeah, that sounds great. So top one, rent, of course, unsurprising there. What are you paying and what are you getting for it?
06:32 Allie: Thankfully I have a roommate that shares my two bedroom, two bath in Houston. We each pay $600 right now.
06:40 Emily: Sounds very decent. What's the proximity to campus?
06:45 Allie: It's about a 15 minute bus ride
06:48 Emily: And that's how you typically commute?
06:50 Allie: Yeah. Gigantic medical center with very expensive parking.
06:55 Emily: How do you like using the buses? Is it a decent system?
07:01 Allie: I would say that given Houston traffic, I'd much rather take an extra five minutes on the bus, then have to deal with people on the road in the morning and in the evening.
07:12 Emily: And do you own a car at all?
07:15 Allie: I do. That's pretty necessary in Houston. I am fortunately not paying my car insurance yet because it's still in my parents' name. That is not crucial but helpful.
07:30 Emily: So, fifteen minute bus ride — how do you like the location where you live other than that? Are we talking city, is it walkable to a lot of stuff, how is it?
07:42 Allie: It's an area called ""condo land" so there's a lot of condos, and it's a lot of families, that type of thing. It is not the safest place if you go a block this way or a block that way, but generally where we are is pretty quiet.
08:01 Emily: That sounds good. Is your roommate another graduate student, or someone you found outside of the university?
08:07 Allie: I moved into the two bedroom by myself because I didn't want to just find a roommate on Craigslist. Then, after about six months, my roommate was looking for a place to live too and moved on in.
08:22 Emily: That's a nice way to be able to vet the person you live with before you commit to that relationship.
08:29 Allie: She is a grad student. I don't know if I said that.
#2 Expense
08:32 Emily: Yeah, it sounds great. Okay. Expense number two?
08:36 Allie: Expense number two would be these medical bills I have coming up. It's about $450 a month and then this month I had to make a quick trip to the emergency room and it was about $350 extra. So if you can go to urgent care, this is my big takeaway from that.
08:56 Emily: How is your health insurance?
09:03 Allie: We do have free health insurance through our graduate program, like a lot of biomedical students do. It's generally pretty good for the most routine stuff. Hopefully I'll be meeting the maximum out of pocket expense soon.
09:22 Emily: There are probably some people in my audience who have never really dealt with health insurance that much. What we're talking about is usually you're used to paying a copay and maybe co-insurance, a percentage of the bill above a certain amount. Maybe there a deductible to meet. But at some point, hopefully the plan will have a not crazy-high maximum amount of money you will pay out of pocket, after which everything should be 100% covered, usually in network, right?
09:51 Allie: Yes.
09:53 Emily: You'll may be meeting that at some point. And it's hard, it's tough to pay until you get to that point. But you can kind of look forward to say at least after that point for the rest of the calendar year, I'm not going to have any more out of pocket expenses should things go as they usually will. For those of you who are thinking about creating an emergency fund, having the amount of money to meet that whole out of pocket yearly expense in an emergency fund is a pretty good number to take a look at. It may be a few thousand dollars, or may be lower or may be higher depending on the type of plan that you have.
#3 Expense
10:29 Emily: Thanks for telling us about that. Hopefully this will not be a large expense in your budget forever. So your third expense?
10:37 Allie: So my third expense is my student loans. Right now with the medical expenses, I'm paying the minimum payment, which is $204, I think, but prior to those expenses I was throwing more like $500 or $700 a month, whatever my Rover income allowed.
10:57 Emily: Why are you paying student loans right now as a grad student?
11:04 Allie: As an undergrad I went to my small liberal arts college and took out plenty of student loans for it.
11:11 Emily: I guess what I mean is you have the option to defer your student loans, but you've sounds like you've chosen not to. Talk me through that decision.
11:20 Allie: My student loans are through the government, they're public student loans and they granted discount of 2.5% interest if you set it to auto pay. I not only wanted to get my loans paid down, but there is actually a benefit to having them not deferred and being able to set them to auto pay.
11:40 Emily: Are any of these loans subsidized or are they all unsubsidized? Is there any calculation you've done there?
11:49 Allie: They're unsubsidized. I believe that if you have subsidized loans, they don't collect interest during deferment. So that 0.25% would be irrelevant.
11:59 Emily: It's an unusual decision, I think. Some graduate students I talk to pay on their student loans, but you're the first person I've talked with who has chosen not to defer at all, but it sounds like based on your totally decent stipend income, plus all your side hustle income, that minimum payment of $200 a month is totally manageable. Plus, you usually are able to pay much more than that, so I definitely think this can be a very, very smart decision. It's just an unusual one, but I think it potentially is a really good one in your situation. It must feel good to be working on paying down that debt at whatever interest rate it's at since it's unsubsidized. You know, many, many people in our community will, during graduate school be watching that interest accrue if they're not able to make payments, and that's a painful thing to do, right? I'm glad to hear that you are being proactive about paying these down.
12:57 Allie: And it helps to know that I could defer them if expenses really were tight.
#4 Expense
13:03 Emily: All right, fourth expense?
13:07 Allie: So my fourth expense would be groceries. I spend about $200 a month on groceries. I probably could bring it down, but I'm trying to prevent myself from going to restaurants more and more.
13:21 Emily: There's, of course, an interplay there, between grocery spending and eating out spending, so you've chosen to maybe spend a little bit more on groceries but not eat out very much, sounds like.
13:33 Allie: Yeah, I keep my restaurant budget to $50 a month or less.
13:38 Emily: Do you have any guidelines for yourself around when you do choose to eat out?
13:46 Allie: I'm in a long distance relationship, so when my partner, who lives in a small town in New York, comes to Houston where there's an array of restaurants, that's when we tend to eat out.
13:58 Emily: $200 a month on groceries sounds pretty low to me, actually, for one person. Are there any particular strategies that you use around grocery shopping, or around cooking, that you'd like to share?
14:11 Allie: It helps that I do live in a major urban area, so I'll usually check out the mailer on Aldi deals and I'll go shop at Aldi and then I'll check out the same for Kroger and I'll make a trip there and they're within 10 minutes, which is convenient.
14:28 Emily: Love that your using Aldi. I used to shop at Aldi when I lived in Durham. I don't have one close to me now, but if anyone in the audience is near an Aldi and has not checked it out, you really owe it to yourself. You won't necessarily get all your grocery shopping done there, but you can get a lot of your staples and the prices are amazing. It's a different kind of shopping experience. I prefer it to the standard grocery store. And Allie, how do you manage cooking as a graduate student and also as someone who's doing all this house-sitting. If you're not in your home a lot of the time, how do you manage that?
15:03 Allie: I do usually meal prep. Not to an extreme where my freezer is stocked full, but I'll usually have at least half of the meals I need for the week done on Sunday. So that for the rest of the meals I can take a little more time or enjoy cooking a little more. Or sometimes it's just a very quick canned soup kind of night.
15:28 Emily: I presume you bring your lunch with you virtually every day and then you would also be packing food when you're going on job somewhere?
15:39 Allie: A lot of my friends do buy food almost every day in the cafeteria. I can't imagine how much more that would cost.
15:50 Emily: Do you eat lunch with other people or do you eat by yourself?
15:54 Allie: I'm not in the immunology program, but the first year immunology students have adopted me into their friend-circle, so I usually try to catch up and eat lunch with them now that we don't have classes together.
16:06 Emily: I think that's one of the wonderful things about being on a campus is that it's totally fine to bring your lunch into cafeterias or whatnot, public-ish eating spaces, and it's not a weird thing to do. It's not like you're paying to have access to that space with the food that you buy. It's great that you can be social and bring your lunch every day. I wanted hear a tiny bit more about meal prep, maybe just the resources that you use to learn about that?
16:35 Allie: I'm subscribed to a lot of subreddits that have recipes, Eat Cheap and Healthy and Meal Prep Sunday and that give some loose inspiration for recipes that all then go search for myself.
Commercial
16:53 Emily: Emily here for a brief interlude. Through my business, I provide seminars and webinars on personal finance for graduate students, postdocs and other early career PhDs, for universities, institutes and conferences, associations, etc. I offer seminars that cover a wide range of personal finance topics and others that take a deep dive into the financial topics that matter most to PhDs, like taxes, investing, career transitions and frugality. If you're interested in having me speak to your group or recommending me to a potential host, you can find more information and ways to contact me at PFforPhDs.com/speaking. That's p f f o r p h d s.com/speaking. Now back to the interview.
#5 Expense
17:41 Emily: All right then, your fifth expense in your budget?
17:44 Allie: That last expense that has not gotten much love recently is typically travel. That's a secondary savings account where I throw whatever extra I have that I have decided not to put toward my student loans that month into a designated savings account for travel. That way when I find a cheap flight, I can go ahead and book it and I don't have worry about whether I can afford it that month.
18:12 Emily: It sounds like it varies, but what would you say average you're putting into that savings account?
18:19 Allie: On average it's about $200.
18:23 Emily: Tell me a little bit more about how you're managing the long distance relationship with respect to the money and the travel components of it beause I know this is a really common thing in the PhD population. How does it work for you?
18:36 Allie: What we do is we split our flights 50/50 pretty much every time and those tend to be between $300 and $500 because it is a pretty small airport that I'm flying into. Unfortunately, he is in law school and collecting student loans at 9% interest, so while we do split 50/50, kind of as the agreement because we're not married yet, I try to be mindful and foot some of the bill if I can and have a lot of extra.
19:18 Emily: Do you find that you are traveling about at the same frequency to see one another or does one of you travel more?
19:24 Allie: It's varied, just on convenience for whichever one of us has the time. At Baylor, we have a week break between terms in the first year that we take classes, so it made more sense for me to go see him for a couple of those breaks. Then of course he had a fall break and spring break, so he came to see me for that. It was more circumstantial than it was just trying to keep it even on who had to travel.
20:00 Emily: I almost forgot that classes were involved with being a PhD student because that will not be the case for much of your degree, but presumably he'll have classes that he has to attend the entire time. Do you see that changing up at all once you're free from that aspect of your scheduling?
20:20 Allie: Good point. We finish classes in a year at Baylor so I'm done, which means I will probably be taking more time to go see him. He tends not to have classes on Fridays in law school, so it's more likely that I make a Thursday night trip to go see him.
20:38 Emily: Are you able to work remotely when you travel or are you still considering one of those days a work day?
20:45 Allie: I have not talked depth with my PI about any kind of specific arrangement, but I do have a pretty heavy computational component to my research, so that would probably make it easier.
20:58 Emily: Yeah, it's really nice to have that flexibility. I remember much of my PhD having to go in and feed cells on weekends and that it makes travel a little bit difficult. You have to really plan long-term to be able to be away from more than a couple of days. Have you started using any kinds of travel hacking strategies or travel rewards strategies since you are taking the same kinds of flights pretty frequently?
Travel Hacking and Strategies
21:25 Allie: First of all, your best friend is Google Flights. It'll help you track prices so you can decide when is the best time to buy your tickets and it'll send you email notifications and it's been really helpful. We tend to just fly the cheapest airlines that will fly between us, which includes three different airlines, so I have not gotten a co-branded credit card, but I have used points and cash back from credit cards. Right now, I have a Chase card that gives me 2% back on all travel and the points can be redeemed usually at a higher value than just simple cashback. That's what we've been using to book flights, when we can, through their travel portal. The signup bonuses have also been really helpful in getting us a couple free flights back and forth.
22:22 Emily: That's excellent. The Chase card that you're using, or maybe in general, do you use cards that have an annual fee or always ones that don't?
22:31 Allie: That is my only card that has an annual fee actually, and I mostly got that card for the signup bonus. A lot of them you can do the first year with no annual fee, so I'll have to decide at the end of the year whether that annual fee will be worth it for next year.
22:49 Emily: Thanks for sharing those strategies. I did not really get into travel hacking when I was in graduate school because living in Durham and flying to lots of different parts of the country, I was always taking different airlines, so at that time I was kind of like, "Well, it doesn't really make sense. I'm never loyal to one airline." I didn't get a co-branded card at that time. Now that I live in Seattle, I fly Alaska so much because it's a hub, so at this point, for my specific situation, it makes a lot more sense to get that card and just take the strategy a whole different way. I'm really glad to hear that you found a solution that's working for you, even though you aren't loyal to one airline, and using those general rewards cards that work across any type of travel is an excellent way to do that, so thank you so much for sharing that with us.
23:34 Allie: Still make a frequent flyer account for any airline that you're going to fly on, because if you fly on it again, you might collect enough points to do something with it.
23:45 Emily: Great point.
What are your top financial goals?
23:46 Emily: Okay, so that was your, your top five expenses. Let's then switch to talking about your financial goals, if you have any. We've already talked about paying above the minimum payment on those student loans, so that's awesome that you're doing that. Are you working on any other financial goals?
Maxing out Roth IRA
24:02 Allie: I'm also at the moment maxing out my Roth IRA for retirement, so that's $500 a month since the maximum contribution is now $6,000 a year. I decided not to dip into that goal for these medical expenses that have come up because my student loan interest is only 4% and generally that's kind of the breaking point on when you're likely to beat the market and a non-taxable account versus paying down debt.
24:34 Emily: Thanks for that insight. I really love that now in 2019 we have that $6,000 limit on the IRA because it makes the math so much easier. It's $500 every month. I don't know if you think about things this way, but are your Roth IRA contributions coming from your stipend, or are they coming from your side hustle income?
24:55 Allie: So I do track my budget on Mint, but I've also been putting it into a spreadsheet so I can plan ahead because Mint won't let you plan for next month. I put my money in one big pot, but because my IRA is something that I would not stop contributing to if I didn't have Rover income, I'd probably say it comes from my stipend.
25:22 Emily: That makes sense. In terms of your priorities, maxing out your IRA comes before paying off your student loans and so you're using a side hustle income really for the student loans and the contribution to the IRA as the more stable, constant goal that you have. Well, I think that's just fantastic that you're able to and that you're choosing to max out that IRA. I'm so excited for you.
Emily: If anyone is thinking about doing an IRA during grad school, I'll link in the show notes, a post that I've done about how much of a difference to your net worth doing that IRA during graduate school will make. Top line numbers, you can read more about it in the post, is that if you contribute $250 per month during grad school for five years, and we make some assumptions about your rate of return, if you look out 50 years from when you finish, you will be solidly into retirement at that point, that contribution just during graduate school turns into $1 million based on these compound interest calculations. You contributing $500 a month, if you do that for five years, we're looking at $2 million, 50 years out from graduate school. Again making certain assumptions, but that's the kind of scale that we're talking about for making room for this within your stipend and your budget and so forth. I'm really excited for you, Allie, and what the future holds for your finances.
Targeted Savings Accounts
26:52 Emily: Any other goals that you want to discuss now?
26:55 Allie: Other than that student loan, which is kind of on the back burner, I've hit my emergency fund goal and some other savings goals. I do have separate designated savings accounts for my cat in case of medical expenses and for my car, just for repairing and eventually in like five or six years, probably buying a new car.
27:23 Emily: It sounds like you're employing what I call the targeted savings accounts model or sinking funds model, which is excellent. I really love that for graduate students to help them through the months where one, two, three large expenses hit and your normal cash flow can't handle that. I'm really glad to hear about that.
What are your top financial tips for your peers?
27:41 Emily: So let's wrap up here, Allie, with your best advice for your peers.
27:46 Allie: One big thing is keeping some extra money in that checking account. This will allow you to automate everything. What I did is I contributed to my emergency savings until I had some extra and then I just pulled that back into the checking account. That way I had $500 buffer so that on first of the month I can always pay my rent, so that I set those credit cards to auto pay, so that I set my targeted savings accounts to auto withdraw, and the same for my retirement and my student loans. It just makes me worry so much less. Then my second tip is for those with a side gig, if you can, push the income you get from that side gig into next month's budget. For a little while, I was taking the $50 I made last week and including it in this month's budget, which made for really erratic budgeting and also made me more likely to put that $50 toward something I want to do instead of a savings goal.
28:49 Emily: I think those two pieces of advice are really excellent and I'll just expound on them a little bit more. The basic concept that you're talking about, with pushing your income forward into next month, is what I call being on time with your budget. I recently read the book You Need a Budget*. So there's a budgeting software, You Need a Budget, and there's an associated book called You Need a Budget. What they call it is aging your money. What this means is basically in the course of a month, whatever paychecks you receive, those go towards funding your next month's budget.
[* This is an affiliate link. Thank you for supporting PF for PhDs!]
Emily: A lot of people play a game, especially people who are paid bi-monthly or bi-weekly, where the paycheck they receive is immediately going to pay for expenses — so it's like first paycheck of the month pays for these immediate expenses, second paycheck of the month pays for the bills I've time to be in the second part of the month. Instead, to give yourself a little bit more margin, a little bit more space and calm, take all the income you make in a given month, and say that's funding my next month's budget.
Emily: That's exactly what you're doing with your side hustle income, so you're not turning around and spending the money you make the next week, you're saving it for the next month. I think that's really smart, especially for what you just said. When you put off spending the money until the new budgeting period, you can have some more time for reflection and planning and making sure that you're using the money in the way that you think is best and not something more impulsively. I actually think that it's somewhat easy for graduate students, if they're paid monthly, to do this. Are you paid on a monthly schedule?
30:21 Allie: We're paid biweekly.
30:23 Emily: If you haven't already done this, my suggestion would be to age that second paycheck or the first one, I guess to be for that next month. It's a very challenging thing to do, especially for someone who has really, really tight cashflow because essentially you're saving up half your month's salary to be delayed until using it the next month. It's a very, very challenging thing to do, but a really excellent one and again, I really admire the "You Need a Budget" framework for calling that out as ageing your money and they have a specific tool within the software that helps the user do that. So thanks for those two pieces of advice.
31:06 Emily: Allie, thank you so much for breaking down your budget with us today and giving us this wonderful insight and wonderful advice and best of luck to you with your finances and the upcoming year.
31:16 Allie: Yeah, absolutely.
Outtro
31:19 Emily: Listeners, thank you so much for joining me for this episode. PFforPhDs.com/podcast is the hub for the Personal Finance for PhDs podcast. There you can find links to all the episode show notes, a form to volunteer to be interviewed, and a way to join the mailing list. I'd love for you to check it out and get more involved. If you want to support the show and my business, please go to PFforPhDs.com/helpout. There are plenty of ways do so without laying out any of your own money. See you in the next episode and remember, you don't have to have a PhD to succeed with personal finance, but it doesn't hurt. The music is Stages of Awakening, by Poddington Bear from the free music archive and it's shared under CC by NC.