Today's podcast guest is Dr. Caitlin Faas, an assistant professor of psychology and perennial side hustler. We discuss her history with side hustling and her motivations for pursuing it. Caitlin's current side hustle of academic coaching dovetails so well with her primary role as a faculty member that she's even planning to include that work in her tenure packet. Her work involves coaching and teaching about time management, productivity, and overcoming psychological barriers to academic success, so listen through the episode and check out her website to learn the tips that work well for her and her clients.
Links Mentioned in Episode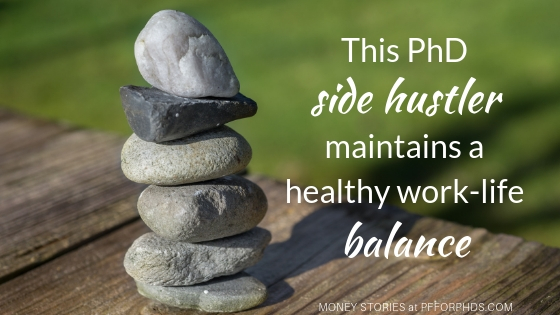 Subscribe on Apple Podcasts, Google Play Music, Stitcher, or Spotify.
Give your feedback on Season 1 and influence the direction for Season 2 through this form.
0:00 Introduction
1:09 Please Introduce Yourself
Dr. Caitlin Faas is an assistant professor at small liberal arts college in Maryland. She's had her job for five years, and soon she is submitting tenure packet. She went to graduate school at Virginia Tech, where she studied human development and family studies. She's the developmental psychology professor in her department. Her research focus is emerging adulthood.
For her side hustle, Caitlin runs a business to coach busy professionals as they try to integrate school and academics into their daily life. She provides career direction and productivity tips to her clients, as well as offering advice on her blog and social media. Her clients are associate professors, graduate students, and professionals considering applying to graduate school.
3:17 Did you have a side hustle as a student?
Caitlin has always valued hard work and earning her own income. As an undergraduate, she worked while being a full time student. Then as a graduate student, Caitlin worked at the local yarn shop during the summer and had a couple corporate retail work experiences. Having extra spending money was her motivation for her side hustle. She'd usually spend her income from the yarn shop on yarn for her knitting hobby. She also used her money for non-funded academic opportunities, like going to conferences.
Caitlin and Emily both agree that having outside activities, whether paid or hobby, helps you personally while you're a graduate student. A side hustles is a valuable way to learn other skills and discover what you enjoy doing.
Video Series: How to Increase Your Income as a Graduate Student
Subscribe to our mailing list to receive the 7-part video series on increasing your income as a graduate student, including side hustles and passive income.
8:10 How did you transition into self-employment as your side hustle?
Caitlin went from graduate school directly into her assistant professor position. For the first two years, she focused on her productivity, time management, and personal values. She decided that she wanted to work 9-5 and use her non-work time as she chose. She trained for a half marathon and on her runs, she listened to Nick Loper's Side Hustle Nation podcast. The stories she heard on the podcast inspired her to start her own business on the side. Starting a coaching business seemed like a way for her to take more control of her career trajectory in the face of an uncertain economy. In contrast to other professors who may do consulting on the side, Caitlin decided to create her own platform to reach the general public. She wanted to help people beyond her students and outside her own academic network.
15:13 What do you do in your business and how does it complement your primary job?
Caitlin is a personal coach, working with clients to improve their productivity, time management, writing and academic life. To get started, she took coaching classes and offered her expertise to a broad audience. Most clients needed help determining if they should leave their job to go to graduate school, so Caitlin's work has evolved to focus on that audience.
She spends about 8-10 hours per week on her business during the academic year and 20 hours per week during the summer. This time is spent coaching clients, collaboratively editing writing and teaching writing skills, speaking at conferences outside of her field, engaging her audience on social media, and on networking calls. She recently began working with corporations to help bridge generational differences. For instance, she has advised business how to help baby boomers and millenials work better together. She's been paid to give webinars in a corporate setting.
Caitlin and Emily comment that academics are trained to view much of their work as voluntary service. Academics do many tasks, like reviewing papers, as a service for no extra money. Yet through a side hustle, Caitlin is paid for these tasks, generating income for her valuable skills.
20:50 What benefits have you experienced from your side hustle?
Caitlin benefits from flexibility with her finances that come from her side income. She has student loan bills, so this income helps her make those payments. She dreams of financial freedom. Also, Caitlin likes that her side hustle gets her outside of the ivory tower. She enjoys getting to know other people and helping people. Her goal is help people feel empowered to make decisions about their career and be productive. Through her business, she feels in control of her career, where she can learn lessons and grow opportunities.
23:02 Can you tell us about your website?
Caitlin's website provides free content for interested people. She includes a blog with posts about productivity, self-improvement, and deciding whether to go to graduate school. Every two weeks, she sends an email newsletter. She provides videos with a transcript and worksheets.
Her first website was very simple and didn't have much content. Having a website was an important first step to establish her business and build an audience. As she earned more money, she could put some of that money back into her business. Now, she hires a graphic designer and video editor to improve the quality of her online products.
25:34 How do you manage your time between your primary job, side hustle, and other commitments?
As a productivity coach, Caitlin practices what she coaches. She is serious about working her primary job 9-5 and having free time on evenings and weekends. She is super strict about sleep, so she always make sure she has 8 hours of sleep each night. She encourages people to start with getting enough sleep. Caitlin critically considers how she likes to spend her time, so that she spends it on activities she enjoys. For instance, she has decreased the time she spends editing papers, because she finds more fulfillment from coaching clients in person. She read Gretchen Rubin's books for inspiration, and suggests that others look for productivity role models to follow.
Increase Your Income
Join the mailing list to receive our 7-part video series, "How to Increase Your Income as a Graduate Student," including side hustles and passive income.
30:48 How does your side hustle interact with your primary job?
At first, Caitlin kept her business idea quiet. Now that she has established her side hustle, she is open about it with people in her department. She says typically people don't think too much about what she's doing, but colleagues ask her about time management.
Coaching clients has made Caitlin a better professor, because skills she learned while she trained to be a coach showed her how to be a better teacher. She's including information about her coaching business in her tenure package. She is making the case that her coaching business has improved her performance as a professor.
33:38 Would there be a situation where your side hustle became your primary job, or alternatively, you would stop it?
Caitlin has other goals that are fulfilled through her professor position. For example, one of her goals is travel, and her professor position gives her the opportunity to take her students abroad. She took her students to Greece, and her travel was paid for. She sees this as a perk of being a professor.
She is in a growth mode in her coaching business. She has 8-10 hours each week, so she's examining how she can grow even though her time is limited. Additionally, Caitlin and her partner will be foster parents for teenagers soon. This family life transition may change her priorities and time management.
37:12 How could someone with a PhD find a side hustle that complements their primary work?
Caitlin recommends completing "What's your purpose?" and "What are the things you like to do?" activities offered on several entrepreneur websites. Even though the entrepreneur path may not seem like an intuitive one for many with a PhD, Caitlin suggests plugging into the entrepreneur network to find support.
Through a side hustle, you can truly explore what you want to do and find something you love to work on. When you find something that you love, Caitlin says you have energy to overcome road blocks and make it grow. If you don't love the work, you have the freedom to change direction.
39:40 Final Comments
Caitlin and Emily are both part of a self-employed PhD network led by Dr. Jennifer Polk. The network is very supportive and includes a diversity of people. Caitlin and Emily welcome people to reach out to them directly.
40:55 Conclusion
Join Our Phinancially Distinct Community
Receive 1-2 emails per week to help you take the next step with your finances.