In this episode, Emily interviews Emily Przysinda, an MD/PhD student at the University of Rochester who is approximately halfway through her 8-year degree program. As is typical in a Medical Scientist Training Program (MSTP), Emily's funding package includes tuition and fees and a stipend for the entire program. Emily and Emily discuss the financial side of the MD/PhD and why it shouldn't be thought of as a free medical degree. Emily shares why she chose an MD/PhD program and what the career options are afterwards. Thanks to the low cost of living in Rochester, Emily has been working on her finances intentionally for the last couple of years and is pursuing several savings and investing goals—but decided against buying a house. This episode is perfect for anyone considering an MD/PhD program or curious about the mindset of someone pursuing an 8-year-long graduate program.
Links Mentioned in the Episode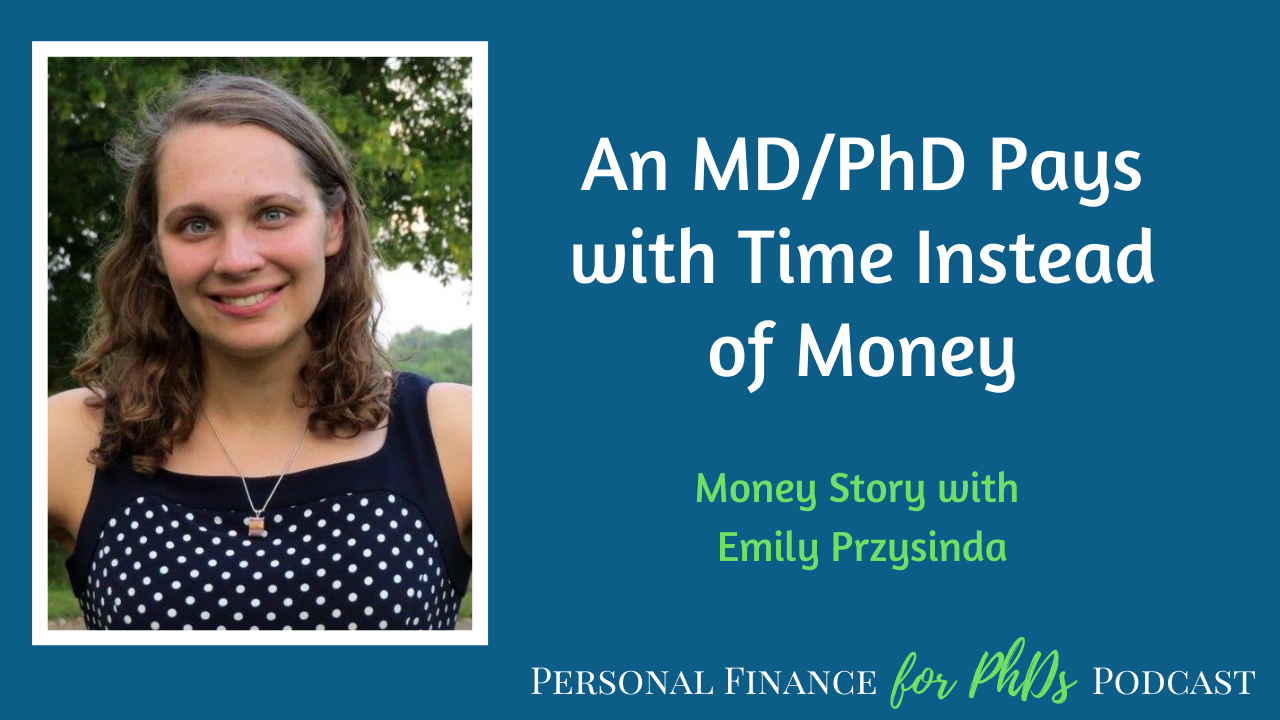 Teaser
00:00 Emily P: If you think about what an MD might be making in the four last years of their career, because that would be to assume they might have a more extended career by four years, it's probably only about maybe a year or two worth of salaries of debt that they take on for this. But essentially I say that I pay in time and not money for my MD degree, just because of the opportunity costs of not having those extra four years of the career.
Introduction
00:37 Emily R: Welcome to the Personal Finance for PhDs Podcast: A Higher Education in Personal Finance. I'm your host, Dr. Emily Roberts. This is Season 10, Episode 13, and today my guest is Emily Przysinda, an MD/PhD student at the University of Rochester who is approximately halfway through her 8-year degree program. As is typical in a Medical Scientist Training Program, Emily's funding package includes tuition and fees and a stipend for the entire program. We discuss the financial side of the MD/PhD and why it shouldn't be thought of as a free medical degree. Emily shares why she chose an MD/PhD program and what the career options are afterwards. Thanks to the low cost of living in Rochester, Emily has been working on her finances intentionally for the last couple of years and is pursuing several savings and investing goals—but decided against buying a house. This episode is perfect for anyone considering an MD/PhD program or curious about the mindset of someone pursuing an 8-year-long graduate program. Without further ado, here's my interview with Emily Przysinda.
Will You Please Introduce Yourself Further?
01:50 Emily R: I am delighted to have joined me on the podcast today, Emily Przysinda. She is an MD/PhD student at the University of Rochester. And since the very beginning, like episode one of this podcast, I have wanted to interview an MD/PhD or an MD/PhD student. And Emily is the first person who has like, come along, who has volunteered to do that. So I'm really excited about this, and just delighted to have her on. So Emily, will you please introduce yourself to us and yeah, tell us a little bit about yourself?
02:17 Emily P: Hi, I'm delighted to be on the podcast, been listening for about a year now, so I'm really excited to be here. So I'm originally from Livonia, New York, which is south of Rochester. I went to Skidmore college in Saratoga Springs, majored in music and neuroscience, and I was also on the swim team there. After that, I worked in a music cognition lab at Wesleyan University in Middletown, Connecticut, and there I solidified my love for human cognitive neuroscience. And I applied to MD/PhD programs while I was there for two years. And then now I'm in the University of Rochester MD/PhD program, or MSTP, which stands for Medical Scientist Training Program. I've completed the first two years of medical school and also the first few years of my neuroscience PhD. And so I'm about halfway through, and my project is looking at social language processing in patients with schizophrenia using neuroimaging methods.
03:25 Emily P: So it's fairly integrated with clinical and research. And yeah, and then also before I get started, I just want to acknowledge my privileges and express gratitude for just a couple of things. My family kind of had modest means, but I'm very lucky that all my needs were met and most of my wants were fulfilled. I learned how to save for big ticket items at a young age. And my life was very rich with relationships, activities, and experiences, especially in nature. And then for funding my undergraduate degree, I was happy and very grateful to get a good financial aid and merit combined scholarship and have around an average amount of student loan debt. And I'm very grateful for some family support with room and board and transportation costs. And I've been financially independent from my parents shortly after graduation. And I'm currently a white female and I'm only financially responsible for myself. So that's just kind of some things that I'm very grateful for and want to get into before we talked about any breakdown of finances and things like that.
How Do Finances Work for an MD/PhD?
04:40 Emily R: Yeah. Thank you. Thank you so much for that context. So I don't know that all of my listeners will be very familiar with MD/PhD or MSTP programs. So could you please explain like, just in general, like maybe the timeframe and so forth and and of course what the finances are, because I think we all know the finances about PhD programs. Most of us can make some assumptions about the finances of MD programs, but how does the MD/PhD fit, you know, between those two?
05:06 Emily P: So, yeah, it's actually kind of similar to the PhD except for it's longer for most programs. And so I'm in a NIH-funded program, and not all programs have funding from this. So it's a combination of NIH funding and funding from my institution. And so I get a stipend that's like essentially like a STEM graduate stipend for the full eight years of the program. And just to give you an estimate about that, it's around $30K, which I think is standard depending on the city that you're living in. And the PhD is kind of sandwiched in between two years of med school on each side. So you have two years of med school, which is mostly didactic courses and some patient interactions, and then you have the PhD, which is four years.
06:03 Emily P: And then the last two years of MD, which is mostly clinical. So it's eight years long, and you really try to only keep the PhD to four years, but some people do have longer. And then, in terms of just like a couple of nuances to the finances, the PI is kind of responsibl for your stipend for after the first 21 months of your PhD. So it kind of gives the PIs an incentive to take on an MD/PhD student. You stress to them that it's four years, or maybe even a little bit less, so you can make that transition back into med school. And you're encouraged to apply for an F30, which is like the MD/PhD equivalent of an F31 grant. The program here, at least, covers health insurance and disability insurance. And they take over, once you go back to medical school. We also have about a $2,400 stipend for MD/PhD things during the program. So like conferences, test prep, like lab laptops. And there are some student fees, but they're generally minimal except for the first year and during some of the medical school years. Yeah. So that's kind of the overall trajectory in terms of finances in the program.
An MD/PhD is Not Just a Free MD
07:37 Emily R: Yeah. And I think at first blush, this seems like, What? Like you get a free MD and you get paid while you're there, like during both the med school part and the PhD part? That's incredible! What a deal. Can you tell us why that might be the first reaction, but it shouldn't be the only reaction to how this program is funded?
07:59 Emily P: Yeah, so it's definitely a valid reaction, and I think it can be a very good deal, but really only if you like research a lot. Because it's a very long program, it's eight years. So the way that I thought about it even going into it is that I more compare it financially to an MD program where you would be funding the MD out of pocket. And so the MD career trajectory will be essentially four years earlier than an MD/PhD's. So, if you think about what an MD might be making in the four last years of their career, because that would be to assume they might have a more extended career by four years, it's probably only about maybe a year or two worth of salaries of debt that they take on for this. And more with interest, because that can be a big thing depending on your specialty. But essentially, I say that I pay in time and not money for my MD degree. Just because of the opportunity costs of not having those extra four years of the career. And for that reason, I definitely wouldn't suggest doing an MD/PhD just because it seems like an awesome deal. You should really like the research, both the research and the human clinical side, because both of these training programs can be fairly brutal. So, definitely want to consider that.
09:35 Emily R: I really like that you noted in that comparison that what we're really talking about is, in a sense, a four-year shorter career, possibly. So like it's those end, you know, the last four years of salary that is the difference rather than, you know, your residency salary or whatever you'd be doing in the, you know, most immediately post-degree. But I wonder, and I don't know if you've ever done this, is like playing around with like the compound interest effect on this because you know, it sort of cuts both ways. Because one, if you did the MD instead of the MD/PhD, you again would be out four years earlier and you can get compound interest working for you earlier from your like big MD salary. And of course you're paying off your debt as well. Versus during the PhD, maybe you can only invest a little bit, but you do have that stipend coming in.
Think of Yourself as an Adult with a Job, Not as a Student
10:18 Emily R: So some early investment is possible, we know of course the massive time value of money. So I don't know, it cuts both ways, but I think it'd be really, really interesting if someone, for their own situation, you know, played around with those numbers and saw that. But I really like that you emphasized, you know, we're going to talk about finances today, but in terms of the motivation to do an MD/PhD program, you really want to get both of these degrees and love what you're doing the whole time. So, you know, you were just mentioning how of course you have this history that you told us at the beginning with like being into like a music and you mentioned being on the swim team, and of course you really want to have both the neuroscience PhD as well as the MD. So what do you think, like, what is your outlook on maintaining your life outside of just being an MD student or a PhD student? And do you think that's different at all from maybe another PhD student?
11:13 Emily P: Yeah. So I'd say that I'm not sure if it's necessarily too different from MD and PhD. However, given the length of the program, I think that it's very important to kind of think of yourself as being an adult with a regular job and not a student. It would be very difficult to postpone this mentality shift for eight years. And I think that's something that could be valuable for both MD and PhD, but it's especially important to take that into consideration. So, I consider my program to be a full-time job with my stipend as my income. And then that just helps you to act both in better financial interests, but also able to continue to live your life and not put it on pause because of this program. And so, since it's such a long program, I would say that you want to secure your support network as soon as possible when you get to med school and especially because med school ramps up really fast and can be very difficult.
12:28 Emily P: There are a few kind of, I guess, areas of personal capita that I would suggest getting up and running as soon as you get there. Or as soon as you can. Academically, I'd say you want to make friends with MDs and MD/PhDs because it's good to have a group of people to study with. And you might also want to talk to people who are currently in your graduate program that you're thinking about joining to make sure that's the program you want to do. And then also establish relationships with your advisory dean and your MSTP or MD/PhD director. And so those are all things that I guess are related academically, but also can be very helpful in your outside life. Also, you want to do the adult thing of setting up your support network for personal health.
Your Health and Support Network
13:25 Emily P: So the two most important thing would be to establish a relationship with a primary care doctor as soon as possible. Even if you don't necessarily need them, just like make an appointment to like get your prescriptions transferred. And then also find a therapist in the community. I think that every PhD and MD student, or MD/PhD student, should have a therapist because oftentimes, if you actually need a therapist, it'll take months to get, so you want to find a therapist, maybe you just meet with them every month. And then if something comes up, you can meet with them more often. And then set up the other auxiliary things, dentist, eye doctor, and things like that. So, you want to make sure you're doing the regular adult things that you should be doing to make sure you that you get support in the program.
14:16 Emily P: And then moving to some other outside of medicine is that you want to make sure you're maintaining your relationships with friends and family that you already have. If you're living near your family, which I am, make sure you have boundaries and they know when you can talk to them and see them. And set up regular phone calls and visits and you know, plan to see friends in other cities if you want a vacation. And then finally, you should maintain and pursue potentially additional hobbies outside your med school, graduate school training. Personally, I joined a masters swim team, which is just adults swimming, and it's really fun. And I made a lot of friends there. I go to a lot of Rochester Philharmonic Orchestra concerts. There are really great tickets for that. And I also sing karaoke. So those are some of my hobbies that I do. And most people have their own kind of hobbies that they do. Two of my previous housemates, they both had their martial arts, horseback riding, and volunteering through religion. So I think it's very important to kind of set up that support network and then including your hobbies and relationships.
Time Management Approach
15:36 Emily R: The other thing I wanted to follow up on was that, you know, you described that your attitude towards your graduate program is that it's a full-time job and you're being paid this stipend for your full-time job. Does full-time job to you mean 40 hours per week? Because definitely you've mentioned a lot of great stuff like that you do outside of work. So yeah. I'm just wondering, like what your sort of overall time management approach is.
16:00 Emily P: Yeah. So I think it honestly depends on what stage you're at. The MD, the whole thing is probably going to be more than 40 hours a week because you're studying a lot and that really can kind of cut into the outside time. However, I found that you just have to, as long as it's not like interfering with like required activities and things, you just have to put that time in your schedule, like try to make it in the evening and carve it out, which is what I typically do for things like swimming. I know that on Tuesday and Thursday evenings, I'm going to be at swimming and I'm not going to be studying. So you kind of have to make time, if makes sense. And same with like going to the Rochester Philharmonic, you have to carve out that time for yourself. In grad school, it's definitely a bit more flexible. And I'd say like, I probably never work the same amount of hours like in consecutive weeks. It always fluctuates. Sometimes it's more, sometimes it's less. It depends on deadlines and when I'm running participants and stuff like that. But it's a similar thing. Like you have to prioritize your hobbies, your relationships, and put them in the calendar and kind of treat them like you would any other commitment.
17:25 Emily R: Yeah. Not dissimilar from a good strategy for your finances as well. Get the big, important things in there in first and kind of let everything else fall around the margins.
Commercial
17:36 Emily R: Emily here, for a brief interlude. This announcement is for prospective and first-year graduate students. My colleague, Dr. Toyin Alli of The Academic Society, offers a fantastic course just for you called Grad School Prep. The course teaches you Toyin's four-step grad boss method, which is to uncover grad school secrets, transform your mindset, up-level your productivity, and master time management. I contributed a very comprehensive webinar to the course titled, "Set Yourself Up for Financial Success in Graduate School." It explores the financial norms of grad school and the financial secrets of grad school. I also give you a plan for what to focus on in your finances each season of the year that you apply to and into your first year of grad school. If this all sounds great to you, please register at theacademicsociety.com/emily for Toyin's free masterclass on what to expect in your first semester of grad school and the three big mistakes that keep grad students stuck in a cycle of anxiety, overwhelm, and procrastination. You'll also learn more about how to join Grad School Prep, if you'd like to go a step further. Again, that's theacademicsociety.com/E M I L Y for my affiliate link for the course. Now, back to our interview.
Role of Finances in Choosing University of Rochester
19:03 Emily R: Let's talk a little bit more about the money part of it. What role did finances play in your choice of University of Rochester, in particular over perhaps other programs you were admitted to?
19:13 Emily P: So I would say, I guess aside from like kind of the overall picture of paying in time and not money, I definitely chose MD/PhD, I guess I would consider for the right reasons because I really like clinical and research. And I was a bit anxious about taking out a lot of loans for medical school. So this route definitely helped me. But just to reiterate, that's not the primary reason. I definitely applied to programs that were more in low- to mid-cost of living. I come from kind of a rural town. So like, I wouldn't necessarily want to live in a big city anyways. But I definitely was looking at places that were a little more, not necessarily rural, but smaller cities. And I guess I chose Rochester, I'm a bit biased here because most of my family is here. And so I was really excited to go to Rochester because of that. But I also got really lucky that it was in a very like low- to mid-cost of living city in Rochester. Yeah, so that's kind of why I really wanted to come to Rochester, but I say like, you should definitely talk to people who were looking at a lot of other places because I definitely was biased by the family a fair amount.
20:42 Emily R: Yeah, that's definitely fair. I think you mentioned earlier, your stipend around $30,000 per year. Do MSTP programs vary a lot like with cost of living, or are they in a pretty tight range?
20:58 Emily P: That's a good question. I'm not entirely sure. I think when I was looking, most of them were around there, but since I didn't look at some of the higher cost-of-living cities, I'm not sure that they actually increase it all that much for the higher cities. But I wouldn't quote me on that because I actually didn't see them. But I think it also might be standardized if they get NIH funding as well. So usually the websites are pretty open about that. But that's definitely something I would calculate, the cost of living, if there's some place you really want to live and make sure it's high enough for you. There are ways to increase it, like getting an F30 grant. Well, I guess it depends on your school. Usually they'll bump it up a little bit as kind of a reward for getting the grant, but yeah. It really depends on the program.
Financial Goals Pursued with MD/PhD Stipend
21:55 Emily R: So $30,000 a year is a decent stipend, and I think in Rochester goes fairly okay. So, I know you've been sort of intentionally working on your finances for the last couple of years and learning a lot. And so what are the financial goals that you've been able to pursue with that stipend?
22:14 Emily P: Yeah, so I feel like I live very comfortably on this stipend. I've been a very avid saver most of my life. So a lot of my personal finance work has been on instead of trying to like cut back on expenses, it's more like how do I allocate extra expenses and also transition my money to be able to spend it towards things that I actually enjoy. And maybe still I go with my natural instinct of saving on things that aren't as important to me. And, yeah, so I would say that actually initially my goal when I started the program is that I wanted to house hack and buy a house. Because I didn't know that much about personal finance other than like kind of budget and I was saving a lot. But I wanted to house hack.
23:16 Emily P: But then I kind of got into the first few years of medical school and it was kind of crazy and I realized that being a landlord would kind of be a lot of work. And so I kind of shifted away from that. Especially after living in a house with five people during COVID because we had some partners move in temporarily. I decided that I just wanted to live with my partner and not have housemates. So that's kind of the icing on the cake in what I decided that I didn't want to house hack anymore. So I decided that I wanted, since if I was just living with my partner, it would be more of a personal residence. And so many finance books that I read say that your house is not an asset, it's a liability. So I was like, alright, I think that I want to actually buy assets and make some investment decisions instead since I wasn't going to be house hacking.
24:24 Emily R: So interesting. I'm really glad you brought up this perspective because I am very enthusiastic about house hacking, but I have never done it and I've never been in like the position that I was considering it. And I think I, like you, now that I am at a new homeowner, yeah, there's a lot of work that just goes into owning a home. Not even adding like the landlord aspect on top of it. So, you really have to be up for that. And it can be worth it. Like, especially if you're, you know, let's say in your financial situation, you're looking at house hacking versus having like a side job. Well, the house hack can be your side job and that can make sense, but you have to have the time to be able to do that stuff. So I think that makes so much sense for you and especially, COVID kind of like changing the equation on this.
25:04 Emily R: Like yeah, how many people do you want to live with? And if it's only going to be two and yeah, house hacking, like that's actually one of the reasons why I love talking about house hacking. Because I kind of feel like anybody who's in the position where they could buy a house in graduate school, house hacking makes it like a slam dunk, good financial decision. Whereas it's more iffy, you know, if it's really just your personal residence, as you were just saying, you know, you can get lucky or unlucky with the housing market in that case. I know that's probably what would have happened for me living in Durham had I not house hacked, which I didn't end up buying overall. But anyway, I'm just really glad to have your perspective on that. Yeah. Living with six other people during COVID sounds like a lot.
25:44 Emily P: Yeah. And also, just, I guess the opposite perspective is that actually my two housemates that I was living with, they actually went on to buy a house. And one of them is house hacking. So it's definitely something that MD/PhD students can do. They do house hack a lot. But it was just something that I decided not to, and I'm very happy and we live in an apartment complex and when something breaks, the landlords come right away, or the maintenance people come right away, and I'm very happy with that.
Tracking Cashflow, Investing, and Saving
26:17 Emily R: And so when you mentioned that you're buying actual assets instead of the combo asset liability, does that mean you're like investing for retirement or investing in other ways? Like what are you doing?
26:29 Emily P: Yeah, so I have a couple different areas. So I'd say like personal finance and investing has kind of been like a hobby that I was somewhat interested in before COVID, but during COVID it's actually become a lot bigger and I've had a lot of time to do some reading and listening to podcasts and stuff. And so, I mean the first step to all this, I would say, was definitely budgeting or tracking your cashflow if you hate the budget word. And I take a very hands-on approach to this because I think it's really fun. And I kind of try to make it a game. And so, like knowing your cashflow is the first thing. Otherwise, before I knew exactly what my cashflow, even though I knew where my money was going, I didn't know how much I had to spend for the future and such.
27:25 Emily P: That's given me a lot of freedom to put the money towards where I actually wanted to go. And oh, I also started tracking my net worth, which is inspired by your emails. So that's been fun. So those are like really the basic building blocks before anyone should start investing. So I just want to say that I did those first. So yeah, but in terms of what I'm actually investing in, I do have a Roth IRA, and I love my Roth IRA. And I learned, I think from your blog actually, that I was able to open one, and I was very excited about that. And yeah, it's been a little bit of a challenge. I kind of try to challenge myself to fund that every year fully. Before this, I did have some cash, because I had a lot saved up for the potential house.
28:20 Emily P: So I put it in a regular brokerage account. Some stocks, mostly ETFs. And so I am in the process of kind of trying to fund the Roth IRA with my money that's incoming. And then when I can't make the limit, to supplement it with a brokerage account. And then finally I'm saving for some of my future expenses. Medical school can, some parts of it, can be very expensive, such as standardized tests and residency applications. I was actually told to save like $10,000 for residency application. So, and it might be changed a little bit because it's potentially virtual, but we don't know if that's changing. Saving for a new used car, and for paying off student loans, which I chose to defer until after. And it's definitely tricky to find the right vessel for this savings goal for like about three to five years out. And I actually did something that was maybe a little bit not in the normal, it's like a specially designed whole life insurance banking policy. And I won't go into the details, but it's definitely something that's a bit controversial in personal finance, but I researched it heavily and it made sense for me, but I definitely would not recommend unless you like fully research it and alternatives for that. But those are the kind of major places where my cashflow is going, the Roth IRA, and the savings for future expenses.
29:50 Emily R: Yeah. Those sound like incredible goals. And yeah, $6K to a Roth IRA per year, either out of cashflow or out of your existing investments is incredible, setting yourself up. Yeah, I hadn't heard about, or I hadn't thought about using a whole life policy for sort of shortish, mediumish term expenses. I assume you're then going to borrow against the policy to do that. Is that right? Yeah. Yeah. We won't go into it, but like, as you said, there's not really a good like solution out there for that kind of timeframe. So it's not surprising to me that you would like, you know, kind of get creative with that.
Career Paths for MD/PhDs
30:23 Emily R: You know, you just mentioned like doing a residency, and I'm wondering is a residency definitely the next step for all MD/PhDs? And, you know, overall, what is the career path for MD/PhDs in comparison to only MDs or only PhDs?
30:38 Emily P: That's a great question. In certain situations, like interviews and things like that, it's definitely the next step. But there are a lot of other options out there. But I mean, generally, you're going to need a residency if you're wanting to practice clinically at all. Even if you decide to do a full-time like academic lab, if you want to have any proportion medical, clinical things in your work, you're going to need to do a residency. And they're usually four to six years long and they can be pretty intensive depending on the field. Sometimes there are research intensive. So the ideal MD/PhD kind of percentage breakdown, which is somewhat arbitrary, is that you'll spend 80% running your own lab and 20% in clinical doing clinical work.
31:34 Emily R: And that would be in like an academic or like a hospital setting. Is that right?
31:38 Emily P: Yes. Typically in an academic hospital combined setting. So like a larger institution. I'd say, like that's not, I mean, I think some people do that. I think it's a very arbitrary number and it might be very difficult. You might end up working, you know, 150% instead of a hundred percent, which can be difficult, especially if the clinical work can just be like pretty brutal and like kind of time suck your time. So if you do something like that, they say to be very purposeful in like protecting your research time.
The 80/20 Myth
32:20 Emily R: So is that like, so when you're talking about, okay, so the ideal outcome career for an MD/PhD is this 80% running your own lab, 20% clinical breakdown, but is that like telling a PhD student that their career should be a tenure-track professorship? Like, is it that kind of, I guess what I'm asking is what are the actual job prospects for MD/PhDs coming out of residency to get a position like that? Like what percentage actually get a position like that versus go on to do something else?
32:52 Emily P: I would say, I don't know the stats, there are definitely like papers on this topic, but I would say, this would be like you do your residency and then you try to get a full tenure-track position with part-clinical time. And I'd say, I think oftentimes people end up doing one or the other. I think it can be very difficult. Sometimes it depends on the field of medicine you go into as well. So it's really all over the place. So I guess what I'm trying to say is that you can kind of do whatever you want. There are a lot of options with this degree. So like academia, academic medicine, and clinical are just like two of the, probably most common, fields that people go into. But also there are some options in like industry, particularly, in health tech, I guess pharmaceuticals, but that's a whole other basket of worms. So yeah, but I'd say that there are there options, but essentially you do have to do that residency, typically. There are some nonclinical roles, but you generally want to do the residency and then, you know, pick full-time clinical or part-time clinical. And then I'd say like more of these other options might come later in your career or might be like a part-time side hustle or things like that.
34:23 Emily R: Yeah, very interesting. I guess I'm just going back to what you said, you know, near the beginning of our conversation was, you know, you're paying in time and not money. And like, I hope that you all know by the time you get to, you know, choosing a residency, like whether that's going to play into your future career, because that is a long time and a big salary opportunity cost to spend doing a residency, if it's not ultimately something that plays into your long-term career plan. So tough decisions. And what about you personally, like, do you want to go for that, like 80/20 academic medicine kind of split or like, what are you thinking?
35:03 Emily P: I personally am more interested in having, so my research right now, even is fairly integrative with clinical and research, so I would like to have more of like a clinical aspect to it, and then do some collaborative research and really use kind of my skills and knowledge as a physician to inform clinical research. And I think that is very doable in my field of like psychiatry or neurology, which is currently two of the options that I'm looking at. But I'm also not a hundred percent sure. I'd say there are like a lot more and more collaborations or collaborative PI labs. I'm not sure I'd want to be like the single PI in the lab, just if I want to maintain clinical. So yeah, I'd say I'm interested in kind of both, but maybe more integrating them. And I also really am interested in health tech things. So maybe I'd be interested in starting kind of my own business or consulting, but that would be later on in my career after I had established myself clinically.
Talk to Upperclassmen for Advice
36:19 Emily R: Yeah. Well, thank you for giving us that peek into your plans. Do you have any go-to resources on finances for MD/PhDs in particular? It's so niche, I'm wondering if any exist?
36:32 Emily P: So I haven't come across any yet that are specific to MD/PhDs. It might exist. But I've been able to get a lot of what I need out of out of your content, specifically geared towards PhDs, in addition to numerous podcasts and audio books that are in personal finance. I haven't come across anything that's specifically geared towards MD/PhDs. I generally get a lot of my advice from talking to upperclassmen, just either casually to find out what they're doing. I had a neighbor who was an upperclassman nearby and he would give me advice about the program and also sometimes financial things. I guess if there was something I really wasn't sure about from the MD or MD/PhD perspective, I'd like maybe email someone and ask them specific questions. We also have like, MD/PhD it's called like a blue book for incoming students with certain things that with many things, including personal finance things. And there are some seminars where you can ask upperclassmen different questions and stuff. So I'd say it's more by word of mouth from what I've seen. However, a lot of the resources geared towards PhDs and just personal finance in general, really applied to the situation of MD/PhDs.
Best Financial Advice for An Early-Career MD/PhD
37:57 Emily R: Yeah, that makes sense. And I love the advice of like, just talk to real people who have been in your shoes a year or two back and have like the real, you know, high-quality information that definitely applies to you. So great, great, great. Do you have any other great advice? What is your best financial advice for another early career MD/PhD student or MD/PhD? Your best financial advice for that person?
38:20 Emily P: I would say my best advice is something I touched on earlier is just shifting your mindset from student to adult. It's just way too long to consider yourself a student and not start living your life. I'd say that it might be difficult sometimes. So you should try and shut work off after you come home. Whatever hours you may need to work, just like try your best to shut it off and maintain your life outside your graduate program. And I think that if you kind of separate your program and your in your life, to some degree, it'll help you financially and also help you develop your relationships and your hobbies, and also for maintaining your mental and physical health.
39:07 Emily R: Yes. Fantastic! Thank you so much for telling us that. Thank you so much for sharing your perspective in this interview. It's been fantastic.
39:15 Emily P: Yeah, great! It's my pleasure. I'm so happy to be here.
Outtro
39:23 Emily R: Listeners, thank you for joining me for this episode! pfforphds.com/podcast/ is the hub for the Personal Finance for PhDs podcast. On that page are links to all the episodes' show notes, which include full transcripts and videos of the interviews. There is also a form to volunteer to be interviewed on the podcast. I'd love for you to check it out and get more involved! If you've been enjoying the podcast, here are 4 ways you can help it grow: 1. Subscribe to the podcast and rate and review it on Apple Podcasts, Stitcher, or whatever platform you use. 2. Share an episode you found particularly valuable on social media, with a email list-serv, or as a link from your website. 3. Recommend me as a speaker to your university or association. My seminars cover the personal finance topics PhDs are most interested in, like investing, debt repayment, and effective budgeting. I also license pre-recorded workshops on taxes. 4. Subscribe to my mailing list at PFforPhDs.com/subscribe/. Through that list, you'll keep up with all the new content and special opportunities for Personal Finance for PhDs. See you in the next episode, and remember: You don't have to have a PhD to succeed with personal finance… but it helps! The music is "Stages of Awakening" by Podington Bear from the Free Music Archive and is shared under CC by NC. Podcast editing by Lourdes Bobbio and show notes creation by Meryem Ok.