Side hustles are all the rage these days. Everyone seems to have one, and some even translate into big money! However, in my experience, few grad students are aware of (or understand how) to get one going. Even fewer faculty seem to be aware of how they could have one themselves OR how they can support their students in this endeavor. In this post, I'm going to talk to you about why you want to launch a side hustle, and why it's worth your time to do it in grad school. If your a faculty member these tips can also apply to you!
Today's article on how to launch a side hustle is by Dr. Leigh A. Hall. To read an article today by Emily, please visit Leigh's website, Teaching Academia.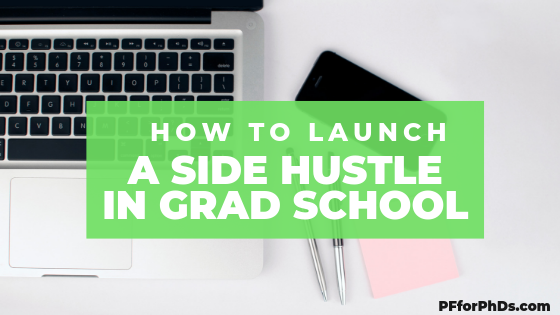 What Is A Side Hustle?
A side hustle is a way to earn extra cash. Ideally, it's going to be something you are super passionate about because you will be spending extra time creating it. Side hustles happen outside your current full time job (or graduate studies/assistantship). You decide how much time you want to devote to it and when you want to put in the hours. You can work with someone else, but most side hustles tend to start out as solo ventures. As they become more successful, you may find you need to pay others to help you. Some people have such successful side hustles that they eventually leave their full time job and devote themselves solely to their project.
Why Should You Launch A Side Hustle?
You might be thinking you have enough to do right now. You don't need to have extra demands on your time. And there's no guarantee that a side hustle will pay off anyways, right? But think about it this way – if your side hustle is inline with things you already enjoy doing then you're not wasting any time by devoting yourself to it. If you were going to do it anyways, then you lose nothing by seeing if you can generate some extra income by sharing your work with others.
However, the side hustle is not just about you. While it can be a great way to generate extra income, ultimately you are providing a service that benefits others. If people are willing to pay you for your work – whatever it may be – that means they find value in it which means you are enhancing the lives of others in some way.
Finally, a side hustle can allow you to establish yourself beyond your academic career. It will allow you to connect with more people, and different people, than you likely would through academia alone. This can bring you a whole host of opportunities and open doors that otherwise would have stayed close. Your work as an academic will likely reach a narrow subset of people. Add a side hustle to that and you can expand your reach.
How To Identify The Right Side Hustle For You
Ok – you're interested but unsure about where to start. The first thing is to figure out what you want your side hustle to be about. It can be connected to your day job, but it doesn't have to. If you have a hobby that you are exceptionally good at then you could turn that hobby into your side hustle. It doesn't have to extend from your job.
For example, several years ago I ran a successful yoga blog. I'm not a yoga teacher. I just wrote about going to yoga classes and what I learned in the process about myself. Eventually the blog ran its course, but I was able to get some great sponsorships and support along the way.
Because my blog added value to the yoga community, companies would send me yoga mats, clothes, shoes, all kinds of goodies for review. I even got to review a meal kit service so I had groceries mostly paid for now and then. My yoga practice was a serious hobby, and it was able to generate some income for me – even if just through free products – that I enjoyed and benefited from.
Currently, my side hustle extends from my job. I have a number of courses I sell. Do I generate massive amounts of income? No, but I do enjoy a nice supplement that I can do with as I please (I often just save it).
The key here is to pick a niche that you enjoy and that you want to share with others. And it's perfectly fine to have both a hobby and a professional side hustle! You get to set the hours and how much you will be involved so do what's best for you.
Launching Your Side Hustle
There are a number of ways to launch your side hustle, and any combination of them can work. After you identify your niche, you'll need to consider how you want to connect with others. Some common ways to do this are:
A website. You can get one for free (wordpress.com) and later move to a paid version. A free version lets you test the waters and play around without the stress of having to pay for it.
A YouTube channel: I highly recommend this. Everything is going in the direction of video. A channel will allow you to build an audience. And while you are giving people content for free, once they see that you have something of value they will start to buy your more in-depth products.
Patreon: Admittedly, I need to get this one going. Patreon allows you to sell memberships at varying tiers. For example, you might have people who give you 5.00 every month in exchange for specific things you create or offer. A second tier of people might give you 10.00 a month and receive something different/more. You get to decide how to price the tiers and what people get in return.
Selling Courses: You may want to create one or more courses that people can access asynchronously. A number of platforms allow for this with varying advantages and disadvantages. Udemy allows you to post your courses free of charge, but they will take a hefty fee in return (they also help with marketing your courses). Platforms like Teachable and Thinkific require you to pay an ongoing fee or yearly subscription for your courses to be hosted, and they do no marketing. However, you stand to keep more of your money each time you sell a course here than on Udemy.
Launching your side hustle thus requires:
A clear vision of what you are going to be offering
Who would be interested in your product/creations?
Understanding where to house yourself and your work
A side hustle is going to require a mix of free and paid content. You are going to want to have a website or YouTube Channel (likely both) and a plan in place for content development. What do you want to sell? When will you find time to create this content and build out your offerings (both free and paid).
If you're wondering if there is a right/wrong/best time to launch your side hustle my answer to you is this:
There is no best time to launch. You need to know what it is you want to do and what platforms you want to start out on. Then you go. You don't need to do everything at once, and you can build out along the way as you get comfortable. The trick is to not get caught up on something not being good enough or that you only need to do X and then everything will be perfect. We're not looking for perfect here. We're looking for a few key things to be in place and then it's time to go.
Having a side hustle can bring in extra income while allowing you to grow and develop professionally or with a hobby. The sooner you get started the sooner you will start to reap the rewards.
Dr. Leigh A. Hall is a professor at the University of Wyoming where she holds the Wyoming Excellence Chair in Literacy Education. She's had a side hustle for four years now selling courses that can benefit graduate students and early career academics. See her work at TeachingAcademia.com.