Since you've found your way to this page, I'm betting you are a PhD student receiving a stipend who is somewhat less than satisfied with how well your money is working for you.
Maybe you're new to managing money on your own—or are experiencing more difficulty in living within your stipend than you used to your salary. Maybe you're waking up to the fact that there always seems to be more month than money. Maybe you're still getting your bearings about you in a new city. Maybe you have lofty financial goals, but don't know how to make the rubber meet the road.
It seems like your stipend should be enough to live on if you're careful with your money… but you're just not sure how to meet your most important priorities.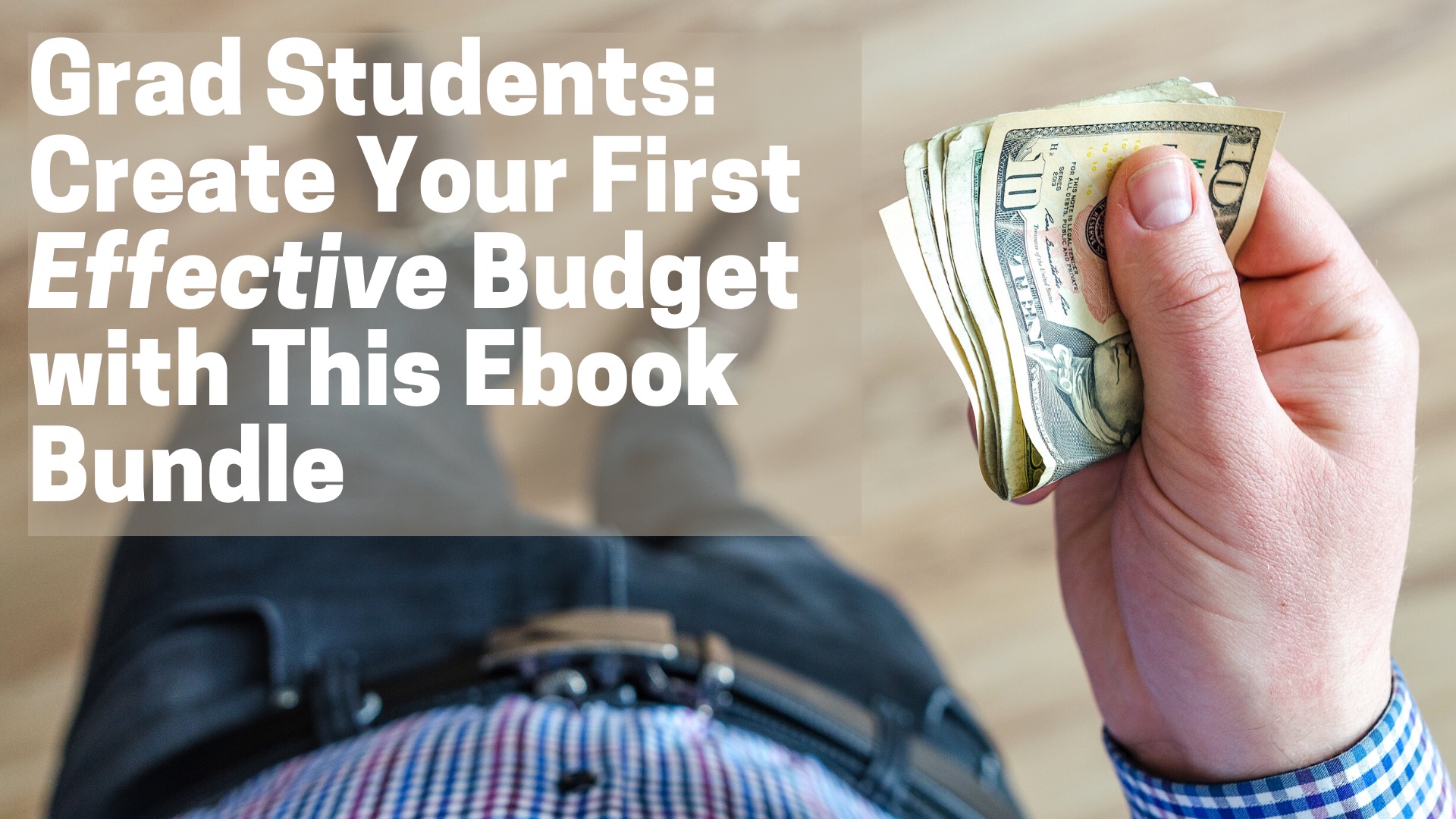 Announcement: This ebook bundle is now offered under the umbrella of the Personal Finance for PhDs Community. Become a member today for immediate access to this workshop and all the other content and resources!
I see myself in you so much!
Before I became a personal finance expert, I was a PhD student wondering how I was going to fund my financial needs and priorities with just my stipend. In fact, it was through the process of figuring out how to manage my stipend well that I became a personal finance expert!
I accomplished a ton with my money during my seven years of PhD training, and the foundational piece of it all was my effective budget.
However, it is very challenging to create an effect budget.
These are the top reasons PhD student budgets fail:
Your paycheck is designed to only pay for basic living expenses (if that). If you are anything other than the 'young, single, healthy, no responsibilities' avatar the system expects, you're likely to struggle. Even if you resemble that avatar, there is little to no room for error.
Your stipend changes from term to term, e.g., unfunded summers.
Large, one-off or infrequent expenses blindside you, e.g., travel, car repairs, electronics repair/replacement, income tax, education-related fees or expenses, medical expenses.
Your budget doesn't help you decide among possible discretionary purchases, particularly large, far-off ones vs. daily/weekly/monthly ones.
Your budget is generic. It doesn't reflect who you are as an individual. It's just numbers in a spreadsheet or graphic with little to no meaning; you have little to no motivation to let it influence you.
It all adds up to a big "Why bother?" Is it even possible to have an effective budget when you live on a PhD stipend?
I believe it is. I know it's worth striving for, even though it's challenging. In fact, if you can create an effective budget as a PhD student, there is no limit to what you can do financially once you have a proper income!
This is a critical time in your life to develop the art and science of budgeting. Not only will an effective budget see you through graduate school in better shape than you would have been without it, but you will set yourself up for a lifetime of financial accomplishment once you have more income to work with. This has been my own experience during and following my PhD.
There is a better way to budget, and it involves stepping back and assessing the landscape of your life. It takes some introspection, not just studying your bills and bank statements. I learned this along my own budgeting journey from my study and application of personal finance, and I've condensed what I know into a set of short, written guides (ebooks). I want you to learn in minutes what took me years!
I take a three-pronged, organized approach to effective budgeting, helping you to answer the questions:
What is important to me, and what do I want my money to do for me?
How should I consider my current and future expenses, weigh them against each other, and allocate my income?
How can I anticipate the large, irregular expenses in my life and prepare for them?
The guide includes explanations of principles, examples, and exercises for you to work through as you create your effective budget.
Imagine how well an effective budget will serve you during graduate school:
You will prioritize spending your money in the areas that bring you the most satisfaction—getting the most bang for your buck and reducing waste.
You will have a realistic plan for what to do when your budget won't balance or you go over budget, which will happen.
You will be able to mentally and emotionally connect your day-to-day spending habits with your long-term goals so that you can decide which is more important to you.
You will have peace of mind! You won't be so stressed looking at your budget or bank account balance. This stress reduction will benefit your work, your relationships, and your mental and physical health.
You will have money to put toward your financial goals, whether they are saving, investing, or repaying debt, which will grow your net worth and give you even more options in your life.
I am passionate about creating this reality with you! I want every graduate student to achieve success with their finances, and the foundation of it all is an effective budget.
The value of an effective budget is practically incalculable between the positive effect of the budget itself and the transformation you will undergo through creating and living with it.
I invite you to start your journey toward an effective budget with my bundle of three ebooks. Together, they form a coherent and complete approach for creating a budget that reflects who you are and your financial reality as a graduate student living on a stipend.
They are designed to get you results quickly! You can read all of them together in under and hour. With the included exercises, it will only a few hours of reflection and work to gain a ton of clarity about what your budget should be. After that, it's a matter of putting your new budget into practice and iterating it as you go along.
I offer a satisfaction guarantee with these ebooks; if they don't help you create an effective budget or make your current budget more effective, I will refund the purchase price.
The ebooks are titled:
Determining Your Values and Financial Goals While in Grad School
How to Create Your First Budget as a Grad Student
Weather Irregular Expenses on Your Grad Student Stipend
Purchase the set of three for only $30!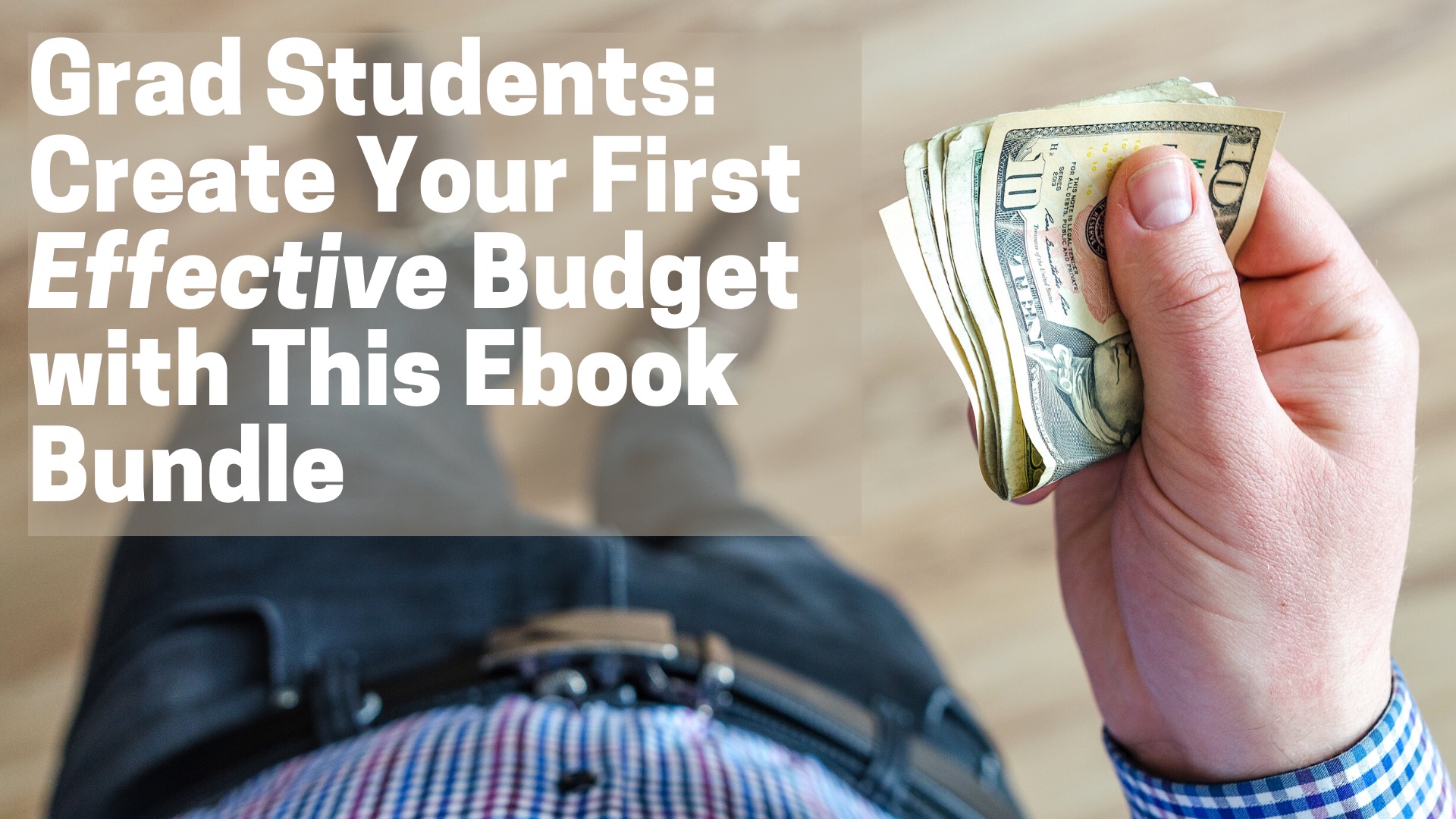 Only interested in one or two of the ebooks? Click through the appropriate image below to purchase ($10 each).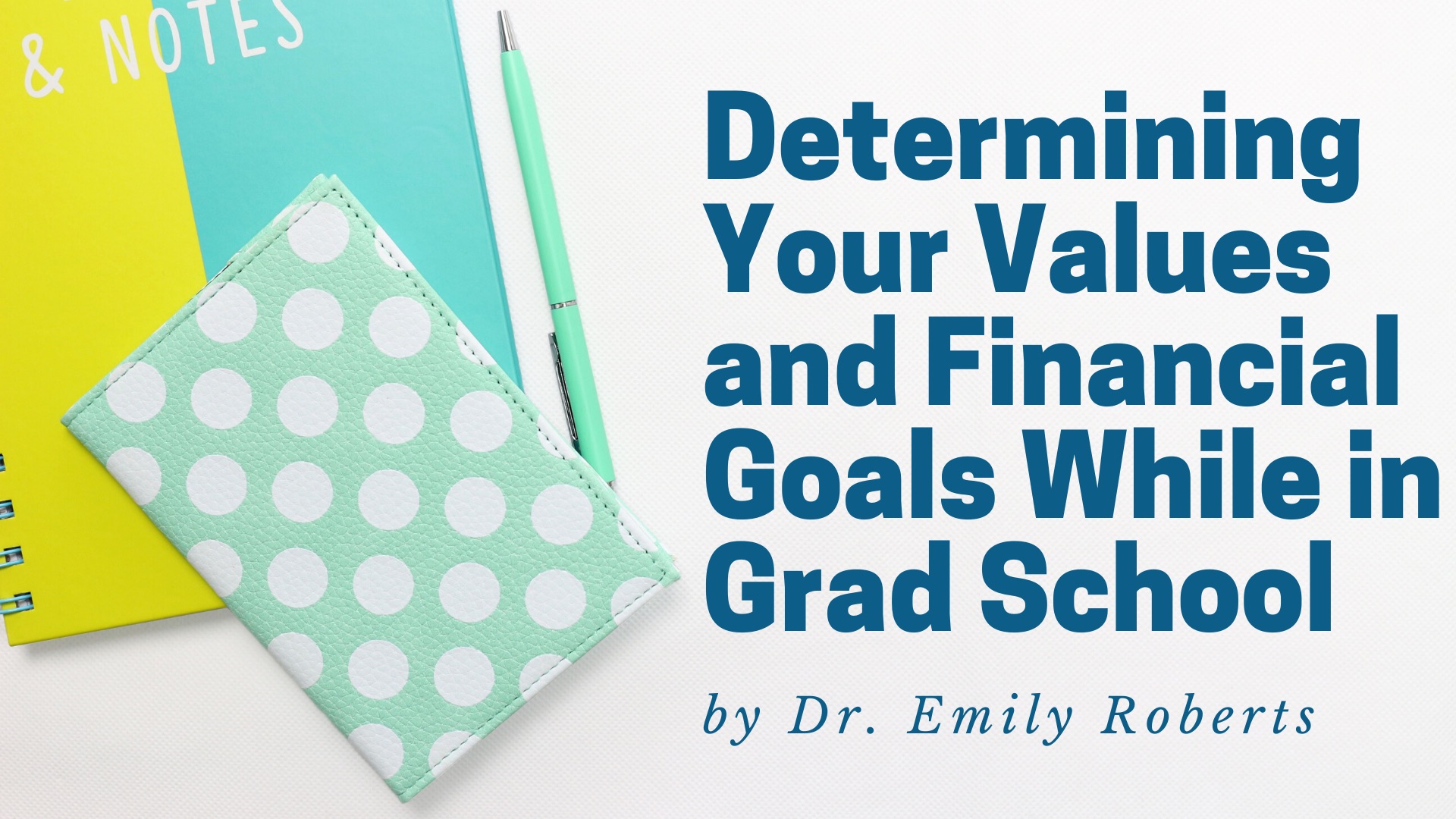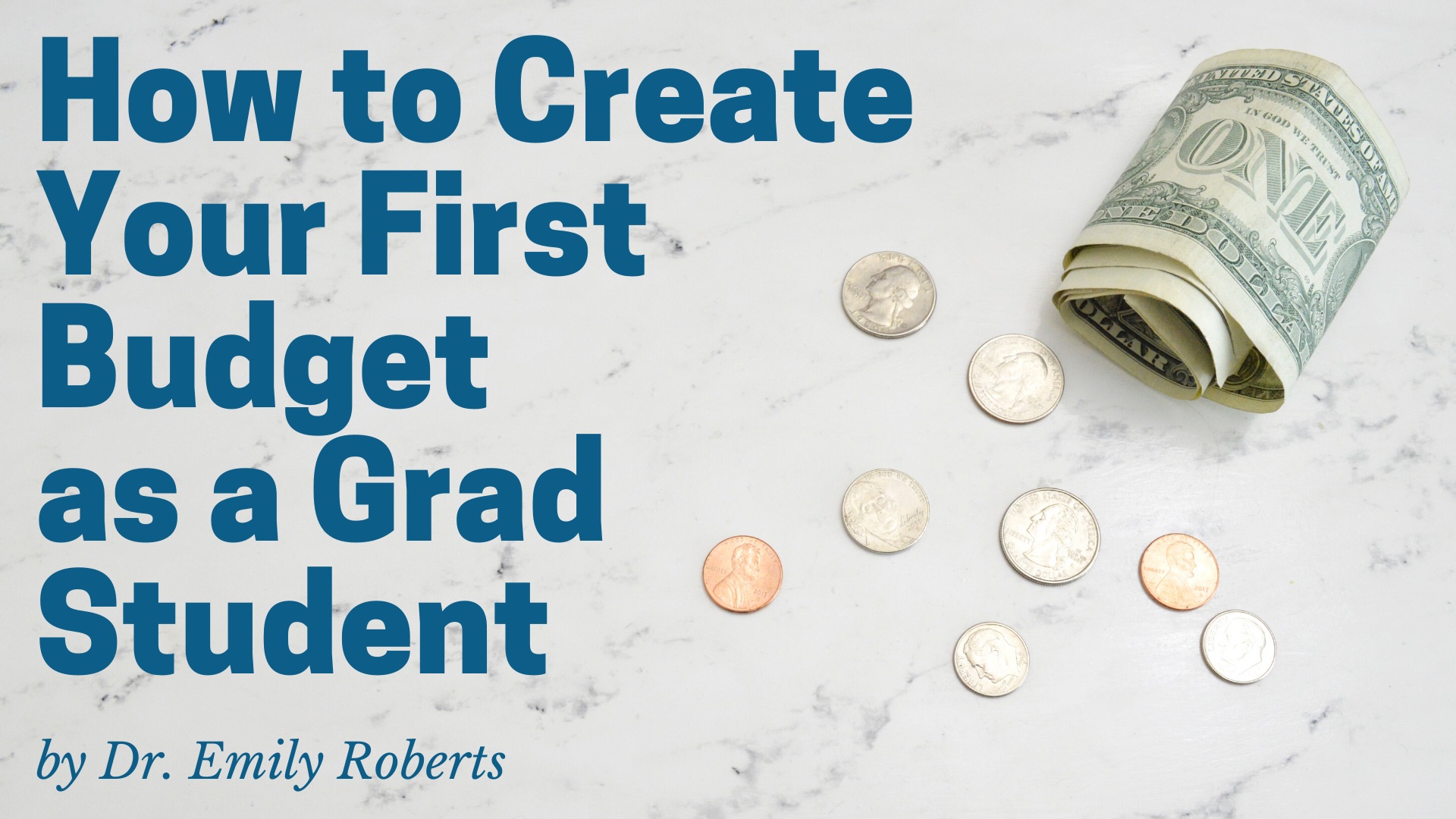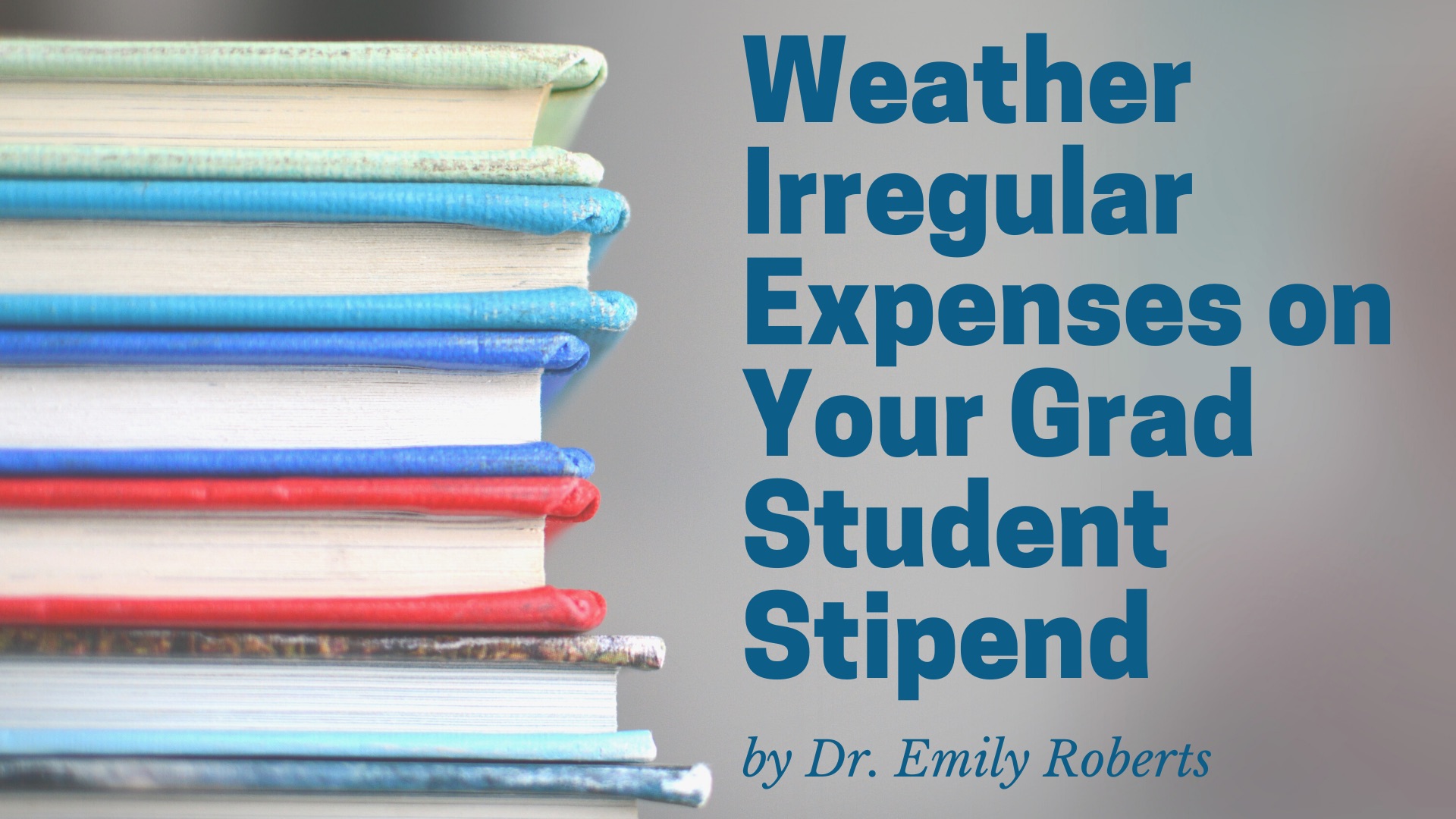 I am honored to be of service to you along your financial journey, and I wish you great financial success, starting with your effective budget!
P.S. If you would like to make a bulk purchase of this ebook bundle or any single ebook, please email me (emily@PFforPhDs.com) to arrange the bulk purchase at an even more discounted price!
Join Our Phinancially Distinct Community
Receive 1-2 emails per week to help you take the next step with your finances.