In this episode, Emily interviews Dr. Sushmitha Vijaya Kumar, a postdoc at the Scripps Institution of Oceanography. Sushmitha recently completed her PhD at the University of Tennessee, Knoxville, where she lived comfortably on her graduate student stipend. However, living in San Diego on a postdoc salary is a whole different level of financial challenge. Sushmitha shares her story of finishing up her PhD, finding housing, and moving from a lower cost-of-living city to a higher cost-of-living city, including the resources she used and the pitfalls she nearly fell into.
Links mentioned in episode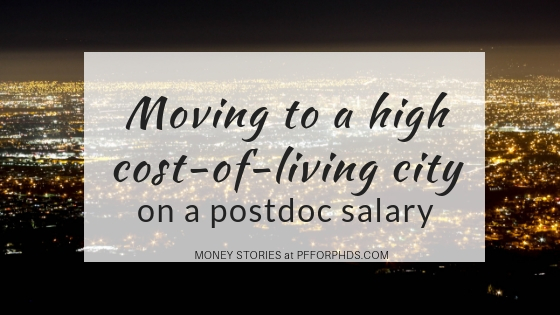 0:00 Introduction
1:06 Please Introduce Yourself
Dr. Sushmitha Vijaya Kumar is a postdoc at the Scripps Institution of Oceanography in San Diego. She is originally from India, where she studied for her Bachelor's and Master's in biotechnology. She moved to Tennessee for her PhD and worked at the Oak Ridge National Lab.
2:47 How was your life in Knoxville and working at Oak Ridge?
Sushmitha says Knoxville, Tennessee is a beautiful place in the Great Smoky Mountains. Living in Knoxville was affordable. The graduate stipend was more than enough to live comfortably. Oak Ridge National lab has a super computer for bioinformatics and experimental research. The lab is funded by the Department of Energy. They emphasize collaborative research. She also took courses and taught classes at University of Tennessee in Knoxville. She learned how government research worked compared to how university research worked. She learned that she preferred the government setup that emphasized collaboration.
Sushmitha's fiancé got a postdoc at the Salk Institute in May 2018. As she thought about her next step after her PhD, Sushmitha knew she was restricted to the geographic area of San Diego. This is when she started looking for postdoc opportunities at the Scripps Institution for Oceanography.
5:17 What was the stipend in your last year of graduate school?
Sushmitha's salary stayed the same for the four years of her PhD. She received $24,000 annually. She got about $1800 per month. In Knoxville, a one bedroom apartment is 800 to 900 square feet and $900 per month for rent and utilities, at the maximum. PhD students have at least $1000 remaining after rent for food and travel needs. She says having a car is cheap because gas is around $1.20 per gallon. It is easy and affordable to travel by car. She says Knoxville is very affordable to live in as a graduate student, as well as to save money and do exciting things.
7:17 How did you start preparing for the move to San Diego?
Sushmitha's fiancé moved in May 2018 and did the groundwork. She says it was more difficult than she expected to make the move. Not only did she need to finish all of her PhD work, she had to pack up the place she lived for four years. They decided to take only the bare essentials in their car. She said it was difficult to let things go. They took a road trip from Knoxville to San Diego in late December. The drive took five days. She says she wasn't prepared for leaving her friends and the familiar place.
9:07 What was your PhD defense timeline?
Sushmitha says the university's deadline for defense was November 1st. She went to India in the summer for two months. She returned and decided she wanted to wrap things up. She had one month to write her dissertation and prepare for defense. She defended at the end of October. The very next day she flew to San Diego for her interview for her postdoc position at Scripps. She flew back to Knoxville, then she had fifteen days to finalize her dissertation with comments from her committee and submit it to the university. She also had to finish experiments in the lab. December 13th was graduation, and her family came from India. She had three days to pack up her house and prepare to drive to San Diego. Sushmitha says she felt like she made a wrong decision to graduate early, but she doesn't regret it now. She would advise other people to take more time. She would've loved another month for this process, though she didn't need another full semester.
12:24 How did you arrange for your new housing in San Diego?
Sushmitha says her fiancé didn't take a full apartment to himself because the postdoc salary is not enough money to qualify for an apartment. You have to prove that your monthly income is three times the monthly rent to qualify. In San Diego, one bedroom, one bath apartments range from $1600 to $2200. The apartments for $1600 are located farther from the institutions and require a car for the commute, which her fiancé didn't have. Her fiancé lived with a host family and paid $1000 per month for a room in the house.
Sushmitha contrasts San Diego housing with Knoxville housing. In Knoxville, it is easy to find an apartment because many properties have management offices. You could go to the leasing office and choose from available apartments. In San Diego, no apartment complexes are close to the institutes. Housing is managed by individual landlords, and you have to rent from the owner directly. Sushmitha and her fiancé had to show documentation to prove their income, but Sushmitha didn't receive her documentation in a timely manner. They lost money to application fees during this process.
Sushmitha says they dealt with scammers during their housing search. They experienced five different scams, but didn't fall for the scams. She knows people who did fall for scams and paid $500 security deposits for places that weren't real. She's never seen this before.
When she finally received her offer letter and documentation, she and her fiancé got a one bed one bath in a duplex. The rent is $2200, so one of her paychecks goes to rent and utilities. Emily summarizes that in San Diego, they needed two incomes to show that they could afford the rent together.
18:25 Where did you find housing listings?
Sushmitha says they used Craigslist, Zillow, Apartments.com, and the Facebook group Free and For Sale University of California, San Diego. On Facebook, people post about roommate openings, available apartments, and advice. She also asked her HR department for help.
She says the scams came from the Facebook group and Craigslist. She posted in the group that they were looking for one bedroom one bathroom and they received fake offers. On Craigslist, some of the listings are scams. The postings include photos of real apartments and seem real. When you email the lister and ask to visit the apartment, you receive an excuse about why they're out of town and they'll ask for money without showing you the place.
22:28 How did you find the place you are living in now?
Her current apartment was listed on Zillow. Her fiancé saw the listing the day it was posted. He emailed the agent and got connected with the owners. The owners showed him the place, and he showed the documents. They were the first to contact the owners and they got the apartment. Emily says the process is similar in Seattle. Who arrives first and drops off the information and checks gets the place.
24:00 How much are you making as a postdoc?
Sushmitha makes $50,760 annually. This is the University of California, San Diego postdoc pay rate. It is 10% higher than what the National Institutes of Health recommends for postdoc pay. Monthly, this pay is about $4000 but after taxes and health insurance, it is $3200 take home pay. She says there wasn't state tax in Tennessee, but California has both state and federal tax. She is an employee with a W-2 and pays social security tax.
Emily shares the example of her husband's pay after graduate school. His salary was a 40% gross increase but a 20% net increase after taxes and health insurance. You have to take these new costs into account.
26:14 What else do you want to tell us about this transition?
Sushmitha says it's good to talk to people and know about the city you're moving to. With the high cost, it was a mental adjustment. She has a hard time with the how much she pays for the apartment and gas. Gas in San Diego is closer to $4 per gallon. Mentally, you have to prepare yourself for higher costs. You think you'll be able to have leftovers for savings, but it is hard. She mentions that people with computer science jobs in San Diego make more money and may have a different financial situation. But as a postdoc, the financial situation is much tighter. She says they are trying to save money for the wedding, but it is difficult. You have to be prepared for the first year of living in a high cost city.
If you're moving to a city with well-paid jobs, don't talk to the people in those position. You need to talk to postdocs and graduate students to know how they live. Sushmitha shares that there are free shuttles for UCSD and everything is walkable. Emily says you can't apply the same lifestyle from one place to another, and you need a mental adjustment. Talking to your peers is helpful.
30:29 Anything else about your adjustment to postdoc life?
In graduate school, you have a cohort and form tight friendships. As a postdoc, you are more independent and it is harder to make friends. She went to a networking event, but the new postdocs just wanted to make friends instead of network. Emily shares that it is hard to make friends as an adult after moving to a new place.
33:18 Final Comments
Anyone who is making a big move will benefit from this conversation.
33:56 Conclusion