Today's post is a personal story on why I didn't pay down my student loans during grad school, though I had the opportunity to. There are several factors you should consider when you make the decision of whether to pay down student loan debt during grad school. In my particular situation, based on both the math of the situation and my personal disposition, it made more sense to contribute money to other financial goals during grad school.
When I graduated from undergrad, I had $17k of student loan debt, $16k subsidized and $1k unsubsidized. I chose to defer my student loans during my postbac fellowship and PhD, and I didn't pay down my student loans in that period. Although my stipend afforded me the flexibility to make progress on my loans if I wanted to, I had higher financial priorities than making payments on debt that was effectively at 0% interest.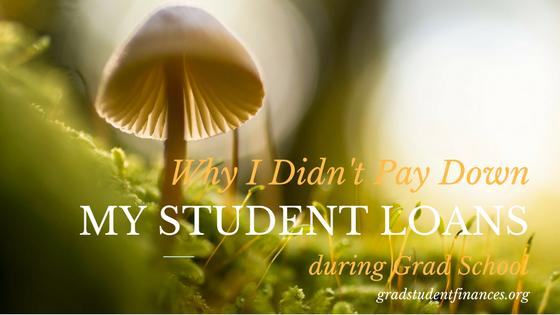 My Debt Was Not Pressing
I'll make a slight edit to my statement that I didn't pay down my student loans in grad school: I kept my $16k of subsidized student loans throughout my training period, but I paid off the $1k unsubsidized loan during the 6-month grace period following my graduation from undergrad. I didn't like the fact that it was accruing interest, unlike my subsidized loans, so I paid it off as soon as I could.
Because the rest of my loans were subsidized, not only did I not have to make payments during their deferment, they were not accruing interest. I was effectively borrowing money at 0% interest. While in some cases it would still make sense to prepare to pay down or off the loans when they came out of deferment, in my case I had higher financial priorities.
I Had Higher Financial Priorities
I can divide my seven-year training period into three sections: my postbac fellowship, my first two years in grad school, and my last four years in grad school (after I got married). My financial priorities were different in each of these periods, but in all of them paying down my student loan debt was a low one.
Postbac Fellowship
Right after I finished undergrad, I helped my parents pay down their parent plus loans from my undergrad degree, which were accruing interest. I gave them $500/month throughout the year, which at first was a rent-equivalent because I was living with them, but even when I moved out I continued to send them the money.
I also contributed $200/month to my Roth IRA (10% of my gross income) because I had started learning about personal finance and found that to be commonly given advice.
After contributing to my Roth IRA, sending my parents the loan repayment money, and paying for my living expenses, my stipend was exhausted. Thankfully, I was released from the relational obligation of sending my parents money shortly after I started grad school.
First Two Years of Grad School
Starting grad school brought a new kind of debt into my life: an auto loan. I still had the attitude that any loan that was accruing interest was one worth paying down first, so I decided to send $200/month to that loan to pay it off in two years. I was still contributing 10% of my gross income to my IRA, and I also started tithing. After fulfilling those monthly obligations and paying for my living expenses, I didn't have a lot of discretionary money remaining, and I didn't even consider using it to pay down my student loans.
Last Four Years of Grad School
My husband, Kyle, (also a grad student) and I got married after my second year in grad school, and combining our finances meant a complete reset of our financial status and priorities.
Kyle had been living an effortlessly frugal lifestyle (unlike me – my frugality took a lot of effort!) and also had only started contributing to his Roth IRA a year before we got married, so he actually had a good amount of cash sitting around. After paying for our portion of our wedding expenses, we found that we were left with about $17k. We created a $1k emergency fund and set $16k aside as my student loan payoff money. Our top financial priorities became maxing out our Roth IRAs every year (which we didn't quite manage to do, but we slowly incremented our saving percentage up to 17% by the end of grad school) and building up the balances in our targeted savings accounts.
We could have paid off my student loans with Kyle's savings when we combined our finances, but instead we decided to experiment with investing.
I Wanted to Experiment with Investing
Kyle and I were already investing for the long term in our retirement accounts, but we were curious about mid-term investing.
It's pretty hard to pin down precise advise for how to invest for a goal 3-5 years away. Many financial people will tell you to keep your money completely in cash, while others will say bonds are best, and still others perhaps a conservative mix of stocks and bonds.
Our goal was to grow our student loan payoff money during the remaining time they were in deferment, but still have a fairly good chance of not losing any of the principal. Our plan was to pay off my loans right when they came out of deferment. We were averse to paying any interest on debt, yet wanted to take some risk with the money for the chance at growing it modestly.
After wasting about a year waffling over our choices, we ultimately decided to keep part of the payoff money in a CD, put part into mutual funds that were a conservative mix of stock and bonds, and put part into all-stock mutual funds/ETFs. We treated this as an experiment, the goal of which was to learn more about mid-term investing and also about ourselves as investors.
As this period of mid-term investing (2011-2014) coincided with the post-Recession bull market, our investments did earn a decent positive return, so we retained both the $16k student loan payoff principle and made about $4,500.
Free Email Course: Investing for Early-Career PhDs
Sign up for the mailing list to receive the free 10,000-word email course designed for graduate students, postdocs, and PhDs in their first Real Jobs.
Hindsight: Would I Make those Same Decisions Again?
The math of why I didn't pay down my student loans during grad school is stark. The $1k unsubsidized loan was at a fairly high interest rate, so I would definitely pay it off ASAP again. It's also pretty hard to argue with the 0% interest rate on the subsidized loans making them a low priority.
My personal disposition toward debt changed over my training period. I started off fairly insensitive to interest rates. Interest accruing on my debt bothered me – so the subsidized loans didn't register as a priority – but I wasn't bothered in proportion to the rate itself. Now, I am much more careful to consider how the interest rate on any debt compares with 1) the long-term average rate of inflation in the US and 2) the possible rate of return I'm likely to get on investments. So I would still choose to not pay down my subsidized student loans during grad school, but I would pay more attention to the interest rate they would reset to when they exited deferment.
If I had it all to do over again, I would still pay off my unsubsidized student loan and keep my subsidized student loans throughout grad school, preferring to prioritize long-term investing.
With the hindsight of knowing about the continued bull market and low interest rate environment, it would have turned out better for our net worth if we had aggressively invested most of the payoff money, keeping somewhat safer only the money needed to pay off my highest interest rate (6.8%) subsidized loan immediately upon graduation. (The rest of my subsidized student loans, being at variable interest rates, have stayed at about 2-3%, which to us is low enough to keep around.) But as no one can predict the future and at the time we expected to pay off the loans right after graduation, I think it was a fine decision to hedge our bets and invest conservatively in the time period that we did.
But this decision was right for us only because we were willing to invest and not too concerned about the student loans. Other people are disposed to be much more risk-averse, so for them the right decision could be to pay off their student loans during grad school, even if the loans are subsidized or at a low unsubsidized interest rate.
Where does paying off subsidized student loans rank on your list of financial priorities? Are you paying down your student loans during grad school, and if not what goals are you working on?
Join Our Phinancially Distinct Community
Receive 1-2 emails per week to help you take the next step with your finances.