Tax credits are amazing, and you should definitely claim as many of them as you can. While a tax deduction reduces your taxable income, a tax credit directly reduces your tax due. A deduction of $2,000, for example, is worth $2,000 x your marginal tax bracket. Many grad students are in the 15% tax bracket (or lower), so a $2,000 deduction is worth only $300 for them. A tax credit of $2,000, on the other hand, is $2,000 directly knocked off your tax bill. Some tax credits can be refunded to you, meaning that instead of paying tax for the year, you are given money!
"The earned income credit (EIC) is a tax credit for certain people who work and have earned income under $53,267. A tax credit usually means more money in your pocket. It reduces the amount of tax you owe. The EIC may also give you a refund." (Publication 596)
You have to have a pretty low income to qualify for the EIC (adjusted gross income < $14,820 for a single person without children), but plenty of grad students fall into those income brackets, especially if they have a dependent spouse and children.
The catch for grad students, though, is right in the name of the credit. Eligibility for this credit depends on having earned income, which is bad news for grad students who receive fellowship pay (aka non-compensatory pay).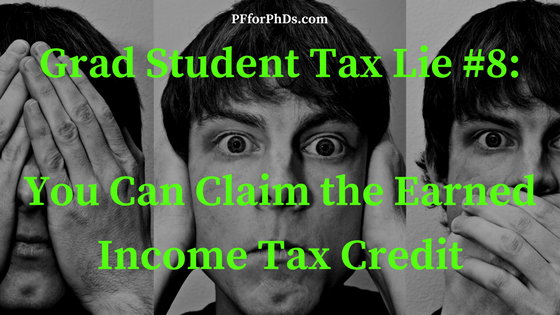 Rule 7 states that you need earned income to claim this credit. If you have an assistantship, you have W-2 pay, which is earned income. If your spouse has a real job or is self-employed, that is earned income. But if your only household income is from a fellowship or scholarship (reported anywhere other than a W-2 or not reported), that is not earned income, and you will not be able to claim this credit.
"A scholarship or fellowship grant that wasn't reported to you on a Form W-2 isn't considered earned income for the earned income credit." (Publication 596 p. 18)
See the tax lies home page for a full list of tax lies that graduate students should not fall for.
We at Personal Finance for PhDs are not tax professionals, and none of the content in this section should be taken as advice for tax purposes.
Join Our Phinancially Distinct Community
Receive 1-2 emails per week to help you take the next step with your finances.