"Oh, you're moving for grad school? You're being paid to go to grad school – like a job? You should take a deduction for your moving expenses! I've done that whenever I've moved for a job."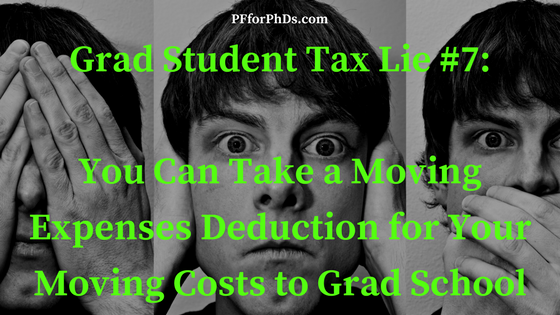 The moving expenses deduction is a great one to be aware of, but you'll probably only be able to apply it after grad school.
To be able to take the deduction, you have to pass three tests, one of which is the "time test."
The time test states:
"If you are an employee, you must work full-time for at least 39 weeks during the first 12 months immediately following your arrival in the general area of your new job location."
(If you are working a full-time job or are self-employed full-time in addition to your graduate work, perhaps you will be able to take the moving expenses deduction. The rest of this post assumes is intended for graduate students who are being paid stipends by their universities and who have little to no outside work.)
While you are absolutely working 'full-time' and then some on your graduate degree, you are almost certainly not considered a full-time employee. Graduate students with assistantships are student-employees, but the fine details of their contracts/offers reveal that they have only a 50% appointment or less. That means that the hours for an assistantship are capped at 20/week, which does not meet the eligibility requirements for the moving expenses deduction. Graduate students paid by fellowships are not employees at all, nor are they self-employed, so they also fail the time test.
See the tax lies home page for a full list of tax lies that graduate students should not fall for.
We at Grad Student Finances are not tax professionals, and none of the content in this section should be taken as advice for tax purposes.
Join Our Phinancially Distinct Community
Receive 1-2 emails per week to help you take the next step with your finances.