Update 4/8/2016: This post has been updated and improved based on commenter feedback. Weigh in with your opinion in the comments section!
This is just about my least favorite tax lie. I believed this lie all through grad school and I think everyone at my university did, too. When I first started researching grad student taxes in detail, I became aware of the possibility that the scholarships that pay health insurance premiums may be taxable income, and I tried as hard as I could to find a justification that they weren't. Ultimately, I was forced to admit defeat. I now believe that at many universities the scholarships that pay grad student health insurance premiums are taxable income. However, I still fervently want to change my position on this, so if you have any evidence that this is not a lie after all, I want to hear it!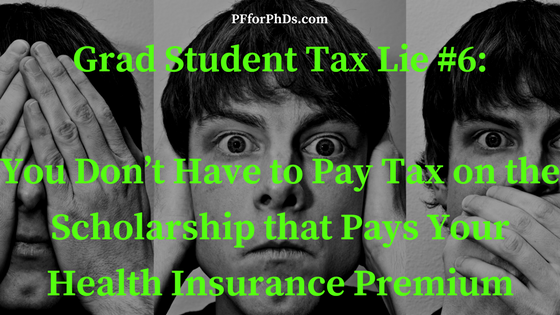 It would be logical if the portion of our income that pays our health insurance premiums were not taxed, because that is how that portion of employee pay is treated when the premiums are paid through payroll deductions. However, the grad students that are not full-fledged university employees (I've only heard of a few universities where that is the case – virtually all grad students are primarily students and some of them only secondarily employees) are not paying the premiums through payroll tax but rather through their student accounts. (Grad students who are employees and do pay their insurance premiums through payroll deductions might be able to take a tax deduction on the income that pays the premium.)
The great majority of grad students have health insurance premiums posted to their student accounts alongside their tuition and other required fees. Then, scholarships are posted to the account to pay all those fees. Scholarships do not have to be included in our gross taxable income if they are completely balanced out by qualified education expenses, but excess scholarship money is taxable. The key point to understand is that health insurance premiums may not be qualified education expenses.
IRS Publication 970 Chapter 1 (p. 6) states:
Qualified education expenses. For purposes of tax-free scholarships and fellowship grants, these are expenses for:

Tuition and fees required to enroll at or attend an eligible educational institution; and
Course-related expenses, such as fees, books, supplies, and equipment that are required for the courses at the eligible educational institution. These items must be required of all students in your course of instruction.

Expenses that don't qualify. Qualified education expenses don't include the cost of:

Room and board,
Travel,
Research,
Clerical help,
or Equipment and other expenses that aren't required for enrollment in or attendance at an eligible educational institution.
You can see that health insurance is not explicitly listed as a qualified education expense or excluded from being a qualified education expense. The key to determining whether it is a qualified education expense or not is likely whether it is classified as a required fee.
At my alma mater, every student was required to have health insurance. While health insurance was offered by the university, it was not required that we buy it through the university. In that situation, I don't think that our health insurance premium was a qualified education expense. This point is absolutely debatable, and I have debated it with my husband, a CPA and staff member at my university, friends, and online commenters, generally without coming to a conclusion that is fully satisfactory to both sides.
Further Reading: Disagreement over Grad Student Health Insurance Taxes
Think about this extreme case as a test: If a student bought insurance independently that met his university's requirement, would the premium for that insurance be a qualified education expense for the purpose of making scholarship or fellowship income tax-free?
It may be the case that other universities require their graduate students to buy health insurance from the university as a condition of enrollment. Those health insurance premium would be a required fee and therefore a qualified education expense. The scholarships that pay health insurance premiums at those universities could therefore become tax-free for the students. How universities provide health insurance for their students is currently a rapidly changing landscape due to the Affordable Care Act, so this designation could even change from one year to the next at the same university. If you are receiving a scholarship that pays your health insurance premium, be sure to check each year to see whether it is a required fee.
Whether health insurance premiums at universities are qualified education expenses for the purpose of making a scholarship tax-free is a confusing question, even for the IRS. Kathleen shared in a comment below (from 3/27/2016) that she talked with an IRS helpline agent who confirmed that at her university the health insurance premium was a qualified education expense for the purpose of making a scholarship tax-free. I also called the IRS helpline about this issue on 4/1/2016. At first, the agent I spoke with stated that the health insurance premium was a qualified education expense, then after better understanding the scenario at my own alma mater she reversed her position to say that it wasn't. After further discussion, we left the conversation with her leaning toward the premium not being a qualified fee, but not completely sure. With this confusing and conflicting feedback from IRS helpline agents (who have no more information available to them than what is public), perhaps it can be called a gray area. (If you have called the helpline about this issue, please leave a comment on what you were told!)
If you decide to make the scholarship that pays your health insurance premium tax-free, be prepared to justify to the IRS (if it asks) that your health insurance premium was a required fee with written documentation of your university's policies.
A quick note on 1098-Ts: A student's health insurance premium should not be listed in Box 1 or 2, which is one point of reference for determining the amount of qualified education expenses a student has in the course of a year that the IRS may rely on. (Please add a comment if your university does list the premium in Box 1 or 2.) It is acceptable to include more (or fewer) qualified education expenses in your tax calculations than what is listed on your 1098-T, especially because of the varying definitions of a qualified education expense.
The 1098-T Instructions state (p. 3):
Qualified tuition and related expenses. Qualified tuition and related expenses are tuition, fees, and course materials required for a student to be enrolled at or attend an eligible educational institution.

The following are not qualified tuition and related expenses.

Amounts paid for any course or other education involving sports, games, or hobbies, unless the course or other education is part of the student's degree program or is taken to acquire or improve job skills.
Charges and fees for room, board, insurance, medical expenses (including student health fees), transportation, and similar personal, living, or family expenses.
Tax lie #4 and tax lie #5 expand on why portions of a grad student's taxable income may not be associated with official tax forms or be subject to tax withholding. See the tax lies home page for a full list of tax lies that graduate students should not fall for.
We at Grad Student Finances are not tax professionals, and none of the content in this section should be taken as advice for tax purposes.
Join Our Phinancially Distinct Community
Receive 1-2 emails per week to help you take the next step with your finances.