I once heard a tax preparer state, "You must start from the assumption that all of your income is taxable. The function of your tax return is to show that some of it isn't." This statement has stuck with me for its clarity and simplicity.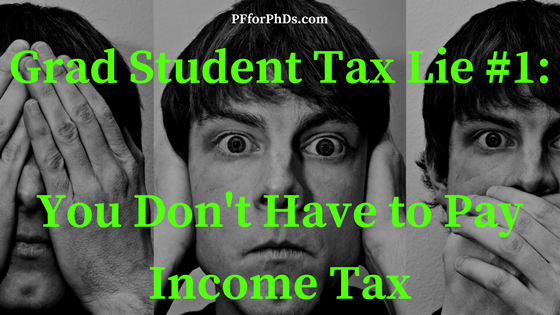 Download Your Tax "Cheat Sheet"
Essential information to help funded US domestic graduate students with their federal tax returns
Graduate student stipends used to not be taxable income. If your parent or another older person in your life received a grad student stipend prior to the Reagan administration, she didn't have to pay tax on that. But if your tax preparer is still telling you that your stipend isn't taxable, his information is about 30 years out of date. Likewise, scholarship income (like your tuition waiver and the money that pays your fees) isn't taxable if it is used for qualified education expenses, but you very well might have scholarship income that isn't balanced out by qualified education expenses.
Free Workshop: Make Your Quarterly Estimated Tax Payment
A free 60-minute group workshop for US fellowship recipients (graduate students, postdocs, fellows, trainees) in the first two weeks of September 2018.
The session will include a presentation, walking through the form together, and an opportunity for questions.
It's basically an appointment to pay your estimated tax (with my support)! Come with all your info and leave with this task ACCOMPLISHED!
Sign up for the mailing list to receive more details.
If you're paid any money that you use for your living expenses (e.g., housing, food, health insurance), that is a big glaring warning sign that you have real income that will be subject to taxation. Anything you receive from your university above your qualified education expenses is potentially taxable, whether you receive official-looking tax forms or not. Your income may be so low that you don't end up paying any tax, but you will still need to file a tax return.
Also read tax lie #4 and tax lie #5 for more details on this topic! See the tax lies home page for a full list of tax lies that graduate students should not fall for.
We at Personal Finance for PhDs are not tax professionals, and none of the content in this section should be taken as advice for tax purposes.
Free Tax Webinar for Grad Students and Postdocs
Emily Roberts presented a tax webinar for funded grad students and postdocs (US domestic) on March 9, 2018.
Register for the webinar to receive a replay!